Today brought with it a beautiful cold spell, which I am pretty sure every single person in California was excited for. I am sitting, writing this post, sipping on a glass of red wine and listening to the rain. RAIN people!!!! It hasn't rained here in so long, and I have missed it so so much (coming from Northern Ireland, I have rain in my blood). Haha my husband literally just texted me saying 'it's raining!!!!' just in case I missed it. God bless his cotton socks.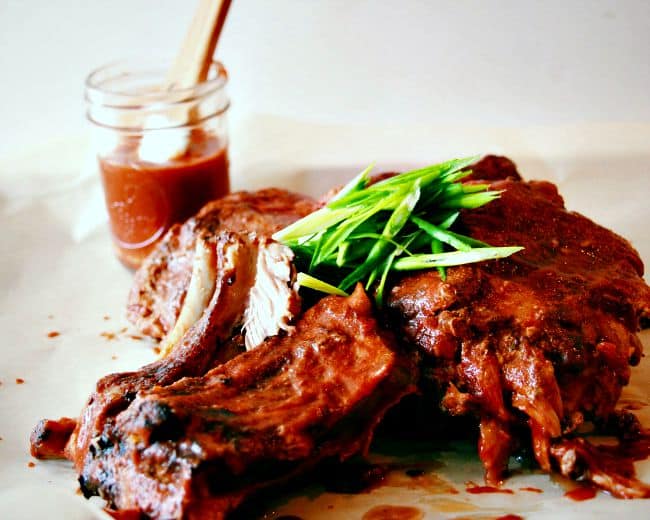 Anyway, in celebration of this cool snap, I pulled out the slow cooker and popped in some ribs. I have made this recipe approximately 20 times, and it is perfect every time. It is foolproof. And seeing as it's a  pop everything in the pot, and relax kinda dish, it's perfect for a weeknight. No finesse required, and minimal ingredients. I slather it in a homemade asian inspired bbq sauce just before serving, and everyone needs a shower afterwards (especially the kids).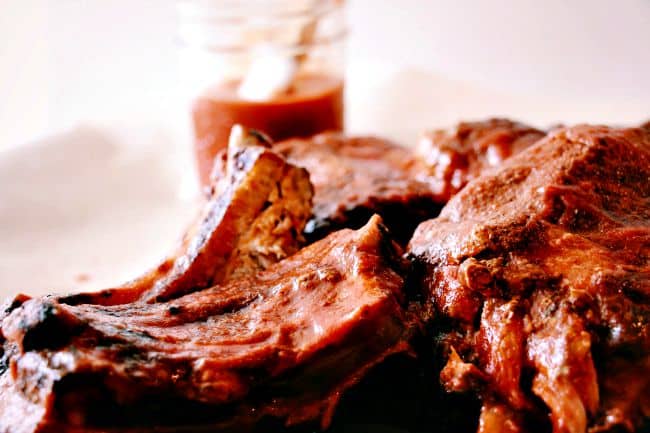 If you like your ribs on the stickier side, you can always slather the cooked ribs in the bbq sauce, and pop under the broiler for a couple of minutes on either side before serving. This 'sets' the sauce and makes it a bit stickier, whilst crisping up the edges.
Are you looking forward to Fall? What is your favourite thing to pop in the slow cooker as the weather starts to change. I would love to hear what you think, so be sure to leave me a comment, and brighten up my day 🙂 Have a great weekend.
Asian Style Slow Cooker BBQ Ribs
Pop everything in the slow cooker and walk away. Perfect for an easy weeknight meal on those cooler days
Ingredients
2.5

lb

pork ribs

I used baby back

2

tbsp

chinese five spice

1

onion

peeled and halved

3/4

cup

tomato sauce

not tomato kethcup

1/3

cup

pure maple syrup

2

tbsp

dijon mustard

2

tbsp

apple cider vinegar

1/2

tsp

onion powder

1/2

tsp

garlic powder

1/2

tsp

chinese five spice
Instructions
Cut the rack of ribs in to 4 smaller pieces (kitchen scissors are great for this). Sprinkle the chinese five spice onto the raw meat, and rub in with your hands

Pop the cut onion into the bottom of the slow cooker, arrange the ribs on top, close, and cook of high for 4 to 5 hours. Until the meat is tender and falling off the bone

minutes before the ribs are finished, combine the tomato sauce, dijon, maple syrup, apple cider vinegar, onion powder, garlic powder and chinese five spice in a small pot over medium heat. Bring to a boil, reduce to a simmer and cook for 10 minutes

To serve, slather the cooked ribs with the bbq sauce

If you like a stickier rib, pop the slathered ribs under the broiler for 1 to 2 minutes on both sides (optional)
Nutrition Facts
Asian Style Slow Cooker BBQ Ribs
Amount Per Serving
Calories 737
Calories from Fat 359
% Daily Value*
Fat 39.9g61%
Cholesterol 170mg57%
Sodium 196mg9%
Carbohydrates 20.3g7%
Protein 63g126%
* Percent Daily Values are based on a 2000 calorie diet.