Lighten up your week with some baked almond crunch falafel bowls served with a super quick, easy and delicious two-second dressing. Instructions for prepping in advance so you can get the week off to a great start.
Baked Almond Crunch Falafel Bowl with Two Second Dressing
Treat your body right with this Baked Almond Crunch Falafel Bowl accompanied by a dressing that seriously takes two seconds. Prepare in advance and enjoy!
I really love big hearty soups and stews around this time of year. Especially on super cold and rainy nights like tonight.
However, after a couple of weeks, I start getting that heavy feeling (not literally, hopefully) and really feel the need to throw a few lighter meals back into the rotation.
Here's where these falafel bowls come in to play.
They are:
vegan
vegetarian
dairy-free
gluten-free
baked, not fried
kid-friendly
meal plan and meal prep friendly.
They still count as a warm meal when you serve the falafel hot from the oven, and for me, they are still totally comforting.
But, when paired with some rice and lots of fresh, raw veg, they take on a lighter note, which is a much-appreciated break from the heavier fare.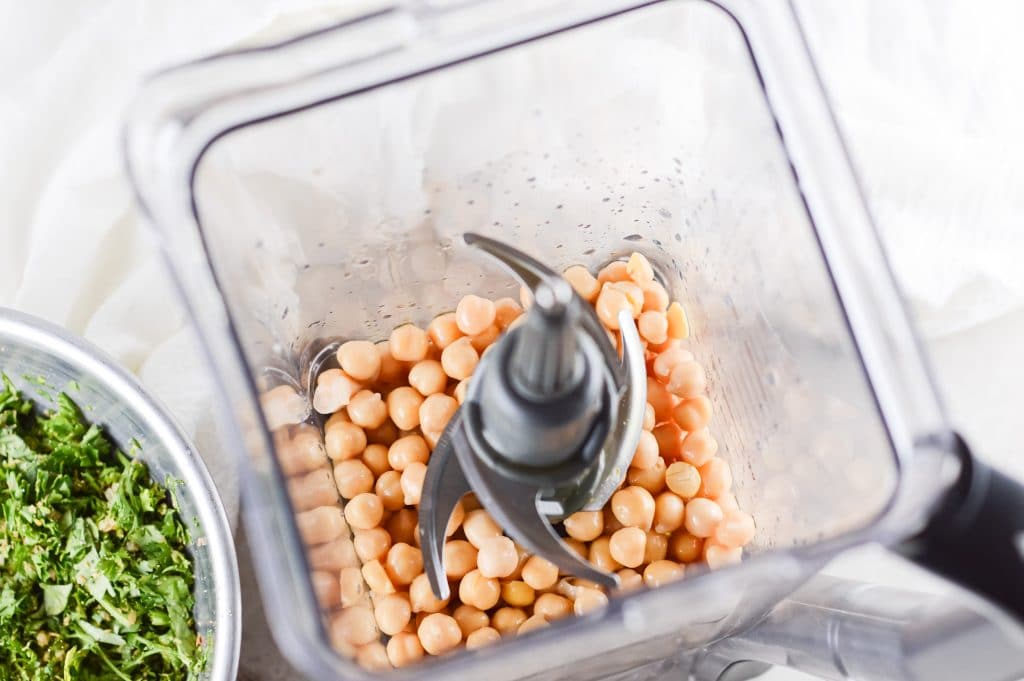 Falafels Make Great Snacks and Additions To The Lunch Box
They are also great little snacks to have on hand for rolls, wraps, and sandwiches throughout the week, and therefore make great little meal prep companions - great for those of us trying to make a better effort at meal prepping in the new year.
I tend to pair my falafel with whatever I have on hand in the crisper:
lettuce
something crunchy like bell pepper or cucumber
onion for a bit of bite
a nice zesty dressing to really kick up the flavor.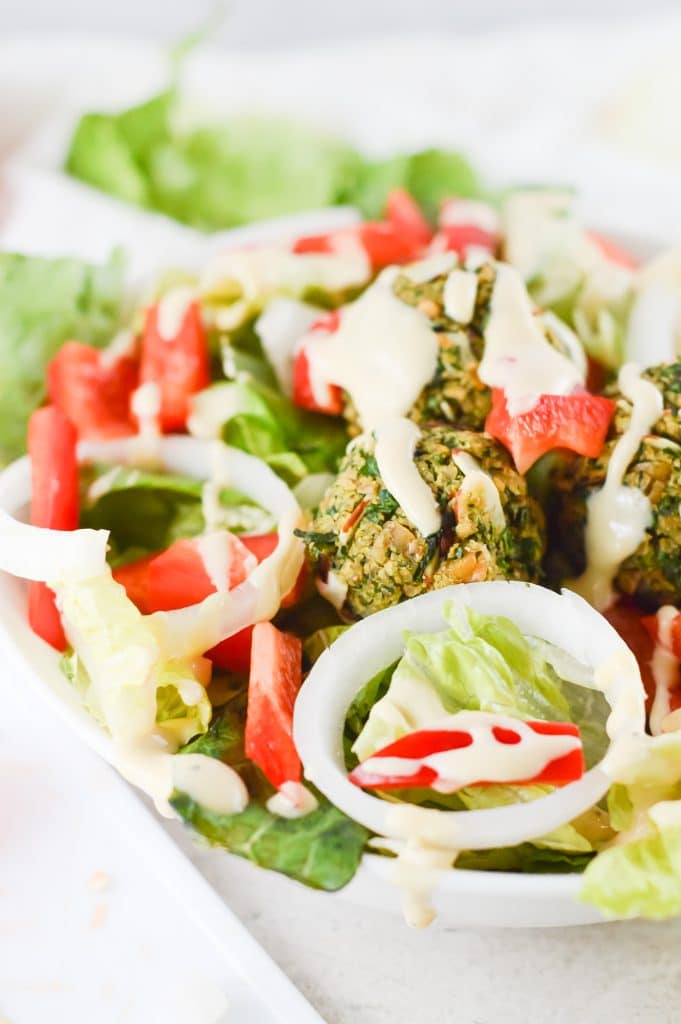 The Secret Sauce To Make This Falafel Bowl POP!
I always love a good tahini-based dressing, but for this particular bowl, I use my sneaky no-fuss two-second sauce because it is quick but still really yummy.
Are you ready?
That's it.
I use it in so many salads and wraps, and it is seriously delicious and takes no time at all.
Try this Baked Almond Falafel Crunch Bowl and lighten up your weeknight meals in a delicious and filling way.
Make It In The Airfryer
These can also be made in the air fryer if you have one and prefer to cook in it.
Simply spray the prepared balls with a little bit of olive oil or fractionated coconut oil and cook for about 15 minutes at 370-380°F (187-193°C).
When they are crispy they are ready.
Tips For Storing Your Falafels
These can be made ahead of time and stored in an airtight container in the fridge for 2-3 days.
They can then be eaten cold, or reheated in the air fryer or microwave if you prefer them to be hot.
Homemade falafels are also great for freezing.
To freeze, arrange the food in a single layer on a baking sheet small enough to fit into the freezer. Pop into the freezer. Remove when frozen and transfer to a freezer-friendly container or Ziploc bag and pop back into the freezer until ready to use.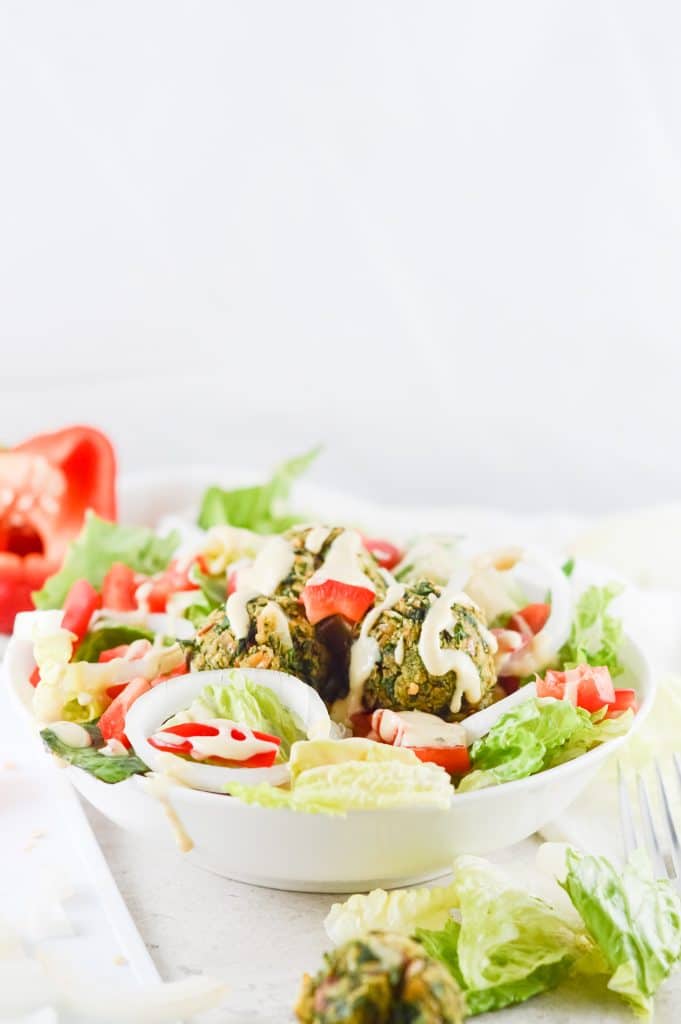 Try These Salads After You Try The Falafel Salad Bowl
Need some more nutritious bowls to add to your weekly meal plan?
Happy Eating
xx
Recipe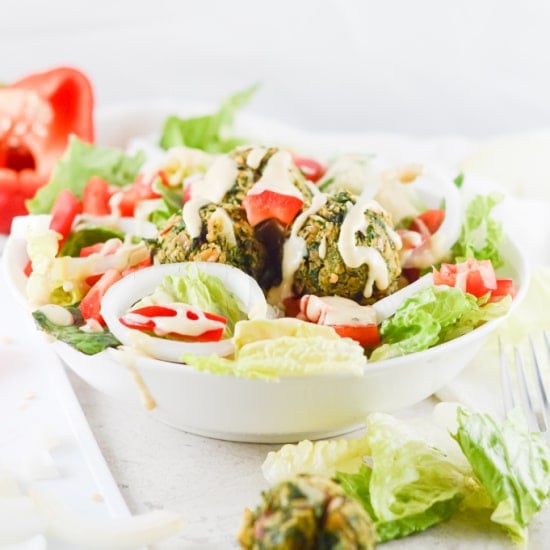 Baked Almond Crunch Falafel Bowl with Two Second Dressing
Lighten up your week with some baked almond crunch falafel bowls served with my two second dressing. Options to prep in advance too.
Ingredients
4

cloves

of garlic

minced

¼

teaspoon

chilli flakes

1

teaspoon

ground cumin

¼

teaspoon

sea salt

¼

teaspoon

baking soda

2

tablespoon

flax meal

2

tablespoon

olive oil

1

cup

lightly packed parsley

1

cup

lightly packed cilantro

1

can of chickpeas

drained and rinsed

¼

cup

crushed almonds

½

cup

plain hummus

2

tablespoon

lemon juice

1

tablespoon

water

salt and pepper to taste

salad ingredients : thinly sliced romaine lettuce

arugula, chopped red/white onion, diced tomato, diced cucumber, diced red peppers, cooked brown rice, pick and choose
Instructions
Preheat oven to 375F and line a baking sheet with some parchment paper

Pop all the falafel ingredients (garlic, chilli, cumin, baking soda, flax meal, olive oil, parsley, cilantro and chickpeas), into a food processor and pulse until combined. It should be a thick and chunky paste (you will need to scrape down the sides with a spatula every so often)

Once combined, move the mixture into a large bowl and fold in the crushed almonds

Rub a little oil on your hands, and form 2 inch balls with the mixture. Pop them onto the prepared baking sheet and brush the top with a little oil before popping into the oven

Bake for 25 minutes, until golden on top and a little crunchy

Whilst the falafels are cooking, arrange your salad bowl and whip up the dressing by whisking together the hummus, lemon, water and salt and pepper to taste. When falafels are done, pop them on top of the salad and drizzle dressing over everything. Enjoy
To Make In The Airfryer
If you prefer to use an airfryer then simply follow the instructions but instead of baking in the oven cook for about 15 minutes at 370-380°F (187-193°C) in the airfryer. When they are crispy they are ready.
Notes
Airfryer friendly as well: simply cook for about 15 minutes at 370-380°F (187-193°C). When they are crispy they are ready.
Nutrition
Calories:
166
kcal
Carbohydrates:
21.8
g
Protein:
8.4
g
Fat:
6.2
g
Saturated Fat:
0.5
g
Sodium:
248
mg
Fiber:
7.2
g
Sugar:
3.6
g
Tried this recipe?
Leave a comment HERE and let us know how it was!
The information shown is an estimate provided by an online nutrition calculator. It should not be considered a substitute for a professional nutritionist's advice.