Hey guys, I have another clean eating weeknight meal plan for you here. I have actually been really getting a kick out of doing these myself, and I have to say, weeknights have become so much easier when it comes to food.
So here is my plan for this weeks meals:
MONDAY
I am hoping to pick up some shrimp from the local farmers markets on Sunday, so, all going well, we will be enjoying this Shrimp and Wild Rice Casserole from The Seasoned Mom on Monday.
TUESDAY
I am going to go with the day of the week catchy titles and have a Taco Tuesday here with these Fancy Mushroom and Smashed Avocado Tacos. Really delicious, but I really need to re-do these photos too!! Don't let the bad photo put you off, they are great 🙂
WEDNESDAY
Crispy Baked Chicken Thighs with Garlic Turmeric Rice from Peas and Crayons. As you know, I am not a huge fan of chicken thighs, but the hubby accidentally bought A LOT of chicken thighs recently, and I am trying new recipes to help me love them 🙂  This sounds like the perfect dish to get me back into chicken thigh love!
THURSDAY
We will be enjoying these Southwestern Sweet Potato Veggie Burgers from goodlifeeats.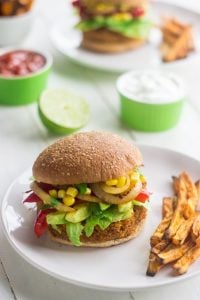 FRIDAY
How amazing does this Salmon Bowl with Kale and Lentils from The View From Great Island sound? Perfect for enjoying with a nice glass of wine on Friday night.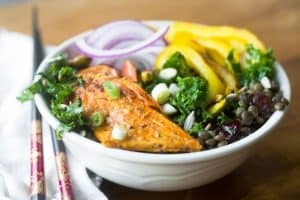 Well that's it. I hope you were able to find some inspiration from this weeks meal plan! I for one am super excited 🙂 Let me know if you give anything a go, I would love to hear from you. Happy Eating!