Luscious, decadent, yet full of only good clean ingredients, these Dark Chocolate Covered Strawberry Cheesecake Bites are a healthy treat you should have up your sleeve. Perfect for little lunch boxes, as a chocolatey fix mid-afternoon, or even for dessert. They are so easy to bring together, requiring only a food processor and a bit of patience. So simple the kids can get involved, which makes for a great little family cooking adventure with minimal mess. Or speed things up and make them yourself. You won't regret it!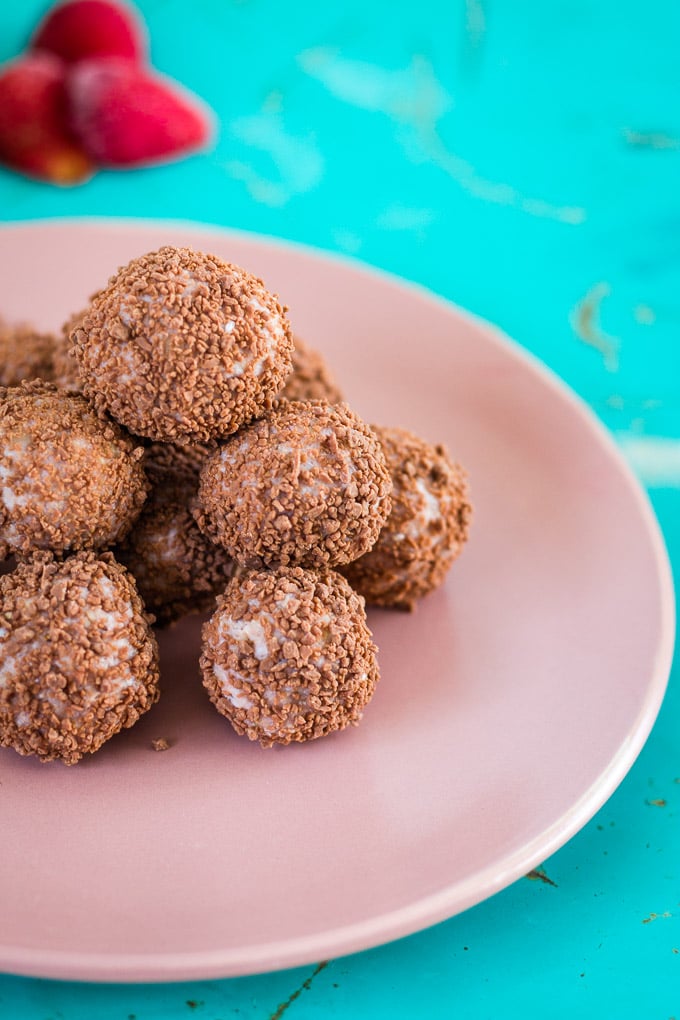 Dark Chocolate Covered Strawberry Cheesecake Bites
Jump to:
We made two batches of these strawberry balls over the weekend, and already both have disappeared.
That's 30 balls!!!
They are so easy to whip up that even the kids can get involved once the blending is out of the way. Get them to start rolling the balls and then dipping in the chocolate sprinkles, they will love it.
To make these strawberry stuffed cheesecake balls you will need:
dark chocolate
frozen strawberries
macadamia nuts (or another nut of choice depending on what you have)
oats or quinoa flakes
natural sweetener - maple syrup, rice malt syrup or agave
chia seeds
coconut oil
unsweetened desiccated coconut
milk of choice
plus extra frozen strawberries for stuffing inside the bliss balls
These healthy bliss balls are super versatile, so substitute with what you have on hand. See below in 'tips and substitutions' for some great ideas.
How To Make Strawberry Cheesecake Bites
Easy.
(1). Simply pulse the chocolate in the food processor until it resembles fine chocolate sprinkles.
The sprinkles need to be small enough that the balls can be rolled in them. You do not want big chunks in there, as they will just fall off once refrigerated.
(2). Once you have your chocolate ready, then pop all the other ingredients into the food processor and pulse until combined. You want to keep processing until it comes together in one big ball.
It may seem like it is taking too long, just keep your patience and keep going until everything is smooth, you don't want any big chunks in there as it will ruin the whole texture of the strawberry bites.
If it is too firm and not coming together, then add some milk 1tsp at a time to loosen things up a bit.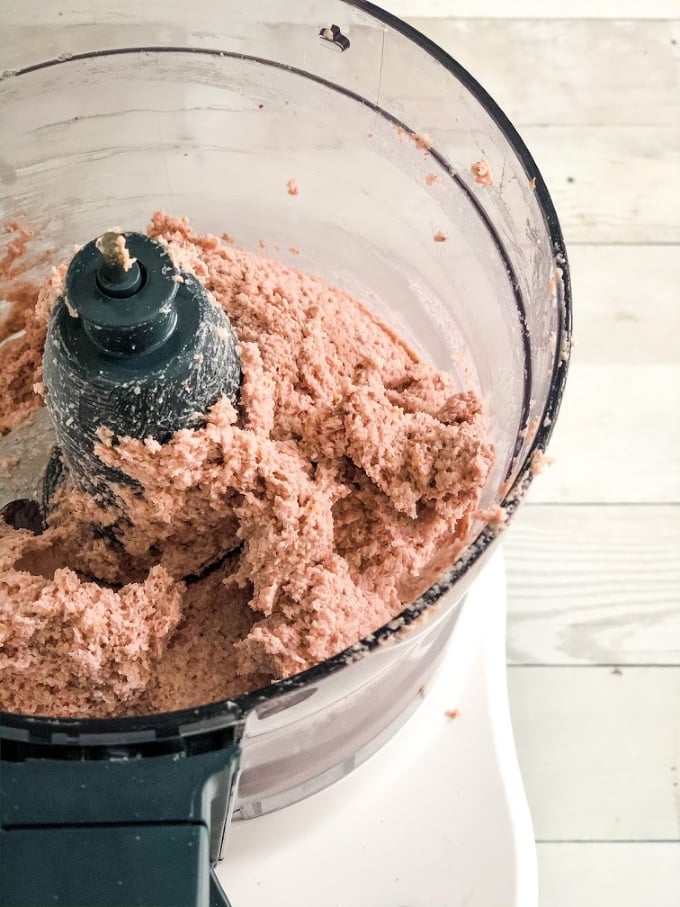 (3). Once it comes together it is important to pop the mixture into the fridge for around an hour (if you are short on time then 20 minutes will work, but an hour is ideal). This stops the mixture from being too sticky and ensures it doesn't stick to your hands.
(4). After it has had a chance to rest in the fridge then simply gather about 1tbsp of the mixture, pop a small piece of frozen strawberry onto the mixture and roll the mixture into a ball around the strawberry piece.
(5). Roll the strawberry ball into the chocolate sprinkles and pop back into the fridge until ready to enjoy.
Do I Have To Use Frozen Strawberries To Make Strawberry Cheesecake Bites?
Yes, it will make it a lot easier.
Using frozen fruit for strawberry cheesecake bites works better for two reasons:
The actual bliss ball mixture will hold together a lot better with frozen fruit. If you try and use fresh fruit, it will become way too runny and it most likely won't come together enough to roll into a ball.
Using frozen fruit to stuff inside the bliss ball means that it will melt and get all gooey once the balls have been made and put into the fridge. If you use fresh fruit, it will remain firm and you will not have the desired gooey consistency inside the ball.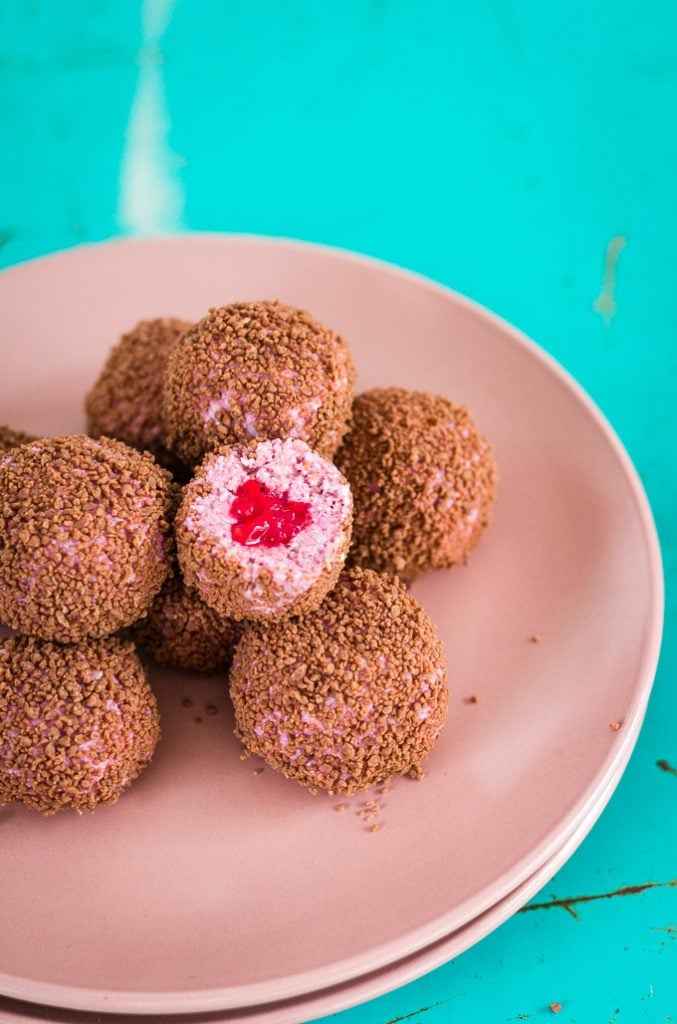 If you only have fresh fruit, you have two options:
Take the time to freeze it, and make the balls tomorrow instead.
Proceed with the recipe, and instead of rolling into balls you could press the mixture into silicone molds and freeze.
Tips and Substitutions For Your Strawberry Bliss Balls
Make Them Nut Free
With a lot of schools declaring a nut-free zone, you may want to make these strawberry balls without the macadamias.
Not a problem.
Try substituting the nuts for these instead:
pumpkin seeds
sunflower seeds
sesame seeds
hemp seeds
or a mixture of all the above seeds combined!
Need More Healthy Bliss Ball Recipes?
We pretty much always have a couple of different types of healthy bliss balls hanging out in the fridge or freezer, so we have a fair few different flavors for you to choose from:
And, for all your bliss balls without dates needs, check out this epic list of 31 bliss balls without dates!
Chocolate Covered Strawberry Cheesecake Bites
Total Time:
1 hour
10 minutes
Ingredients
¾ cup dark chocolate, broken into equal-sized chunks
1 cup of frozen strawberries
1 cup rolled oats
1 cup macadamias (or seeds of choice)
2 tablespoon pure maple syrup or rice malt syrup
2 tablespoon chia seeds (I used white)
1 tablespoon coconut oil
½ cup unsweetened desiccated coconut
1 tablespoon nut milk of choice (optional)
Extra strawberries for stuffing into bites, cut into quarters
Instructions
(1) Pop the chocolate chunks into the bowl of a food processor and pulse until the chocolate resembles fine chocolate sprinkles. Set aside until ready to use.

(2) Place the strawberries, oats, macadamias, maple syrup, chia seeds, coconut oil, and desiccated coconut into the bowl of a food processor and process until smooth. You will have to stop and scrape down the inside of the bowl with a spatula a couple of times. If the mixture is struggling to come together then add some milk of choice, 1 teaspoon at a time, until the mixture is smooth.

(3) Transfer the mixture to a bowl and pop into the fridge for about an hour. This makes it easier to roll into balls.

(4) Remove the mixture from the fridge. Taking roughly 1tbsp at a time, place the mixture into the palm of your hand and place a piece of chopped frozen strawberry into the middle of the mixture. Wrap the mixture around the strawberry and roll into a ball.

(5) Place the chocolate sprinkles into a small bowl. Roll the strawberry mixture into the chocolate mixture until coated. Repeat until all strawberry mixture is gone.

(6) Store in the fridge until ready to eat.
Nutrition Information:
Yield:

16
Serving Size:

1
Amount Per Serving:
Calories:

209
Total Fat:

13g
Saturated Fat:

5g
Trans Fat:

0g
Unsaturated Fat:

7g
Cholesterol:

2mg
Sodium:

30mg
Carbohydrates:

21g
Fiber:

3g
Sugar:

10g
Protein:

3g
The information shown is an estimate provided by an online nutrition calculator. It should not be considered a substitute for a professional nutritionist's advice.
The information shown is an estimate provided by an online nutrition calculator. It should not be considered a substitute for a professional nutritionist's advice.
Don't forget to follow Whole Food Bellies on Pinterest for more recipe inspiration! Or if Pinterest isn't your style, bookmark this post! Let's keep the conversation going- join my Facebook group!