I was very lucky last week, and was able to attend a blogger excursion with the IFBC, and find an answer to the question 'just what is an endive?'. Now I have to admit, it has been years since I have been on an excursion, and I felt like a little kid getting all loaded up on the bus with a bunch of other foodie enthusiasts to go and have a tour of an endive farm. Now I know touring an endive fair doesn't sound that fun, and to be honest, it has never featured on my to-do list, but now that I have 'been there and done that' I am so thankful that I had the opportunity to do so. It was seriously so fun and interesting, and our tour guide was just a delight!!
Rich Collins (the delightful tour guide I mentioned before), is the founder of Californian grown endives, and I can honestly say I have never in my life met someone so enthusiastic about a vegetable. Especially a vegetable that isn't exactly very well-known in this part of the world! It was a such a treat to have him give us our little behind-the-scenes tour. That man knows everything there is to know about endives!
So, what is an endive?
Pronounced on-deev, the endive is what happens when you chop the leaves from a chicory root and then subject the root to temperatures and conditions that pretty much can't be found in nature. They are completely different from the more well-known curly endive (en-dive), and don't you dare get those pronunciations mixed up 😆
It is a pretty rigorous process, and from the sounds of things, makes an endive one of the most difficult vegetables in the world to grow. So hard, that when Collins decided to try growing some in California, (due mostly in response to a prompt from a chef he was working with complaining about paying $6lb for the delicacy), he was faced with only naysayers as it had never been done (successfully) before. He aptly named his first little start-up farm 'Rebel Farms', and hasn't looked back, except maybe to gloat. After what sounds like a pretty bumpy ride, he and his wife perfected the process, and after 38 years California Endive is the only successful endive grower in the U.S. (that they know of).
You would not believe the rooms that the endive grow in. Row upon row of these perfect little veggies growing in complete darkness, in what they call 'forcing rooms', named because they basically force the endive to grow. It is pretty amazing, and I feel so lucky to have been able to go behind the scenes.
So what are the benefits of endive?
Ok so we have answered the question of what is an endive, but what are the perks of spending a small fortune on these perfect little gems? They are:
a great source of potassium;
a nutrient dense vegetable. There is only one calorie per leaf, they are low in fat and sodium and they are naturally cholesterol-free;
they can be grown year round, so when you find them year round at the supermarket/farmers market, it's not because they have been shipped from halfway across the world. Plus it means you can make super-fancy appetizers year round;
they are a great source of vitamins and minerals. They are loaded with vitamins B, C, K, calcium, magnesium, zinc, folate and selenium;
they promote digestive health, aiding in regularity;
they are a high in complex fibers;
and last, but not least, they are great for snacking - I have some ideas below for you
Ok, I am convinced. But what do I do with endive, once I get my hands on some?
There are plenty of ways to use your endive! You can use the endive leaves as low-fat, gluten free alternatives to chips and crackers. They are great dipped in some hummus, or other dip of choice. They are just fantastic in a salad, such as a 'red, white and blue' which we were able to sample at the farm. It was a mixture of red endive, white endive and blue cheese, and it was delicious!
If you prefer to cook it up and get a bit of sweetness in there by caramelizing the sugars in the endive leaves, then pop them on the grill, and I promise they will taste just amazing. There are plenty of grilling ideas on Pinterest for you to check out. Let your imagination run wild.
My favorite way to use endive, is as a vehicle for other food (that way, you get the best of both worlds 😛 ). These recipes are a regular in our house, as we grab some endives from the farmers market every weekend (and at least now I have an appreciation for the price):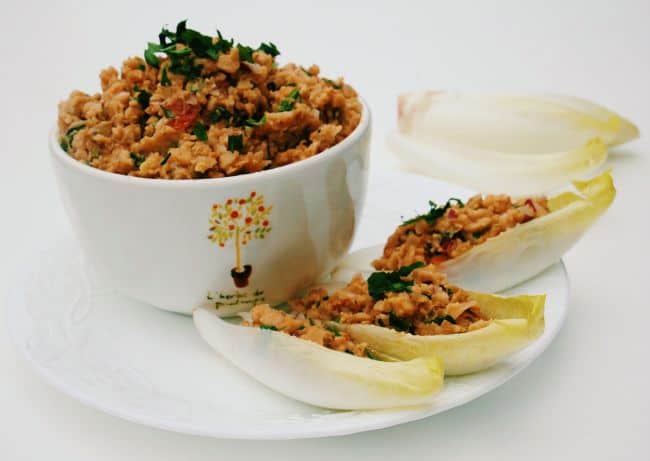 Green Olive and Smashed Chickpea Spread
I hope you have enjoyed our little produce in spotlight post today. I thought it would be fun for something a little bit different, and I hope I have answered the what is an endive question for you!! Personally, I could keep going on and on with facts and tidbits on endives, as they actually have quite a fascinating history, but I don't want to get too carried away, so we will leave that for a follow up post  🙂 For now, if you are looking for more recipes, be sure to pop over to California Endive and check them out.