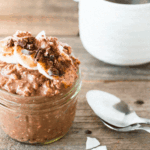 This is sure to be your new favourite breakfast. Chocolate, peanut butter, oats and bananas combine to make this one little pot of deliciousness. Great for putting in mason jars, and having breakfast on the go
Add the mashed banana, peanut butter, cocoa powder, oats, milk, vanilla bean paste, cinnamon and maple syrup to a large bowl and mix until well combined

Pop into the fridge overnight (see notes). If you want grab-n-go breakfast, then transfer the mixture into two mason jars, leaving room at the top for the extra toppings

When ready, give the oats a stir, adding in a little more milk if needed. Add toppings of choice and enjoy
The oats will be soft enough to eat after 3 hours.
If you prefer your oats warm, then just add a little bit of milk, and heat over low-med heat in a saucepan for about 5 mins.
Nutrition Facts
Overnight Chocolate Peanut Butter Cup Oats
Amount Per Serving
Calories 646
Calories from Fat 345
% Daily Value*
Fat 38.3g59%
Cholesterol 15mg5%
Sodium 88mg4%
Carbohydrates 60.7g20%
Protein 27.1g54%
* Percent Daily Values are based on a 2000 calorie diet.