Enjoy the best summer has to offer in this Zucchini, Tomato and Feta Frittata. Bursting with delicious fresh seasonal flavors and ready to be packed up for a picnic and shared with friends and family.
For someone who couldn't even keep a single strawberry plant alive two years ago, my little garden is going great guns this season!! So good in fact, that I have zucchini and tomatoes coming out the wazoo, and have had to use them up in every way imaginable. Which is of course how this little Zucchini, Tomato and Feta Frittata came about.
It is always super handy to have a quick and easy frittata recipe on hand. Especially when the days are long and delightful and you spend the whole evening at the pool (of how I wish it were the beach), only to come home and realize there is no food prepared. In those moments, dishes like this  Zucchini Tomato and Feta Frittata can be an absolute lifesaver, as it can come together in about 15 minutes from start to finish. It also works well packed up and brought along to the pool for a picnic, which means no dinner dishes at home, always a plus in my books. This is exactly what I have been doing at least once a week this summer, and it has been just lovely.
Use up what you have in the fridge, or growing in your garden, and make it your own. If you have lots of herbs, then throw them in there and make it a herby frittata, if you have some summer squash then throw that in there too. Heirloom tomatoes work wonders dotted on top instead of the cherries (although if you have little ones, they may just prefer the baby tomatoes, I know mine do!)
This zucchini tomato and feta frittata is super versatile, and is just begging for you to make it into something your whole family will love!
Do you have much (or anything) growing in your garden this season? My heirlooms are all just starting to come in, and I am super excited as I have some random varieties planted this year. If you haven't gardened much, then I recommend planting some cucumbers – those things just grow like weeds!! We have had a couple coming through every week, and they are super refreshing in smoothies.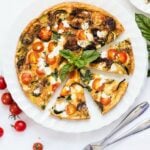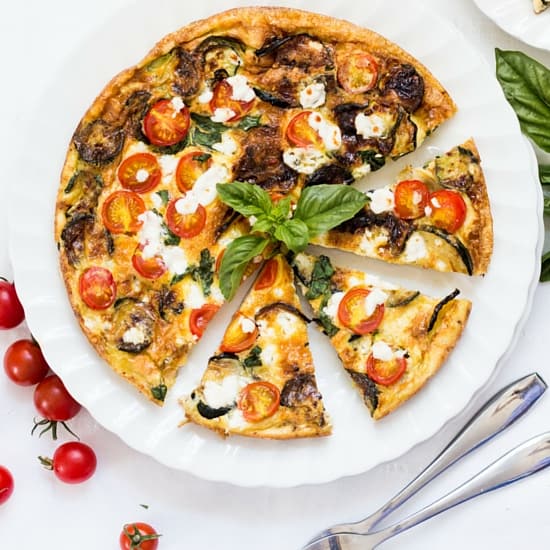 Zucchini Tomato and Feta Frittata
A zucchini, tomato and feta frittata is the perfect dish to prepare on those long summer days. Quick and easy to prepare, light and just bursting with the flavor of summer.
Ingredients
2

tbsp

extra virgin olive oil

1

slices

average sized zucchini

ends trimmed and cut into (about 1/3 inch)

7

large eggs

began

10

in

cherry tomatoes

cut half

3

leaves

large basil

torn into small pieces

1

ounce

feta cheese

salt and pepper to taste
Instructions
Turn the grill (broiler) onto high and position a rack about 10 inches away

Heat 1 tbsp olive oil in skillet (broiler proof) over med-high heat. When the oil is hot, add the zucchini in a single layer. Cook, turning once, until golden on both sides. Once cooked, transfer to a paper towel to drain

Add the other 1 tbsp olive oil to the pan and reduce the heat to low. Whisk the eggs with the salt and pepper (to taste), stir in the cooked zucchini and then pour into the skillet. Use a spatula to make sure the zucchini are in a single layer

Cook slowly until the frittata is mostly set (about 8 minutes). It should still be a little runny on top. Add in the cherry tomatoes, cut side up, and the basil - pushing them into the egg mixture. Scatter the feta cheese on top

Pop the skillet under the broiler until puffy and golden (about 2 mins) and remove from heat

Slide the frittata onto a cutting board and allow to cool for about 15 mins before slicing and serving
Nutrition Facts
Zucchini Tomato and Feta Frittata
Amount Per Serving
Calories 148
Calories from Fat 104
% Daily Value*
Fat 11.5g18%
Cholesterol 221mg74%
Sodium 141mg6%
Carbohydrates 3.1g1%
Protein 8.8g18%
* Percent Daily Values are based on a 2000 calorie diet.