Crispy roasted cauliflower sits a atop a creamy tahini and cauliflower puree with just a hint of lemon.  Perfect picnic food or as a main course paired with a dark leafy salad.
This recipe has been updated from the original February 2015 version in order to provide a better experience for our readers.
How an Impromptu Cooking Lesson Turned Into my Favorite Roasted Cauliflower Tart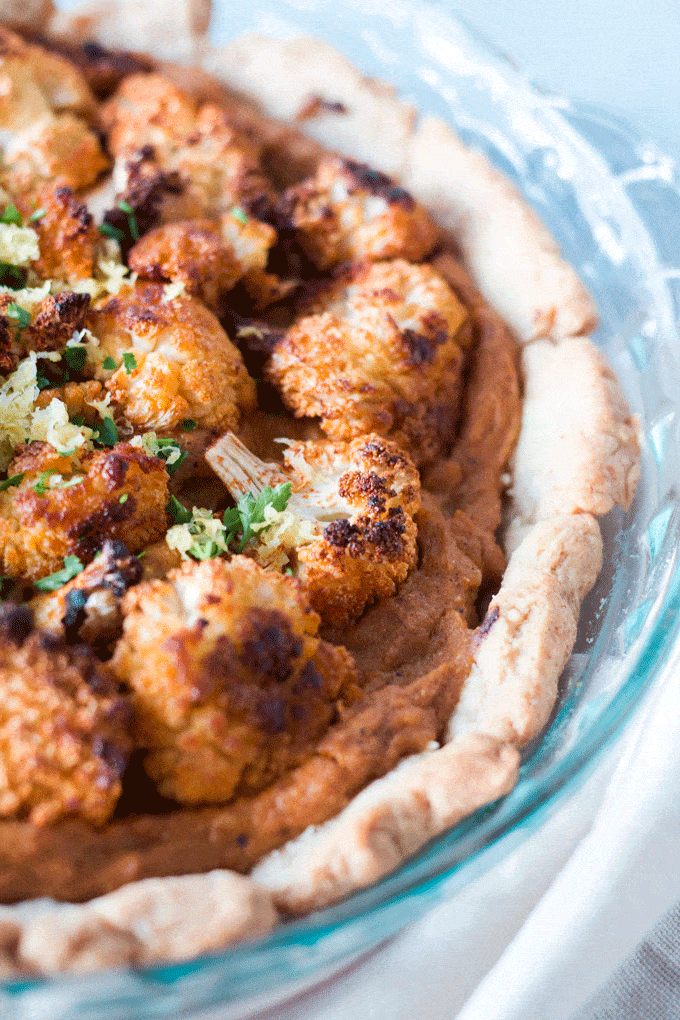 Every time I make this roasted cauliflower tart I have such lovely flashbacks of the first time I made it.  We were living in a little two bedroom townhouse at the time and I had this great island bench in the middle of the kitchen where I would do all my dabbling. My sister would come around bi-weekly for a 'cooking lesson' which consisted of wine, eating and gossiping.
The 'lesson' part came into play because I had a new baby and I would spend while I cooked telling her everything that I was doing. Technically, I was telling my sister as well, but I don't think she really ever listened...she was there for the wine and free food (starving students...)
Such a simple memory really, but with a new baby comes a period of a mediocre social life so this was always a fun time for me and I still get the warm and fuzzies when I think about it.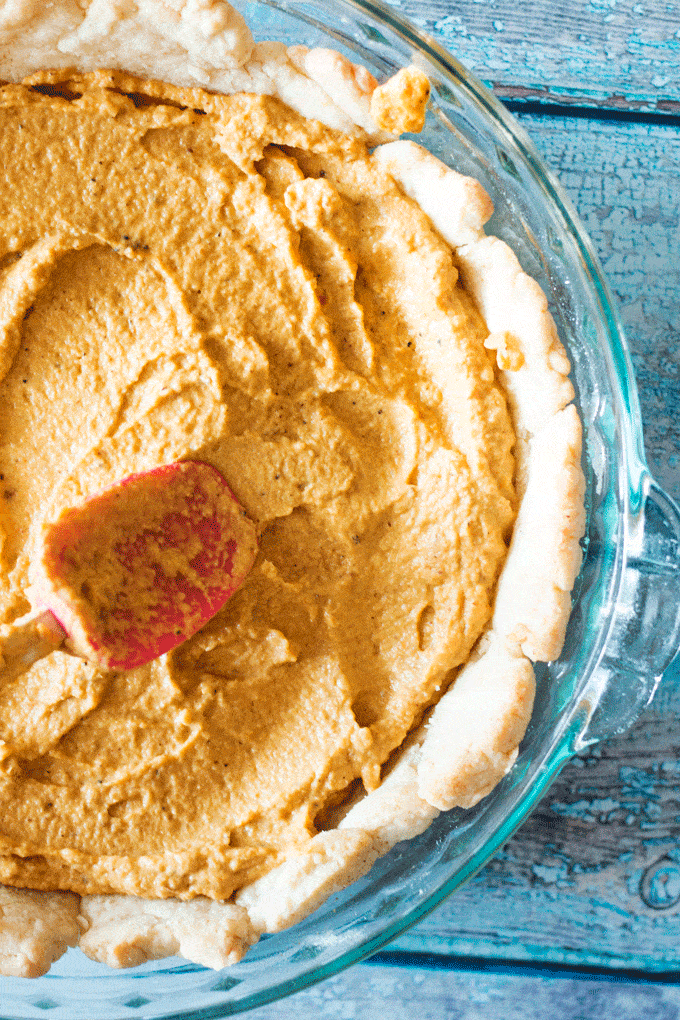 The roasted cauliflower tart turned out to be awesome as well, which helps with building great memories. I'm fairly sure I would not look back on this meal quite as fondly if it had been a flop of a dish and a monumental waste of ingredients.
How Do I Serve Up a Roasted Cauliflower Tart?
My favorite way is to serve this up with a side of dark, leafy salad and a nice glass of wine (for memories sake ya know). But I still think it was better that night we picked at it over a glass of terrible cheap wine, sitting at the island bench, chatting to the baby.
It also works great as an addition to a picnic basket. Just chill well first so that the tart sets properly for easier transportation.
If you would like to make your own pie crust instead of buying one from the store then check out this homemade version: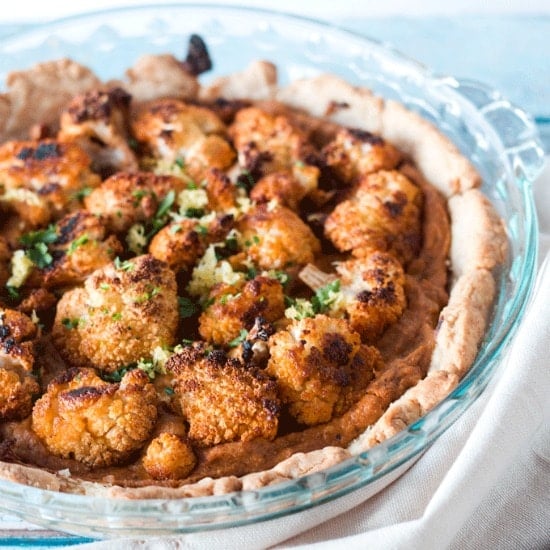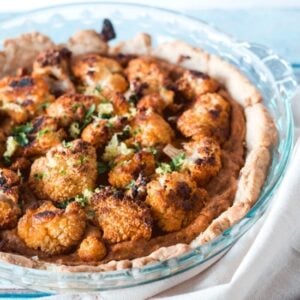 Roasted Cauliflower Tart
Crispy roasted cauliflower sits a atop a creamy tahini and cauliflower puree with just a hint of lemon. Perfect picnic food or as a main course paired with a dark leafy salad.
Ingredients
1

pie crust, thawed

(store bought or homemade)

1

medium cauliflower

1

medium onion

quartered

4

cloves

garlic

skin on

2

tbsp

extra virgin olive oil

1

tsp

smoked paprika

1

tsp

kosher salt

¼

tsp

freshly grated turmeric

1

tbsp

freshly squeezed lemon juice

1

tbsp

tahini

¼

cup

almond milk

Big pinch of black pepper

Lemon zest and chopped parsley to serve
Instructions
Preheat the oven to 450F. Lightly oil a 9 inch tart pan and press the pie crust into the pan, prick with a fork a couple of times. Fill with pie weights and place in the preheated oven for 9 to 11 minutes, or until lightly browned. Remove from oven and allow to cool completely before filling. (see notes for alternative pie crust instructions)

Add cauliflower, onion, garlic, olive oil, paprika and salt to a parchment lined baking sheet and toss to combine. Arrange in a single layer on the tray and roast for 40 minutes, turning the florets over halfway through. Once roasted, remove from the oven and set aside to cool

Reduce the oven to 350 farenheit

Add ¼ of the roasted cauliflower, all of the onion and garlic along with the fresh turmeric, lemon juice, tahini, almond milk and pepper to a food processor and blend until smooth and creamy

Spread the cauliflower mixture into the cooked and cooled pie crust and arrange the remaining cauliflower florets on top

Bake the tart for 30 mins. Remove from the oven and allow to cool for 15 mins before garnishing with freshly grated lemon zest and parsley. Serve and enjoy
Notes
The instructions provided are for a store bought pie crust. If you are using a homemade pie crust then follow the instructions required for blind baking that crust.
Don't let the long list of ingredients put you off. This tart comes together quite quickly and doesn't require that much in terms of preparation....the result is totally worth it!
Nutrition
Calories:
152
kcal
Carbohydrates:
13
g
Protein:
2
g
Fat:
10
g
Saturated Fat:
2
g
Sodium:
393
mg
Potassium:
101
mg
Fiber:
1
g
Vitamin A:
125
IU
Vitamin C:
8.7
mg
Calcium:
25
mg
Iron:
0.8
mg