This stunning hot pink lemon beet hummus recipe is so easy to make, and super versatile. Whether you are enjoying it as a dip, as a spread in your next wrap, or atop an appetizer, it is bound to catch some attention with its gorgeous color and subtle sweet beet flavor. Beet haters are going to change their minds as the lemon and garlic really balance out that beet flavor.
vegan. dairy-free. gluten-free. freezer-friendly.
We love making hummus with a twist at home. Instead of a traditional hummus recipe, why not try out this Golden Turmeric Hummus, Roasted Garlic and Pumpkin Hummus or Red Pepper Hummus next?
Roasted Beet Hummus
I am just obsessed with the bright pink color of this stunning creamy roasted beet hummus.
Roasting the beets adds sweetness and caramelization to them that people who love beets (or even naysayers) are sure to enjoy.
With a handful of simple ingredients, you could have this on your table in no time.
Gather this list of healthy ingredients and get ready to start snacking.
You will need:
roasted or steamed beets: use fresh beets and roast them yourself. I use red beets for this recipe, but if golden beets are in season they can be used instead (obviously you aren't going to get the same color result). If you would like to save time you can buy the pre-cooked beets that are easily available at most grocery stores, however the flavor will not be as good as what you will get from roasting the beets;
cooked chickpeas (garbanzo beans): I buy canned chickpeas to save time, but if you prefer to cook your own go for it (if you buy canned chickpeas don't throw away the aquafaba - see below in the post on what to do with that);
tahini paste: this can be found in the international section of the grocery store. If you prefer not to use tahini you could substitute it with a nut butter (cashew or almond butter), or some Greek yogurt, but please note this will once again change the flavor. so choose wisely;
lemon juice: as always, fresh lemon juice is best for flavor, however, bottled lemon juice can be used in a pinch if needed;
fresh parsley;
garlic: freshly minced or pre-minced will work just fine, feel free to add an extra garlic clove or two if you like your hummus more garlicky;
ground cumin;
salt and black pepper;
smoked paprika;
olive oil: sub in another oil of choice if preferred such as avocado oil, but please note that the flavor will differ;
filtered water: this is just to adjust the thickness.
If you have a hard time finding tahini paste you can always make your own by processing sesame seeds with cold water in a food processor until smooth.
TIP: in a pinch, you can use pre-cooked beets from the store.
How To Roast Beets
Roasting intensifies the sweetness of the beets.
If you are roasting your own fresh beets at home then you will need to roast them and allow them to cool completely before using them in this recipe.
To roast, simply:
Preheat oven to 400F (205C)
Remove the greens and tops from the beets
Wrap loosely in aluminium foil
Place the wrapped beets on a rimmed baking sheet and roast in the preheated oven for about 50 minutes, or until a fork or skewer slides easily into the middle of the beet
Allow to cool and then peel and chop.
Meal Prepping Tip: Roast more beets than what you need for this recipe, and use them in salads, smoothies, and sandwiches for the week ahead.
How To Make Beet Hummus
Making hummus at home is pretty simple.
It is one of those things that always seems like such a big task, but once you try it you will realize there is nothing to it.
simply add all of the ingredients except for the oil to the bowl of a food processor and pulse until combined. once combined, slowly add in the olive oil until the mixture becomes a smooth paste. adjust seasoning according to your preferences, and away you go!
Make sure the beets have been roasted until they are nice and soft so that it incorporates into the rest of the hummus mixture easily.
Add a touch of water to the rest of the ingredients for a more smooth hummus.
TIP: for an even smoother and more creamy texture you could remove the chickpea skins. The best way to do this is to shake them in a strainer or rub them vigorously between your hands. This is not necessary though if you are time-poor.
Storing Leftovers and Freezing
Leftover beet hummus should be stored in an airtight container in the fridge.
It will last for about 4-5 days.
TIP: keep the aquafaba from the canned chickpeas and use it in one of these amazing recipes from cooking on caffeine.
Store-bought hummus will last longer, about 5-7 days, but this is usually because it has added preservatives, which we are avoiding by making homemade hummus.
Homemade hummus can also be frozen.
Do not freeze the whole batch in one container, as this will take a while to defrost.
Instead, split the dip into smaller, more manageable batches before freezing.
Why not try adding your hummus to an ice cube tray, or another small freezer-safe container so that you can just take out an individual serving when needed.
Serving Suggestions
When serving up, top your lemon beet hummus with some diced beets, a sprinkle of smoked paprika, and some sesame seeds and fresh parsley.
My favorite way to enjoy hummus is with some veggie sticks as it makes the perfect dip, but there are so many other great ways to enjoy this delicious recipe:
serve with pita chips or crackers;
add a schmear under some poached eggs for a healthy breakfast bowl;
serve with raw veggies (my favorite veggies to enjoy with red beet hummus is carrots, cucumbers, bell peppers and radishes);
wrap beet hummus in a lettuce leaf with some veggies for a quick and healthy snack;
use as a spread or an alternative to butter in a sandwich or wrap;
use as a salad dressing when mixed with some olive oil to thin it out, like in this recipe Quinoa Veggie Bowl with Basil Hummus Dressing;
mix through some pasta as a sauce;
whisk a spoonful into your scrambled eggs for an extra pop of flavor and color;
use as a base on pizza instead of tomato sauce;
mix in with the yolk in deviled eggs for a fun pop of color and flavor.
So many ways to use it all up, so don't let that hummus go to waste!
More Recipes For Entertaining
Homemade dips make the perfect party appetizer.
Why not try one of these recipes after making this easy beet hummus:
Frequently Asked Questions
Can I use jarred or premade beets from the store?
Yes.
However, the flavor will not be the same, as roasting the beets adds caramelization and sweetness.
Can I use raw/uncooked beets?
No.
I mean, technically you can do whatever you want. But roasting the beets adds a level of flavor needed to make this recipe sing.
Is beet hummus good for you?
It is full of good ingredients, healthy fats, and vitamins.
I would say it is a pretty good snack to be putting into your body.
Happy Eating.
xx
Recipe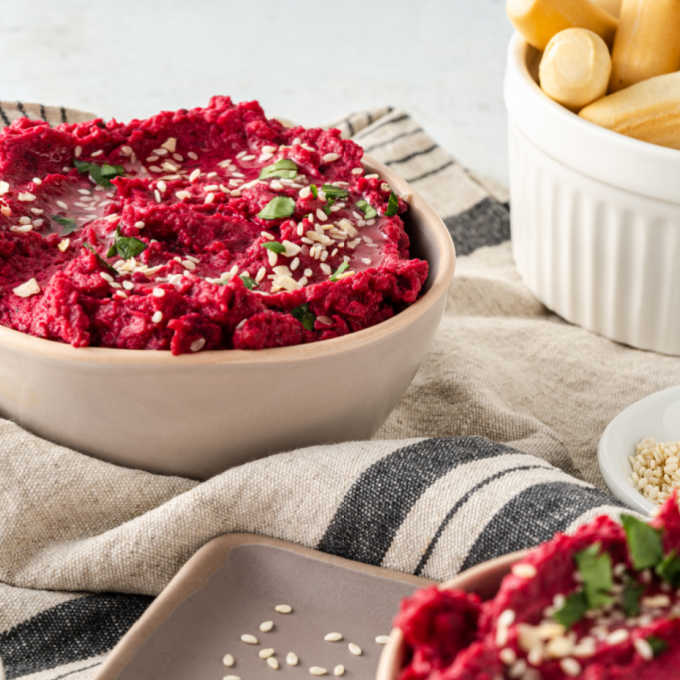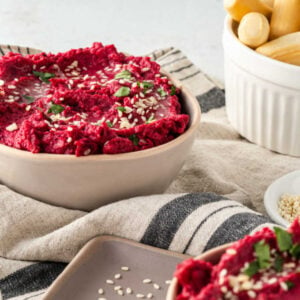 Creamy Lemon Beet Hummus Recipe
This stunning hot pink lemon beet hummus recipe is so easy to make, and super versatile. Enjoy it as a dip, as a spread in your next wrap, or atop an appetizer.
Ingredients
2

small beets

3

cups

cooked chickpeas (garbanzo beans)

(about 2 cans)

½

head

garlic

¼

cup

tahini paste

¼

cup

fresh lemon juice

(about 2 lemons)

1

tablespoon

fresh parsley

chopped

1

teaspoon

ground cumin

1

teaspoon

smoked paprika

½

teaspoon

each salt and ground pepper

¼

cup

extra virgin olive oil

¼

cup

filtered water

(to adjust thickness)

optional: smoked paprika, pumpkin seeds, ground cumin, chopped fresh parsley, sesame seeds and extra chickpeas

for serving
Instructions
To Roast Beets
Preheat the oven to 400F (200C).

Remove the stems from the beets and wrap the beets in aluminium foil. Add to a rimmed baking sheet and pop into the preheated oven.

Bake for about 50 minutes, or until fork tender.

Allow to cool completely, peel and chop into quarters.
To Make Beet Hummus
Place all of the ingredients, except for the olive oil and water, into the bowl of a food processor, and blend until smooth.

Once smooth, slowly add the olive oil while the food processor is still running until it is completely incorporated and you have a smooth mixture.

If the hummus is too thick, add more olive oil or filtered water 1 tablespoon at a time, while still blending, until the desired consistency is reached.

Taste, and add more salt if required.

To serve: scoop the hummus into a serving bowl and garnish with some smoked paprika, ground cumin, fresh parsley, and sesame seeds.
Notes
Beets: Use 2 small beets or one medium-sized beet. 
In a pinch, you can use jarred beets or pre-cooked beets from the veggie section of the grocery store, but this will affect the flavor of the hummus.
Roasting the beets adds sweetness and caramelization.
Storing: store hummus in an airtight container in the fridge for 3-5 days.
Leftovers: can also be frozen for up to 3 months. Try freezing in small portions so that small amounts can be removed from the freezer and will thaw quickly.
Nutrition
Calories:
176
kcal
Carbohydrates:
17
g
Protein:
6
g
Fat:
10
g
Saturated Fat:
1
g
Polyunsaturated Fat:
3
g
Monounsaturated Fat:
5
g
Sodium:
20
mg
Potassium:
246
mg
Fiber:
5
g
Sugar:
4
g
Vitamin A:
158
IU
Vitamin C:
5
mg
Calcium:
41
mg
Iron:
2
mg
Tried this recipe?
Leave a comment HERE and let us know how it was!
The information shown is an estimate provided by an online nutrition calculator. It should not be considered a substitute for a professional nutritionist's advice.