Heirloom Tomato and Nectarine Salad with a zesty mint and lime dressing is the perfect little unique salad combination to showcase all of the beautiful fresh flavors of summer. Summer in a bowl has never tasted so good! Plus, it is easy to make, which is always a bonus!
Zesty Heirloom Tomato and Nectarine Salad
I was experimenting with this tomato and nectarine salad the other night when my three-year old walked in from the backyard.
She popped up on her chair to see what I was making and exclaimed 'an heirloom tomato salad, that will be so delicious'. I am pretty sure I had no idea what an heirloom tomato was until I was in my late twenties!
Here she is, all of three years old.....I don't know whether to be ridiculously happy, or worried that she is spending wayyyyy too much time in the garden with me 🙂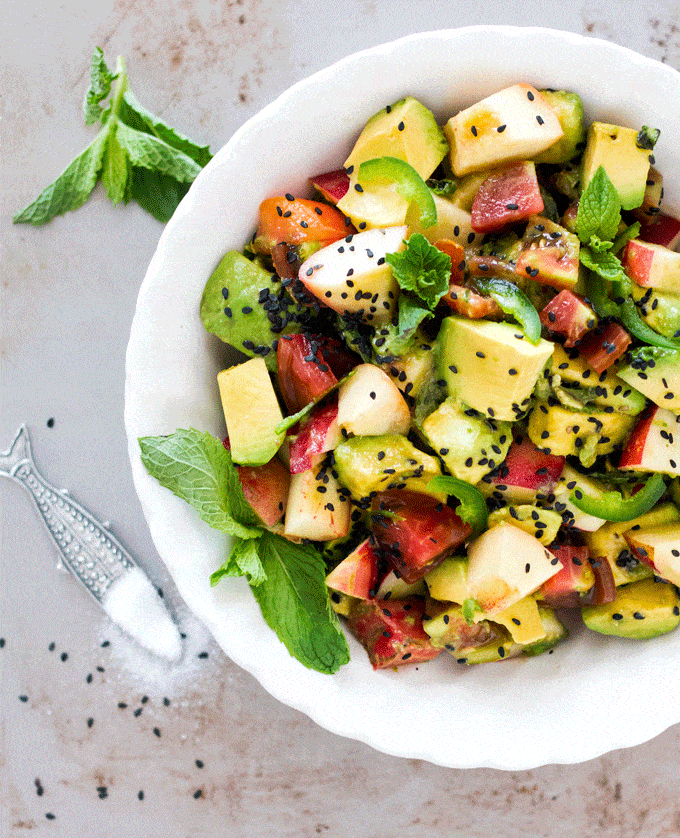 Fruit In A Savory Salad? A Note On Ingredients To Make This Work.
It is so easy to get stuck in the rut of the straight-up lettuce, tomato, and cucumber salad with a really simple lemon and olive oil dressing.
Don't get me wrong, there is absolutely nothing wrong with a classic, but sometimes it is really nice to change things up.
This salad is the perfect mix of sweet, savory, spicy, and zesty!
It packs such a flavor punch that you simply cannot say no.
I made a huge bowl the first time around and the entire thing was devoured and requested again.
That has to be a good sign right?
A note on the ingredients we will be using:
Heirloom tomatoes: these are available everywhere in summer in California, and I have noticed them slowly creeping into farmers' markets in Australia now too. If you can't find any heirloom tomatoes, then feel free to use any ripe summer tomatoes you can find. Different colors make for a fun accompaniment, and the yellow tomatoes can tend to be a bit sweeter, and pair so well with nectarine.
Ripe nectarines: You can use any nectarines you can find - white or yellow. Got both? Throw both varieties in there for some extra color!
Jalapeño: I find this is necessary for balancing out the flavors in this salad, but you can always leave them on the side if you are serving children or people who do not like spicy food.
Lime juice and zest: zest the lime first, then chop in half and juice.
Ginger: You really need fresh ginger for this recipe, ground ginger, or the pre-prepared ginger just won't work as well.
Sesame oil: This can be found in the Asian section of most well-stocked supermarkets. Otherwise, you can get it from an international supermarket.
If you don't have nectarines, fresh peaches can be used in their place.
Preparation and Storage Tips
This nectarine salad is best made just before serving.
Given the juicy nature of the nectarine, it will get too juicy, and therefore soggy if made in adance.
The avocado will also discolor pretty quickly (although the lime juice will help to keep it lasting a little bit longer), so it is best served straight away.
Be sure to toss the salad gently, we don't want the avocado turning to mash, and that will give the salad a less than stellar texture.
Leftovers
This salad is best eaten when it is served.
Any leftovers can be stored in an airtight container in the fridge, however, it may become extra juicy and not as delicious.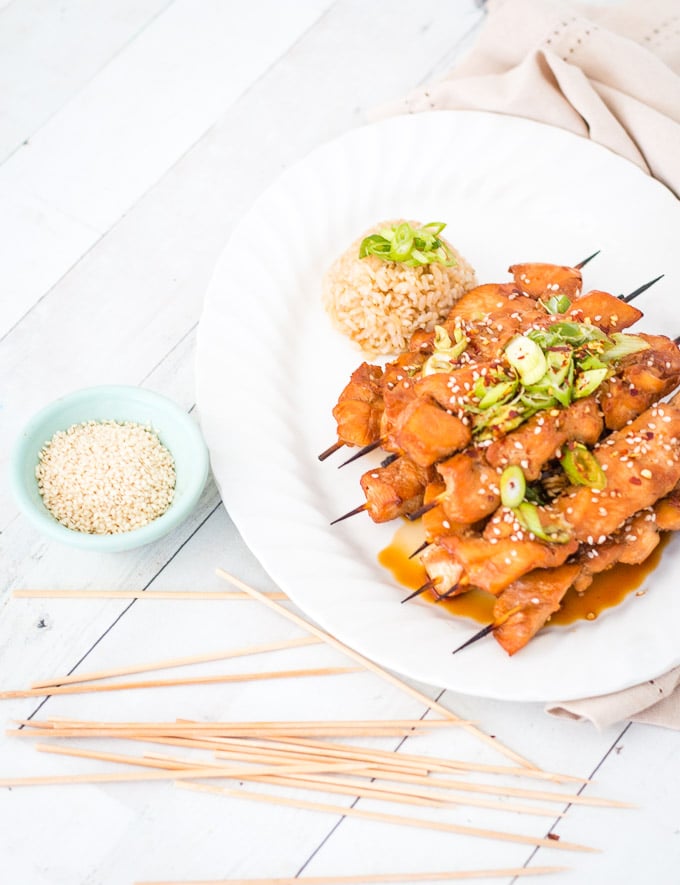 What To Pair With A Tomato and Nectarine Salad?
For dinner, I like to pair this tomato and nectarine salad with some whole-grain cous-cous and a nice piece of grilled salmon, but it also works well when served up all by itself for lunch!
You could also serve it alongside some:
If you are looking for a unique salad recipe that is just a little bit different, but still a total crowd-pleaser, then look no further.
This nectarine salad is definitely one that will be making a reappearance for as long as the season lasts this summer.
Happy Eating
xx
Recipe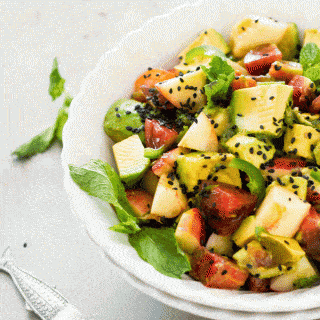 Zesty Heirloom Tomato and Nectarine Salad
Heirloom Tomato and Nectarine Salad with a zesty mint and lime dressing is the perfect little unique salad combination to showcase all of summers beautiful fresh flavors
Ingredients
1 ½

cups

cubed heirloom tomatoes

1 ½

cups

cubed ripe nectarine

½

jalapeño pepper

seeds removed and flesh chopped very finely

tablespoon

Zest and juice of two limes

about 2 juice

1

tablespoon

fresh grated ginger

½

teaspoon

sesame oil

1

ripe avocado

cubed

2

teaspoon

black sesame seeds

2

tablespoon

fresh mint leaves

torn

Salt to taste

I used himalayan pink salt
Instructions
Toss tomatoes, nectarine, jalapeño and half of the lime zest together in a large bowl

For the dressing, whisk together the ginger, lime juice, sesame oil and a pinch of salt

Add the dressing to the tomato mixture. Add in the avocado, sesame seeds and half the mint

Gently toss to combine

To serve sprinkle with the rest of the mint and a little bit of lime zest
Notes
Substitutions:
The nectarines can be swapped for ripe peaches instead. If you choose to do this, you may want to peel the peaches so you do not have the fuzzy skin in your salad.
Storing:
Any leftovers should be stored in an airtight container in the fridge overnight. However, this salad is best eaten on the day it is made.
Nutrition
Calories:
162
kcal
Carbohydrates:
17.2
g
Protein:
2.6
g
Fat:
11.1
g
Saturated Fat:
2.1
g
Sodium:
8
mg
Fiber:
6.4
g
Sugar:
6.8
g
Tried this recipe?
Leave a comment HERE and let us know how it was!
The information shown is an estimate provided by an online nutrition calculator. It should not be considered a substitute for a professional nutritionist's advice.