Loaded with antioxidants and free from refined sugar, these Matcha and Dark Chocolate Coconut Truffles are the perfect sweet treat to enjoy this Holiday season. They also happen to make great homemade gifts for loved ones.
I swear with my third pregnancy my body just wanted ALL THE SWEET THINGS, ALL THE TIME!
With my others, I had pretty respectable and healthy cravings - ruby red grapefruits and kimchi (with the occasional donut thrown into the day for good measure).
The third....sweets. Cakes, truffles, chocolates, ice-cream. If it comes with a sugar buzz, my body wanted it and it wanted it asap.
I say give it what it wants (because fighting a pregnancy craving is just cruel, and who has the energy?).
So I came up with lots of chocolatey creations with a healthy spin. These little coconut truffles are just divine. They come together in about 15 mins from start to finish, and with a tiny sprinkle of matcha on top, they look super fancy. But they are full of good, healthy fats and antioxidants. Win, win.
If you are on the hunt for some matcha, this is the one I have been using. It is organic, shade-cultivated, carefully picked, and stone ground. I have worked with the company DoMatcha in the past and they are great.
Give Me the Quick Version of Why Dark Chocolate Matcha Coconut Truffles are Awesome.
Ok here we go:
They are quick and easy to make (about 15 minutes from start to finish);
Loaded with antioxidants from the dark chocolate and the organic matcha powder;
Coconut oil is high in natural saturated fats. Saturated fats not only increase the healthy cholesterol (known as HDL) in your body but also help to convert the LDL "bad" cholesterol into good cholesterols. By increasing the HDL's in the body, it helps promote heart health and lower the risk of heart disease.
They are free from refined sugars, but still taste deliciously sweet;
You can make a big batch, pop them in the freezer and just pull them out when needed. They will still taste delicious.
Be sure to add some of these delicious little chocolate coconut truffle bombs to your sweet treat repertoire.
Need More Homemade Chocolates In Your Life?
With the Holiday season upon us, it is always nice to have something just a little bit healthier on hand to offer friends and family. I love whipping up these guys for the gift-giving season: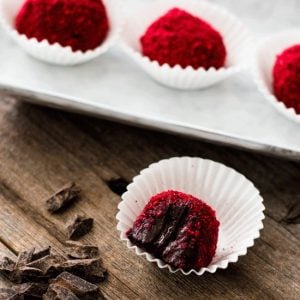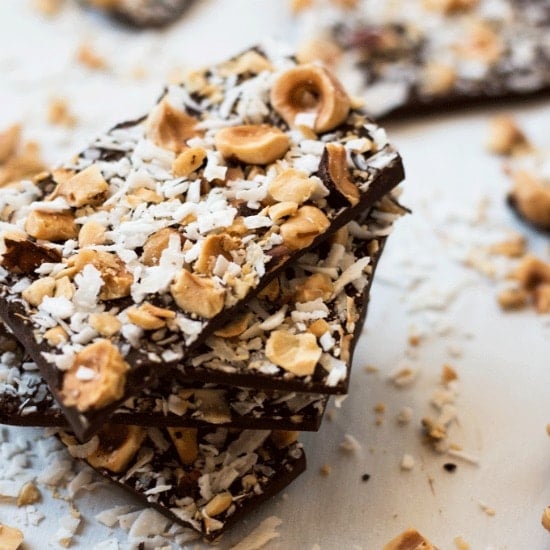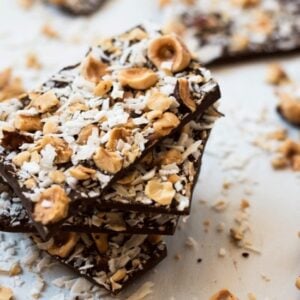 Happy eating.
xx
Recipe
Dark Chocolate, Matcha and Coconut Truffles
Loaded with antioxidants and free from refined sugar, these Dark Chocolate Matcha and Coconut Truffles are the perfect sweet treat
Ingredients
2

cups

unsweetened shredded coconut

3

tablespoon

pure maple syrup

(erythritol or stevia for keto-friendly)

3

tablespoon

pure coconut oil,

in liquid form

½

teaspoon

organic matcha powder

pinch

sea salt

4

oz

dark chocolate

2

tablespoon

almond milk, or milk of choice
Instructions
Pop the coconut, maple syrup, coconut oil, matcha and a pinch of salt into a blender or food process and process until almost smooth. I used a vitamix and it took about 5 minutes to get to the desired consistency (see notes*)

Remove from the processor and pop into a small bowl. Pop into the fridge for about 10 minutes, until the mixture becomes more workable.

While the mixture is cooling, use a double-broiler method to melt your dark chocolate and almond milk (see notes for method**)

Scoop 1 heaped teaspoon of the coconut mixture and roll into a ball.Place on a baking sheet lined with parchment paper, and repeat until all of the mixture has been used. Pop the coconuts balls into the melted chocolate mixture and use two forks to roll around and cover in the chocolate. Remove from the chocolate and pop back onto the parchment paper, repeat until all coconut balls have been covered.

Pop in the fridge to set, and then enjoy. You can sprinkle a little bit of matcha on top.
Notes
*Consistency will depend on preference. I prefer mine to have a little bit of texture, so I don't process until completely smooth, but instead have 'bits' of coconut. If you prefer a smoother truffle then process for longer.
**Double-broiler - place a glass bowl on top of a pot of boiling water. Place the chocolate inside the glass bowl, and heat gently, stirring regularly, until smooth.
Nutrition
Calories:
264
kcal
Carbohydrates:
15.7
g
Protein:
2.6
g
Fat:
21.1
g
Saturated Fat:
17.8
g
Cholesterol:
3
mg
Fiber:
3.8
g
Sugar:
11.1
g
Tried this recipe?
Leave a comment HERE and let us know how it was!