One skillet is all that's needed to get some of these Honey Pomegranate Balsamic Glazed Chicken Thighs on your table. Everyone will say wow when they see this center table, and the taste is just phenomenal. Serve with some cauliflower rice to get those veg in and keep it low carb, or steam some veg and serve some brown rice on the side.
One-Skillet Honey Pomegranate Balsamic Glazed Chicken Thighs
Chicken thighs are covered in a delicious pomegranate and balsamic glaze and cooked in a skillet to perfection.
Balsamic chicken has long been a favorite of mine, especially when you use that amazing thick syrupy aged balsamic goodness (it will be on the top shelf of the grocery shelves and will cost a bit more but is totally and completely worth it).
Once you discover the good stuff you will not go back! If you can't find it at the store then try this one.
Although it might sound fancy, the ingredient list for this dish is pretty simple:
chicken thighs
pomegranate arils
balsamic vinegar
honey
coconut sugar
extra virgin olive oil
salt and black pepper
mint leaves
cauliflower rice, broccoli rice, brown rice, or wild rice to serve
Tips For Making The Perfect Balsamic Glaze
As there is pomegranate in the mix, you will want to put the balsamic glaze mixture through a high-speed blender to make sure it is nice and smooth. Otherwise, you might end up with some grittiness from the pomegranate arils.
If you don't have a high-speed blender then you are going to want to push the sauce through a sieve once blended in your average blender to make sure none of the grittiness transfers to the dish.
Personally, the kids and I have eaten it without straining, but for guests (or my husband) I would definitely take the extra 2 seconds that it takes to strain to make it that little bit more professional.
How Do I Serve Honey Pomegranate Balsamic Glazed Chicken Thighs?
I served my honey glazed chicken thighs with cauliflower rice, and they go surprisingly well together. So well in fact, that everyone went back for more cauliflower rice and pomegranate once the balsamic chicken had been polished off!
If you aren't a fan of cauliflower rice (what?!?!) then some brown rice and steamed veg would be just perfect.
Want to make your own cauliflower rice? Then use this tutorial.
Need Some More One-Pot Pan/Skillet/Dish Meals?
Of course you do, they make the perfect option for a busy weeknight meal!
Here are some more for inspiration: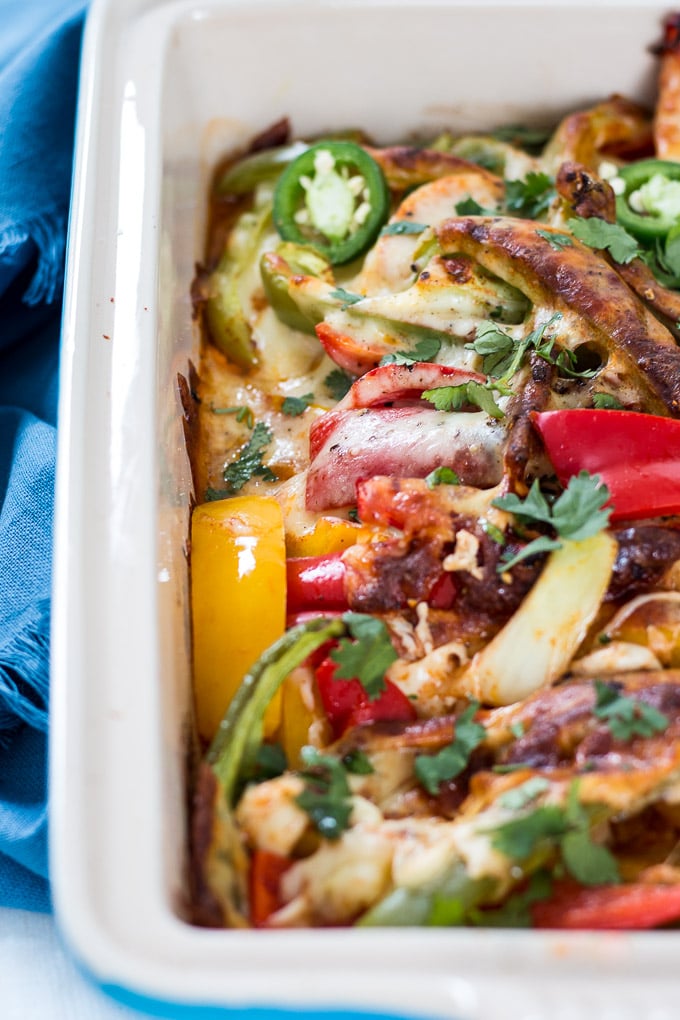 Happy Eating.
xx
The information shown is an estimate provided by an online nutrition calculator. It should not be considered a substitute for a professional nutritionist's advice.
Don't forget to follow Whole Food Bellies on Pinterest for more recipe inspiration! Or if Pinterest isn't your style, bookmark this post! Let's keep the conversation going- join my Facebook group!