Use up surplus mint (we all know that stuff grows like crazy) with this quick and easy homemade mint pesto which is super fresh and zippy. The perfect accompaniment to fish, vegetables, or a summer salad. It freezes well so you can preserve the season. 
4 Ingredient Homemade Mint Pesto
We all know homemade pesto is an absolutely fantastic way to use up a surplus of green leafy veggies. Kale, carrot tops, spinach, and basil are all heavily represented versions of pesto in the food world.
Herb pestos (other than basil of course) aren't quite as mainstream, but guys herb pestos are a revelation!
And with mint growing like a weed pretty much all year round it only makes sense to put that crazy herb to work in this quick 4 ingredient pesto.
My mint pesto did not turn out the pretty color I was envisioning.
In fact, it turned out a pretty ugly browny color, which was not half as impressive and twice as hard to photograph.
But, whatever.
It tastes good so I will go with it.
What do I do with Homemade Mint Pesto?
This particular pesto pairs well with:
fish,
salads,
veggies (especially potatoes),
or even as a fresh, zippy twist in a lunch wrap!
We have been drizzling this stuff on everything, so use your imagination, you can't go wrong. I bet a dollop on top of the yogurt garlic sauce on this  Shawarma Chicken Salad would be just perfect!
What If I have MORE mint that needs to be used?
If you need some more ideas on what to do with all that mint taking over the veggie bed, then check these other great recipes out:
Try out this Cucumber Mint Lemonade from The Wholesome Dish. You can always add a sweetener of choice instead of the sugar: honey, maple syrup, stevia etc:
Why not try a healthier mojito with this Healthy Blueberry Kombucha Mojito from Eye Candy Popper?
Use it for some mint tea. You can even dry it out and store it in an airtight container so that it lasts for months,
Combine with water and freeze in ice cube trays to jazz up drinks and smoothies,
Give it a blitz in the blender with some olive oil and store in ice cube containers for future use. Some mint-infused olive oil is great for giving some extra flavor to boiled potatoes. Just melt the olive oil ice cube and then fry the par-boiled potatoes for a couple of minutes, until they have a bit of crispiness to them,
Add to some yogurt with berries and granola for a fresh twist on a yogurt parfait.
Tried mint pesto? I would LOVE to know what you paired it with, so be sure to leave a comment and let me know. If you have any more tips for me on what to do with leftover mint then leave them in the comments and I will update the list.
Happy eating.
Recipe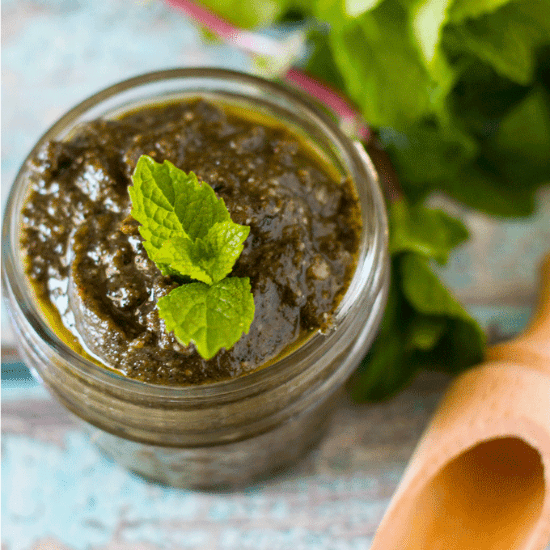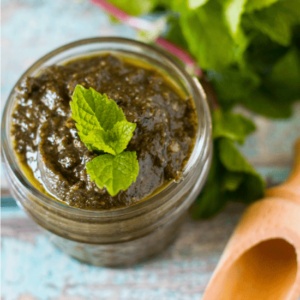 4 Ingredient Homemade Mint Pesto
Use up surplus mint (we all know that stuff grows like crazy) with this quick and easy homemade mint pesto which is FRESH and zippy. It pairs perfectly with fish, vegetables, or a salad. It also freezes well so you can preserve the season. 
Ingredients
1

bunch

mint

(about 2 cups of mint leaves)

½

cup

walnuts

3

tablespoon

Extra virgin olive oil

(use the good quality stuff)

½

cup

parmesan

freshly grated
Instructions
Pop all of the ingredients into a high speed blender and pulse until well combined

1 bunch mint,

½ cup walnuts,

3 tablespoon Extra virgin olive oil,

½ cup parmesan

To store: keep in an airtight container with a lid in the fridge for up to a week. Any longer than that, then pop it into the freezer
Notes
Store: store in an airtight container in the fridge for up to 2 weeks. I usually add a drizzle of extra olive oil on top before refrigerating to ensure that no oxygen gets in and affects the pesto.
Freeze: this can also be frozen for about 3 months if stored correctly.
Nutrition
Calories:
238
kcal
Carbohydrates:
2
g
Protein:
6
g
Fat:
23
g
Saturated Fat:
4
g
Cholesterol:
8
mg
Sodium:
201
mg
Potassium:
75
mg
Fiber:
1
g
Vitamin A:
140
IU
Vitamin C:
0.3
mg
Calcium:
162
mg
Iron:
0.6
mg
Tried this recipe?
Leave a comment HERE and let us know how it was!