Two layers of grated potato, onion, and herbs stuffed with melted mozzarella cheese and sundried tomatoes make this Pizza Stuffed Potato Rosti with Cheese just perfect as a main dish with a side salad, or as a brunch with a perfectly poached egg nestled on top. A great alternative to pizza night for something a little bit different and fun.
Jump to:
Pizza Stuffed Potato Rosti With Cheese
I have been wanting to share this Pizza Stuffed Potato Rosti with Cheese with you guys for so long!
It has been a favorite around here for a while now, but I just never seem to get the chance to grab some photos before it is all gobbled up.
I have got some now though, yay!
You are definitely going to want to add this to your next meal plan.
How To Make Potato Rosti With Cheese
Although stuffing grated potatoes with shredded mozzarella and sundried tomatoes and cooking them in a skillet sounds like a bit of hard work, don't worry, it's not!
I do have a few tips to make for smooth sailing though:
Be sure to squeeze all of the excess water out of the grated potatoes. If you do not, the extra liquid will make your potatoes sludgy and they will not hold together when cooking.
Opt for shredded your own mozzarella. Pre-shredded mozzarella can be a bit grainy in texture, which can be quite off-putting.
If you buy sun-dried tomatoes in oil then be sure to drain off any excess oil before stuffing them into the rosti. Too much oil will make the rosti soggy, and we want this potato rosti to be nice and crispy.
How To Serve Potato Rosti Stuffed with Cheese
This dish consists of 2 layers of grated potato, onion, and herbs cooked up in a skillet with melted mozzarella and sun-dried tomatoes sandwiched in between.
It works great as a main meal with a nice side salad (as there is so much flavor going on with the rosti itself I tend to stick with a simple salad of lettuce, cucumbers, and tomatoes, but you do you).
It also works as a breakfast or a brunch with a nice poached egg nestled on top.
TIP: If you are a bacon fan, stuff some cooked bacon in there too - it pairs fantastically!
This is a really versatile meal and can be served with the following optional toppings:
microgreens
chopped tomatoes and spring onions
sour cream
homemade tomato sauce
poached egg
simple seasonal salad
creme fraiche
thinly sliced red onion
Let your imagination run wild and serve it in whatever way tickles your fancy.
Storing and Freezing Your Potato Rosti with Cheese
Any leftovers can be stored in an airtight container in the fridge for up to 3 days.
TIP: leftover rosti will store better if it has not had anything on top (i.e. if you have served yours for breakfast with a poached egg, and the egg yolk has gone all over the rosti, it isn't going to be as nice as a rosti served with a poached egg on the side).
Think about whether you think you will be able to eat the whole thing, and if not, then just serve up the rosti with your additional 'toppings' on the side.
To Reheat: simply place the rosti back into the skillet and heat over medium heat, flipping halfway through to make sure it is heated through.
Please note: this may lead to some mozzarella oozing out and melting into the pan, so be prepared.
Alternatively, you can reheat in an air fryer.
I usually pop my individual slices into the air fryer for about 5 minutes and find it gets nice and crispy on the edges that way (again, you might have an issue of the mozzarella oozing out while cooking).
Unfortunately, this is not a good candidate for the freezer.
I find the potato becomes soggy on thawing and it does not crisp up as nicely as we would want it to.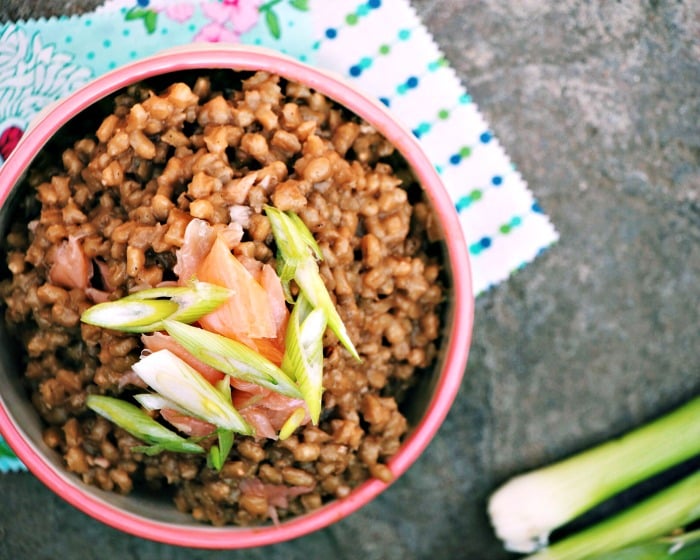 I hope you love it as much as we do and if you are looking for other awesome brunch dishes then check out my Garlicky Quinoa and Spinach Brunch Bowl, or my Creamy Barley and Smoked Salmon Brunch Bowl - they are fantastic!
Or try this Toad In A Hole from Little House, Big Alaska.
Or if you are in need of another pizza style then check out this Shrimp Scampi Pizza or this Skillet Pizza with Beer Dough.
Recipe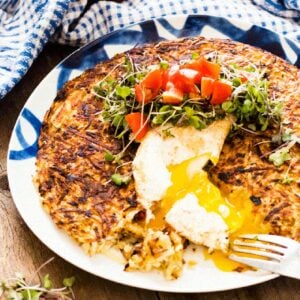 Skillet Pizza Stuffed Potato Rosti with Cheese
Two layers of grated potato, onion and herbs stuffed with melted mozzarella and sundried tomatoes, this dish is perfect as a main with a side salad, or as a brunch with a nice poached egg nestled on top.
Ingredients
For The Potato Rosti
1

small yellow onion

minced

4

cups

grated Yukon Gold potatoes

3-4 large potatoes

1

teaspoon

fresh oregano

finely chopped

1

teaspoon

fresh thyme

finely chopped

½

teaspoon

each salt and fresh ground pepper
For The Cheese Filling
1

cup

fresh mozzarella

grated/shredded

10

sundried tomatoes

drained and finely chopped

2

tablespoon

plus 1 teaspoon olive oil

divided

optional extras for serving: poached eggs, mixed greens, chopped grape tomatoes, bacon
Instructions
Using the grating attachment on your food processor, grate the potatoes and onions. Once grated, remove as much liquid as possible. I use a strong nut milk bag, but you can also just press down on the potatoes and onions in a fine mesh sieve, or pop into a clean dish cloth and twist tightly. Be sure to remove as much liquid as possible

Pop the potato mixture into bowl and add the oregano, thyme, and salt and pepper to taste

Heat 2 tablespoon of cooking oil in a skillet on medium heat, until smoking slightly. Once heated, add half of the potato mixture, and use a spatula to flatten.

Add the diced mozzarella and the sundried tomatoes in an even layer, and then add the rest of the potato mixture on top. Once again, flatten with a spatula.

Cook for 2-3 minutes and then lower the heat slightly. You will still want to hear the potatoes lightly sizzling, but you don't want them to be burning. Cook for about 12 more minutes or until the underside is nicely browned and the potatoes become tender and crispy.

Flip your rosti. To do this, place a plate over the pan and carefully flip the rosti onto the plate, then slide the rosti from the plate back into the pan, and cook for another 10 minutes (when ready the centre should be tender - you can check this with a fork).

Remove the rosti from the pan and allow it to cool slightly before serving.

While the rosti is cooking prepare your optional toppings, ready for serving (see notes).
Notes
Drain: drain as much liquid as you can from the grated potatoes. If you do not drain the potatoes enough, the excess liquid will lead to soggy potatoes that will not crisp up like we want them to.
Optional stuffing ingredients: You may also want to add:
chopped salami
chopped pepperoni
chopped bell peppers
chopped spanish olives
any other pizza-related ingredient you feel like
Nutrition
Calories:
271
kcal
Carbohydrates:
43
g
Protein:
12
g
Fat:
7
g
Saturated Fat:
4
g
Cholesterol:
22
mg
Sodium:
202
mg
Potassium:
1126
mg
Fiber:
6
g
Sugar:
5
g
Vitamin A:
270
IU
Vitamin C:
46
mg
Calcium:
188
mg
Iron:
3
mg
Tried this recipe?
Leave a comment HERE and let us know how it was!
The information shown is an estimate provided by an online nutrition calculator. It should not be considered a substitute for a professional nutritionist's advice.
This recipe has been updated from the original February 2016 post to include more information and trouble-shooting for readers.