Garlicky, lemony, and delicious, this garlic butter Quinoa and Spinach Bowl makes for a super quick and easy, yet full-of-flavor, side dish, brunch, or savory snack. It is a great little recipe to have in your easy-to-make repertoire when the day gets busy but you still need to eat and feed the family. This dish can be made ahead of time, packs well for a picnic or potluck, and is super versatile. Perfect for dressing up as a main meal or down as the base of a simple breakfast depending on what you are craving.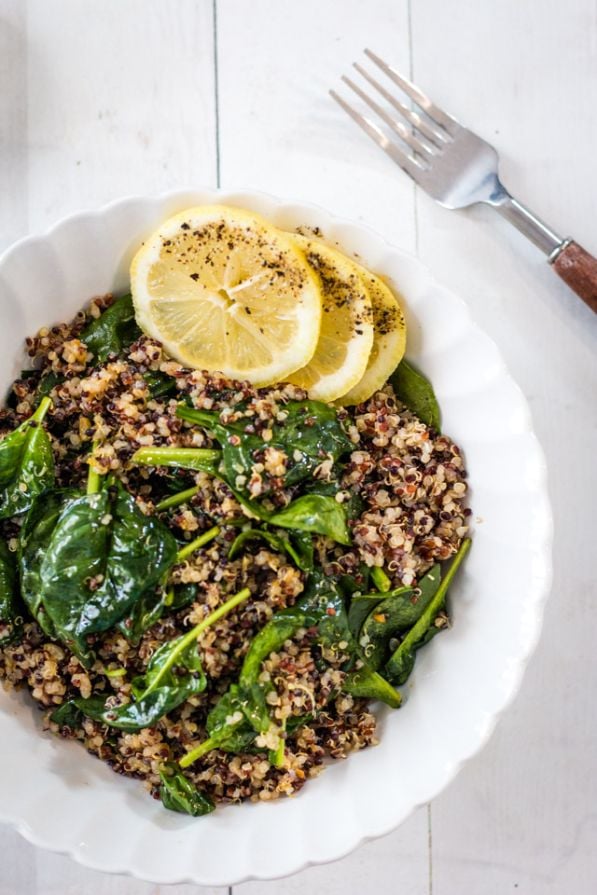 Garlic Quinoa and Spinach Bowl
This Garlic Quinoa and Spinach Bowl is a great little quick and easy dish to have on hand for a busy weeknight.
It can be served up as-is for a light lunch, paired with a poached egg for a scrummy breakfast or brunch, or paired with some poached or grilled chicken breasts, for a more substantial meal.
Plus, it requires minimal ingredients you are likely to have on hand.
You are going to need:
butter: use high-quality butter to maximize the flavor of this simple dish. Vegan butter or cooking oil can be used in place of the butter if preferred;
garlic: I absolutely recommend fresh garlic here. You can get away with dried garlic in a pinch, but the flavor of fresh garlic will make this dish so much better;
baby spinach: I use baby spinach as it requires little in the way of preparation, a quick wash and you are good to go. English spinach can be used instead, however, you will need to remove the stem and roughly chop it;
lemon juice: fresh is always best, and seeing as we are using the lemon zest as well you may as well go ahead and splurge on a whole lemon. If you can't access one, then bottled lemon juice will work in a pinch;
lemon zest: you can always use a squeeze of fresh lemon on top when ready to serve, this pairs particularly well with simply seasoned grilled chicken breasts;
precooked quinoa: you can use white quinoa, brown quinoa, or a mixture of both. We will be using pre-cooked quinoa in this recipe, so either cook it ahead of time using the instructions on the packaging or buy a packet of pre-made quinoa which can simply be reheated;
Salt and pepper to taste: I don't like to put measurements on salt and pepper so measure that depending on your own preferences.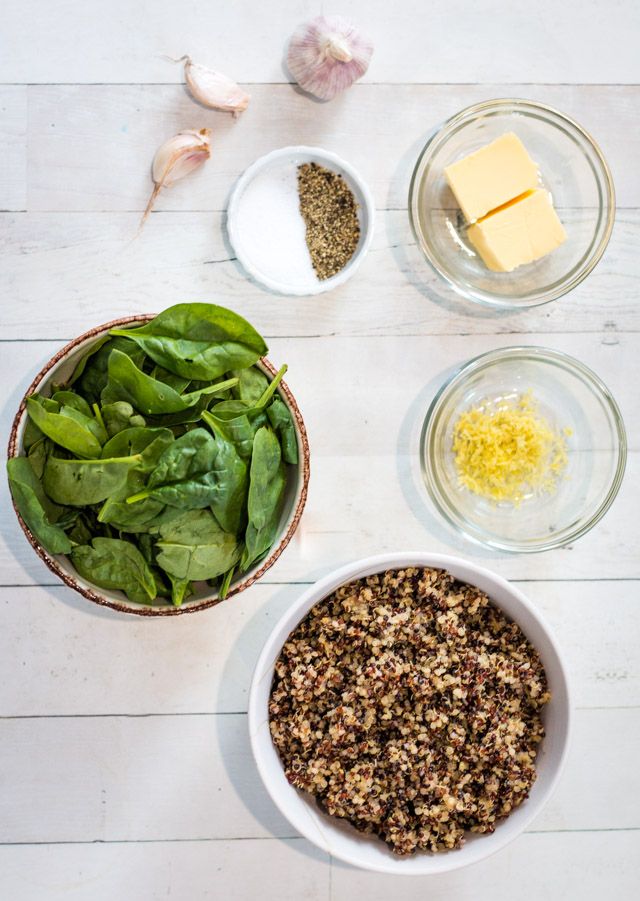 Of course, you will also need whatever you plan on pairing with your quinoa and spinach.
I love to top mine with 2 poached eggs for a simple breakfast, or some grilled and sliced grilled chicken breasts for a light lunch or dinner.
TIP: to save time, make a big batch of quinoa at the start of the week and use it in various recipes throughout the week.
Tips, Tricks, and Substitutions
Being prepared for the week makes it so much easier to make good decisions for yourself and your family when it comes to eating a balanced meal.
This garlic quinoa and spinach bowl comes together in about 20 minutes from start to finish (even quicker if you have batch-cooked some quinoa ahead of time hint hint), and can be meal prepped ahead of time and pulled out of the fridge when needed.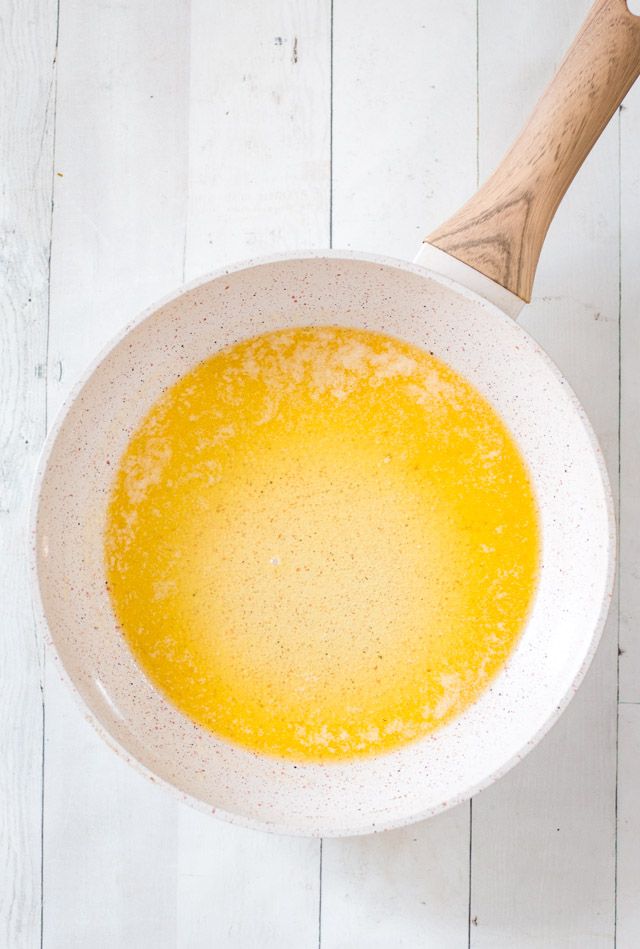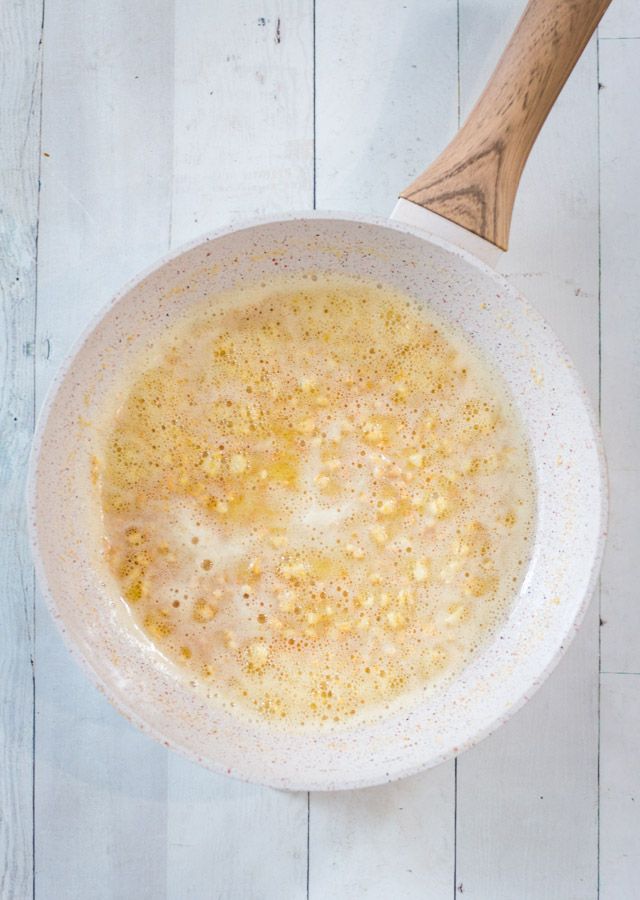 Spinach
I use baby spinach for this quinoa bowl, as it does not require much preparation except for a quick rinse.
You can also use English spinach, simply remove the leaves from the stems and roughly chop before use.
You will also need to add the chopped English spinach to the warm quinoa and pop the lid on the pot for about 3-4 minutes to allow the spinach time to steam and soften appropriately.
Chopped kale could be used in place of spinach also. This would need the same treatment as the English spinach in terms of chopping and extra time to steam and soften.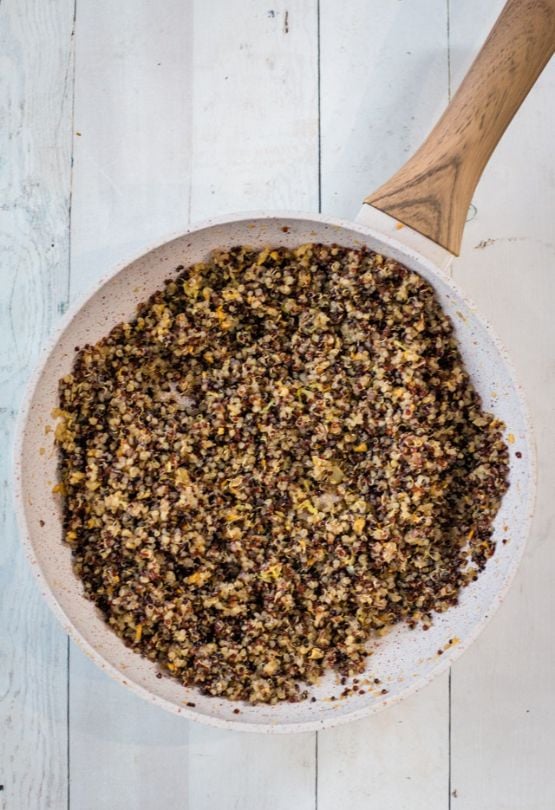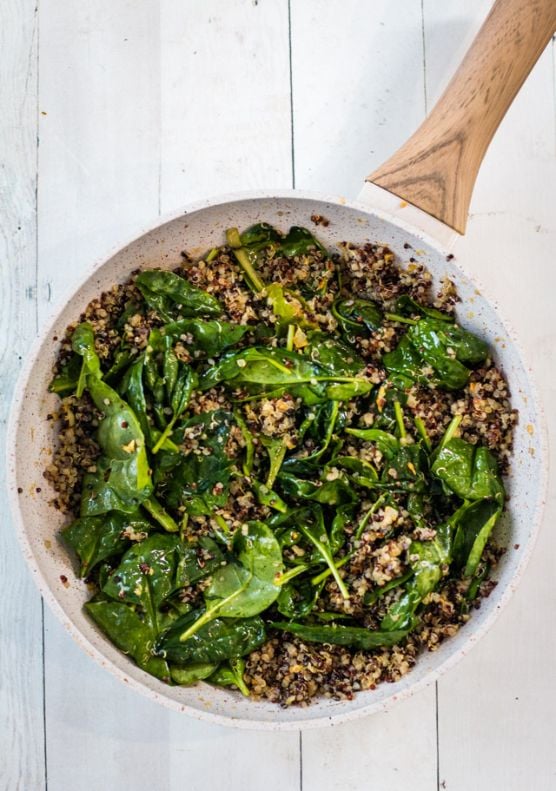 Quinoa
Any other grain of choice could be used in place of the quinoa.
Simply cook the grain according to the directions on the packaging and you should be fine.
Make sure to give your uncooked quinoa a couple of rinses through a fine-mesh sieve before cooking.
This will prevent the quinoa from having that bitter taste when cooked, which can be off-putting to a lot of people.
You can save time by cooking a big batch of quinoa in an instant pot.
Simply:
rinse the quinoa well through a fine mesh sieve,
add it to the inner pot with equal amounts of water,
cook on manual for 9 mins,
quick pressure release.
Alternatively, it can be cooked on the stovetop using the instructions on the back of the packaging.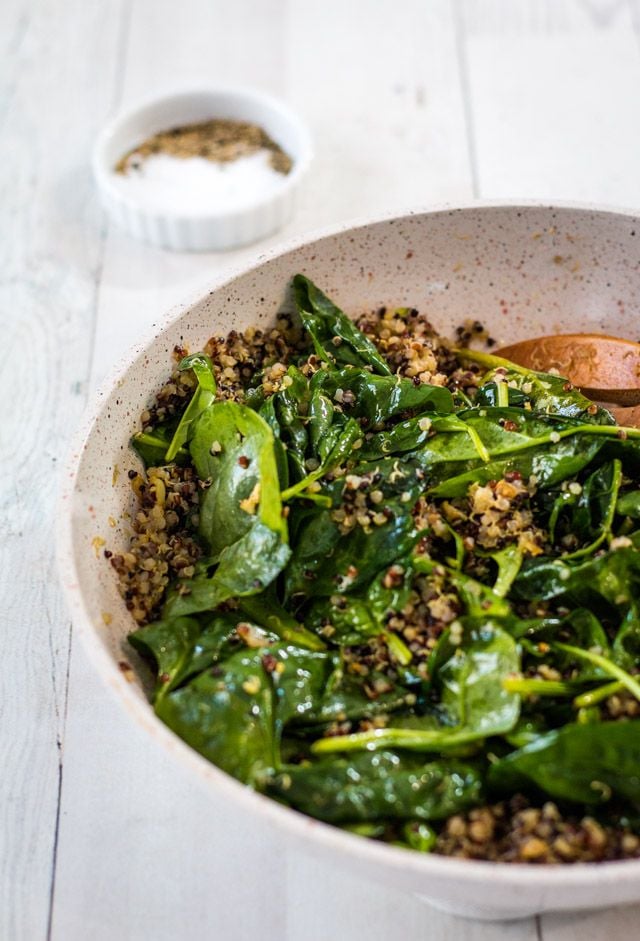 Garlic
I do make this quite a bit heavy on the garlic, so adjust it up or down depending on your preferences.
I would recommend using fresh garlic to amplify the simple flavors in this dish, however, prepared garlic can be used in a pinch here.
I would not recommend using dried garlic as it won't be punchy enough.
(I am lying, I add much more garlic in real life)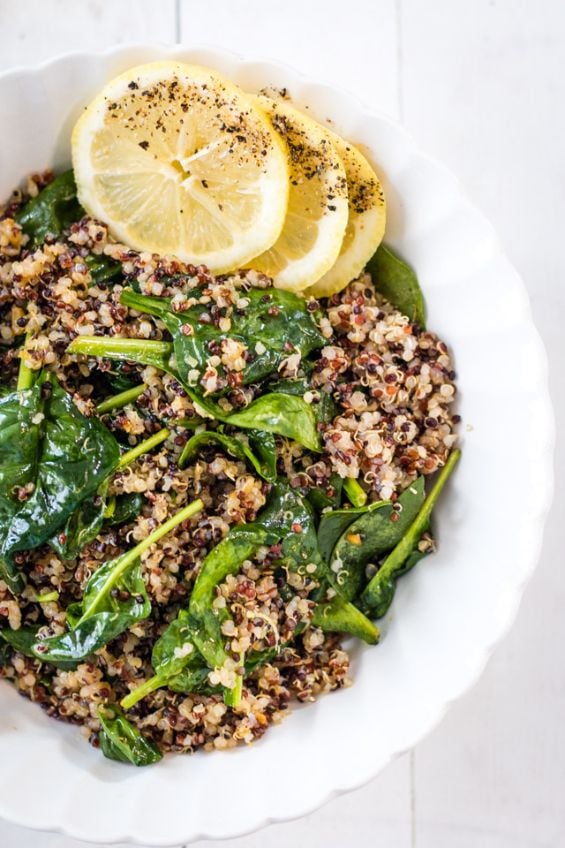 How To Serve Garlic Quinoa and Spinach
There are so many ways to serve this quick and easy bowl:
use it as is when using it as a simple side
top the quinoa and spinach with a poached or fried egg for an easy breakfast or brunch bowl
serve with something more substantial, like this homemade rotisserie chicken, for a whole meal
stir through a salad to make it more filling
add a large spoonful of roasted vegetables on top
top with some cooked salmon or other fish of choice
it also makes a really good filling in a wrap when paired with some salad.
My favorite way to serve this dish is as a quick and easy late breakfast quinoa bowl, with a perfectly poached or fried egg on top or with some delicious butter beans.
Satiating but such a cinch to prepare.
Store leftovers in an airtight container in the fridge for about 3-4 days.
If serving warm after being stored in the fridge, simply reheat gently in the microwave or on the stovetop.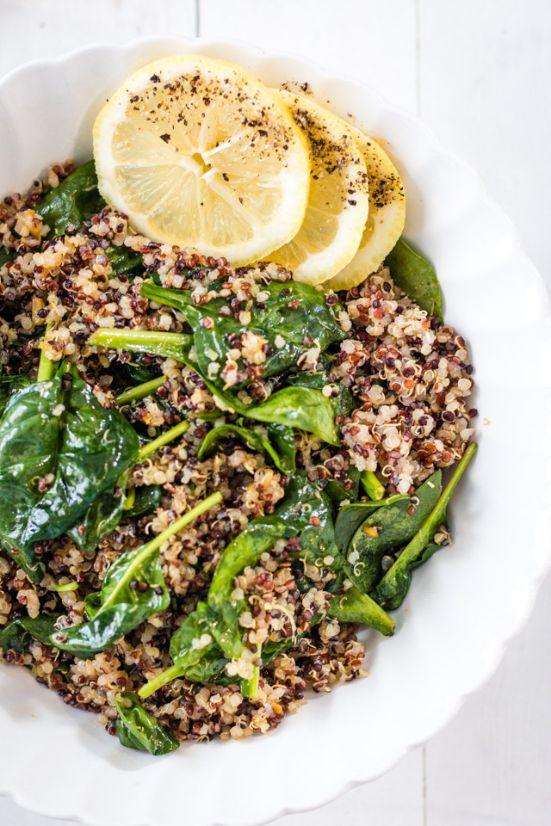 Looking For Some More Quinoa Recipes?
We eat a lot of quinoa around here in place of rice and other grains.
Other than it tasting delicious, and being so easy to prepare, it stores exceptionally well in the fridge without drying out.
Why not try one of these recipes next:
Frequently Asked Questions
Can quinoa be meal prepped?
Yes. Cooked quinoa should be allowed to cool completely before being stored in an airtight container in the fridge.
It also freezes well.
Should quinoa and spinach be served warm or cold?
This bowl can be served warm or cold. If serving cold after storing it in the fridge, simply allow it to come slightly to room temperature and fluff with a fork before serving.
As always, if you have tried this recipe and enjoyed it please leave a 5-star review on the recipe card, or comment below the recipe card.
Happy Eating
xx
Recipe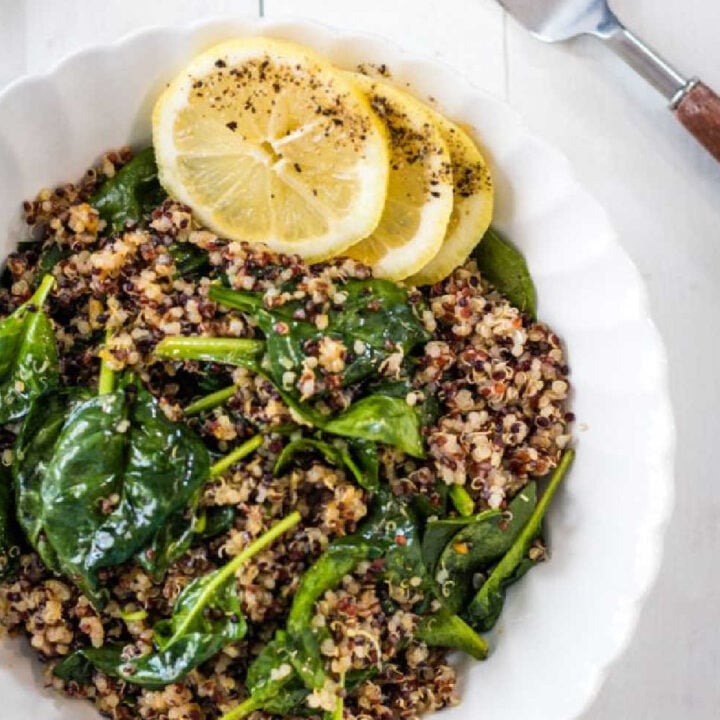 Lemon Garlic Butter Quinoa and Spinach
Fragrant garlicky quinoa with wilted spinach, lemon, and lemon zest. This makes the perfect side dish served with some grilled chicken, fish, or vegetables, or as a brunch when topped with a perfectly poached egg on top. Can be prepped ahead of time and stored in the fridge for up to 3-4 days, perfected for meal prepping.
Ingredients
¾

cup

uncooked quinoa

2

tablespoons

salted butter

5

cloves

fresh garlic

finely chopped

1

cup

baby spinach

or English spinach with stem remove and roughly chopped

1

teaspoon

fresh lemon zest

juice of half a lemon

Salt and pepper to taste
Instructions
Cook quinoa according to the instructions on the packaging.

Heat the butter in a medium-sized saucepan with a lid over medium heat. When hot, add the chopped garlic and cook until fragrant, about one minute. Do not burn.

2 tablespoons salted butter,

5 cloves fresh garlic

Add in the cooked quinoa and mix until the quinoa is covered in the garlic butter mixture. Cook until the mixture is just heated through.

Add in the baby spinach, lemon juice, and lemon zest, and stir through until the spinach is just wilted. Remove from the heat.

1 cup baby spinach,

juice of half a lemon,

1 teaspoon fresh lemon zest

Season with salt and pepper to taste and serve (see serving suggestions below).
Notes
Storing Leftovers
Leftovers should be stored in an airtight container in the fridge for about 3-4 days.
Leftover spinach quinoa can also be frozen, however, please note this may change the texture of the spinach when it is reheated.
Simply thaw, and reheat gently on the stovetop or in the microwave.
Serving Suggestions
Serve as a simple side dish with some grilled chicken, fish, or vegetables.
Can also be used as the base of a salad, or topped with an egg for a simple and delicious breakfast bowl.
Substitutions
English spinach can be used in place of baby spinach, however, it will have to be removed from the stem and roughly chopped. You will also need to add it to the heated quinoa and pop on the lid for about 3-4 minutes to allow it time to soften and cook properly.
Chopped kale could also be used.
Any other grain of choice could be used in place of the quinoa. However please note this will change the nutritional values of the dish.
Nutrition
Calories:
350
kcal
Carbohydrates:
19
g
Protein:
10
g
Fat:
15
g
Saturated Fat:
8
g
Polyunsaturated Fat:
3
g
Monounsaturated Fat:
4
g
Trans Fat:
0.5
g
Cholesterol:
30
mg
Sodium:
106
mg
Potassium:
478
mg
Fiber:
5
g
Sugar:
0.2
g
Vitamin A:
1767
IU
Vitamin C:
8
mg
Calcium:
63
mg
Iron:
3
mg
Tried this recipe?
Leave a comment HERE and let us know how it was!
The information shown is an estimate provided by an online nutrition calculator. It should not be considered a substitute for a professional nutritionist's advice.