Garlicky, lemony and delicious this Garlicky Quinoa and Spinach Brunch Bowl is a super quick and easy, yet full of flavor side dish or brunch. It is a great little recipe to have in your repertoire when the day gets busy but you still need to eat. 
This page may contain affiliate links. Whole Food Bellies may receive a small amount of compensation for goods purchased through these links, at no extra cost to you. For full disclosure policy, please see privacy page.
For those of you who don't know; we moved this weekend! It was a bit of a process, but we made it, and we are now all settled in our beautiful new home. It's so lovely!
Now, I thought I was well prepared for the big weekend, as I had made lots of snacks for the kidlets (like these Blueberry Crumble Bites), and I had packed all the necessary cooking utensils in an easy to access box.  The best laid plans huh....I forgot my kids have bottomless pits as tummies, and that moving is hungry work for mum and dad too. So the snacks didn't last long. I also forgot to tell my husband that the box needed to be accessible...so it was only found and unpacked last night.
Ahhh, thank goodness for takeaway 🙂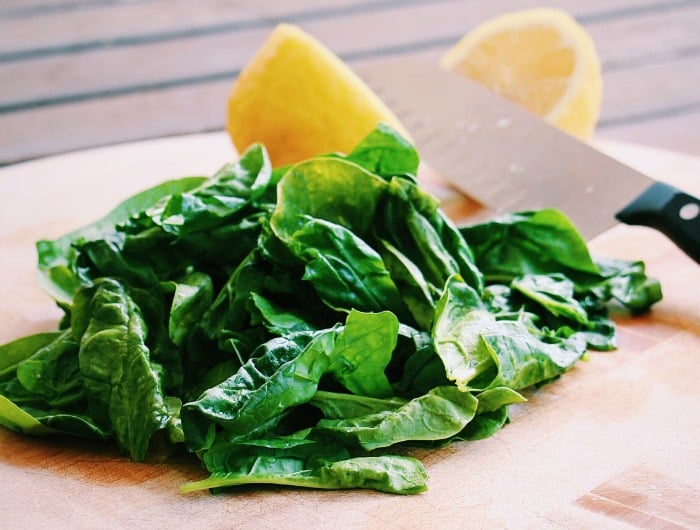 Now we are (somewhat) unpacked, I have gotten back into the swing of things, and our fridge is full of real food again. Yay! I find it so hard to make good choices if I haven't prepped for the week, so it was all falling apart for a while there.
This Garlicky Quinoa and Spinach Bowl is delicious. I have had it for second breakfast brunch twice this week already, and my husband requested a double batch, so he could take some to work again today. My husband requesting spinach...unheard of!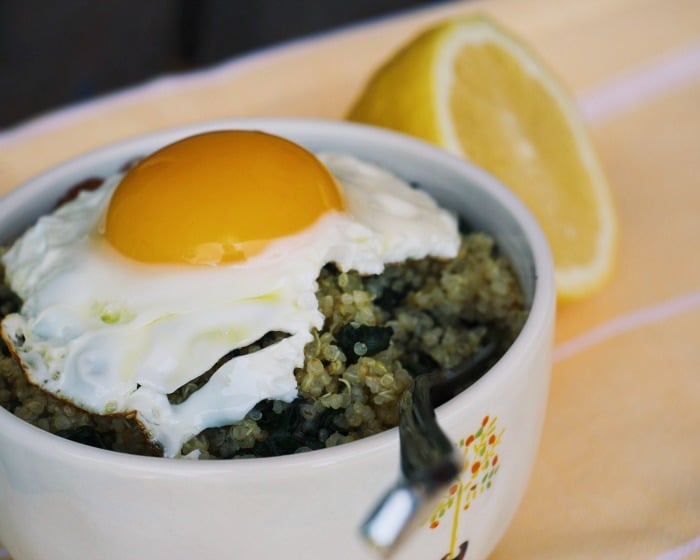 It takes a maximum of 10 minutes to prepare (if you have pre-cooked your quinoa of course), and it really packs a punch in the flavour department. Garlicky quinoa and spinach is the perfect dish to serve up for brunch, as it looks quite fancy and cafe-ish with a perfectly poached or fried egg on top, but is a cinch to prepare. I do make it quite heavy on the garlic, so adjust up or down depending on your preferences.
Hubby has suggested it would be perfect with a nice piece of fish nestled on top. I wholeheartedly agree, and will be trying that out this week 🙂 How would you eat it?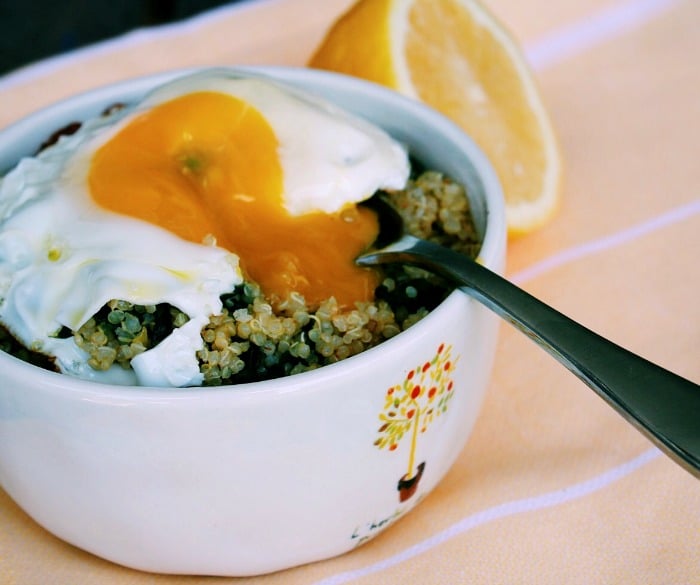 I would love to hear what you think about this Garlicky Quinoa and Spinach Brunch Bowl! Leave a comment, like on Facebook, pin to Pinterest or tweet on Twitter.
Looking for some more brunch ideas? Check this out:
Print Recipe
Garlicky Quinoa and Spinach Bowl
Fragrant garlicky quinoa with wilted spinach and lemon zest - fantastic for brunch, with a perfectly poached or fried egg on top. Or make it for dinner and serve with a nice piece of fish.
Ingredients
4

cloves

garlic

finely chopped

1

cup

chopped spinach

or whole baby spinach to make it even quicker

1

tsp

lemon zest

1

cup

cooked quinoa

2

poached or fried eggs

optional

Salt and pepper to taste
Instructions
Heat cooking oil of choice (I used avocado oil) in a medium sized saucepan (with a lid) over medium heat. When hot, add in the chopped garlic. Cook until fragrant

Add in the chopped spinach and lemon zest, pop on the lid and leave for 2-3 minutes, until the spinach has wilted

Add in the cooked quinoa and stir to combine. Cook until just heated through and remove from the heat (I added in about a tablespoon of olive oil here to keep things from drying out)

Serve up, salt and pepper to taste, and add a perfectly poached or fried egg to the top. Enjoy
Nutrition
Calories:
138
kcal
|
Carbohydrates:
24.9
g
|
Protein:
5.5
g
|
Fat:
2
g
|
Sodium:
22
mg
|
Fiber:
3.3
g
|
Sugar:
1.1
g
 By the way, if you want to cook your quinoa in 8 minutes I would totally recommend investing in an
Instant Pot
. I recently picked one up, and it has made weeknight cooking so much quicker (I have no affiliation with
Instant Pot
, I just really like mine).