I am so so excited about these grilled cauliflower tacos. Seriously, I have been having dreams about them they are THAT good (ok, maybe I need a little more excitement in my life if I am dreaming about grilled tacos, but they are really good 😆 ).
Grilling season is well and truly here, and I have been loving the outdoor eating life. The hubby has been out there every weekend whipping up all kinds of chicken and beef related treats for him and the kids. For some reason I tend to lose all imaginative abilities when it comes to vegetarian food on the grill, and for the past couple of weeks have ended up with a big grilled garlicky portobello mushroom. Every-single-time. Don't get me wrong, they are quite delicious, but the same thing over and over does not go down well with me. Ever.
I needed something new and different, so I poured a glass of wine, popped on some Pete Murray to get the summery feeling going and got creative. Voila, these grilled chipotle cauliflower tacos were born. And I am never turning back. They are a little bit smoky, a little bit spicy and a whole lot of yum. I pair mine with a generous serving of avocado and a super fruity-seasonal Nectarine and lime chipotle salsa, and it is a match made in heaven. You have to try them.
If you have never tried grilled cauliflower - it is a life changer. Seriously, my husband was handing some out in the break room the next day, and we have had to pop some on the grill every time since! So delicious.
If you are on the lookout for some more sensational summer recipes for your grilling days then make sure you pop over and check these lovelies out: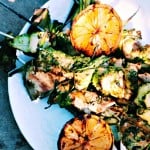 Spicy Cauliflower Grilled Tacos with Nectarine Chipotle Salsa
Spice up your next summer BBQ with these Cauliflower Grilled Tacos and Chipotle Nectarine and Lime Salsa. A little bit zesty, a little bit spicy and a whole lot delicious.
Ingredients
Sauce
cup

½ raw cashews

cup

½ water

¼

cup

chopped cilantro

½

an avocado

cup

¼ lime juice

2

clove

garlic

1

tablespoon

yellow mustard

cup

¼ nutritional yeast

Salt and pepper to taste
Nectarine Salsa
½

red onion finely diced

1

red pepper finely chopped

1

nectarine finely chopped

¼

cup

cilantro

chopped

1

tablespoon

fresh lime juice
Tacos
1

head of cauliflower

cut into florets

3

tablespoon

avocado oil

1

clove

garlic

minced

½

teaspoon

chipotle chilli flakes

¼

teaspoon

cumin

1

tablespoon

fresh lime juice

12

corn tortillas

1-2

slices

avocados cut into
Instructions
For the sauce pop all of the ingredients into a high speed blender and blend until smooth and creamy

For the salsa, combine all the ingredients in a medium sized bowl and pop into the fridge until ready to use

For the cauliflower toss the cauliflower with the oil, garlic, chipotle flakes, cumin and lime juice. Grill on the bbq over a med-high heat for about 20 minutes

To assemble: serve two corn tortillas with a small amount of avocado, some salsa, a couple pieces of cauliflower and some sauce drizzled on top. Squeeze some lime on top and go for it
Nutrition
Calories:
353
kcal
Carbohydrates:
43
g
Protein:
11.2
g
Fat:
17.9
g
Saturated Fat:
3.2
g
Sodium:
60
mg
Fiber:
13.4
g
Sugar:
6.8
g