These vegetarian stuffed peppers with cauliflower rice are the perfect addition to your meat-free Monday rotation. Easy to make, can be prepped ahead of time, and they are super versatile, so you can use up whatever ingredients you have on hand. Great for a busy week or clearing out the veggie drawer at the end of the week.
I love a quick, easy and healthy recipe to start off the week, and stuffing veggies with other veggies like we do in this stuffed pepper recipe always works a treat. This recipe was inspired by these Easy Quinoa Stuffed Sweet Potatoes which is another great recipe that also happens to be a favorite in the whole food bellies house.
Stuffed Peppers with Cauliflower Rice
Jump to:
This super easy meal is a cinch to put together, and it is hearty and delicious to boot.
I have listed the simple ingredients I like to use as a base for this recipe, but feel free to sub in whatever other veggies, herbs, or spices you would like to include.
bell peppers: use whatever color of bell pepper you prefer. I tend to use red, yellow, or orange bell peppers as they are sweeter, but green can easily be used also;
cauliflower rice: this can usually be found in the fridge in the veggie section of your grocery store. Alternatively you can easily make your own by pulsing cauliflower florets in a food processor until they resemble grains of rice. I have an in-depth post here (How To Make Cauliflower Rice) detailing more specific instructions;
red onion: I use red onion for the nice pop of color, but you can sub in yellow or brown onion if that is what you have;
garlic cloves: I use fresh cloves of garlic as this is something I always have on hand. However, you can sub in prepared garlic paste (although I find it tends to add a slight vinegary taste), or garlic powder if you prefer;
canned lentils: brown lentils are great for this recipe as they hold their shape well, and add some protein. I buy pre-prepared canned lentils, but you can always make them yourself using dried lentils if you prefer (use a recipe like this one from Downshiftology);
cheddar cheese: feel free to use another meltable cheese of your choice or a vegan cheese substitute. I prefer to grate the cheese at home, as pre-grated cheese can tend to have a grainy texture once melted;
dry oregano: you can also use fresh oregano. Simply increase the ratio to 1 tablespoon of fresh herbs for every teaspoon of dried (if you grow your own oregano at home then why not check this out and try drying it yourself: How To Dry Oregano Without a Dehydrator);
fresh parsley: again, feel free to sub with dried (although here I feel the recipe really benefits from fresh parsley);
olive oil: or other cooking oil of choice such as coconut oil or avocado oil. If you don't like to use oil in your cooking then feel free to use a little bit of vegetable broth to cook the onions and cauliflower rice instead;
salt and freshly ground black pepper to taste: I say to taste as everyone has a different tolerance when it comes to salt content, and it will also be every dependent on the salt content of your cheese and prepared lentils. As a rule of thumb start with ½ a teaspoon and go from there, it is easy to add more, not easy to remove.
TIP: for something a bit more substantial you may want to add some more protein in the form of black beans, green lentils or tofu. If you don't need it to be vegetarian you could also add some ground beef, chicken, or turkey.
How To Assemble
Assembling stuffed peppers is super easy.
Simply cut the tops of the peppers off, prepare the cauliflower rice and diced onion mixture over medium-high heat in a large skillet, stuff the cooked filling into the pepper, add to a baking dish, and top with cheese.
Pop everything into the oven and bake until you have melty goodness on top.
When choosing bell peppers, choose large ones so that the filling can be stuffed inside.
Try and keep as much of the bell pepper intact as possible when cutting the top off.
TIP: if your bell pepper is on the skinnier side, cut it in half lengthwise instead, spoon the cauliflower mixture into the half peppers before continuing with the instructions.
Different sized peppers can be better if you are serving the whole family, as the adults will eat a large one, and the kids will want a smaller version.
Storing, Freezing and Meal Prepping
Once completely cooled, the leftover peppers can be stored in an airtight container in the fridge for about 4 days.
Stuffed peppers can also be frozen!
To freeze leftover peppers be sure to use a freezer-safe dish.
Simply pop the peppers into the dish, pop on the lid, and freeze.
When it comes to the time to enjoy the frozen peppers, simply remove them from the freezer and reheat them.
If you do not have a freezer-safe dish, then wrap the peppers individually and store them in a Ziploc bag with most of the air removed to prevent freezer burn.
If stored properly they can be frozen for about one year.
However, I tend to err on the side of caution and make sure they are used within 6 months.
You can place frozen peppers in the oven and reheat them without thawing them first.
Simply remove the lid of your freezer-safe casserole dish and place the dish directly into the oven, or unwrap them if you opted to wrap them individually.
Bake the frozen stuffed peppers at 350(F) (175C) until they are completely reheated and warm throughout.
If you want to shorten the baking time, thaw the peppers first by placing them in your refrigerator overnight.
Tips, Tricks and Substitutions
Cauliflower Rice
This can easily be subbed out for long-grain white rice, wild rice, or brown rice instead.
Alternatively, you could replace the cauliflower and make a quinoa filling.
Seasoning
Use whatever seasoning you prefer.
Some ideas include:
Italian seasoning or a mix of fresh Italian herbs;
Cajun seasoning;
Moroccan seasoning;
Added chili powder or red pepper flakes.
You can also throw in whatever herbs you have hanging out in the fridge.
I tend to add some fresh cilantro if I have it.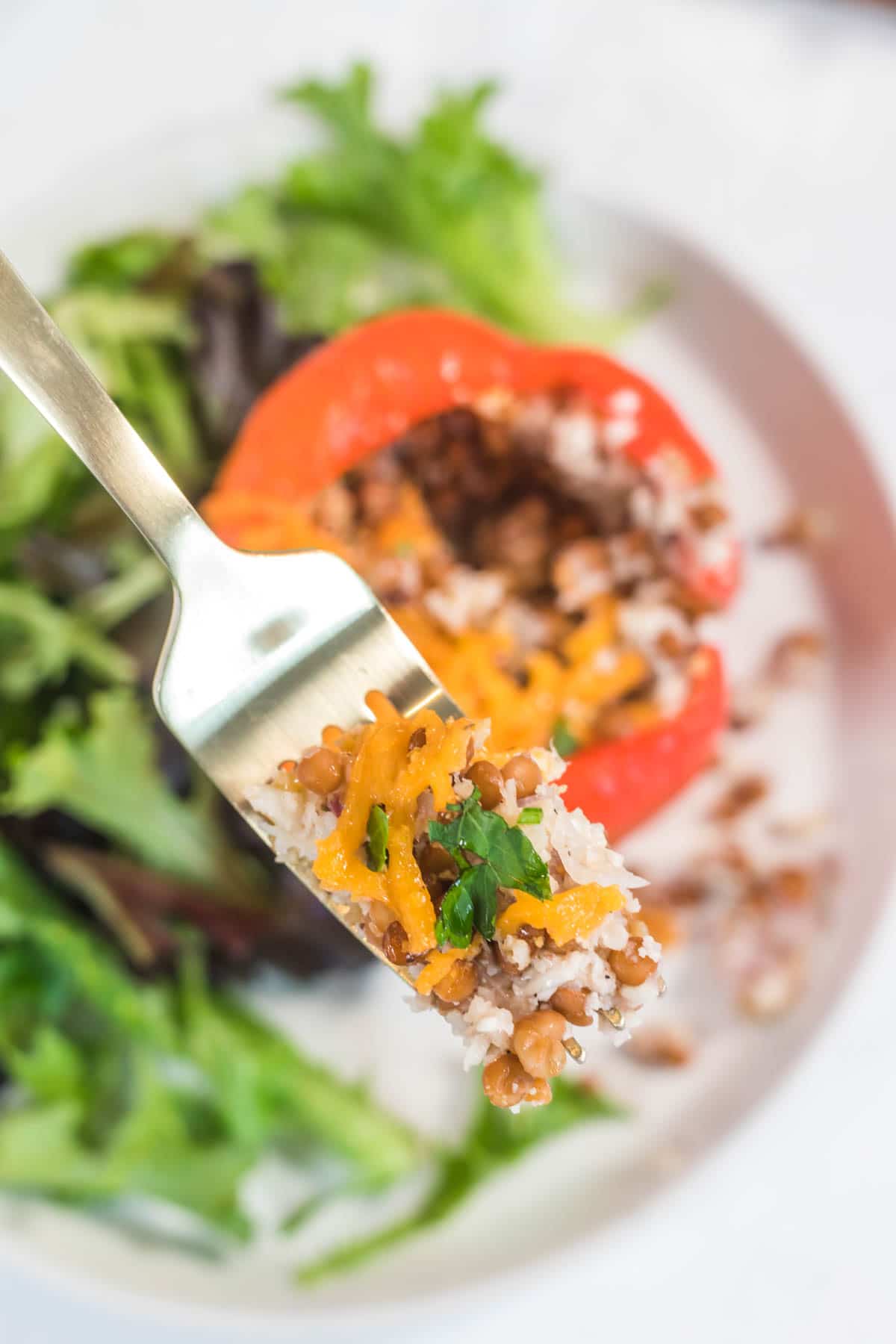 Additional Add-Ins
As mentioned above, don't be afraid to add in whatever you feel will work, or whatever you have needing to be used up (within reason of course).
Why not try:
A sprinkle of parmesan cheese on top,
a dollop of tomato sauce (why not try this Fresh Heirloom Tomato Sauce) on top of the stuffed peppers before baking for a pizza-style dish;
a dollop of tomato paste added to the cauliflower rice when cooking (I tend to do this if I have some left in the bottom of the jar that needs to be used, but I wouldn't open a new jar for this recipe);
Nutritional yeast mixed into the cauliflower rice mixture, especially if you are serving this up as vegan stuffed peppers;
ground beef, ground turkey or chicken or some vegan protein if you want something a bit more substantial. Fry this before adding the cauliflower rice and onion and continuing with the recipe.
How To Serve Stuffed Red Bell Peppers
Serve them hot as a main dish and you are good to go.
You could also serve alongside a simple salad, with a dollop of sour cream (or vegan sour cream if serving as an easy vegan meal), with some chopped cherry tomatoes on top, and a squeeze of lime juice.
I always add some chili flakes too for some kick.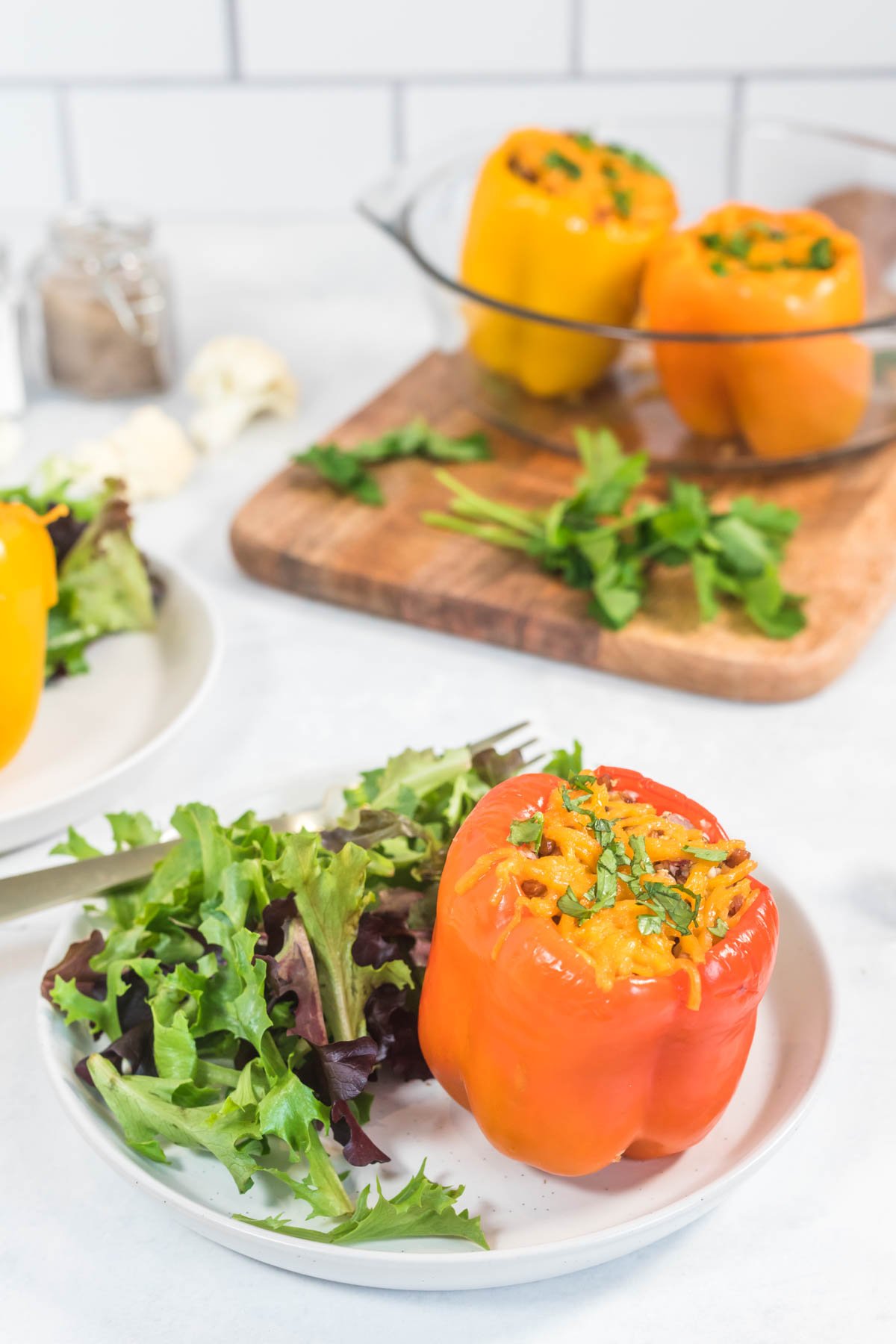 Happy Eating.
xx
Recipe
The information shown is an estimate provided by an online nutrition calculator. It should not be considered a substitute for a professional nutritionist's advice.