Dinner has never been easier with these simple spiced bell pepper and chickpea tacos. The chickpea filling comes together in just one saucepan, which means fewer dishes for you. Load up your tacos with all of the toppings you desire, and you have the perfect dinner that works for everyone in the family, and also happens to be vegan. Perfect for meatless Monday and taco Tuesday all rolled into one.
Who doesn't love a good taco? Once you have these chickpea tacos mastered, why not try these Fancy Mushroom and Smashed Avocado Tacos or these Spicy Cauliflower Grilled Tacos with Nectarine Chipotle Salsa.
Spiced Bell Pepper and Chickpea Tacos
Get ready to enjoy Meatless Monday and Taco Tuesday all in one with these spiced chickpea tacos.
They are:
Easy to make;
Made in one saucepan;
Naturally vegan, without the need for any special ingredients;
Naturally vegetarian;
High in protein;
Gluten-free if you use corn tortillas rather than flour tortillas;
Egg-free;
Dairy-free;
Meal prep friendly. Make up a big batch of the chickpea filling to enjoy throughout the week, perfect for packing lunches for work or school;
Great for the whole family. We don't add anything particularly spicy, so that these tacos can be enjoyed by the whole family. If you do desire a bit of a kick, you can always add some sriracha when serving up (yum!);
Super versatile. The flavor of the chickpea filling for these tacos lends itself well to whatever way you like to serve up your tacos - as is with just the bell pepper and chickpea filling, or loaded up with all of the toppings.
What is stopping you?
How To Make The Chickpea Taco Filling
We don't require any fancy or specialty ingredients to make these chickpea tacos.
You will need:
extra virgin olive oil, or other cooking oil of choice;
cilantro (corriander): fresh is best, so look for the herb in the herb section of the grocery store. In a pinch you can always add some dried cilantro, although you will not get the same flavor;
cayenne pepper; use less if planning on serving up to the whole family and someone is sensitive to heat;
ground cumin;
red bell pepper: you could also use green or yellow if that is what you have on hand, but the red bell pepper adds a nice little hint of sweetness;
fresh garlic;
canned or fresh tomato;
chickpeas: here we use canned chickpeas to save on time, but you can always make your own chickpeas and use those if you prefer
When it comes to serving, you can either serve up in flour or corn tortillas depending on your preference.
We also love adding some avocado, feta (sub in some queso fresco or vegan feta instead if that's something you prefer, and have access to), some finely diced red onion, and a drizzle of sriracha for a kick.
You can also add some sour cream (or vegan sour cream), some more fresh cilantro (coriander), and a squeeze of lime.
Assembly Instructions
Don't worry, these chickpea tacos come together so easily!
We are simply going to heat up a large skillet and add in the herbs and spices, followed by garlic, tomato, and chickpeas.
Cook until everything is heated through.
Divide the chickpea mixture, serve into the tortillas, load up the toppings, and away you go.
Serve up the toppings in separate bowls and let everyone top their taco off in the way that they prefer.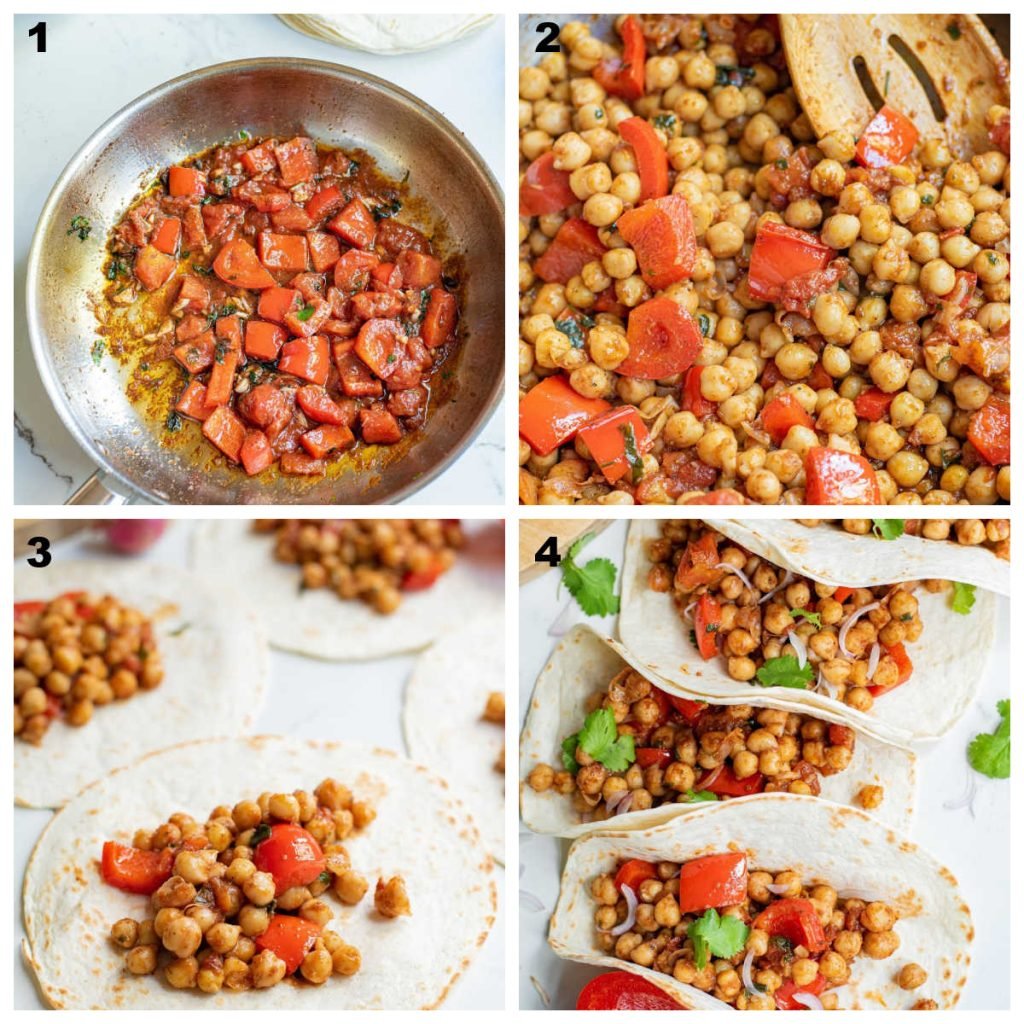 How To Store and Reheat Leftovers
Fridge
If you have any leftover chickpea taco filling allow it to cool completely before packing away in an airtight container and storing it in the fridge.
The chickpea mixture can be stored in the fridge for up to 3 days as long as it is stored correctly.
Freezer
The chickpea taco is best eaten within 3 days of being made.
However, if you find you have lots of leftovers and prefer them not to go to waste, then you can freeze them in a freezer-friendly container.
It is best if you freeze in smaller portions so you can just grab out what you need when you need it, instead of a big clump.
They should last in the freezer for about 12 months.
Reheating
Reheat by adding the chickpea mixture to a small skillet on the stovetop and heating through.
Alternatively, you can reheat it in the microwave.
Add-Ins and Substitutions
Like I have said, these vegetarian tacos are super versatile, and you can use lots of different ingredients and substitutions to make them suit you, your family and your lifestyle.
If you have any of the following ingredients that need to be used up, or want to up the veggie content of your chickpea tacos, then try some of these add-ins:
Carrots.
Cut them into small cubes, and sauté for a couple of minutes before adding the chickpeas to allow them to soften up a bit;
Colored Bell Peppers.
Add some yellow and green bell peppers to change things up a bit.
Cherry Tomatoes.
These are great for adding a little more sweetness to the taco filling. Simply add instead of, or along with, the canned tomatoes.
Broccoli.
Cut your broccoli up into small pices (simialr size to a chickpea) and add it to the mixture at the same time as the herbs and spices to allow it to softern a little before adding the chickpeas.
Kale.
Chop finely and add at the same time as the chickpeas to give it time to soften and wilt.
Mushroom.
Adding mushroom is a great way to bulk up vegan tacos, and add a little more protein to make them even more filling. I like to grate my mushrooms and add at the same time as the herbs and spices to allow enough time to remove excess moisture (this is also great if serving up to kids, as half the time they won't notice the mushrooms, so there will be no complaining).
If you prefer more of a meaty texture, you might want to just chop your mushrooms into slices or chunks similar in size to the chickpeas, and fry when frying the herbs and spices.
Different beans
If you don't have chickpeas or don't want to use chickpeas, then feel free to sub in some black beans or kidney beans instead.
Simply prepare the taco filling as per the recipe card instructions, but sub in the other beans for the chickpeas.
Easy.
Want to make it low-carb?
If you prefer to eat lower in carbs and want to skip on the flour or corn tortillas, why not try dishing up into large lettuce cups instead.
Or serve the chickpea taco filling on top of some salad.
Serving Variations
We love taco night around here, but if you want to change things up a bit you might want to try serving up your chickpea tacos a little differently.
Why not try:
Low carb taco lettuce wraps;
Chickpea taco buddha bowls: make a Mexican inspired buddha bowl with some rice, your chickpea taco mix, sour cream, a fresh salsa etc
Chickpea taco mix served over rice: you could use brown rice, white rice or a vegetable based rice like broccoli rice or cauliflower rice for something a bit different;
Chickpea taco mix on toast: topped with a nice poached egg this would make a great breakfast!
Happy Eating.
xx
Recipe
The information shown is an estimate provided by an online nutrition calculator. It should not be considered a substitute for a professional nutritionist's advice.