This Homemade Vegetable and Pork San Choy Bow will surprise you with how easy it is to make. Delicious, yet healthy, Chinese food at home in a flash. This recipe is loaded with veggies yet still remains a family favorite, including the kids! Not to mention, it's easy to make ahead and serves as a great option for leftover lunches.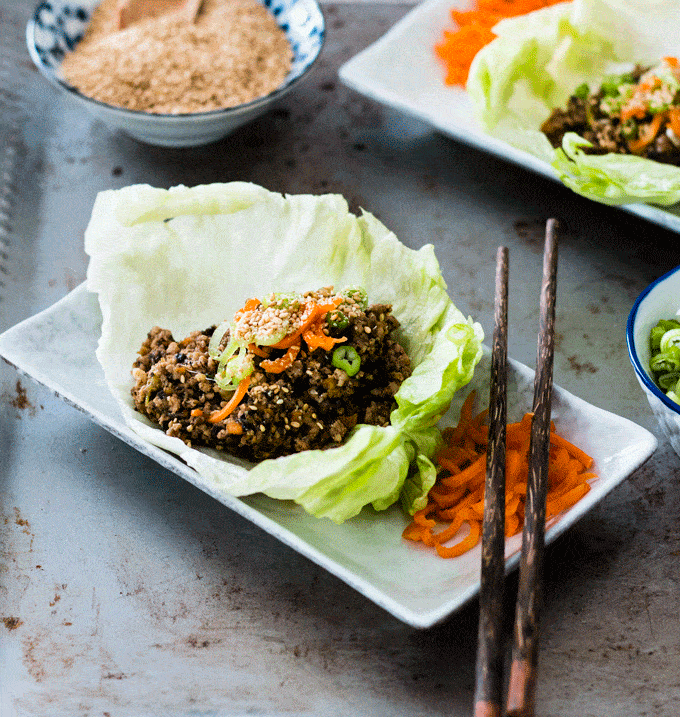 Healthy, Homemade and Easy
Although it's fun to take the family out for a nice meal once in a while, it can get pricey and stressful very fast (hello two year old!). So, I love to find ways to make a delicious meal that saves us all the way around.
This Pork and Vegetable San Choy Bow was the perfect answer to that problem and a delicious and family-friendly answer at that!
One of my husband's go-to dishes, when we go out for Chinese food, has always been San Choy Bow. Although I am quite partial to it as well, I have to admit I always avoid it in restaurants, as there is no elegant way of eating that stuff and I always end up with sauce running down my arm and all over my clothes....very classy 🙂
So instead my get my kicks from making it at home.
Sneaking Veggies Is Easy In This Homemade San Choy Bow Recipe.
This homemade version of San Choy Bow is a twist on the original as we load it up with a ton of vegetables. The kids (including the big ones) still love it though, and the veggies are barely even noticeable mixed in with the pork mixture.
That means I can use the dish as a way to get everyones vegetable servings for the day in, as well as my own.
Dairy Free, Gluten-Free, and Low in Carbs.
This is a dairy-free recipe as well as a low-carb dish.
The only two ingredients that could potentially make this not gluten-free is the soy sauce and oyster sauce. However, if you check the labels, there are options for getting these both gluten-free, pretty easily.
What Ingredients Are Needed To Make This Easy San Choy Bow At Home?
In order to make this Pork and Vegetable San Choy Bow, you'll need:
pork mince,
crimini mushrooms,
zucchini,
celery,
onions,
lettuce,
soy sauce,
oyster sauce,
ginger powder,
sesame oil,
carrot,
garlic,
and sesame seeds if desired.
Tips for Making the Perfect San Choy Bow
When I served this version of san choy bow up for dinner the other night my toddler gobbled it up (sans the lettuce leaves) and my husband declared it to be the best San Choy Bow he has ever had.
The traditional way to eat it is, of course, wrapped up in a smallish lettuce leaf, but I tend to serve mine in big romaine leaves and eat them burrito style.
The next day I always enjoy any leftover pork mixture with some raw carrot and zucchini 'noodles' made with a vegetable spiralizer which is really yummy!
Be sure to smash the pork with a whisk while in the frying stage. This is imperative to receive the correct texture for the recipe. Although it will still taste good if you don't have a whisk, this method really adds a great texture and presentation to the dish.
If you want to keep this recipe MSG free and healthier, be sure to check the labels of the ingredients you're using. With many of the sauces in this recipe, it's easy for MSG to be included. Alhough the research is inclusive as to the effects of MSG I tend to err on the side of caution and avoid it just to be sure.
A traditional grater will work just fine when slicing up the vegetables. However, I used a Food Processor which made the task much easier.
If you have to smuggle vegetables for yourself, your husband or your kids then this pork and vegetable san choy bow is a great recipe, as those veggies are well hidden in the mixture.
Check out this post for more inspiration on what to do with pork mince.
Recipe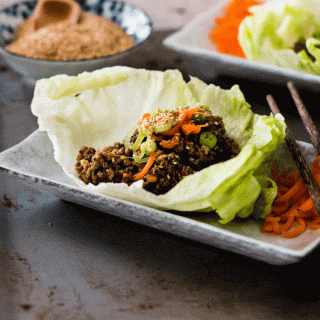 Pork and Vegetable San Choy Bow
Make sure to check the labels of the sauces you are using so as to avoid MSG. You absolutely need to mash the pork with a whisk while in the frying stage in order to get the right texture with this one or it just won't taste as good.
Ingredients
3

tablespoon

olive oil

3

tablespoon

soy sauce

3

tablespoon

oyster sauce

1

tablespoon

ginger powder

3

tablespoon

sesame oil

2

cloves

garlic

minced

1

lb

pork mince

aim for pasture raised and organic

1

large grated carrot

1

large grated zucchini

10

Crimini mushrooms chopped finely

1

celery stalk chopped finely

2

spring onions

chopped finely

leaves

Lettuce

alternative: raw carrot and zucchini noodles

Toasted sesame seeds and chopped spring onions to serve
Instructions
Whisk together olive oil, soy sauce, oyster sauce and ginger powder in a jug.

Heat sesame oil in a wok until very hot and add garlic followed by the pork mince. Using a whisk, stir fry and 'mash' the pork until half-browned.

Add the spring onions and half of the oil mixture and continue mashing until all pork granules are the size of green peas, or smaller.

Add chopped mushrooms, carrot, zucchini, celery and the rest of the oil mixture.

Stir fry for 5 minutes.

Serve in trimmed lettuce leaves and top with toasted sesame seeds and spring onions.

As an alternative serve prepared pork mixture on raw carrot and zucchini noodles with a sprinkle of toasted sesame seeds and spring onions.

Enjoy.
Notes
I used a vitamix for 'grating' the carrot, zucchini and mushrooms to make it quicker but a traditional grater would work just fine.
Nutrition
Calories:
277
kcal
Carbohydrates:
6.7
g
Protein:
16.5
g
Fat:
20.7
g
Saturated Fat:
2
g
Sodium:
376
mg
Fiber:
1.5
g
Sugar:
2.5
g
Tried this recipe?
Leave a comment HERE and let us know how it was!
The information shown is an estimate provided by an online nutrition calculator. It should not be considered a substitute for a professional nutritionist's advice.
Don't forget to follow Whole Food Bellies on Pinterest for more recipe inspiration! Or if Pinterest isn't your style, bookmark this post! Let's keep the conversation going- join my Facebook group!