Quick and Easy Quinoa Salad
Take your next summer BBQ to another level with this delicious Quick and Easy Quinoa Salad which is just packed with beautiful colorful summer veggies and a surprising burst of flavor from Dorot fresh frozen garlic and basil.
Summer is here, and I for one am super excited to say hello to balmy summer nights, barbecues and meals eaten outside with family and friends while the kids run amok!
Is there anything better?
Why yes there is...and that thing is a potluck recipe that is always devoured by guests and takes mere minutes to put together.
Make Ahead For A Quick and Easy Potluck Dish
I just love having a super quick and easy recipe on hand to bring along to potlucks. My husband, bless his cotton socks, always tells me about the BBQ's we have been invited to on the day of, and never remembers to ask the host what we should bring.
Fun, right?
This Quick and Easy Quinoa Salad has become my go-to recipe for such occasions, and it has saved me from being a terrible guest more than once!
I was devastated this past weekend when I went into the yard and discovered the snails had eaten ALL of my fresh basil...AGAIN. They get it every time! I love adding fresh garlic and herbs to my dishes, as they really liven up a recipe and give it the boost needed to really stand out. But sometimes the snails eat your basil, or your supermarket only has sad-looking limp garlic in the vegetable bins...
And this my friends is where Dorot comes in. They come in little pre-portioned cubes of garlic, herbs and other flavorings that are chopped/crushed and flash frozen within 90 minutes of being harvested, so they are at the peak of their freshness. Each cube is a pre-measured teaspoon which makes incorporating them into your own recipes super easy and hassle-free. You just take what you need, and refreeze the rest! And they taste and smell absolutely amazing.
Seriously, while whipping up this batch of easy quinoa salad, I peeled back the wrapper and a burst of basil hit me so hard it was hard to believe I hadn't just picked it fresh from the garden myself.
And what's even better – there are no artificial preservatives, it's vegan, gluten-free, kosher and contains the bare minimum of ingredients.
Plus there's no need to attend the summer bbq with stinky garlic hands, as it's all chopped up and ready for you!  Don't believe me? Pop over here and see for yourself!!!
While you're there, you can learn more about how to use them and get lots of flavorful recipes. There's just so many ways you can incorporate Dorot into your summer dishes and drinks, and make summer entertaining more simple and hassle free.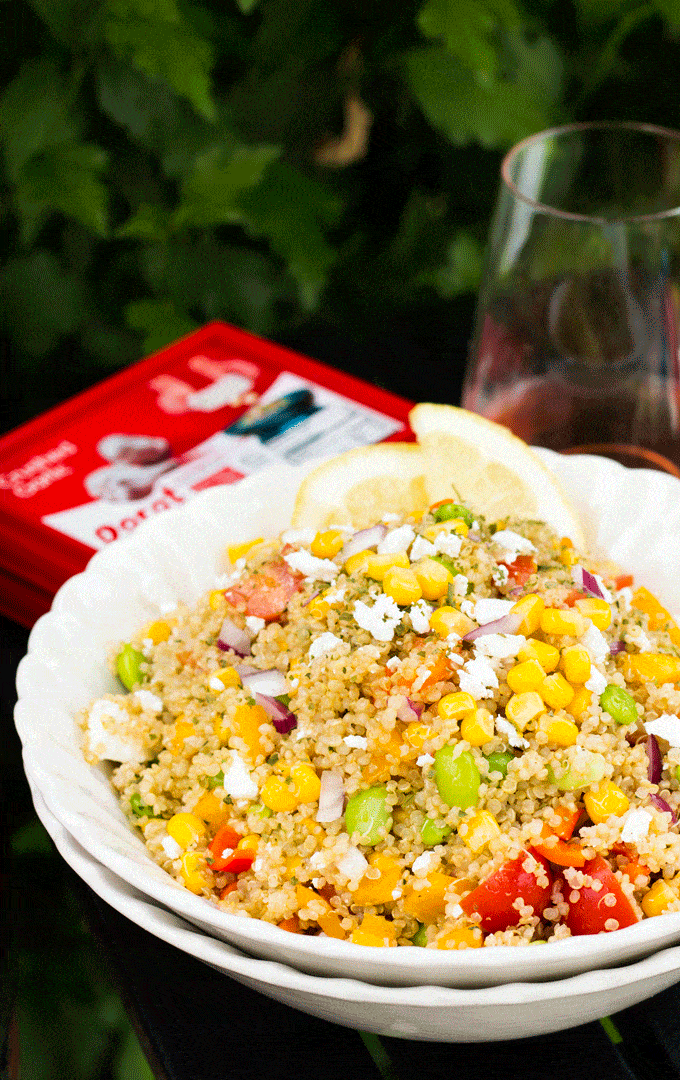 Hanging out with my easy pre-prepared salad waiting for the rest of the BBQ 🙂
I just love hearing from you, so if you try out my Quick and Easy Quinoa Salad be sure to leave a comment and let me know. Or if you have an awesome potluck recipe or a favorite way to use Dorot products, leave that as well so everyone can benefit. Happy eating!