Garlic and Oregano Pesto is a great way to use up surplus fresh oregano. It is just bursting with bold flavors and tastes great on grilled foods, especially if you are looking for a delicious zesty Mediterranean flavor. Oregano pesto freezes well so you can preserve the season and enjoy year round. A great fresh oregano recipe essential for the home gardener.
What To Do With All This Fresh Oregano? Make A Delicious Homemade Oregano Pesto!
I have had so much oregano growing in my garden, I just had to come up with a few oregano recipes to make sure it doesn't go to waste.
If you have been hanging around here at all then you know I just hate wasting food, especially something that I put so much effort into growing (ok the extent of effort with this was literally digging a hole and covering it up again...but still).
So I have been on the hunt for oregano recipes using fresh oregano for the past couple of weeks, when I had a little bit of an 'a-ha moment' and decided to use it up like I did my excess fennel, and whip up a fun pesto.
Fresh Oregano Pesto Is So Easy
We cut down a whole trees worth of oregano and got to pesto testing.
Well let me tell you, it was delicious! And so easy too. It freezes well too, so you can pop a couple batches in the freezer and enjoy that fresh zesty oregano flavor all year round.
Although, if your oregano is as crazy as mine, you will have the fresh stuff all year round anyway, but it's always nice to have something pre-prepared, right?
To make your own homemade oregano pesto you are going to need:
Fresh oregano (of course)
Parmesan cheese
Garlic, peeled
Raw almonds
Salt and pepper
Olive oil
That's it!
Just pop it all into a blender and watch the magic happen.
To store: pop into the fridge for around 5-7 days. I usually put an extra little layer of olive oil on top of the pesto and it helps to preserve it for a little longer and stops it from going brown on top.
If you want to freeze it then I usually freeze my pesto in ice cube trays. Just pop the mixture into the ice cube tray, freeze, and once frozen remove and store in a ziploc bag until needed.
I Have The Oregano Pesto, Now What Do I Do With It?
I hope you guys love this fresh garlic and oregano pesto as much as we do!
I use it anywhere I would normally use a good pesto. It goes particularly well with the following foods and recipes:
Troubleshooting:
I can't have nuts: you can sub sunflower or pumpkin seeds instead.
I can't handle raw garlic: sauté the garlic and allow to cool before adding to the rest of the ingredients in the blender.
I don't have enough fresh oregano: if you have other herbs on hand then play around. This works well with some basil or parsley. Pesto's are very forgiving so just blend away and have some fun.
I am vegan or don't eat dairy: sub in nutritional yeast instead, it works really well.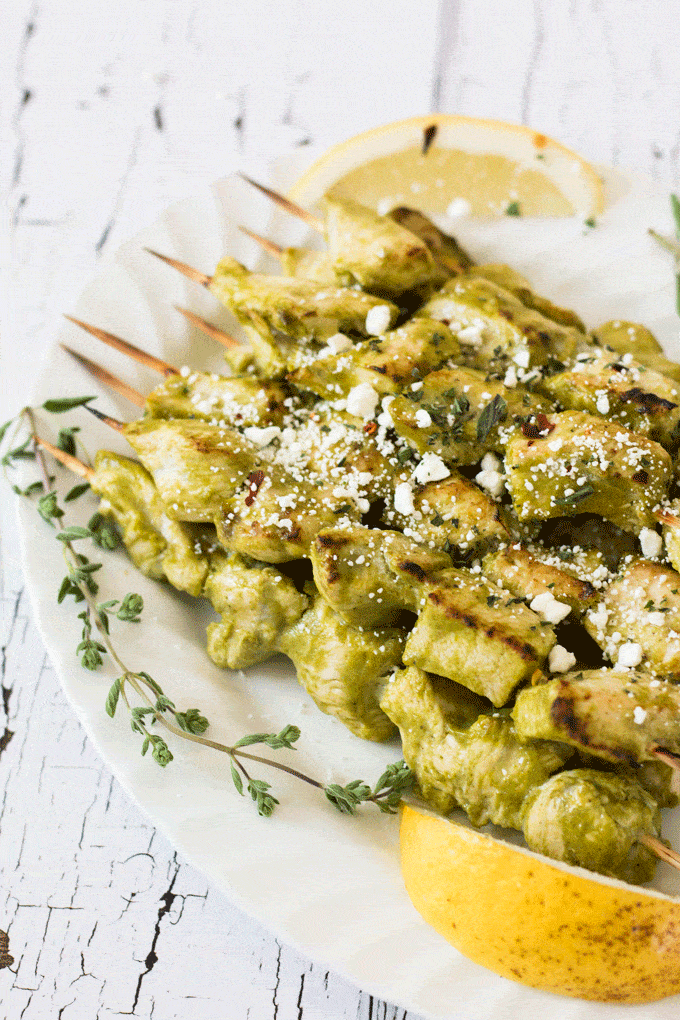 Need More Recipes Using Fresh Oregano?
I have a few more oregano recipes here you should definitely check out if you have a surplus on your hands are are wondering what to do with all this fresh oregano:
If you try it and love it, be sure to pop back and leave a comment. Also, if you have any other ideas on how to use up lots of oregano make sure to leave those in the comments as well, so everyone can benefit 🙂 Happy eating.
The information shown is an estimate provided by an online nutrition calculator. It should not be considered a substitute for a professional nutritionist's advice.
Don't forget to follow Whole Food Bellies on Pinterest for more recipe inspiration! Or if Pinterest isn't your style, bookmark this post! Let's keep the conversation going- join my Facebook group!
Be sure to join me over on Instagram for some tips, tricks, and behind the scenes.