Remember I told you I had an AH-mazing sweet and spicy pecans recipe coming your way? Well, it's a week late thanks to the worst cold season ever, but it's here!! Ever since I whipped up a batch of that Sweet and Smokey Spice Rub, I have been using it on absolutely everything (seriously, I put some in a gnocchi dish tonight and it really took the whole thing to a new level). Well I just had to try it out on some nuts, and seeing as I already have my favorite pecan recipe here, I thought I would just combine the two and see what would happen. Magic. Magic happened!!
They are a little bit sweet, a little bit savory, and the hint of vanilla in the background just adds a whole new element to the overall flavor - you are going to LOVE them!! I can't keep up with the demand around here, my hubby and kids have been popping them like crazy. I put a bowl out at a dinner party the other night and they were gone in seconds, and I even spruced up a salad with some crushed sweet and spicy pecans and blue cheese and everyone was fishing at the bottom of the bowl for the crumbs  🙂  Just what I like to see.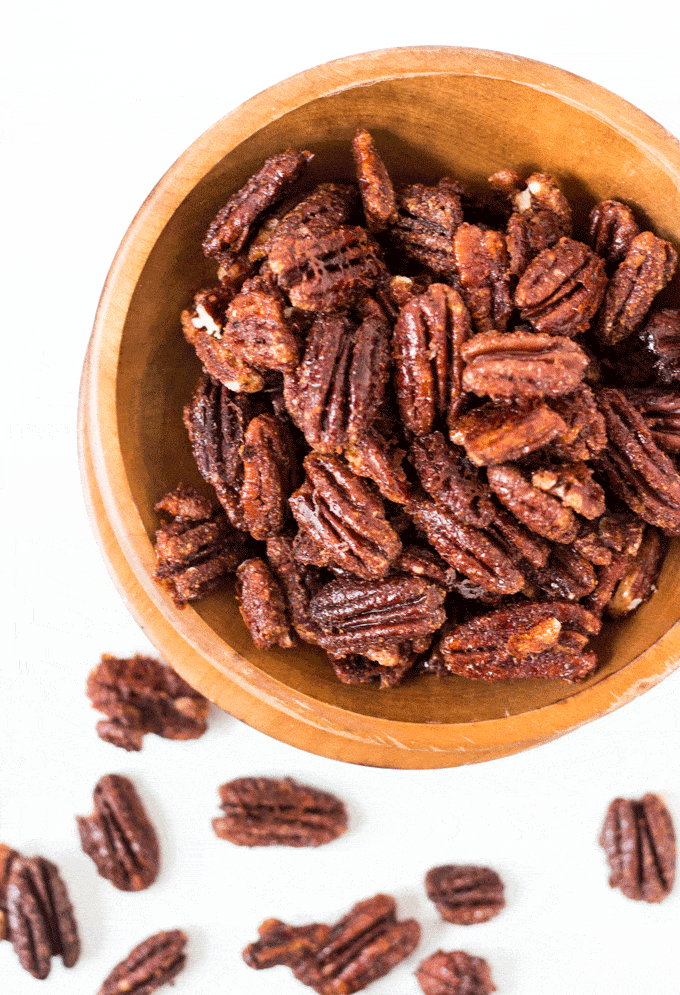 Sweet and spicy pecans keep well stored in an airtight container, or if you are a big batch cooker/preparer like me, then they store well in the freezer as well, which is always handy. On a personal note, we are in the home stretch for baby number 3 - woohoo!! So my cooking and freezing efforts have been amping up big time, especially when it comes to snacks, because I know I am like a big starvo when it comes to nursing in those first few weeks  😛
Happy eating!!
Sweet and Spiced Pecans
Take your pecans from good to absolutely fantastic with this sweet and spiced pecan recipe. Perfect for snacking or adding to salads for a crunchy twist.
Ingredients
2

cups

raw, unsalted pecans

2

tablespoon

sweet and smokey spice rub

(see notes for recipe)

3

tablespoon

pure maple syrup

1

teaspoon

pure vanilla extract
Instructions
In a large bowl, mix together the pecans, spice rub maple syrup and vanilla extract until the pecans are well coated

On a baking tray lined with parchment paper, lay out the pecans in a single layer and pop in the oven. Bake for 7 minutes, give everything a bit of a shake and then bake for another 6 minutes

Remove from the oven and allow to cool completely before serving

To store: pop the completely cooled pecans in a sealed glass storage jar or into the freezer until ready to use
Nutrition
Calories:
55
kcal
Carbohydrates:
4.9
g
Protein:
0.6
g
Fat:
4
g
Saturated Fat:
0.3
g
Fiber:
0.6
g
Sugar:
3.8
g