Sweet, crunchy, creamy and delicious all at the same time. If any snack deserves to have the word 'moreish' used as it's describer it's Maple Candied Pecans
As you all know, I am a huge fan of dishes that can be thrown together really quickly, i.e. in the two seconds that toddlers can play independently. I am also a huge fan of dishes that are super versatile, so that you can re-use them throughout the week in various ways, and seem like a domestic goddess 🙂 I like compliments!
I have been making these Maple Candied Pecans for a long time now, and they are hugely popular in our house. They can be used in so many ways, such as:
chop and mix with some granola
chop and mix with some popcorn
throw them in the blender with frozen bananas for candied pecan nice cream
eat straight from the jar for a sweet hit
throw some into a salad for a bit of crunch and sweetness (blue cheese is a must here too 🙂 )
But of course, as always, you do you. Use your imagination and come up with something great. I hope you enjoy them as much as we do!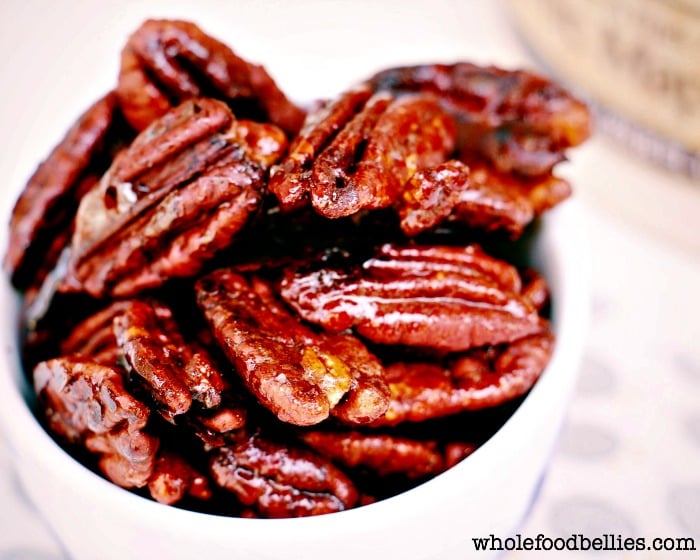 Tried them or planning to? I would love to hear from you - leave a comment, like on Facebook, tweet on twitter or pin on pinterest. Sharing is caring you know 🙂
Hope you had a great weekend guys.
Print Recipe
Maple Candied Pecans
Sweet, crunchy, creamy and delicious all at the same time. If any snack deserves to have the word 'moreish' used as it's describer - this is it! Dig in and enjoy
Instructions
Preheat oven to 375 degrees

In a large bowl, mix the pecans with the maple syrup and vanilla extract until the pecans are well coated

Transfer the pecans to a baking sheet lined with parchment paper. Pop in the oven and bake for 13 mins, stopping at about 7 minutes to shake the pecans around

Once ready, remove from the oven and allow to cool
Notes
To ensure the candied pecans retain their crunchiness store in a sealed glass jar or container in the fridge
Nutrition
Calories:
169
kcal
|
Carbohydrates:
7.3
g
|
Protein:
2.4
g
|
Fat:
16
g
|
Saturated Fat:
1.2
g
|
Sodium:
1
mg
|
Fiber:
2.4
g
|
Sugar:
4.4
g