This Sweet and Smokey Spice Rub is a real game changer in the kitchen. It is super quick and easy to put together, but can be used for SOOO many different dishes. I have been rubbing it on ribs, marinating chicken breasts with it, sprinkling it on breakfast potatoes, and even making the most delicious smokey spiced pecans with it (btw the recipe for the pecans will be up next week, you are going to love it!)
This post may contain affiliate links. By purchasing through this link Whole Food Bellies may earn a small commission at no extra cost to you. For more information please see our privacy disclosure.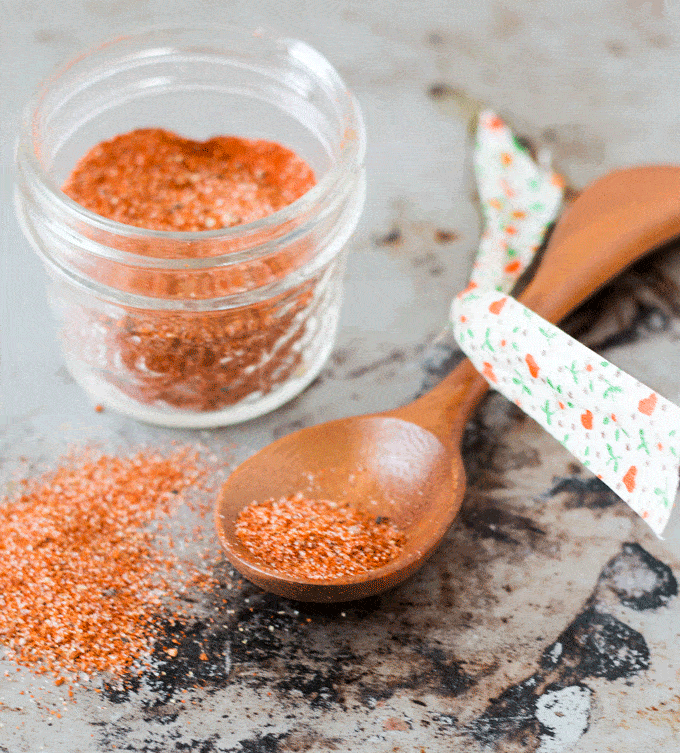 Once you mix the little concoction together you can just pop it into an airtight container and keep it on the spice rack for when you need something to give that next dish a little kick. I get the kids to mix it all together for me - they love measuring out the different spices and then giving the jar a good shake.
We use little mason jars for storage - just remember to put a little label on the top so you remember what's in there. The spice rub will last forever as long as it is sealed tight, so if you come across it months from now you may need that label as a reminder  🙂
Oh and another bonus - making your own spice rubs is a great way to save money! If you have been into one of those specialty spice stores lately, you may have noticed that they charge a small fortune for spice rubs. My husband came home with one just before Christmas and I couldn't believe it when he told me the price. They must have had huge windows and seen him coming because they seriously took him to the cleaners  😛  No seriously it was pretty much daylight robbery!! And at least when you make your own you know exactly what's going in there!
What would you rub this Sweet and Smokey Spice Rub on? If you need some inspiration then check out my Slow Cooked Ribs, and simply switch out the Chinese five spice for 2 tbsp of this spice rub - you won't be disappointed.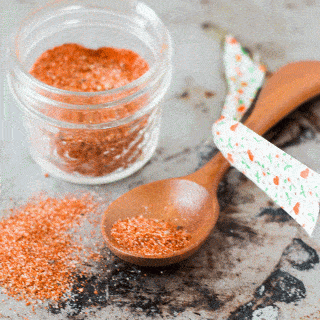 Sweet and Smokey Spice Rub
A gorgeous sweet and smokey rub for infusing flavor into meats and vegetables. Stores forever in an airtight container. Perfect to have on hand in the spice rack for when that special dish needs a little bit more of a kick.
Instructions
Pop all the spices into a small airtight container. Close the lid tight and give it a really good shake until all spices are mixed together.

Keep stored in the airtight container. Keeps for a long long time.
Nutrition
Calories:
9
kcal
Carbohydrates:
2.1
g
Protein:
0.3
g
Fat:
0.2
g
Fiber:
0.6
g
Sugar:
1.1
g