If you like baked banana and baked doughnuts, then this is definitely the recipe for you.
You may, or may not have noticed (no offence taken if it's the latter) that it has been a bit quiet around here lately. Well, I am happy to announce that I have been busy turning thirty!! My wonderful husband took our little family on an epic road trip to San Diego for the occasion, where we enjoyed beach time, and lots of amazing food. It was fantastic, and I have come back feeling so relaxed (yes, I feel relaxed after a week away with toddlers and 8 hours in the car each way – whaaaat???)
Now my birthday dinner was a bit of a disaster. We had planned on hitting up some uber-fancy sushi bar, but my little man had a HUGE meltdown and decided he really needed to run around like a headless chicken. You know what they say about the best laid plans! We cancelled and hit-up an extremely touristy outdoor mexican restaurant with ridiculously loud music, and a grassy area. It was absolute perfection 🙂 The food was actually pretty good, and we all had a blast, which is what it's all about right?
I don't know about you, but I always feel like I need a bit of detox (not a real detox, basically just lots and lots of fruit and veggies) after a vacation. So I got straight to it in the kitchen when we got home today. I also feel like I cannot/should not eat another meal in a restaurant for a couple of months….we will see how that goes.
First up was this decadent, light and airy Baked Banana Breakfast Doughnut. Ok ok, baked banana in a doughnut may not be the first thing you think of when you think of healthy, cleansing foods. However,  I have a serious sweet tooth that really needs to be kept in check, and I find  that having something sweet and delicious, like baked banana doughnuts, on hand will (hopefully) stop me from reaching for the chocolate bars stashed at the back of the pantry.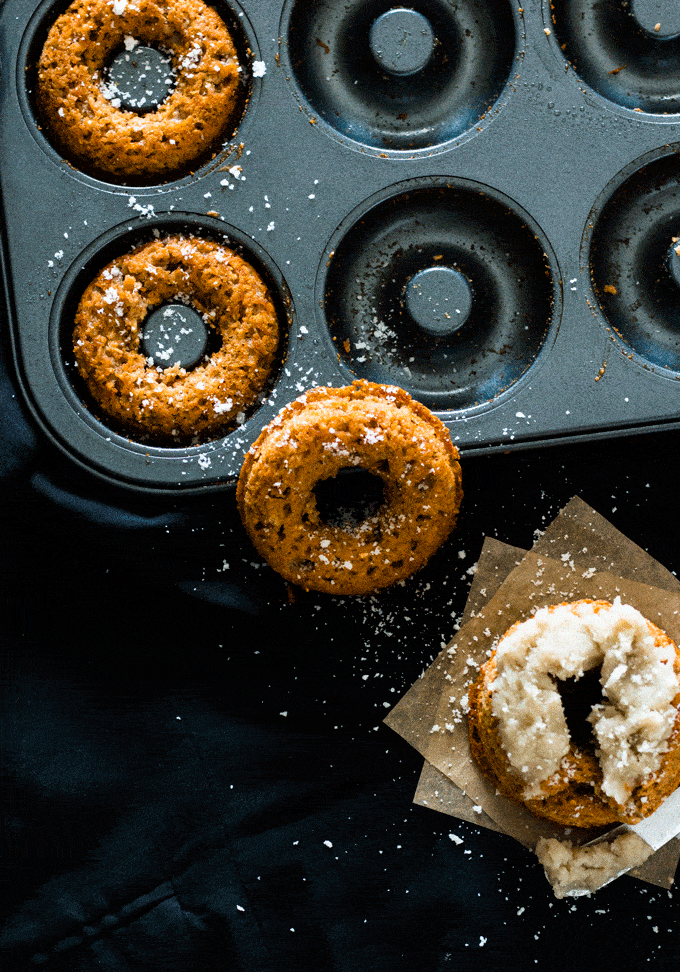 They are a great grab-and-go breakfast option plain, or topped with a banana cream frosting for a decadent afternoon tea, which is my favourite way to serve them up.
Oh, and if you don't have a doughnut tin, they work just as well when made up as muffins, although doughnuts are much cuter in my opinion 🙂 If you don't have one, but want one, then here is the one I use:
Baked Banana Breakfast Doughnuts
These baked banana breakfast doughnuts will fill up your hungry belly and leave you feeling ready to take on the day. The perfect grab-and-go breakfast, or top with some banana frosting and pair with a cup of tea for a delicious afternoon snack
Instructions
Preheat oven to 300F and lightly grease a doughnut tray (I use fractionated coconut oil)

Combine the oat flour, baking powder, salt and cinnamon in a large bowl

Add in the maple syrup, mashed banana, almond milk and vanilla. Stir well to combine

Spoon the batter into the donut tray (there will be enough for 6 donuts)

Bake for 24 minutes, they should be firm to the touch

Allow to cool in the tray for 10 minutes, before removing and popping onto a cooling rack
Recipe Notes
To make your own oat flour, just process the desired amount of whole oats in a food processor until it resembles a fine flour.
Nutrition Facts
Baked Banana Breakfast Doughnuts
Amount Per Serving
Calories 76
Calories from Fat 5
% Daily Value*
Total Fat 0.5g 1%
Sodium 89mg 4%
Total Carbohydrates 17.8g 6%
Protein 0.7g 1%
* Percent Daily Values are based on a 2000 calorie diet.