If you are looking for something a little different to your traditional Oven Roasted Chicken dinner, but just as delicious, then this is it!
Growing up we had a roast dinner pretty much every Sunday night. These dinners are among some of my fondest childhood memories. My Grandad and favourite uncle would come around, the whole family would sit at the table and eat, laugh and tell jokes. There was always something sweet and delicious for dessert afterwards which we were allowed to eat whilst watching some nature documentary together.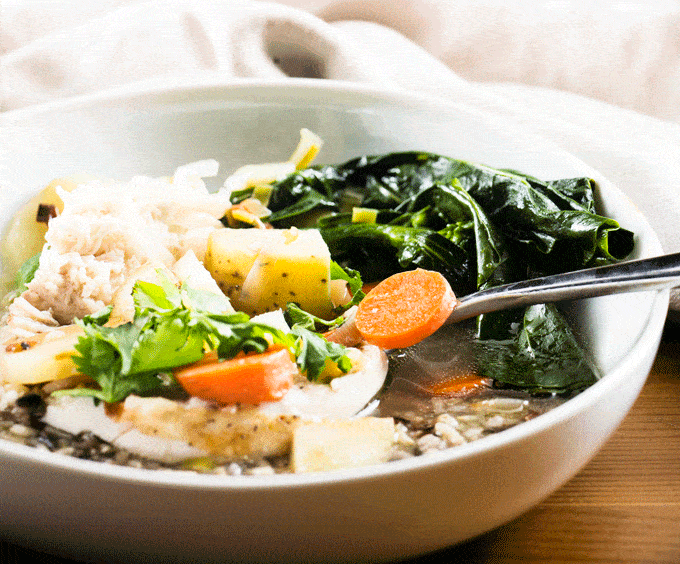 I have been a bit homesick lately, and as a result, have been craving a roast dinner. I can't bring myself to make one like my mum used to, as I know it just won't taste the same. There are some things only your mum can do 🙂
Plus I'm not a big meat fan anymore…So I bought a beautiful pasture raised chicken and we had a lovely Oven Roasted Chicken dinner to satisfy my cravings.
I am a big fan of one-pot dinners (mainly because I hate dishes), and this meal worked perfectly in the cast iron pot in the oven. I added some lemongrass and ginger to give the broth some immunity boosting powers and it gave the dish an amazing level of depth and complexity.
My littlest had an absolute ball sucking on the drumstick like a true cave-baby – great first food 🙂
Tip: If you are going to go to the expense of buying a pasture raised chicken then make sure you get the most out of it. Always keep the leftover bones and throw them into the crock pot with some water, herbs and spices after dinner so you can make your own homemade stock. I usually fill the water level up to maximum and set on low for 10 hours. It makes delicious stock which can be used for soups, risottos and anything else you would normally use stock in.
Oven Roasted Chicken in Immunity Boosting Broth
Effortless one pot oven roasted chicken in immunity boosting broth. A whole chicken cooked in the oven surrounded by lemongrass, ginger, garlic, and a selection of your favourite root vegetables. The perfect broth for boosting your immunity in the colder months
Ingredients
4

lb

Chicken

look for pasture raised and organic

2

tsp

salt

2

lemongrass stalks

6

coins of fresh ginger

bruised

9

cloves

unpeeled garlic

1

cup

dry white wine

1

tbsp

unsalted butter

6

cups

sliced root vegetables - I used carrots

parsnips and a couple of waxy potatoes

Roughly chopped coriander

to serve

Cooked wild rice

to serve
Instructions
Optional first step: Rub the bird inside and out with salt, place on a plate, cover and refrigerate for at least 2 hours

Preheat the oven to 350 farenheit

Pat the chicken dry with paper towels. Place in a snug fitting oven-proof dish with a lid (I used cast iron)

Trim the ends from the lemongrass, remove the outer leaves, slice in half lengthwise and then crosswise and pound with the handle of a knife (or a pestle if you have one)

Place a few pieces of the lemongrass, ginger and garlic in the cavity of the chicken and then arrange the rest around the outside of the bird

Pour over the wine and dot the butter on the skin of the chicken. Add freshly ground pepper

Place a large sheet of aluminium foil over the bird and press down until it is just touching. Pop on the lid

Put the pot in the oven and bake for 50 minutes

After 50 minutes remove the lid and the foil and spread the vegetables around the chicken

Replace the foil and lid and continue baking for another 30 minutes

Remove the chicken from the oven and check for doneness (see notes), let rest for 5 minutes before serving

To serve: place the chicken and vegetables on a large platter and cover with the foil to keep warm. Discard the garlic, lemongrass and ginger and place the broth in a glass dish (defat if desired - see notes). Add salt and pepper to taste. Carve and shred the chicken. Place a generous serving of chicken, rice and vegetables in a bowl; spoon the broth over the top, and sprinkle with coriander.
Recipe Notes
To check for doneness: insert an instant read thermometer between the thigh and body - it should read 170 F. Or prick the thick part of a thigh and check to see whether the juices run clear (this is not as accurate).
To defat the broth: allow the broth to cool slightly in the glass jar and skim the fat from the juices.
Nutrition Facts
Oven Roasted Chicken in Immunity Boosting Broth
Amount Per Serving
Calories 40
% Daily Value*
Sodium 260mg 11%
Total Carbohydrates 4g 1%
Protein 8g 16%
* Percent Daily Values are based on a 2000 calorie diet.