This effortless one pot oven roasted chicken in immune-boosting soup is just perfect for giving your body a bit of a pick me up when the weather changes. A whole chicken cooked in the oven surrounded by lemongrass, ginger, garlic, turmeric and a selection of your favorite root vegetables, it doesn't get much more comforting than this.
Immune Boosting Soup: A Great One Pot Dinner
If you are looking for something a little different to your traditional Oven Roasted Chicken dinner, but just as delicious, then this is it!
I am a huge fan of one-pot dinners (mainly because I hate dishes), and this meal works just perfectly in the cast iron pot in the oven. I added some lemongrass, ginger, and turmeric to give the broth some immunity boosting powers and it gave the dish an amazing level of depth and complexity.
Plus the added veggies ensure you have a full belly for longer!
Simply add the chicken, broth, ginger, garlic, lemongrass and turmeric to the pot and cook for around 50 mins. Then add in some veggies for another 30 minutes and serve with some wild rice or as is.
If you don't have a cast iron pot then any pot with a tight-fitting lid will work.
Oven Roasted Chicken In Immune-Boosting Soup: Substitutions and Troubleshooting
I don't have a mortar and pestle
No worries at all. Instead use:
The butt of the knife
The end of the rolling pin
or just cut everything up a little bit more
I can't find fresh lemongrass, ginger or turmeric
Although relatively easy to find in Australia, I know that these ingredients can be harder to find in some places. Especially rural areas.
As a substitute, you can usually find the prepared version in little squeezey tubes in the cold section of the veggie aisle. If not, you can use dried ginger and turmeric.
I actually grow my own lemongrass as it is pretty much the easiest thing to grow (just be careful, it can take over the whole veggie patch if you aren't careful!), plus it is so much cheaper than buying in the store.
Why do I need to put the aluminum foil on top? Can I make this without the foil?
The aluminum foil traps more heat inside the pot making sure that you get those extra juices from the chicken in your broth, making it more nourishing and better for boosting your immunity.
I get it though, I don't like cooking with aluminum too much either, so if this bothers you then forego the foil and add a bit more stock to ensure you still have enough broth at the end.
What Veggies Go Well With This Immune Boosting Soup?
This soup is pretty versatile. Most veggies are going to go well, so use up whatever you have on hand. I have used:
potatoes
sweet potatoes
parsnips
turnips (acquired taste so buyer beware)
mushrooms
carrots
celery
green cabbage (red cabbage tastes great but the purple mixed with the yellow/orange of the turmeric can make for an interesting colour)
I also love to stir through a big handful of baby spinach at the end for even more nutrients loaded into one bowl.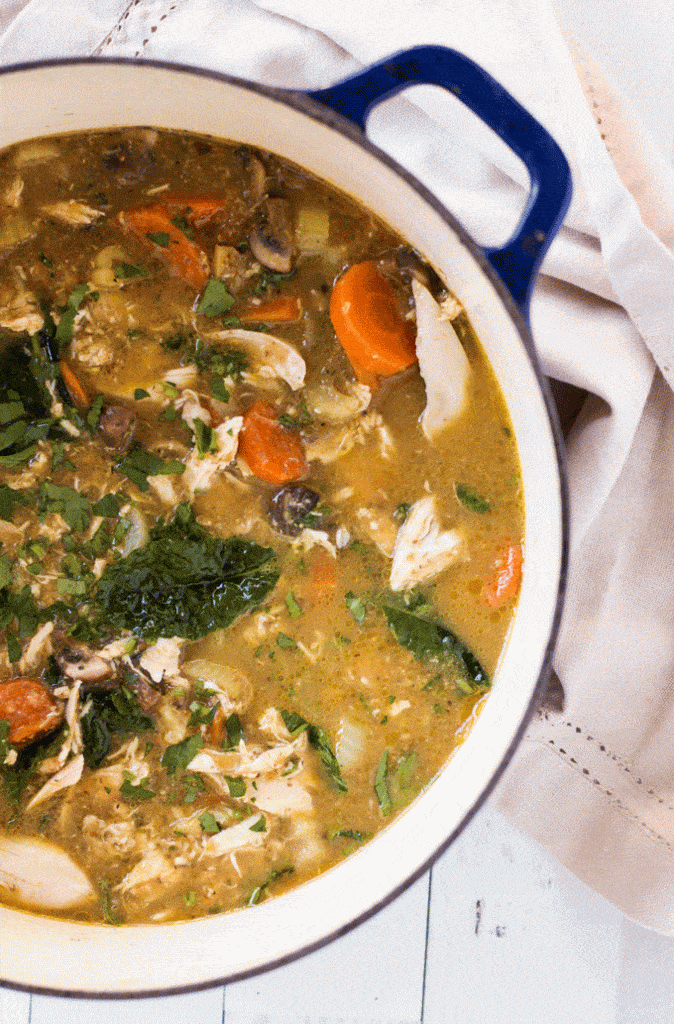 How To Make The Most Of A Pasture Raised Bird After Making This Immune Boosting Soup
If you are going to go to the expense of buying a pasture raised chicken then make sure you get the most out of it.
Always keep the leftover bones and throw them into the crockpot with some water, herbs, and spices after dinner so you can make your own homemade stock. I usually fill the water level up to maximum and set on low for 10 hours. It makes a delicious homemade broth which can then be used for
sipping warm (great when you have a sore throat)
soups
risottos
and anything else you would normally use stock in.
Find instructions for making homemade veggie broth here and simply add in the chicken bones as well for nourishing homemade chicken broth.
Just remember this bird has been stuffed with garlic, ginger turmeric, and lemongrass so you will want to use any new homemade stock on a dish that would go well with these flavors. Like this Lemongrass and Beef Brisket Bowl.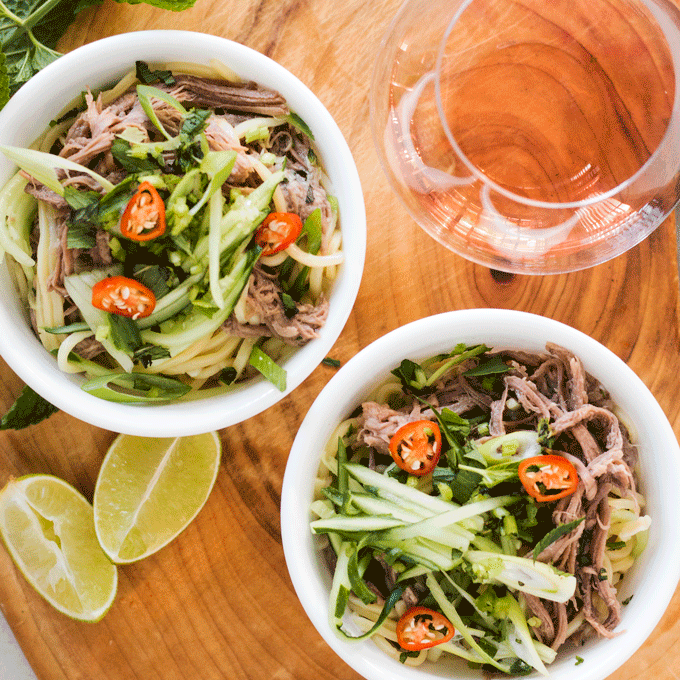 Need some more Healthy Eating Hacks for boosting your immune system? Click the link above and check some out.
Recipe
Oven Roasted Chicken in Immunity Boosting Broth
Effortless one pot oven roasted chicken in immunity boosting broth. A whole chicken cooked in the oven surrounded by lemongrass, ginger, garlic, and a selection of your favourite root vegetables. The perfect broth for boosting your immunity in the colder months
Ingredients
4

lb

Chicken

look for pasture raised and organic

2

teaspoon

salt

2

lemongrass stalks

½

inch

fresh ginger

cut into slices

½

inch

fresh turmeric

cut into slices

9

cloves

garlic

peeled

2

cups

low sodium chicken broth

1

tablespoon

unsalted butter

6

cups

chopped vegetables of choice - I used carrots, celery and mushrooms here

see post for alternatives

Roughly chopped parsley

to serve

lemon slices

to serve

¼

teaspoon

ground turmeric

to serve

cooked wild rice

to serve (optional)
Instructions
Preheat the oven to 350F (175C)

Rinse the chicken under cool running water and pat dry with paper towels. Place the chicken in a snug fitting oven-proof dish with a lid (I used cast iron)

Trim the ends from the lemongrass, remove the outer leaves, slice in half lengthwise and then crosswise. Pop into a mortar and pestle with the ginger, turmeric, and garlic and hit with the pestle a couple of times until slightly crushed.

Place a few pieces of the lemongrass mixture in the cavity of the chicken and then arrange the rest around the outside of the bird

Pour over the broth and dot the butter on the skin of the chicken. Add freshly ground pepper

Place a large sheet of aluminium foil over the bird and press down until it is just touching. Pop on the lid and pop into the oven for 50 mins.

After 50 minutes remove the lid and the foil and spread the vegetables around the chicken

Replace the foil and lid and continue baking for another 30 minutes

Remove from the oven and check the chicken for doneness (see notes), let rest for 5 minutes.

Remove the chicken from the soup mixture and allow to cool for 5 minutes before carving and shredding. Remove the lemongrass strands from the pot before adding the chicken pieces back in. Add salt and pepper to taste.

Place a generous serving of chicken, vegetables, and broth in a bowl, top with a small sprinkle of the ground turmeric, a squeeze of lemon and a sprinkle of parsley. Serve with some cooked wild rice if desired.

Notes
To check for doneness: insert an instant read thermometer between the thigh and body - it should read 170 F. Or prick the thick part of a thigh and check to see whether the juices run clear (this is not as accurate).
To defat the broth: allow the broth to cool slightly in the glass jar and skim the fat from the juices.
Nutrition
Calories:
40
kcal
Carbohydrates:
4
g
Protein:
8
g
Sodium:
260
mg
Tried this recipe?
Leave a comment HERE and let us know how it was!
The information shown is an estimate provided by an online nutrition calculator. It should not be considered a substitute for a professional nutritionist's advice.
Don't forget to follow Whole Food Bellies on Pinterest for more recipe inspiration! Or if Pinterest isn't your style, bookmark this post! Let's keep the conversation going- join my Facebook group!