Once Fall hits in the US you just know pumpkin pie spice is going to be everywhere! Pop some pumpkin puree and pumpkin spice into these healthy and delicious baked donuts. Perfect for breakfast on the go or an afternoon snack. What's even better is that they freeze well, perfect for batch baking for the busy week ahead.
The perfect easy comfort food snack which pairs just perfectly with a decadent pumpkin hot chocolate (also a great way to use up the rest of the pumpkin in that can you bought for making the donuts!)
Baked Chia Pumpkin Pie Donut
Jump to:
Let's start Fall off right with a Chia Pumpkin Pie Donut!
On September 1st in the US every year without fail you will see pumpkins, pumpkin spice, apple cider, and chocolate chip everything in all of the shops.
It's very hard to not get swept up in the excitement of it all (believe me, I tried).
For these pumpkin pie donuts, you are going to need:
chia seeds: it doesn't matter whether you use black or white chia seeds;
white whole-wheat flour;
pumpkin pie spice (if you don't live in the US and still want to make these pumpkin donuts, then you can very easily make your own pumpkin pie spice using a recipe like this one: DIY pumpkin pie spice from Minimalist Baker);
baking soda;
baking powder: look for the variety without aluminum as linked here;
maple syrup: you want pure maple syrup, not maple flavored syrup;
coconut oil;
pumpkin puree;
dark chocolate to serve.
Nothing too fancy!
BONUS: Using chia seeds and pumpkin puree as a binder makes these donuts naturally vegan.
How To Make Pumpkin Pie Spice Donuts
A baked chia pumpkin pie donut is super fluffy, filling, and delicious.
They are just perfect for breakfast or an afternoon snack, or a sweet little addition to your lunchbox.
If you don't have a doughnut pan for baking the donuts, don't worry, they will work just as well as muffins in either a normal or a mini muffin pan. Just adjust the timer depending on your method.
Simply mix all of your dry ingredients together.
Mix all of your wet ingredients together until smooth.
Add them together and whisk well until combined.
Be sure to coat the donut pan with some melted coconut oil or butter before adding the batter to the pan to prevent it from sticking.
Allow them to cool for about 5 minutes after baking as this allows the donuts to shrink away from the edges of the pan a little and makes it a lot easier to remove the baked donuts from the pan.
Want to take it to the next level?
Drizzle on some melted dark chocolate to make these baked donuts even more wow!
I guarantee you will be a happy wee clam when it comes to afternoon tea time (I know I was).
Tips, Tricks, and Substitutions
If you can't get your hands on canned pumpkin (i.e. if you live in Australia where it is basically non-existent unless Aldi is having a US week...) then you can always make your own pumpkin puree by using a recipe like this one from Its Not Complicated Recipes: How To Make Pumpkin Puree.
Chia seeds: these are used to bind the ingredients of the donuts together (and they are also a nutritional powerhouse!). However, if you cannot get your hands on chia seeds you can sub in one of the following:
2 small lightly beaten eggs (use this if you don't need the donuts to be vegan)
2 tablespoon ground flax seeds - this is the perfect option if you would like the donuts to remain vegan.
Allow To Cool
Make sure you let the donuts cool for at least 5 mins in the donut pan before trying to remove them, otherwise you risk them sticking as they are fairly delicate.
Once removing them from the donut pan, add to a cooling rack and allow to cool completely before adding the chocolate drizzle, otherwise, it will melt straight away and not stick to the donut.
If you would like to keep these donuts on the healthier side, then use dark chocolate with less added sugar as the drizzle on top, or leave the drizzle off completely (they will still taste delicious).
Storage and Freezing
Store the donuts in an airtight container with a lid in the fridge for 3-5 days.
These donuts can also be frozen, however, it is best to freeze before adding the chocolate drizzle.
To defrost, simply remove them from the freezer the night before the donuts are needed, and allow them to thaw in the fridge overnight.
Pumpkin pie donuts can also be heated in the microwave or air fryer if you want something a bit more comforting.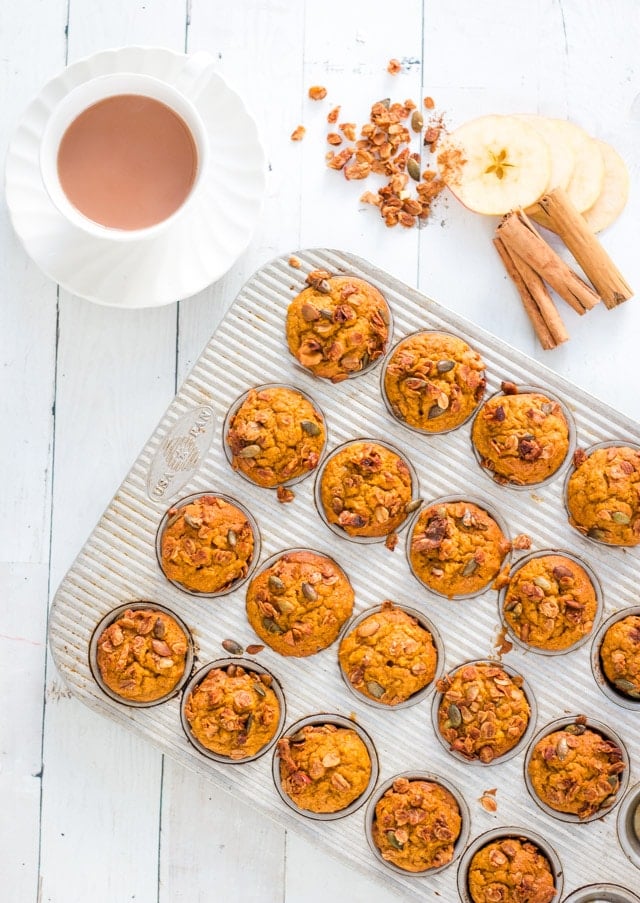 Need More Pumpkin Recipes?
If you need some more Fall recipe inspiration then be sure to check out these recipes:
Happy Eating
xx
Recipe
Baked Chia Pumpkin Pie Donut
Fall is here and pumpkin pie spice is everywhere. Pop some pumpkin puree and pumpkin spice into these healthy and delicious donuts. Perfect for a breakfast on the go or an afternoon snack. Vegan and refined sugar-free.
Ingredients
2

tablespoon

chia seeds

6

tablespoon

water

1 ½

cups

white whole-wheat flour

1

tablespoon

pumpkin pie spice

1

teaspoon

baking soda

¼

teaspoon

baking powder

¼

teaspoon

salt

½

cup

maple syrup

⅓

cup

melted coconut oil

1

cup

canned pumpkin puree

Melted dark chocolate to serve

optional
Instructions
Preheat oven to 350F (175C)

Make your chia eggs by combining the chia seeds with the water and setting them aside for at least 5 mins. They will be quite thick and gelatinous when ready.

In a large bowl whisk together the flour, pumpkin pie spice, baking soda, baking powder, and salt.

Make a well in the middle of the flour mixture and pour in the maple syrup, coconut oil and chia seed mixture. Mix together (but don't over-mix), gently fold in the pumpkin puree until everything is just combined.

Coat the inside of the doughnut pan with melted coconut oil to prevent sticking. Divide the mixture between 12 doughnut cups (you will have to do two loads if your pan only holds 6 doughnuts). Pop in the oven and bake for 20 minutes, until golden and a tooth pick comes out clean. Leave to cool completely in the pan.

To serve: melt some dark chocolate and dip the tops of the doughnuts in the melted chocolate (optional)

To store: store at room temperature or freeze
Nutrition
Calories:
117
kcal
Carbohydrates:
14.4
g
Protein:
1.3
g
Fat:
6.9
g
Saturated Fat:
5.8
g
Sodium:
75
mg
Fiber:
1.9
g
Sugar:
8.6
g