Is there anything better than sipping on some iced green tea on a warm day? What about one that has the added bonus of little bursts of flavor from the addition of blackberry and basil? This refreshing drink is so easy to make, and makes a great cooling drink when the warmer weather comes along. Make a big batch and serve at your next picnic or BBQ.
Blackberry and Basil Iced Green Tea
My absolute favourite thing about the warmer weather is being able to eat outdoors again.
I am all about the simple things in life these days and eating lunch on a picnic blanket, or dinner in the backyard is absolute bliss in my books.
So fun.
Throw in some Iced Green Tea, and I am one happy girl.
You are going to need:
water: we want this water to be close to boiling, so you will also need a kettle or a stovetop and saucepan in order to heat it up;
green tea: I used 3 green teabags for this recipe, but feel free to sub in loose leaf tea if that is what you prefer;
pure raw honey: you can always sub in maple syrup or agave syrup if you want to make this vegan, or if that is what you have on hand;
fresh basil: I would not recomend using dried basil here, as the fresh basil has a better flavor for tea;
fresh blackberries: you can always sub in some frozen blackberries if that is what your have, you will want o let them thaw a little and gently press them to release some flavor;
fresh lemon and ice: this is completlely optional, but really completes the look if you plan on serving to guests, or at the dinner table.
You will also want to have a nice big pitcher for serving.
Preferably one that will fit into the fridge.
How To Serve
When the weather gets hotter I like to take my tea in the form of an icy cold drink.
And that's where this delicious Blackberry and Basil Iced Green Tea comes in.
I make up a big batch in a large pitcher and have it on hand in the fridge to sip throughout the day.
Bonus: having a big jug of iced green tea already made up makes it easier to keep up your water intake for the day - I don't know about you, but that's something I really struggle with, especially in the hotter months.
Add some fresh blackberries, ice cubes and slices of lemon to make it look pretty and you are good to go.
If you plan on making this ahead of time then leave the blackberries and lemons, otherwise, they can become soggy and unappealing.
Substitutions
Mix up the flavours with what you have on hand.
Blueberry or strawberries and basil are just as delicious.
No basil?
Experiment with some mint, thyme, lavender or whatever else you think might work.
TIP: if you experiment and it doesn't work then use the tea as the liquid in your next smoothie and you won't waste a thing!
How do you drink your Iced Green Tea?
I would love to hear from you, so be sure to leave a comment below.
Happy Drinking
xx
Recipe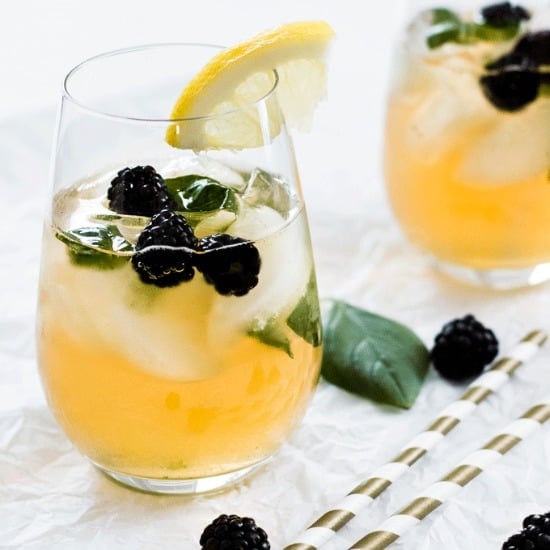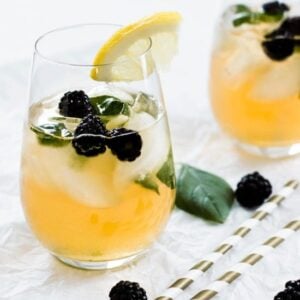 Blackberry and Basil Iced Green Tea
With the hotter weather (seriously, it has already hit 90 this season, I am kinda getting scared for the summer heat), I like to take my tea in the form of an icy cold drink. And that's where this delicious Blackberry and Basil Iced Green Tea comes in. I make up a big batch and have it on hand in the fridge to sip throughout the day.
Ingredients
6-8

cups

not quite boiling water

depending on how strong you like your tea

3

bags green tea

¼

cup

pure raw honey

sub maple syrup if vegan

3

leaves

stems fresh basil

removed

½

cup

fresh blackberries

slices

Ice and fresh lemon to serve

optional
Instructions
Bring water close to a boil (remove from heat or switch off just before boiling). Add the tea bags to the water and steep for about 10 mins

Remove the tea bags and stir in the honey whilst the mixture is still warm

Pop the basil leaves and blackberries into a serving jug, and use the end of a wooden spoon to gently muddle them together (you don't want to be too rough, we just want a nice little infusion of flavour to be released)

Pour the tea mixture over the basil mixture and let the whole thing cool to room temperature. Once cooled, pop into the fridge until ready to serve

To serve: Pop a few ice cubes into a glass, pour the tea over the ice and garnish with a slice of lemon (i usually squeeze a little bit of lemon into the glass as well for an extra pop of flavour)
Nutrition
Calories:
45
kcal
Carbohydrates:
12.5
g
Protein:
0.2
g
Fat:
0.1
g
Fiber:
0.7
g
Sugar:
11.3
g
Tried this recipe?
Leave a comment HERE and let us know how it was!