I have been spending the past couple of days playing around with a few of my favorite apple spice muffin recipes from years ago. You know the ones, you get them from the store, they are MASSIVE and they taste oh so good....but they are basically little cakes of sugar. The substitutes I have been coming up with over the years have just been ok in comparison.
Brown Butter Apple Spice Muffins
After a few tries this weekend I came up with this one though, which is great! It took me a few batches to get what I really wanted, so I now have a couple of dozen batches of muffins in my freezer....no complaints here, I have just decided to call it being super organized.
We may, however, get a tad over apple and spice by the time we have gotten through them!
The brown butter in this apple spice muffin gives it a whole new level of flavor which is sweet yet nutty at the same time.
It gives them that caramel taste you get from using brown sugar, without actually using the brown sugar.
Totally worth the extra couple of minutes it takes to get the butter browned and cooled.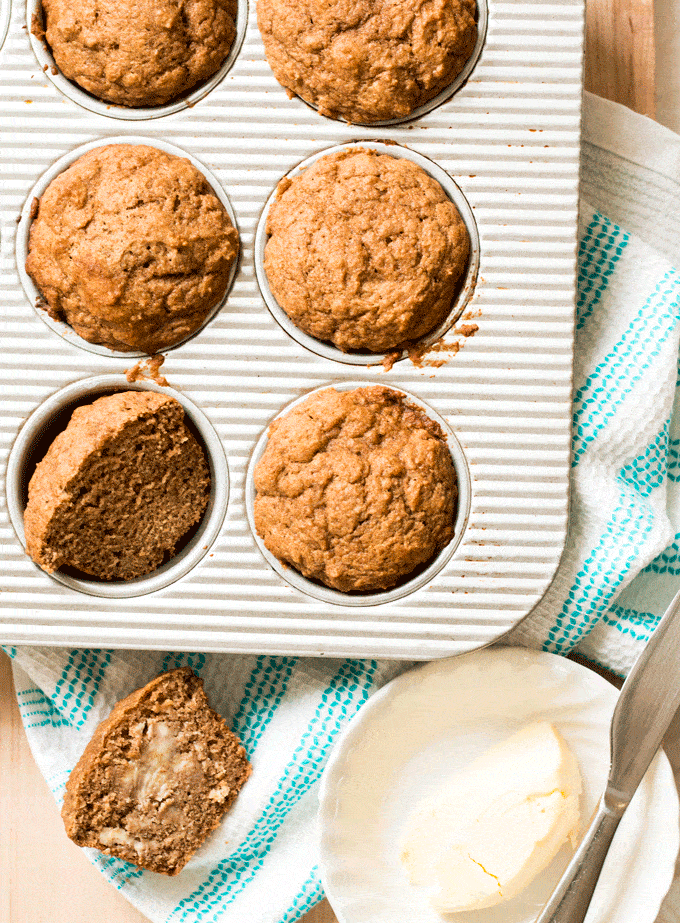 I threw some diced apple chunks in here as well as I like a bit of texture in my muffins.
That's a totally optional step though and really, chunky applesauce would work just as well. I just can't make the chunky variety here as my toddler won't eat 'bits' so I make a nice smooth version.
First world problems right here!
As usual, they freeze really well, just remember to grab them out before you are going to need them. Perfect straight from the oven with a hot cup of tea. Your house will smell amazeballs as well which is always a good thing.
Happy eating.
Brown Butter Apple Spice Muffins
Yummy muffins to satisfy that sweet craving when it hits mid afternoon...and we all know it will.
Ingredients
⅓

cup

unsalted butter

1 ½

cups

whole spelt flour

1

tablespoon

allspice

1

teaspoon

baking soda

½

teaspoon

salt

¼

teaspoon

baking powder

2

eggs

½

cup

honey

1

small apple diced

1

cup

organic unsweetened applesauce

I use homemade
Instructions
Preheat oven to 350

Place the butter in a small saucepan and cook over medium heat until the milk solids start to turn brown on the bottom of the pan and it smells nutty. Remove from heat and allow to cool slightly

In a large bowl, whisk together the flour, allspice, baking soda, salt and baking powder

Make a well in the middle of the flour mixture and add in the eggs, honey and browned butter. Gently mix together, making sure not to overmix

Fold in the diced apple and applesauce until just combined

Divide the mixture among 12 muffin cups (roughly ¾ full). Bake for about 18 mins until they are a lovely golden brown

These can be stored at room temperature or frozen
Nutrition
Calories:
76
kcal
Carbohydrates:
6.1
g
Protein:
2
g
Fat:
5.5
g
Saturated Fat:
3.2
g
Cholesterol:
40
mg
Sodium:
140
mg
Fiber:
0.7
g
Sugar:
2.4
g