Let me introduce you to my newest obsession: slow cooker applesauce.
Applesauce is applesauce I hear you say. Boring. Normally I would totally agree. I have never been an applesauce person either. I didn't/don't feed my kids purees so applesauce was never something we really ever needed or thought about. Unless we were having German food. Then I loved some applesauce. Especially with pork....yum! But I digress...
Since moving to the US, however,  I have felt it a bit necessary to jump on the apple sauce bandwagon. These guys love applesauce!!
Plus a couple of my friend's kids have egg allergies, so I have started subbing eggs with applesauce in any sweet recipe I want to make for one of their potlucks. They have a lot of potlucks. So many I am indeed using enough applesauce to suggest I may be turning a hint American. Just a little bit though....I still love vegemite too much to go 'full' American. But I have indeed been using enough to justify making my own.
Enter the farmers market. My apple lady is selling her 'ugly' apples for 50c a lb. So I would be silly not to buy a million (they are organic after all, and they taste the same, just uglier). So I bought a bunch, chucked them in the slow cooker with some spices and voila I have some awesome slow cooker applesauce. So yummy in fact I am going to give in and buy that 'whole box of ugly apples' she tried to talk me into last week so that I have applesauce from local apples to last me for the rest of the year. See, I told you I might be turning American. Who needs applesauce for a whole year? Me apparently. Especially if it can all be done in the slow cooker.
As an aside, my daughter thought this little apple experiment was fantastic. Every apple I cut up to put in the slow cooker had to be taste-tested by her. Every. Single. One. This batch therefore became a 'family batch' out of necessity as, cute as she is, I don't think people want her little nibbled apple pieces in their applesauce.
Now, I know normal applesauce is super easy to make but, if like me, you can't justify spending the time watching something on the stove if it isn't going to be the star of a dish then this slow cooker applesauce is perfect for you. Set, forget and blend. Done. Applesauce for everyone.
With this batch I froze some in reusable pouches for summertime, some in canning jars for my cooking creations and then popped some in the fridge for when the urge strikes. I also made some yummy Brown Butter and Apple Spiced Muffins. With my next batch I plan to attempt some proper canning. I have never tried canning before and am ridiculously a little bit excited to do so!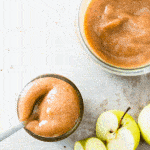 Print Recipe
Slow Cooker Applesauce
Let the slow cooker make your applesauce in the background while you get to work in the kitchen. Tastes delicious and freezes well
Ingredients
10

medium sized apples

use a variety for the best flavour

1

large lemon

juiced

1

tsp

ground cinnamon

1/4

tsp

ground nutmeg
Instructions
Wash the apples well and then core and quarter them

Toss the apples in the slow cooker with the lemon juice, cinnamon and nutmeg

Cook on low for 4 hours

Blend the apples in batches in the blender (remember it will expand when hot so don't put too much in the blender. A handheld immersion blender would work great here if you have one)

Serve and enjoy
Notes
I leave the skin on the apple as I can't justify spending extra money on organic apples and then throwing away the skin. Plus I have smooth applesauce so I can get away with leaving the skin on as it all gets blended anyway. If you prefer a chunkier sauce, I would probably remove the skins from about half of the apples, so you don't have too many bits.
This will store in the fridge for a week or two and in the freezer for a couple of months.
Nutrition
Calories:
82
kcal
|
Carbohydrates:
22.6
g
|
Fiber:
5.2
g
|
Sugar:
17.6
g