A smooth and creamy healthy homemade Nutella spread free from refined sugars is a super versatile recipe to have on hand. Great for spreading on toast or croissants, or stuffing into some homemade pop tarts. Why not add a dollop to your next batch of overnight oats or baked oatmeal. Or eat it straight from the jar, no judgment here.
Healthy Homemade Nutella Spread With Dark Chocolate
How could you say no to a delicious hazelnut spread?
Especially a homemade version made using just dark chocolate, roasted hazelnuts, vanilla, and a pinch of salt to balance everything out.
Too Easy.
A Note On Ingredients
Although this recipe requires only 4 simple ingredients that can easily be found in the grocery store, I do have a few tips, tricks, and substitutions to make this hazelnut spread work for you and your preferences.
Chocolate
I like to keep this on the 'healthier' side by using dark chocolate as it contains less sugar.
Please note that this will make this version of Nutella less sweet than the one you would buy pre-made in the store.
If you prefer a sweeter version you have a couple of options:
sub in milk chocolate instead;
add about a tablespoon of maple syrup or honey at the same time as adding the melted chocolate to the mixture;
add some granulated stevia, coconut sugar, or other granulated sweetener of choice to the mixture while it is in the blender. The amount of sugar you add will depend on your sweetness preference.
If you are wanting to keep this recipe vegan or gluten-free please be sure to check the list of ingredients on whatever chocolate you decide to use.
Variation: if you prefer not to use chocolate and want to make this recipe even healthier, you can always use 3 tablespoons of raw cacao powder or unsweetened cocoa powder instead.
Simply add the cacao or cocoa to the hazelnut butter once it is smooth.
You may want to add some liquid sweetener like maple syrup or honey here to help everything blend well and to give you a smooth and creamy spread.
Hazelnuts
Look for raw hazelnuts, we are going to roast them ourselves in the oven.
If you do happen to have roasted hazelnuts on hand you can still use those, just be sure to try and remove most of the skin if you can.
Using freshly roasted hazelnuts with the skins removed allows you to make a creamier hazelnut spread.
Vanilla
Look for vanilla extract, not essence as it has a far superior natural vanilla flavor.
You can also go a bit fancy and add vanilla beans instead if you prefer.
Make this homemade nutella suit your level of sweetness by adding some maple syrup or stevia if needed.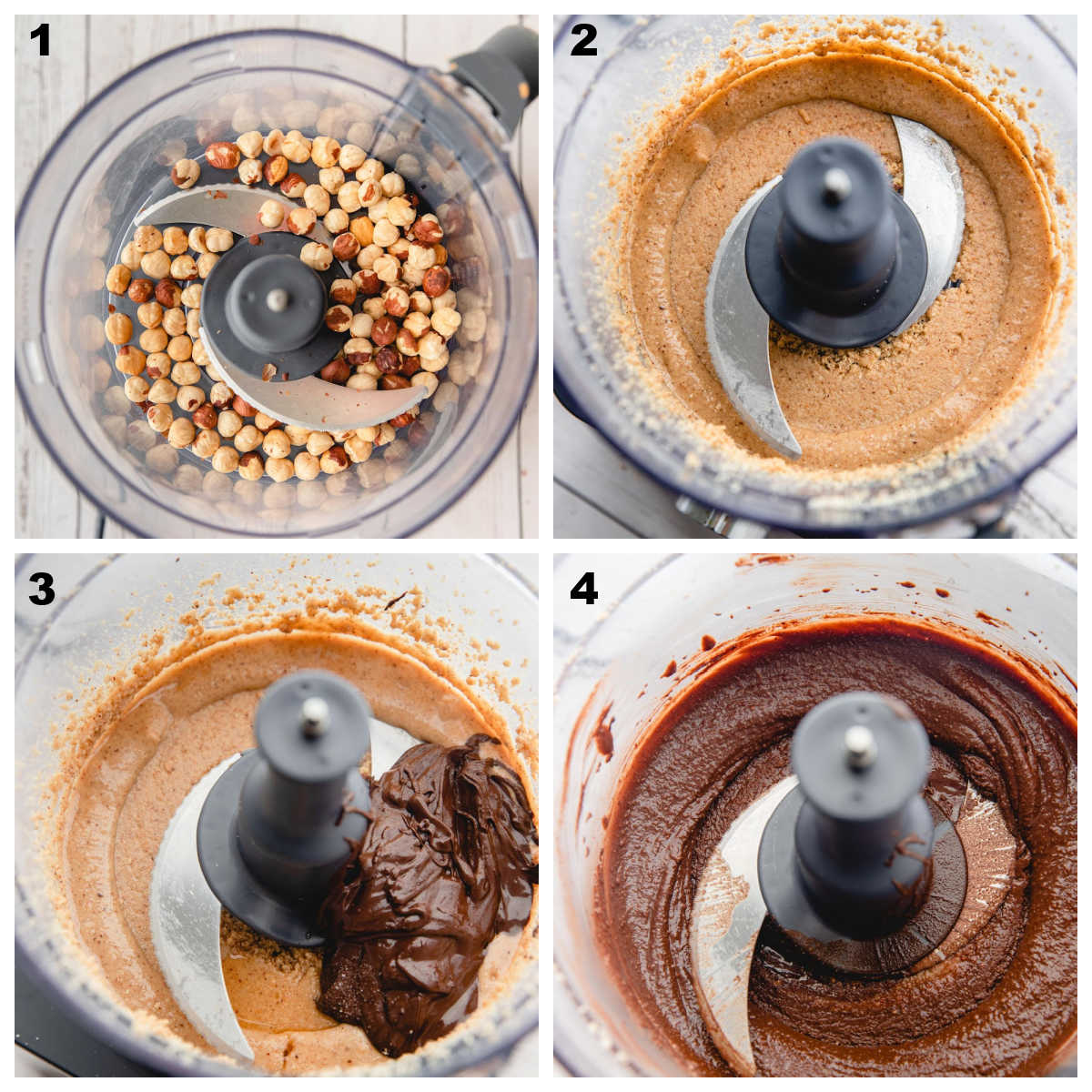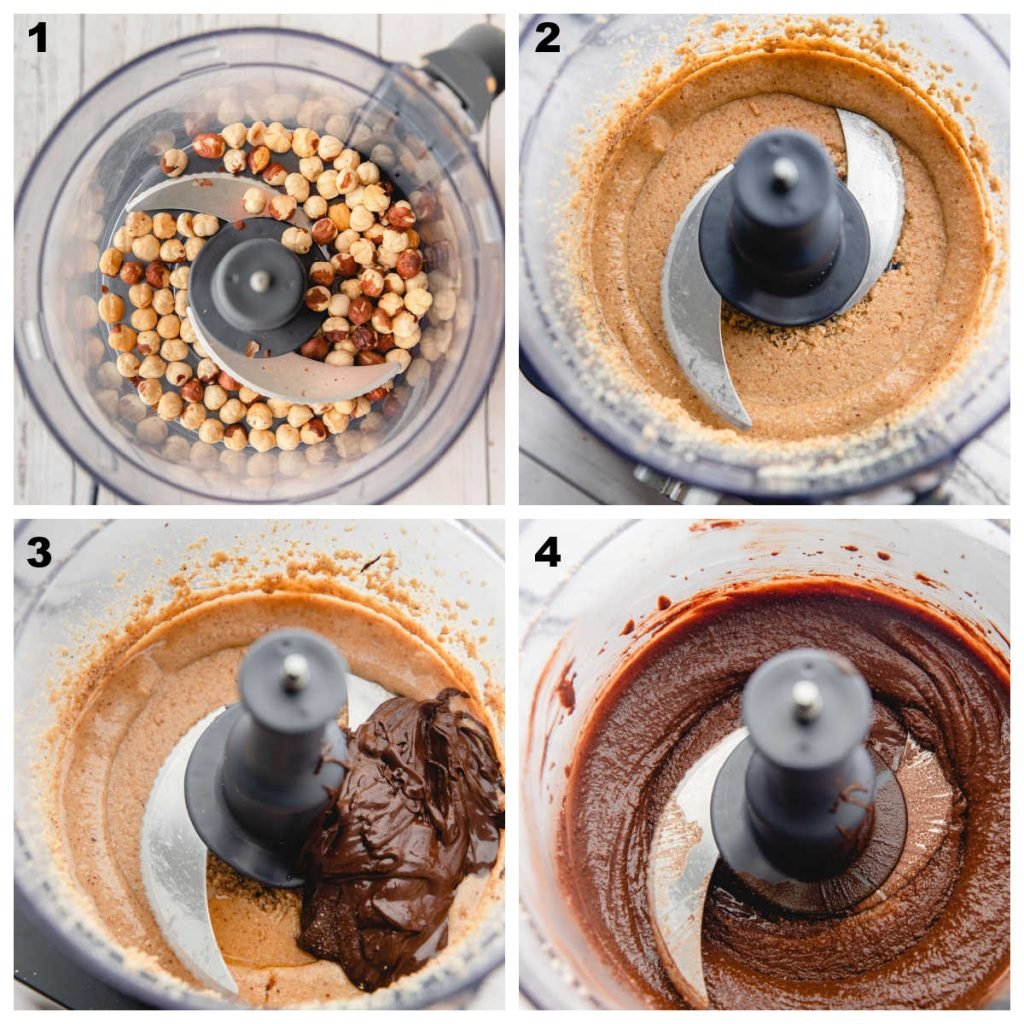 How To Make The Hazelnut Butter
To make this recipe we are first going to start with making the hazelnut butter.
For this, you are going to need a high-speed blender like a Vitamix, or a good food processor.
If you have a less than powerful blender, it is still possible to make the recipe work, it may just take a little longer, and you may not end up with as smooth a spread, but it will still be delicious.
Spread the hazelnuts in a single layer on a rimmed baking sheet lined with parchment paper and roast them until they are starting to turn golden;
Once roasted, the skins should be starting to crack and should be easily removed by rubbing the hazelnut;
Use a clean kitchen towel, or a paper towel to aggressively rub all of the hazelnuts together until the skins have been completely removed.
Don't worry if there are still a couple of bits of skin on some of the hazelnuts, we just want to make sure most of them have been removed.
Once you have skinned the hazelnuts, add them to the blender or food processor and blend hazelnuts until they are completely smooth.
You may have to stop and scrape down the sides of the bowl to make sure all of the hazelnuts are incorporated.
It may seem like it is taking a long time, but once the natural oils start to come out from the nuts it will come together really quickly, and we will be able to blend it into a completely smooth paste with a creamy consistency.
How To Melt The Chocolate
The method you use here may depend on the type of chocolate you decide to use.
Microwave
If you use chocolate chips or chocolate melts, these are easily melted by adding them to a microwave-safe bowl and popping them into the microwave for blasts of 30 seconds.
After each 30 second blast, mix the chocolate and then blast again until melted and smooth.
Double Boiler
If you do not have a microwave you can use a double boiler method instead.
Fill the bottom of a double boiler with water and place on low heat.
Place chocolate chips or coarsely chopped chocolate in the top of the double boiler over hot (not boiling) water and allow it to melt.
Do not cover.
When most of the chocolate is shiny, stir until smooth.
Storing And Freezing Your Homemade Hazelnut Spread
Homemade Nutella should be stored in a glass jar with a lid at room temperature for about 2 weeks.
Although it would arguably have a longer shelf life if stored in the fridge, it will be less spreadable as the chocolate will become solid.
If you accidentally store it in the fridge, and it is no longer spreadable, just leave it on the bench for a couple of hours and it will soon soften up.
Store your chocolate spread at room temperature or it will no longer be easily spreadable.
How To Serve Homemade Nutella
There are so many ways to serve homemade Nutella, you are only limited by your imagination.
Try some of these options:
make a nutella pizza by spreading the nutella on a pizza base and topping with berries;
spread in puff pastry and bake to make homemade poptarts or these hand pies from Tara's Multicultural Table;
dollop on top of ice cream;
add to your next batch of overnight oats;
add to baked oatmeal;
add to a milkshake or a chocolate smoothie;
sandwich between graham crackers or other cookies;
mix with heavy cream and use as a homemade nutella sauce for drizzling;
make a nutella cheesecake.
If you have another way you enjoy eating nutella, be sure to leave a comment below and I will add it to the list.
Need More Sweet Snacks?
Homemade chocolate treats always go down well, why not try one of these recipes next?
Happy Eating.
xx
Recipe
The information shown is an estimate provided by an online nutrition calculator. It should not be considered a substitute for a professional nutritionist's advice.