Sink your teeth into these Creamy White Chocolate Pistachio Truffles with a Healthy Twist. The perfect decadent yet relatively guilt-free treat for anyone. Perfect to give as a homemade gift too.

White Chocolate Pistachio Truffles
I have had this recipe in my head FOREVER now, and the one day I finally get a chance to get in back in the kitchen and do some experimenting I discover someone (not naming any names....but they know who they are) had eaten all of my white chocolate and put an empty wrapper back in its spot.
I may have muttered a few choice words under my breath....
Secret Ingredient
These little bites of deliciousness are so so good!
I used avocado to make them super creamy and give them a great green color for the Holiday season, and match the crushed pistachios surrounding the outside.
Don't let that put you off though - if you have never tried avocado in a chocolate-based dessert, you are in for a treat!
Don't believe me?
Check out these Chocolate Raspberry Truffles which are one of the most popular recipes on my site (and just happen to use avocado as the main ingredient as well).
These truffles will please young, old, fancy, and fussy alike.
My kids loved them, my non sweet-tooth dad loved them and my incredibly sweet-toothed teenage brother loved them (which actually surprised me, to be honest).
They are healthy but taste super decadent, sweet but free from refined sugar (obviously depending on the brand of white chocolate you buy), festive but not loaded with candy canes and food coloring.
White Chocolate Pistachio Truffles make for a delightful gift for someone special in your life (or someone you forgot to buy a present for), or you can be like me and just eat the whole batch yourself and have to make more for everyone else to prove just how yummy they really were 🙂
Need more homemade treats? Check these out:
Happy eating!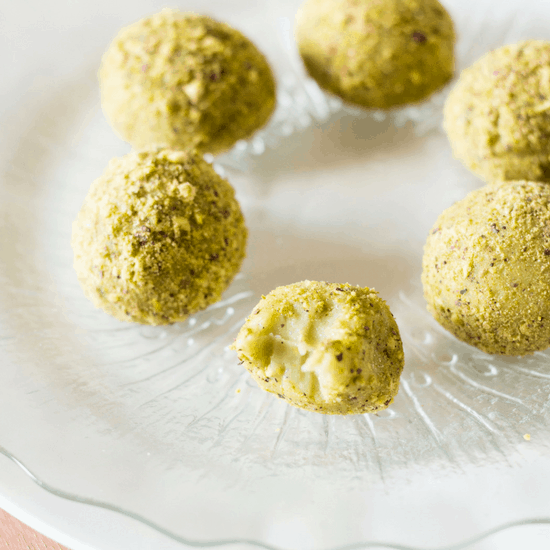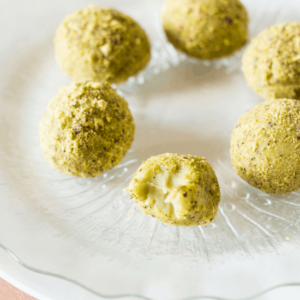 Creamy White Chocolate Pistachio Truffles
Sink your teeth into these Creamy White Chocolate Pistachio Truffles with a Healthy Twist. The perfect decadent yet relatively guilt-free treat for anyone
Ingredients
5

ounces

white chocolate

½

avocado

2

tablespoon

pure maple syrup

½

teaspoon

pure vanilla essence

⅓

cup

shelled pistachios
Instructions
Use a double broiler or a saucepan over low heat to melt the chocolate slowly. Make sure to stir regularly and take off the heat just before the chocolate is completely melted so it doesn't burn

Add the avocado and vanilla to a food processor and process until smooth


Drizzle in the melted chocolate and the maple syrup and process until smooth


The mixture will be runny so place it into the freezer until workable - i.e. you can roll it into a ball without it losing its shape


While the chocolate is in the freezer make your pistachio dust. Place the pistachios in a blender and blend until it resembles a bright green dust


Roll a heaped teaspoon of the chocolate mixutre into a ball and roll in the pistachio dust


Place in a dish lined with parchment paper and refrigerate until ready to serve

Nutrition
Calories:
41
kcal
Carbohydrates:
4.4
g
Protein:
0.6
g
Fat:
2.6
g
Saturated Fat:
0.6
g
Fiber:
0.9
g
Sugar:
2.7
g