Crusted Sage and Macadamia Nut Chicken Breasts are a great low carb and gluten-free crunchy fried chicken, without the use of any breadcrumbs. Serve alongside a simple salad or stuff into a lettuce leaf with some sliced bell peppers for a meal the whole family will devour.
Disclaimer: This post includes affiliate links, and I will earn a commission if you purchase through these links. Please note that I've linked to these products purely because I recommend them and they are from companies I trust and use myself.
Crusted Sage and Macadamia Nut Chicken Breasts come together in no time at all and really pack a flavor punch, especially with the use of beautifully fragrant fresh sage in the herb mix.
Fresh v Dried Herbs?
I always use fresh herbs as I have them growing in the garden or on the kitchen bench pretty much year round, but dried herbs will work in a pinch as well.
Because dried herbs are generally more potent and concentrated than fresh herbs, you'll need less — typically three times the amount of fresh herbs as dry. So sub away, just reduce the amount by around a third and you will be good to go.
If you are interested in using the best ingredients then I would suggest checking out Butcher Box for your chicken. I made the switch a few months back and the quality is so good I can really tell the difference when I have to buy chicken breasts from the store. Sadly, my little foodie kids can tell the difference as well and always ask for the fancy chicken! It does cost a little bit more BUT in my honest opinion, it is completely worth it. We have simply reduced our chicken and meat consumption a little bit and upped the veggie component of every meal to make the budget work. Check them out here: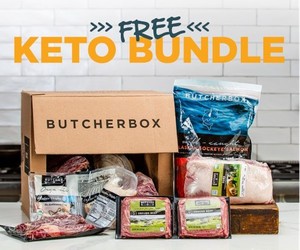 Are Macadamia Nuts Good For You?
The crushed macadamia used in the coating not only gives you a healthy dose of good fats and antioxidants, but they are also a rich source of essential vitamins and minerals including vitamin A, iron, B vitamins, and folate.
Plus they add a nice little crunchy coating to the chicken tenders without the need for any breadcrumbs, making it truly a low carb gluten-free dish.
And really, who doesn't love a decadent macadamia?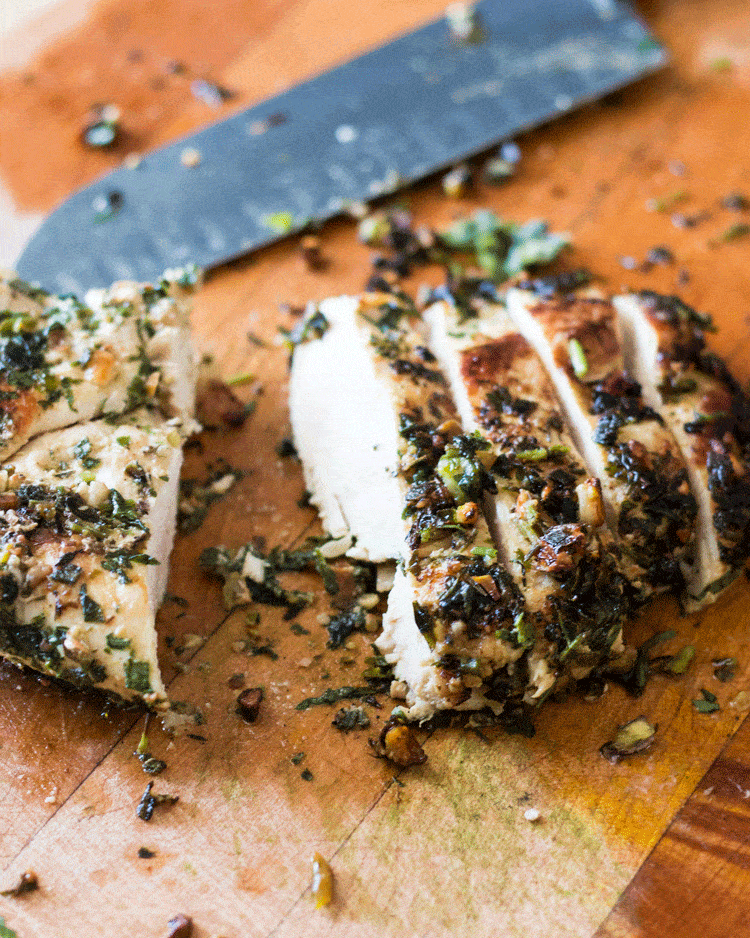 Got Leftover Macadamia Nut Chicken Breasts?
This macadamia nut chicken is great sliced on top of a salad or stuffed into a wrap or lettuce leaf and loaded with fresh veggies for lunch the next day.
How Can I Get The Kids Involved?
This dish has fast become a family favorite in the Whole Food Bellies house, and the fact that it comes together so easily and the kids gobble it up every time makes it a sure addition to the meal plan every month. If you want to get the kids involved with this one, have them:
pick the herbs from the garden or pull the herbs off the stems of store-bought herbs
mix together the coating in a medium-sized bowl
put the macadamias into a Ziploc bag and crush them by hitting them with a rolling pin (this activity is particularly popular around here).
I keep the kids away from the raw chicken side of things simply because they are little and can't help but touch everything in sight. If yours are older then let them use some tongs to dip the chicken in the mixture.
Getting the kids involved with making dinners like macadamia nut chicken always makes for a little bit of fun during the witching hour, giving you more time to get everything else sorted and prepared. Plus they will be more excited to eat something they have helped to make, so less complaining!
Serve it up with some:
Happy Eating!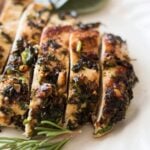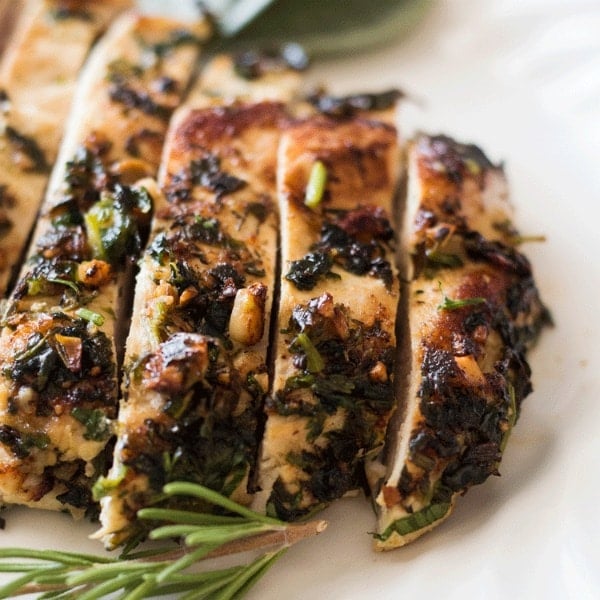 Sage and Macadamia Nut Chicken Breasts
Keyword:
Macadamia Nut Chicken, macadamia nut crusted chicken
Ingredients
4

boneless

skinless chicken breasts

1/2

cup

chopped fresh parsley

2

tbsp

chopped fresh sage

2

tbsp

chopped fresh thyme

1

tbsp

chopped fresh rosemary

1/2

cup

macadamia nuts

crushed

2

tbsp

dijon mustard

1

tsp

sea salt

freshly ground black pepper to taste
Instructions
Place the chicken breasts in a plastic bag (or a ziplock bag) and pound firmly with a meat cleaver or a rolling pin to flatten slightly.

Mix the herbs, salt and pepper along with the crushed nuts in a small bowl and place the mixture on a flat plate. Brush each breast with a thin layer of dijon mustard and coat each side with the herb mixture.

Heat 1 tbsp olive oil in a saute pan over medium heat. Saute the breasts with the smooth rounded side down for about 3 to 4 minutes.

Reduce the heat to low and turn over the breasts, cooking for another 3 minutes, until cooked through. Remove from the pan and serve.
Nutrition Facts
Sage and Macadamia Nut Chicken Breasts
Amount Per Serving
Calories 391
Calories from Fat 171
% Daily Value*
Total Fat 19g 29%
Cholesterol 144mg 48%
Potassium 971mg 28%
Total Carbohydrates 4g 1%
Protein 50g 100%
* Percent Daily Values are based on a 2000 calorie diet.