Macadamia Nut and Herb Crusted Chicken Breasts are a great low carb and gluten-free crunchy fried chicken, without the use of any breadcrumbs. Serve alongside a simple salad or stuff into a lettuce leaf with some sliced bell peppers for a meal the whole family will devour.
Disclaimer: This post includes affiliate links, and I will earn a commission if you purchase through these links. Please note that I've linked to these products purely because I recommend them and they are from companies I trust and use myself.
Crusted Sage and Macadamia Nut Chicken Breasts
Jump to:
Crusted Sage and Macadamia Nut Chicken Breasts come together in no time at all and really pack a flavor punch, especially with the use of beautifully fragrant fresh sage in the herb mix.
Plus they are easy to make.
Winning.
Simply coat a chicken breast in some dijon mustard and dip into a blend of fresh herbs and chopped nuts.
Fry to perfection and you are good to go.
A Note On Ingredients To Make The Best Herb Crusted Chicken
Macadamia
The crushed macadamia used in the coating not only gives you a healthy dose of good fats and antioxidants, but they are also a rich source of essential vitamins and minerals including vitamin A, iron, B vitamins, and folate.
Plus they add a nice little crunchy coating to the chicken tenders without the need for any breadcrumbs, making it truly a low carb gluten-free dish.
And really, who doesn't love a decadent macadamia?
If you cannot find macadamia nuts, or they are too expensive, you can definitely substitute any other nut of choice.
Try chopped cashews, walnuts, or almonds for something different.
Fresh v Dried Herbs
I always use fresh herbs as I have them growing in the garden or on the kitchen bench pretty much year-round.
However, dried herbs will work in a pinch as well.
Because dried herbs are generally more potent and concentrated than fresh herbs, you'll need less -- typically three times the amount of fresh herbs as dry.
So feel free to sub away, just reduce the amount by around a third and you will be good to go.
How To Store Macadamia Nut Chicken
Allow any leftover chicken to cool before storing.
Once cooled, transfer the chicken to an airtight container with a lid, and store in the fridge for up to 3 days.
I would not recommend freezing this chicken, instead use up the leftovers for lunch or dinner the next day.
What To Do With Leftover Nut Crusted Chicken.
Macadamia nut chicken is so good we don't tend to have any leftovers.
However, if you do end up with leftovers, feel free to try one of these options for making the most of the macadamia nut crusted chicken and making sure none goes to waste:
slice and place on top of your salad of choice;
stuff it into a wrap for lunch the next day;
serve with some potatoes dauphinoise;
to keep it low carb stuff it into a lettuce wrap or sandwich with some fresh sliced veggies.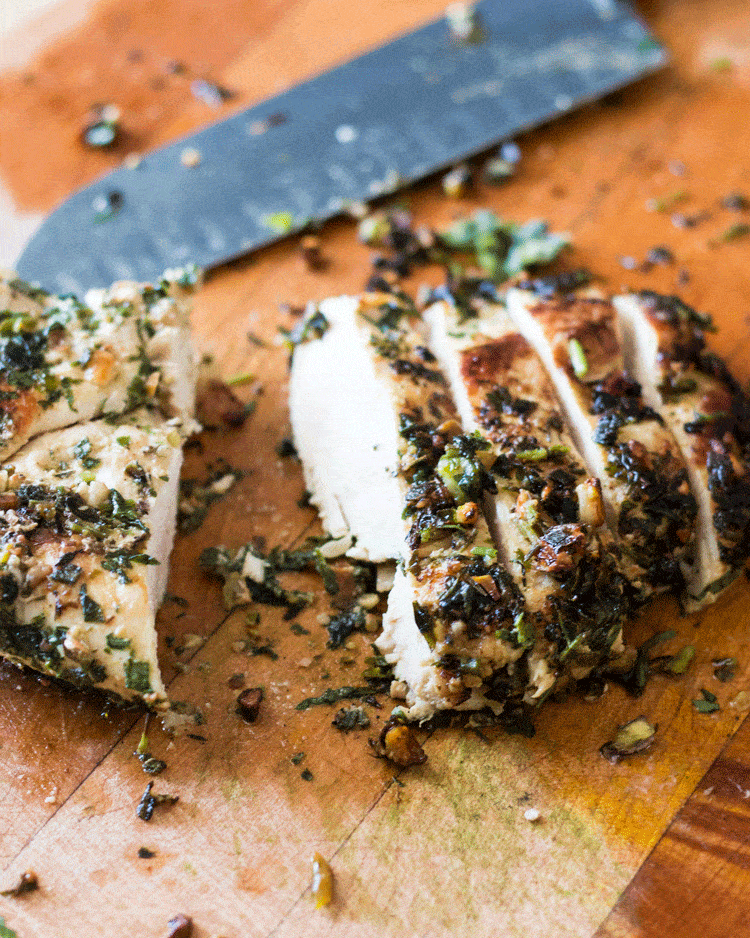 Get The Kids Involved In Making This Simple Family Friendly Dinner
This dish has fast become a family favorite in the Whole Food Bellies house, and the fact that it comes together so easily, and the kids gobble it up every time makes it a sure addition to the meal plan every month.
If you want to get the kids involved with this one, have them:
pick the herbs from the garden or pull the herbs off the stems of store-bought herbs;
mix together the nut and herb coating for the chicken in a medium-sized bowl;
put the macadamias into a Ziploc bag and crush them by hitting them with a rolling pin (this activity is particularly popular around here).
I keep the kids away from the raw chicken side of things simply because they are little and can't help but touch everything in sight.
If yours are older then let them use some tongs to dip the chicken in the mixture.
Getting the kids involved with making dinners like macadamia nut crusted chicken always makes for a little bit of fun during the witching hour, giving you more time to get everything else sorted and prepared.
Plus they will be more excited to eat something they have helped to make, so less complaining!
How To Serve Macadamia Nut Chicken Breast
The flavors in this nut and herb crusted chicken are quite powerful, so it is best to pair it with something more subtle.
Try these recipes out:
Slice the chicken breasts and stuff into a lettuce wrap with some sliced bell peppers
On top of some mashed potatoes
Sliced on top of a salad
Happy Eating!
xx
Recipe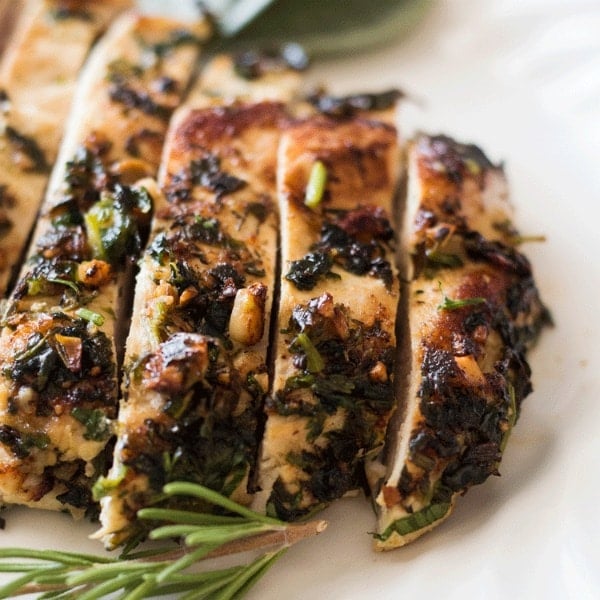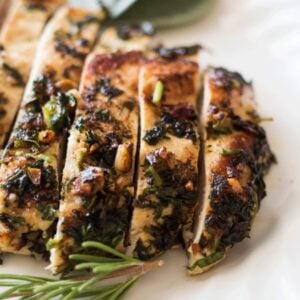 Sage and Macadamia Nut Chicken Breasts
Crusted Sage and Macadamia Nut Chicken Breasts are a great low carb and gluten-free crunchy fried chicken, without the use of any breadcrumbs. Serve alongside a simple salad or stuff into a lettuce leaf with some sliced bell peppers for a meal the whole family will devour.
Ingredients
4

boneless

skinless chicken breasts

½

cup

chopped fresh parsley

2

tablespoon

chopped fresh sage

2

tablespoon

chopped fresh thyme

1

tablespoon

chopped fresh rosemary

½

cup

macadamia nuts

crushed

2

tablespoon

dijon mustard

1

teaspoon

sea salt

freshly ground black pepper to taste
Instructions
Place the chicken breasts in a plastic bag (or a ziplock bag) and pound firmly with a meat cleaver or a rolling pin to flatten slightly.

Mix the herbs, salt and pepper along with the crushed nuts in a small bowl and place the mixture on a flat plate. Brush each breast with a thin layer of dijon mustard and coat each side with the herb mixture.

Heat 1 tablespoon olive oil in a saute pan over medium heat. Saute the breasts with the smooth rounded side down for about 3 to 4 minutes.

Reduce the heat to low and turn over the breasts, cooking for another 3 minutes, until cooked through. Remove from the pan and serve.
Nutrition
Calories:
391
kcal
Carbohydrates:
4
g
Protein:
50
g
Fat:
19
g
Saturated Fat:
3
g
Cholesterol:
144
mg
Potassium:
971
mg
Fiber:
2
g
Vitamin A:
890
IU
Vitamin C:
18.8
mg
Calcium:
65
mg
Iron:
2.9
mg
Tried this recipe?
Leave a comment HERE and let us know how it was!
The information shown is an estimate provided by an online nutrition calculator. It should not be considered a substitute for a professional nutritionist's advice.
This post has been updated from the original November 2018 post to include more information for the reader.
Need More Recipes With Macadamia Nuts?
These nuts are so delicious and versatile.
If you are looking for more recipes to use them up, try these out: