I thought I would try and sneak in one more easy homemade granola recipe before Mother's Day. I love granola, like really love it (in case you can't tell by the plethora of homemade granola recipes I have around here). So for me, some easy homemade granola with fresh fruit and creamy yoghurt is always my go-to breakfast. Plus, it's something the husband and kids can totally organise for Mother's Day all by themselves, which is always a win in my books 🙂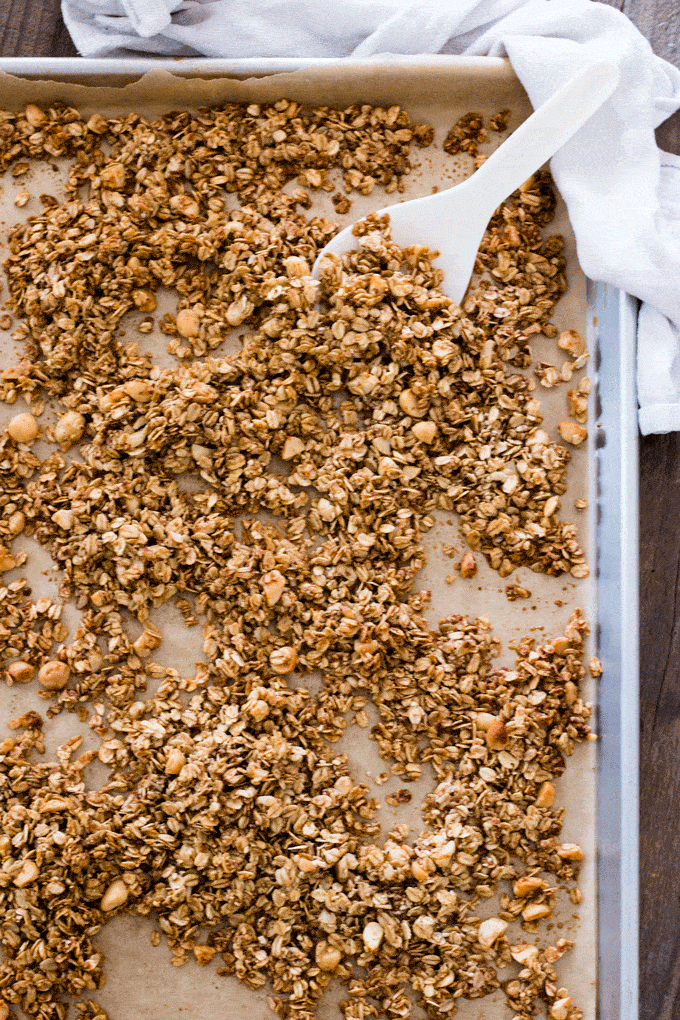 We have had a bit of a crazy time around here lately, which has made me super homesick for Australia. And when I get homesick, I crave macadamia and oats. This may seem like a weird combination, but just think of an amalgamation of ANZAC biscuits (oat based cookie for the non-Aussies), and white chocolate and macadamia nut cookies. Both of which, to me, are quintessentially Australian.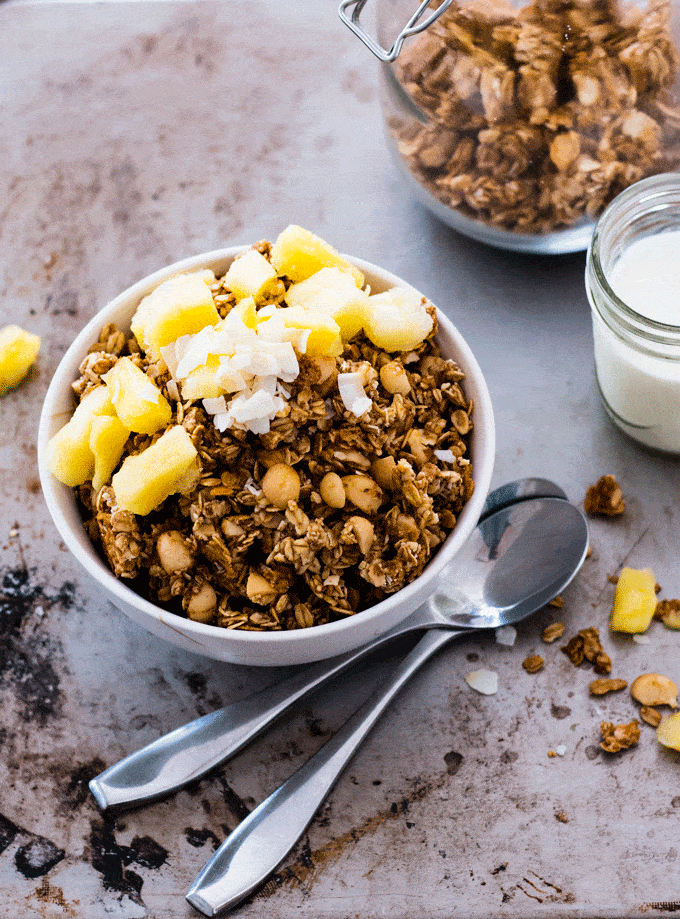 This easy homemade granola encompasses all of the delicious flavours going on in those cookies, but in a healthier breakfast cereal version. It only takes 10 minutes cooking time, which is unheard of in the world of granola. The result is some super crunchy clusters bursting with almond and macadamia nut goodness, which I just love.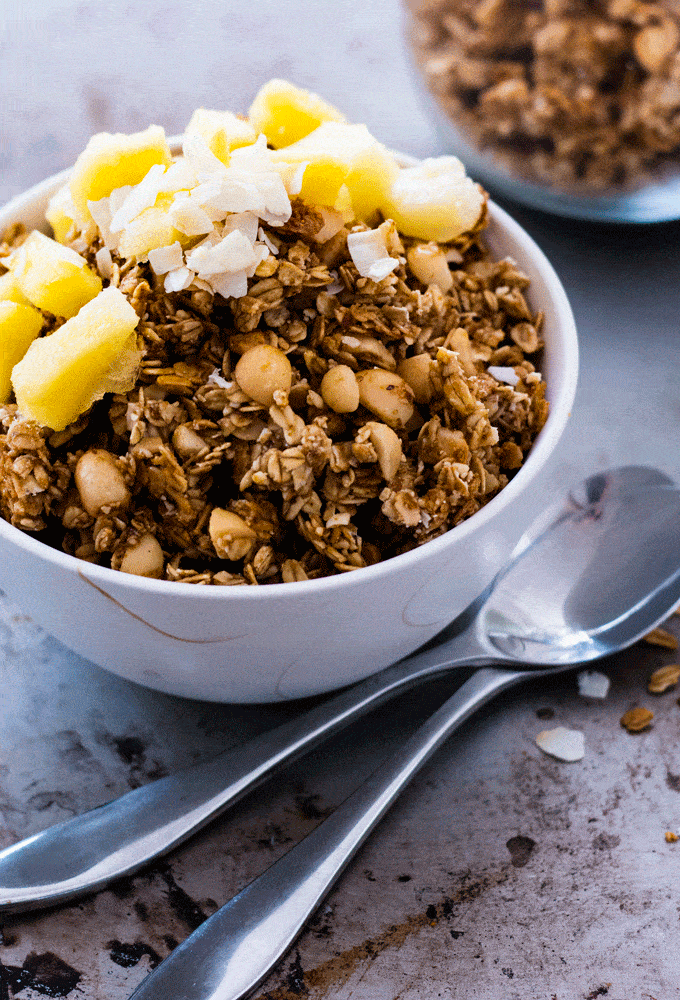 My favourite way to serve this granola up is to make it into a bit of a parfait. Just puree some pineapple in a blender and make a parfait with layers of pineapple puree, yoghurt, more pineapple puree, and a serving of granola as your top layer. Sprinkle a little bit of coconut on top and you are all set. If you are feeling super decadent, and Mother's Day is coming up so that is totally allowed, you could even add some white choc chips to the granola mixture once it is completely cooled.
Looking for more easy homemade granola inspiration? Look no further: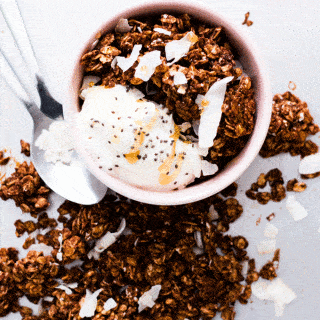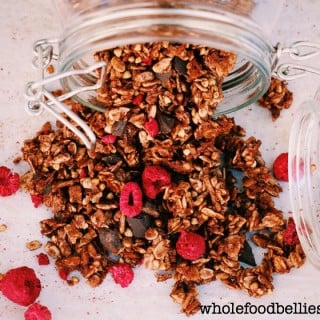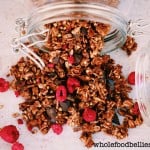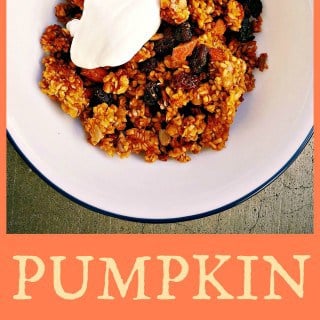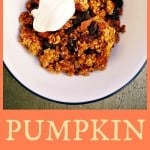 Let me know what you think! Be sure to leave a comment 🙂 Happy eating.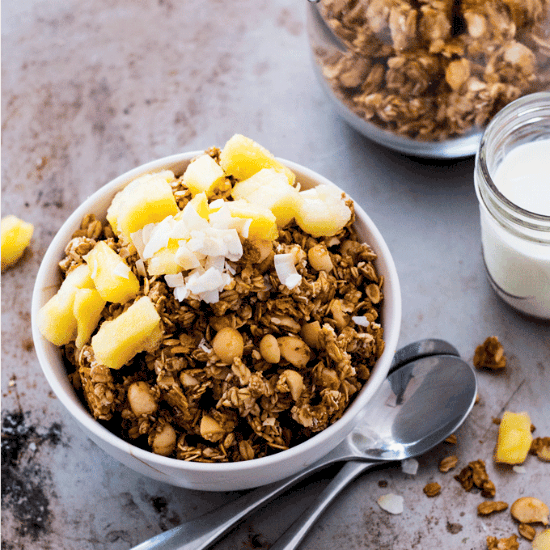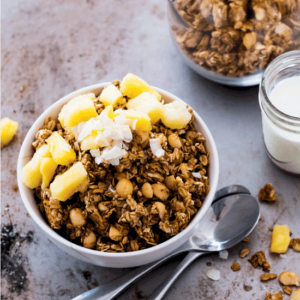 Super Easy Homemade Granola with Macadamia and Coconut Oil
Sweet, crunchy and delicious, this super easy homemade granola with macadamias and coconut oil only takes 10 minutes cooking time. It is the perfect granola to make ahead and enjoy throughout the week, or make a double batch and freeze some for later.
Ingredients
½

cup

almonds

½

cup

macadamia nuts

3

cups

old fashioned oats

½

teaspoon

salt

¼

cup

coconut sugar

⅓

cup

honey

sub in maple syrup for vegan

3

tablespoons

coconut oil

melted

¼

teaspoon

vanilla extract
Instructions
Preheat oven to 350F

Pop the almonds into a blender and pulse until they are finely chopped. Pour them into a large bowl Coarsely chop the macadamias, and pop into the bowl with the almonds

Add in the oats, salt, and coconut sugar and stir to combine

In a small bowl, whisk the honey, coconut oil and vanilla together (if the honey isn't runny enough, you may have to warm in a small saucepan, or pop into the microwave for 40 seconds)

Pour the honey mixture over the oats, and mix well until everything is coated

Pour the oat mixture onto a parchment lined baking sheet and spread out evenly

Pop into the oven and bake for 5 minutes, stir and return to the oven for another 5 minutes

Remove from the oven, and allow to cool completely before breaking into clusters and serving

Store in an airtight container or freeze
Nutrition
Calories:
254
kcal
Carbohydrates:
28.2
g
Protein:
3.9
g
Fat:
15.6
g
Saturated Fat:
6.5
g
Sodium:
149
mg
Fiber:
3
g
Sugar:
15.8
g