A healthy twist on a popular chocolate treat, these chocolate covered macadamia nuts combine a homemade sticky date caramel with whole macadamias and a homemade chocolate coating. These yummy treats are pretty quick and easy to make, and handy to have stored in the fridge or freezer to provide the perfect afternoon sugar hit to keep you going.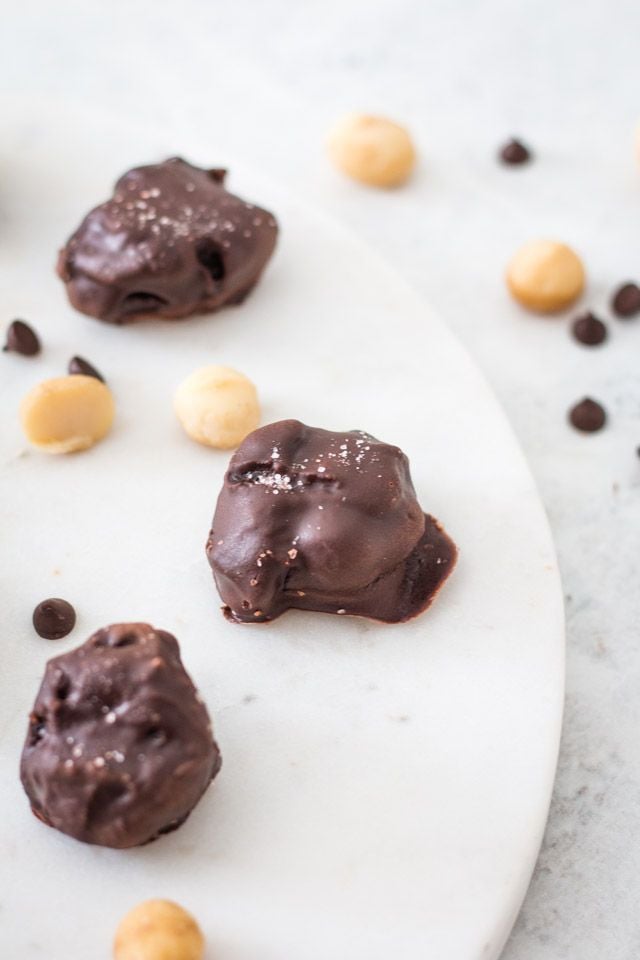 Jump to:
Chocolate Covered Macadamia Nut Clusters
The perfect moreish treat to keep you going when the afternoon slump hits, these homemade macadamia nut clusters are sure to become a fast favorite in your house.
Simple to bring together, you are going to need:
Medjool dates: these are the big, sticky fresh dates you will usually find in the fruit and vegetable section of your grocery store. The smaller dates do not work as well as they do not get creamy enough to give the perfect caramel texture. If your dates are on the older side see the tips below for softening them up;
coconut oil: coconut oil will harden in colder weather and soften in warmer weather. As the oil is going to be added to the food processor to combine with the dates in making a mock caramel, it will not matter whether it is warm or cold for the purposes of this recipe. We also mix it with the melted chocolate, as this helps it to set more quickly when it touches the frozen date caramel clusters;
macadamia halves: if you only have access to whole macadamias from your store that is completely fine, just give them a rough chop to make them slightly smaller. This is purely for the purpose of making them go further so that you can make more clusters;
chocolate: choose the chocolate that you use depending on the 'diet' that you follow. I use 72% cacao chocolate for my chocolate coating as I like the bitterness compared to the sweetness of the date caramel. Dark chocolate is also higher in antioxidants. However, if you know you aren't going to enjoy such dark chocolate, please feel free to use whatever chocolate blend you prefer, just please note that this will change the nutritional value of the cluster;
Himalayan pink salt: this can be found in the salt section of most well-stocked grocery stores. You can absolutely replace it with regular Himalayan salt or sea salt, I use the pink version purely for aesthetics.
Now let's get making some (secretly healthier) salted caramel nut clusters.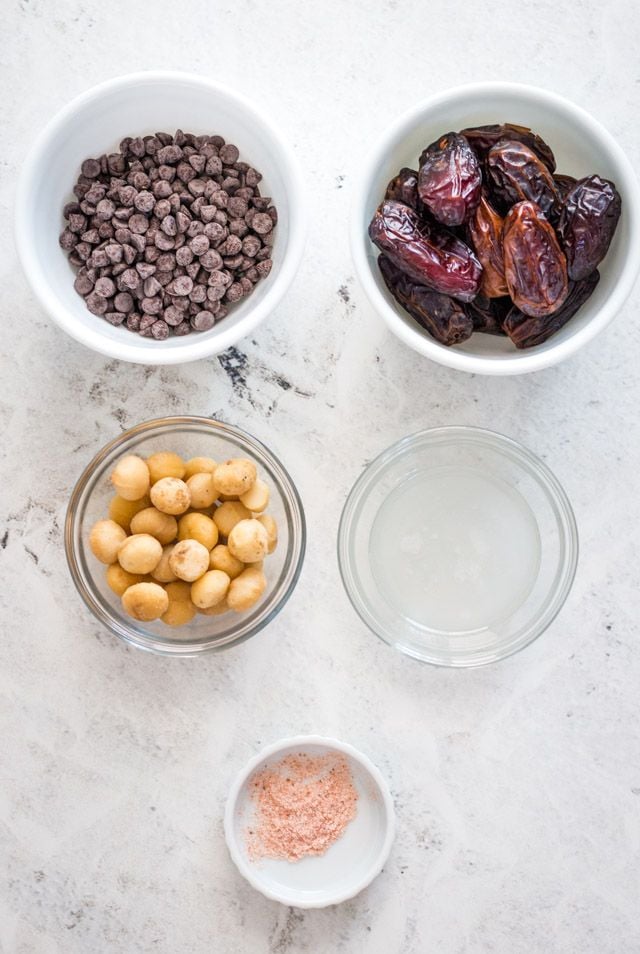 A Note On Ingredients
With only 5 ingredients it is imperative that you choose high quality items to ensure you get the most out of these moreish chocolate covered macadamia nut clusters.
Seriously, date caramel is awesome, and so much better if you make the effort to grab some big and sticky Mejdool dates.
Dates
Mejdool dates are best for this recipe, so if you can swing it, splurge and use this variety.
They are bigger dates and become much stickier and creamier when blended, which will give you the proper caramel texture that you really want when making these macadamia clusters.
You will find them in little containers or big boxes in the fruit and veggie section of most supermarkets.
They do tend to be more expensive than the smaller dates though, so I have a great little hack if you are on a budget, or if you already happen to have a bunch of smaller neglet or noor dates in your pantry.
Hack: If you can't swing Mejdool dates you can always sub in some neglet or noor dates by pitting them and then soaking them in hot water for about 5 mins before using them. Drain them well and pat dry before using them as directed in the recipe. They won't give you quite the same texture, but they will be better than had you not soaked them.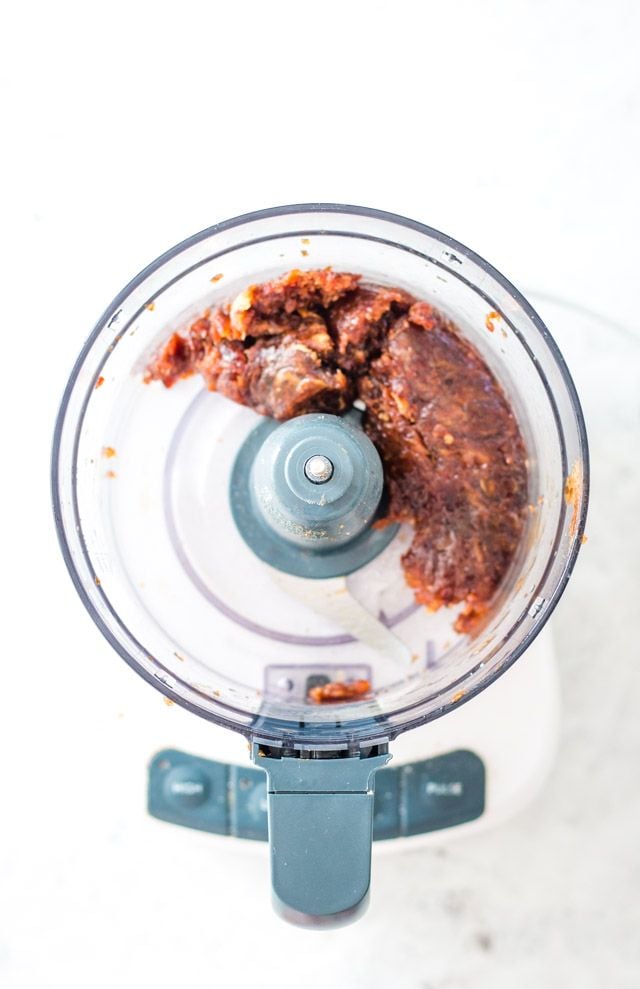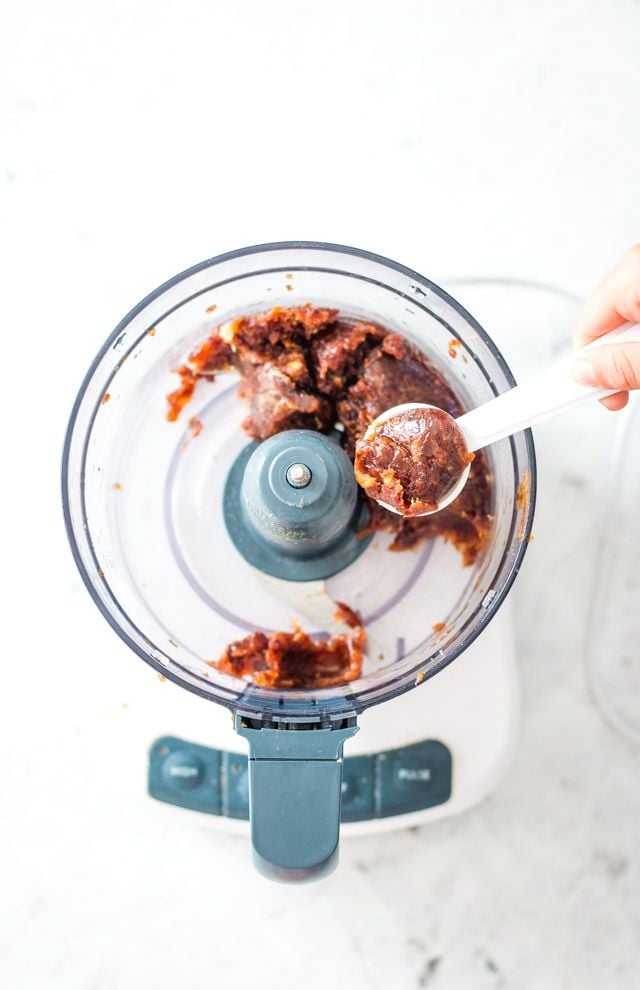 Macadamia Nuts
You should look for roasted, unsalted macadamia nuts.
Do not buy the salted variety as they will just make the nut clusters too salty considering there is not much in the way of sweetener added, which will leave you with super salty clusters.
If you happen to only have salted nuts in the pantry then give them a quick rinse over a sieve to remove as much of the salt as possible, and then pat dry before using them as called for in the recipe.
TIP: Remember to pat the macadamias dry if you give them a rinse. If they are too wet the date mixture will not stick to them.
If macadamia nuts are too expensive where you live, you can always replace these with the nut of your choice, try:
roasted unsalted almonds
roasted unsalted cashews
walnuts
unsalted peanuts.
Assembly Instructions
These come together super easy once you get going.
It's simply a case of pitting the dates, popping them into a food processor, and blitzing them until they resemble a thick caramel.
The dates should be completely blended together, with no chunks.
Once it looks like caramel then add in the coconut oil and blitz again until well combined. This helps to make the caramel easier to work with.
TIP: if your dates are not super sticky then the mixture may not come together as we want. If this is the case simply add a little bit of hot water, only about one teaspoon at a time, and blitz again until it all comes together. Be careful not to add too much water though, as too much will mean it won't come together at all.
Once you master that balance and have a thick, sticky date paste then we are good to go.
Scoop out a heaped teaspoon of the date mixture at a time and wrap it around a couple of chopped macadamias. You want the date mixture to just be covering the macadamias, and you don't want a heap of extra mixture on there as it is quite sweet.
Pop the rolled balls onto a parchment-lined tray.
Once you have used up all of the date mixture then pop the balls into the freezer to set. This should take about 20 minutes.
Now let's get to melting some chocolate.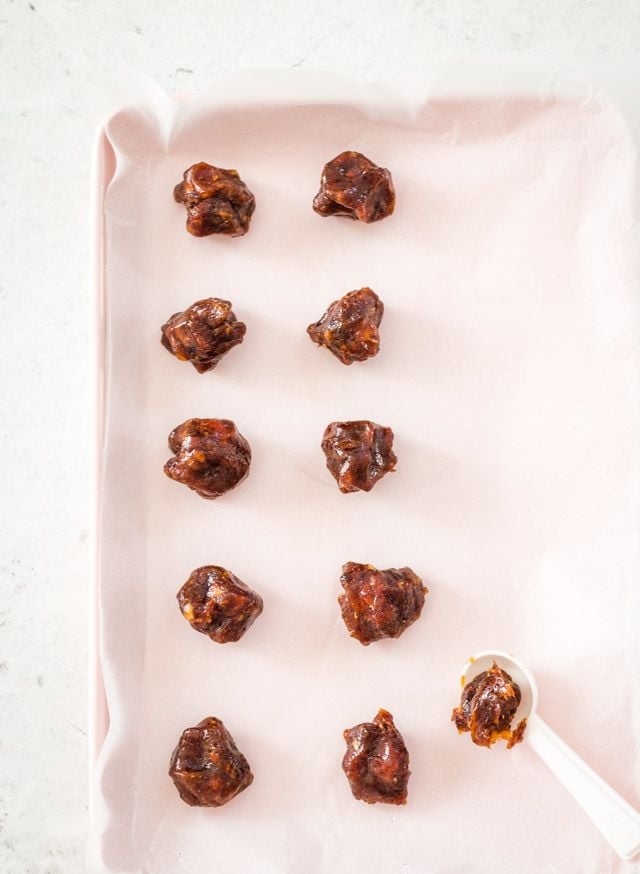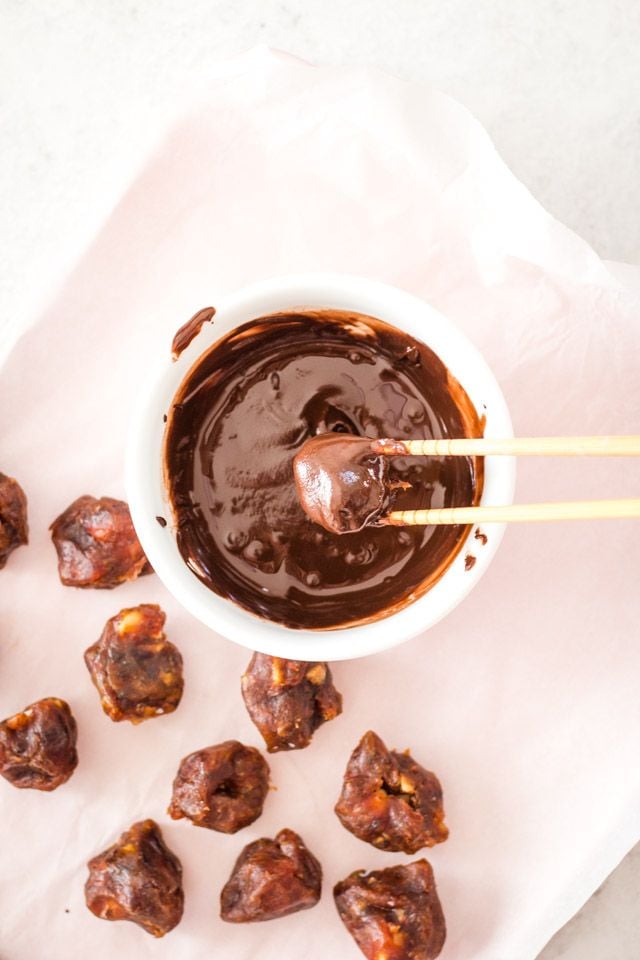 I have given you tips on melting chocolate above, so if you need to revisit that then scroll back on up.
But basically, you can either use a microwave or a double boiler on the stovetop depending on preferences.
Melt the chocolate, add in the coconut oil, and get to coating those frozen date caramel and macadamia nut clusters.
You want a thin layer of chocolate coating the entire cluster, nothing too thick.
Be sure to let any excess drip off back into the bowl before transferring the coated cluster back onto the lined tray until you have coated them all.
The coconut oil in the melted chocolate mixture turns it into a bit of a chocolate ice topping when it touches the frozen date clusters, so the chocolate should set fairly quickly.
Add a sprinkle of salt on top, pop them back into the freezer to set and you are good to go.
They should be ready to enjoy in about 20 minutes.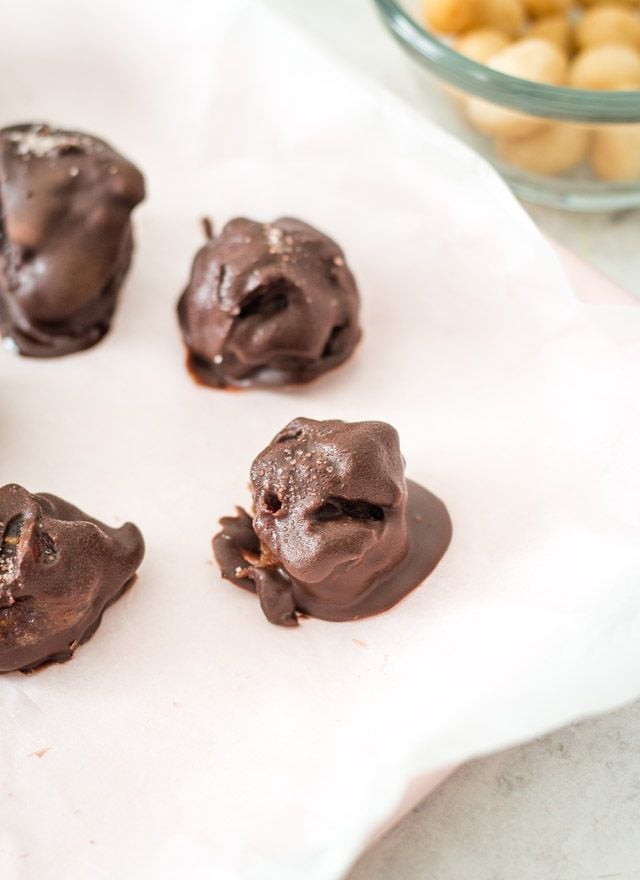 Storing Chocolate Clusters
Macadamia clusters should be stored in an airtight container in the fridge for up to about one week, or in the freezer for about 3 months.
As with all chocolates, they will melt if left in the sun or the heat, so if you are transporting them just be sure to throw an ice pack or two on top to keep them solid.
Before serving, remove from the fridge or freezer for a couple of minutes to allow the date a bit of time to melt slightly, making it more creamy and caramel-like in texture.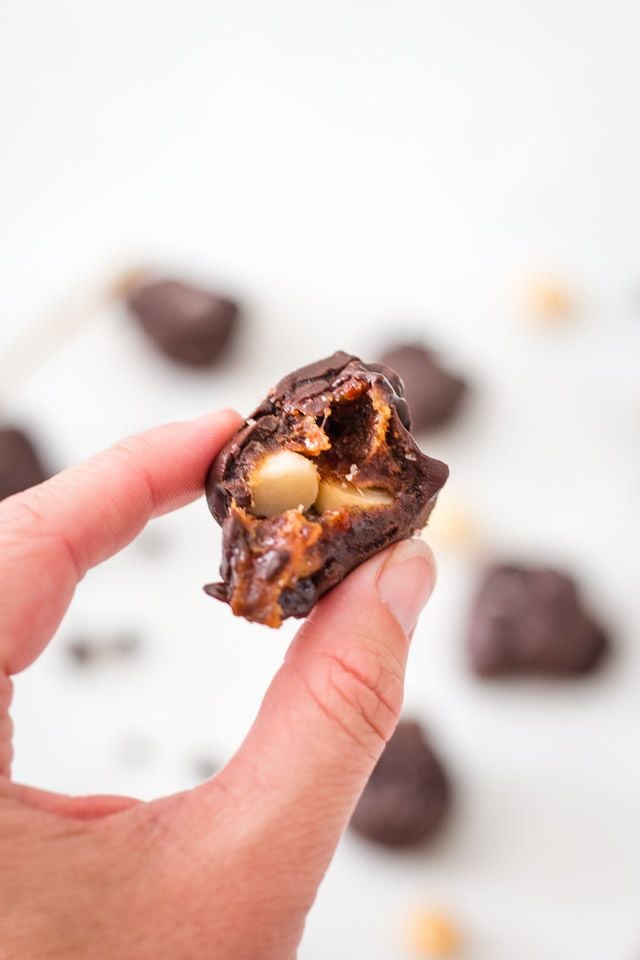 Need More Treats
Love chocolate and need some more recipes to satisfy that sweet craving after trying these chocolate covered macadamia nuts?
Try one or more of these recipes next: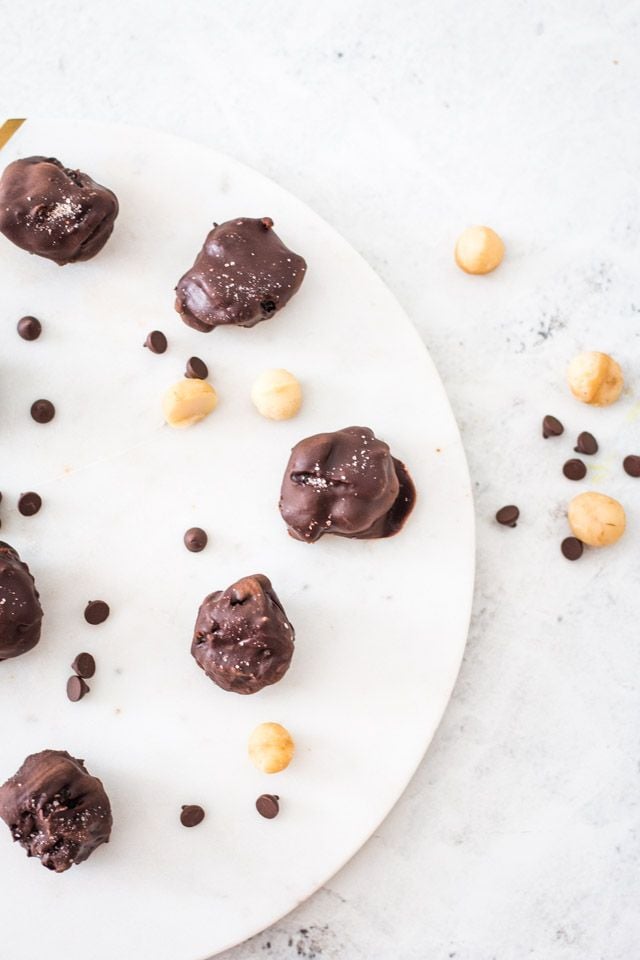 Frequently Asked Questions
How to store chocolate covered macadamias?
These chocolate treats should be stored in the fridge for up to one week or in the freezer if they are being kept for longer.
They can be left out at room temperature for a while, however, the date caramel will soften and if it becomes too hot then the chocolate mixture may melt.
They should be stored in an airtight container so that they do not absorb other odors from the fridge or freezer.
Can other nuts be used instead of macadamias?
Yes, any other nut of choice can be used. However, please note that this will change the nutritional value of the treat.
Please look for unsalted nuts so that the overall mixture does not become too salty.
Happy eating!
xx
Recipe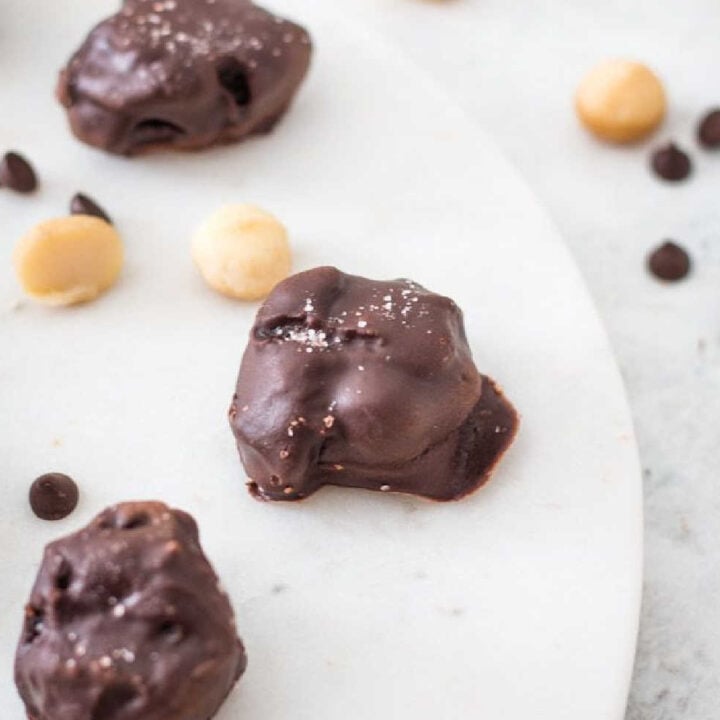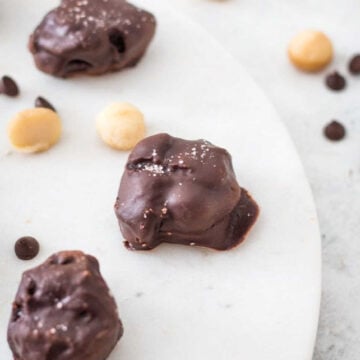 Salted Caramel Chocolate Covered Macadamia Nuts
A healthy twist on a popular chocolate treat, these chocolate covered macadamia nuts combine a homemade sticky date caramel with macadamias and homemade chocolate coating. This is the perfect treat with a cuppa for an afternoon pick me up.
Ingredients
Salted date caramel
1 ½

cups

packed Medjool dates

pitted

2

tablespoon

melted coconut oil

divided

¾

teaspoon

sea salt
Chocolate coating
⅓

cup

macadamia halves

1

cup

72% cacao chocolate

or dairy free chocolate of choice

Himalayan pink salt for serving
Instructions
For The Date Caramel
Add the pitted dates to the food processor (if they aren't super sticky when you pit them you should soak for about 15 minutes in hot water before using).

1 ½ cups packed Medjool dates

Add one tablespoon of the melted coconut to the food processor and combine until a rough paste or ball forms, scraping down the sides as needed. If the mixture isn't quite coming together, add some water 1 teaspoon at a time.

2 tablespoon melted coconut oil

Add the sea salt and pulse to combine.

Transfer the date caramel to a medium sized bowl.
To Assemble
Use a teaspoon to scoop out small balls of the date mixture. Push a few macadamia halves into each ball until the date caramel is just covering them.

Place the rolled balls on a parchment lined tray suitable for the freezer. Freeze for about 30 mins

While the date caramel clusters are in the freezer, melt the chocolate in the microwave or a double broiler (see notes) with the other 1 tablespoon of coconut oil.

1 cup 72% cacao chocolate

Remove the rolled balls from the freezer and quickly dip each one into the melted chocolate, shaking off the excess before placing them back onto the parchment-lined tray. I used a pair of chopsticks for this step but you could do it with a fork and spoon.

Add a sprinkle of the pink salt and place the chocolates back into the freezer for about 20 minutes.

Himalayan pink salt for serving

Keep stored in an airtight container in the fridge or freezer - just remove about 20 minutes before eating so they have time to get nice and gooey on the inside
Notes
Tips
Make sure you don't add too much water when making the date caramel or it won't freeze properly and will be unworkable.
For instructions on how to melt chocolate check out this comprehensive article.
Storing
Keep stored in an airtight container in the fridge or freezer.
Remove from the fridge or freezer about 20 minutes before you plan on eating them so the caramel has time to come to room temperature and become gooey.
Nutrition
Calories:
138
kcal
Carbohydrates:
19
g
Protein:
1
g
Fat:
8
g
Saturated Fat:
4
g
Polyunsaturated Fat:
0.1
g
Monounsaturated Fat:
2
g
Sodium:
117
mg
Potassium:
113
mg
Fiber:
2
g
Sugar:
16
g
Vitamin A:
22
IU
Vitamin C:
0.04
mg
Calcium:
28
mg
Iron:
1
mg
Tried this recipe?
Leave a comment HERE and let us know how it was!
The information shown is an estimate provided by an online nutrition calculator. It should not be considered a substitute for a professional nutritionist's advice.