This Sweet Potato and Black Bean Burger makes a delicious alternative to your usual beef burgers. Packed with healthy ingredients, these burgers have a scrumptious flavor without the added grease. If you're looking for a healthy alternative to your usual burger night, this recipe will leave your family pleasantly surprised and satisfied.
Disclaimer: This post includes affiliate links, and I will earn a commission if you purchase through these links. Please note that I've linked to these products purely because I recommend them and they are from companies I trust and use myself.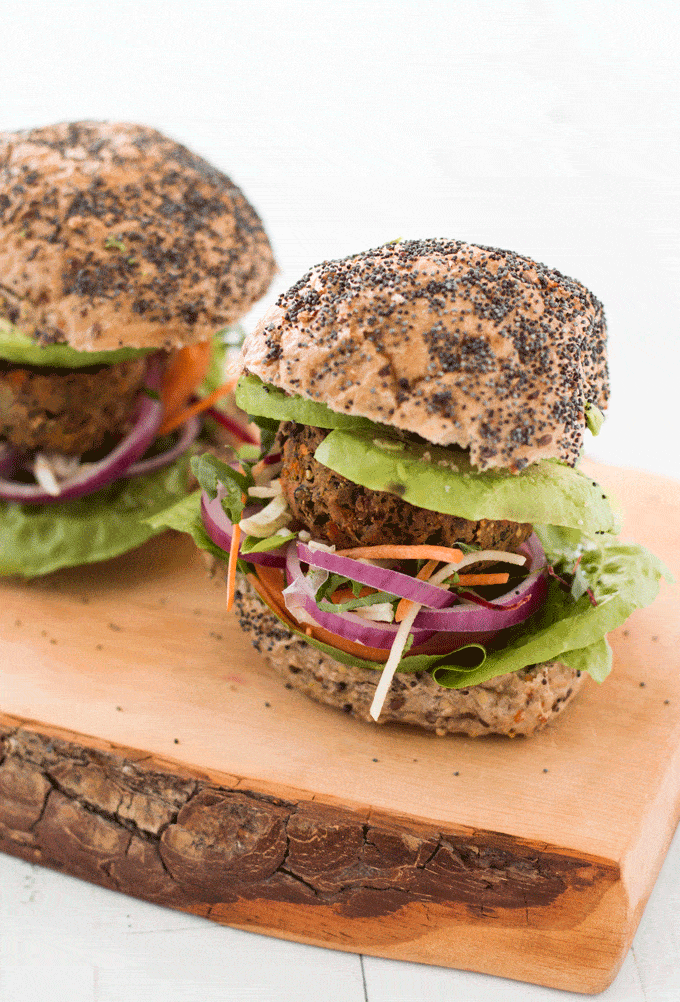 Sweet Potato and Black Bean Burger

I have tried to write this recipe up approximately 337 times this week, but literally, every time I sit down with the computer, the youngest starts crying like a banshee. I could try to ignore it, but then the other one will wake up and I will have two howling banshees, which let's face it, is even less fun than one!
I'm not gunna lie, this recipe does take a wee bit of time, but most of that is oven time; not actually requiring any effort on your part - bonus! It was super popular with both my kids and my beef burger loving husband, and I was able to cram a helluva lot of veggies in there, which is a big win when you have small kids.
This recipe is:
vegetarian (vegan options provided below),
gluten free if using nut meals,
easily made allergy-friendly by subbing in regular flour and vegan feta,
freezer friendly
easily meal prepped in advance
How To Make These The Perfect Uniform Shape So They Cook At The Same Time.
Use a measuring cup lined with cling wrap to make perfect little circle patties. I used ⅓ cup sizes for the adults burgers and ¼ cup sizes for the kids as my two year old tends to eat more if they are mini versions. We also have to shout encouragement in the form of 'it's the smallest burrrrrrger in the world'. That may or may not work for you...I make no promises!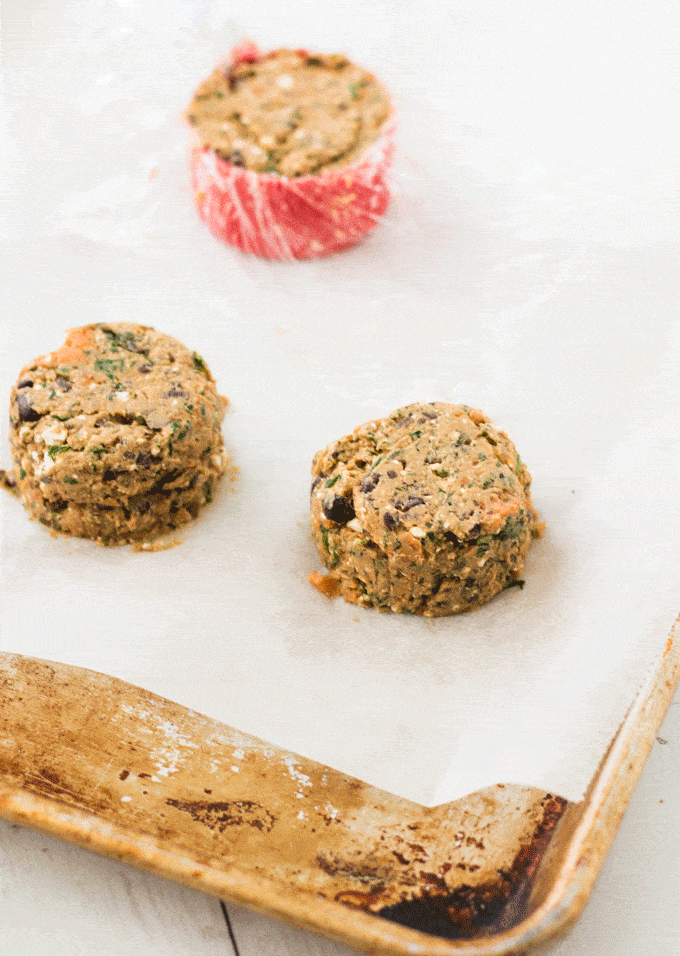 What Ingredients Are Needed For The Perfect Sweet Potato and Black Bean Burger?
We fit A LOT of veggies into these burgers. You will need:
Sweet potatoes
avocado oil
cinnamon
spinach
black beans
vegan feta cheese
cilantro
salt, onion, garlic, cumin, smoked paprika
and almond meal.
You can substitute the almond meal for any other nut flour, oat flour or even regular old flour depending on what you have on hand.
Make Your Own Almond Meal
To make your own almond meal, or any other nut meal, you don't have to make a special trip to the grocery store. Simply place some almonds in a food processor and pulse them until finely chopped.
It should resemble a slightly course flour.
Can Sweet Potato Black Bean Burger Be Fried Instead Of Baked?
You could fry them but I found it easier to get them to hold together with baking. Plus it means you don't have to stand over the stove and watch them - just pop them in the oven and let the timer do the work for you.
More time for chocolate sneaking chores or other fun stuff.
They also work well in the air-fryer if you have one. You may have to work in batches though depending on the size of your machine. We have an extra large machine and it took about 20 minutes of cooking time to do the whole batch at once.
Can These Burgers Be Frozen?
This recipe is great for freezing and eating later. Simply place in a airtight container in the freezer. If you would like to keep it in the fridge, it will keep for a few days in an airtight container.
Can These Be Made Vegan?
Without the feta cheese these burgers would be vegan. Simply omit the cheese or substitute it for some vegan feta cheese (some vegan cheese around these days are amazing!).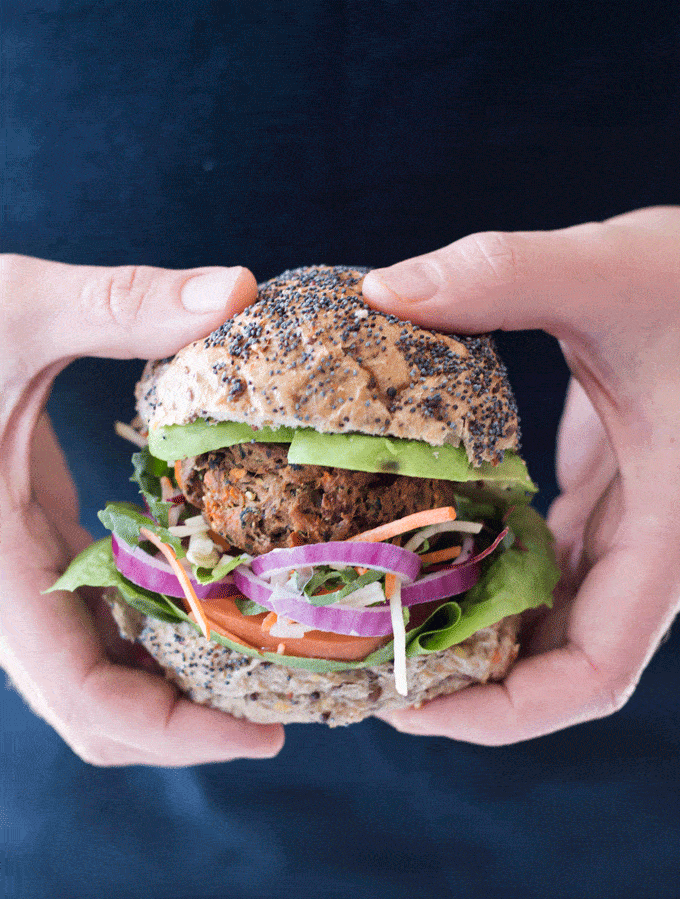 Serving Suggestions
We like to serve a freshly cooked sweet potato and black bean burger with some lettuce, tomato, mayo, red onion and lots of avocado on some fresh seeded buns.
They are just as good wrapped in some lettuce leaves if you want to keep things lower on the carb side of things. I popped some cold into wraps the next day for lunch as well which worked great.
I promise that even the most staunch beef burger advocate will be surprised at how tasty these burgers are, especially when fully loaded in a delicious bun. They pack a delicious flavor and make for a hearty and healthy dinner.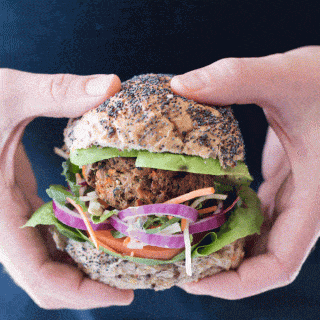 Sweet Potato and Black Bean Burger
Sweet Potato and Black Bean Burgers are a great veggie burger option that are both filling and delicious. A Fantastic way to sneak vegetables into the kids.
Ingredients
2

cups

cubed sweet potatoes

2

tbsp plus 2 tsp

avocado oil,

divided (or cooking oil of choice)

⅛

tsp

ground cinnamon

Pinch salt

½

red onion,

minced

2

cloves

garlic,

minced

1

tsp

ground cumin

1

tsp

smoked paprika

2

cups

baby spinach,

15

ounce

can black beans,

drained and rinsed

2

ounces

feta cheese,

crumbled

¼

cup

fresh cilantro leaves

chopped

½

cup

almond meal

See notes
Instructions
Pre-heat your oven to 400 degrees. Line a baking sheet with parchment paper

Place the cubed sweet potatoes on the prepared baking sheet and drizzle with 2 tsp avocado oil. Sprinkle with cinnamon and a pinch of salt and toss to coat. Roast the sweet potatoes for 25 minutes, turning once halfway through the cooking time, until tender and lightly browned. Reduce oven to 375 degrees.

Heat a tbsp of avocado oil in a large saucepan over medium heat. When hot, add the onion and garlic. Cook for 3 minutes until the onions are translucent and the garlic is fragrant. Add the cumin and paprika and cook for one more minute until the spices are nice and toasty. Transfer the mixture to the bowl of a food processor and set aside

In the same saucepan, heat the remaining tbsp avocado oil over medium heat. When hot, add the chopped spinach and a pinch of salt and cook for 4-5 minutes until wilted and tender. Transfer to the food processor bowl with the onions. Pulse for a couple of seconds until well combined but not a paste

Add the roasted sweet potatoes and black beans to a large bowl. Mash until the end result is quite smooth but still with some chunks. Add in the feta cheese, cilantro, onion mixture and almond meal. Stir to combine.

Line a ⅓ cup measuring cup with plastic wrap and a baking tray with parchment paper. Fill the lined measuring cup with the sweet potato mixture and push down lightly to ensure the burger will stay together. Lift out and transfer to the prepared baking sheet.

Pop the burgers in the oven for about 35 mins, flipping after 20 mins to ensure even cooking.

Serve on fresh bread, buns or lettuce leaves with sliced avocado, mayo, red onion and tomatoes.
Notes
For the almond meal just pulse some almonds in a blender or food processor until they resemble a fine meal. Alternatively, use any nut or oat flour of choice. Regular old wheat flour works as well.
Store leftovers covered in the fridge for a few days or freeze for longer term storage.
Nutrition
Calories:
130
kcal
Carbohydrates:
15
g
Protein:
5
g
Fat:
6
g
Saturated Fat:
1
g
Cholesterol:
4
mg
Sodium:
70
mg
Potassium:
242
mg
Fiber:
4
g
Sugar:
2
g
Vitamin A:
3740
IU
Vitamin C:
2.6
mg
Calcium:
58
mg
Iron:
1.4
mg
Don't forget to follow Whole Food Bellies on Pinterest for more recipe inspiration! Or if Pinterest isn't your style, bookmark this post! Let's keep the conversation going- join my Facebook group!
If you liked this recipe, here are a few other dinner recipes you're sure to love!
If you tried this recipe please comment and rate it. I love hearing your feedback and answering your questions! And if you make this please tag me on Instagram with @wholefoodbellies so I can share it <3