Step up your entertaining game this holiday season with this beautifully fragrant Marinated Goat Cheese Spread using fresh herbs from the garden. This flavorsome appetizer can be made ahead of time and served spread on slices of fresh baguette or some crunchy crackers for entertaining made easy. It also packs well in glass jars for hostess gifts or picnics.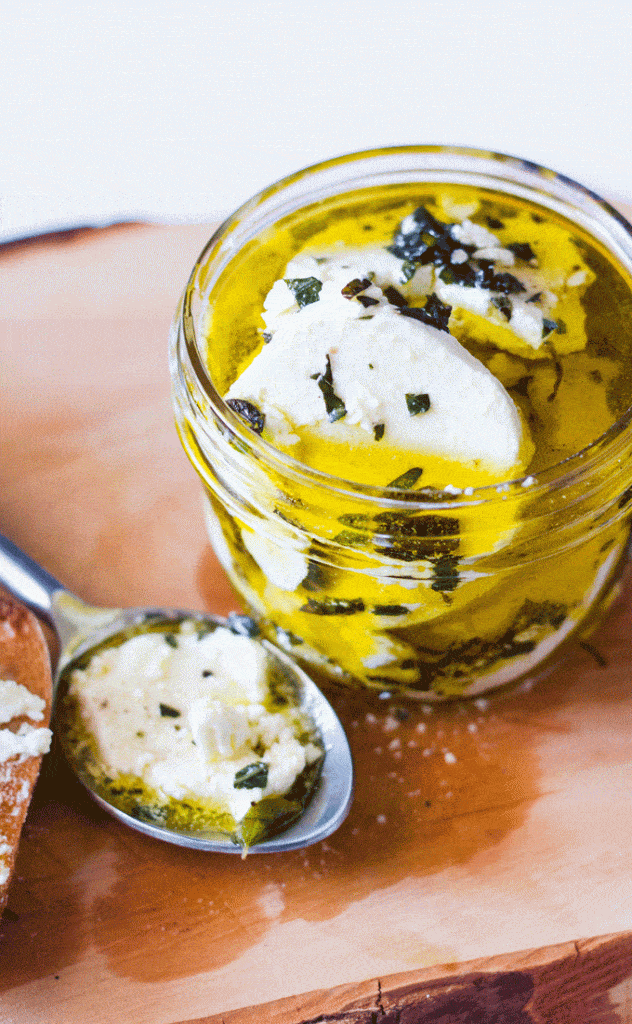 Marinated Goat Cheese Spread with Fresh Garden Herbs
We love a good cheese board to put out for friends and family around the Holidays.
I also love to make it something a little extra special by marinating the cheese myself with herbs picked fresh from the garden.
There is something so satisfying about pulling out a little jar of hand-marinated cheese and serving it with some fresh crusty baguette or those fancy little crackers filled with nuts and seeds.
For this tangy goat cheese spread you will need only a handful of simple ingredients easily found at the grocery store, or even in your own garden if you grow herbs:
a log of goat cheese;
extra virgin olive oil: use a light-flavored oil so that it does not overpower the taste of the cheese and herbs;
fresh basil;
fresh oregano;
fresh thyme;
fresh sage;
freshly ground black pepper;
kosher salt.
Feel free to change the herbs up depending on what you have growing in the garden or your own personal preferences. Fresh chives, parsley, fresh rosemary etc would all work wonderfully.
A little bit of lemon zest is always delicious when added as well if you are partial to lemons.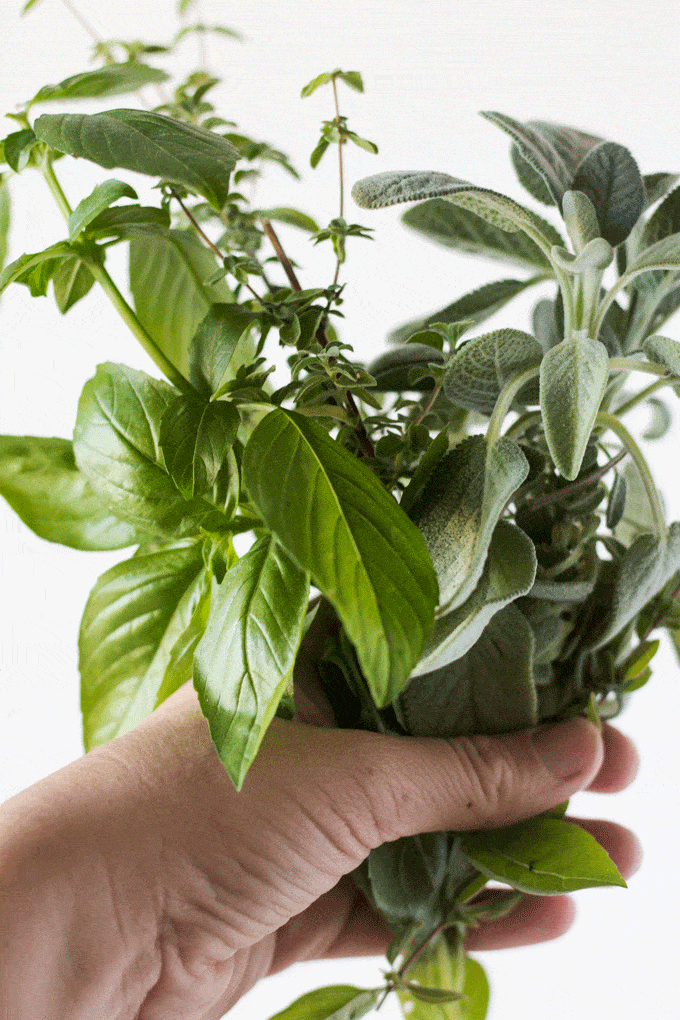 Tips, Tricks, and Substitutions
Marinated goat's cheese looks like a labor of love but trust me, it is so easy to put together that your 5-year-old could do it (mine does!).
No jokes! Get the kids involved by having them help with:
picking the herbs from the garden;
chopping the herbs with a kid-approved knife;
layering the goat cheese in the container;
pouring over the oil;
sprinkling the herbs on top.
The best bit about getting kids into the kitchen to help with things like this is that they are more likely to try something new if they are involved in the process themselves.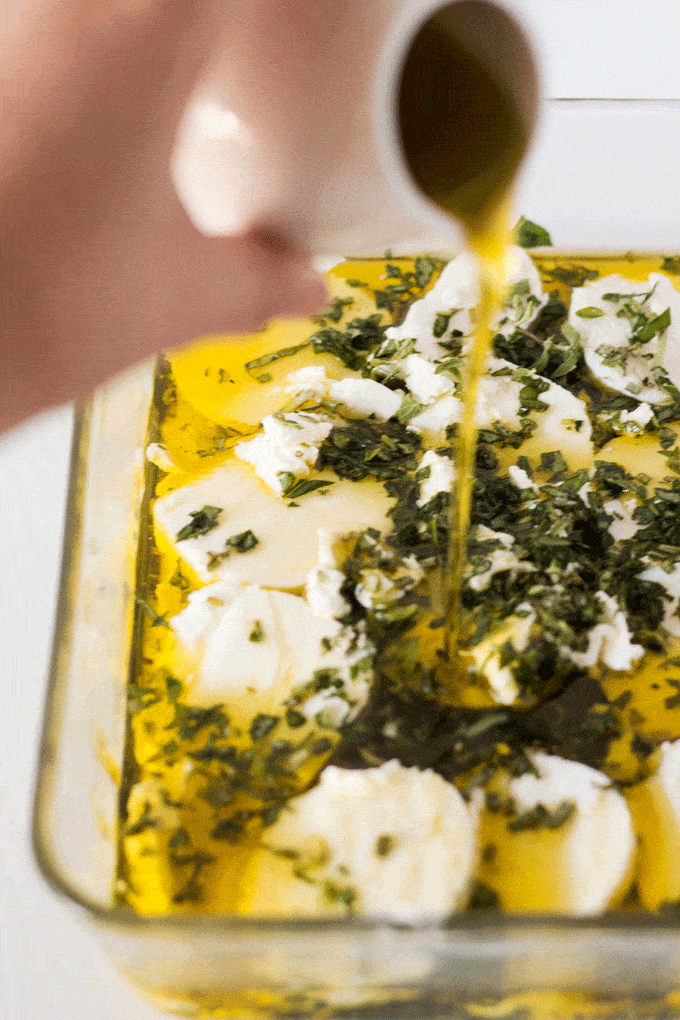 Cutting The Goat's Cheese
My number one tip for slicing goat's cheese neatly and so that it looks pretty layered in the glass jar is to not use a knife.
If you use a knife the cheese is just going to crumble and look super messy.
Instead, try using:
fishing wire;
dental floss (unscented);
or invest in one of those fancy cheese cutters meant for stuff like this.
Personally, I just use unscented dental floss to cut my goat cheese as that is what I have on hand.
However, you can always pick up one of those proper cheese slices for something a little fancier (p.s. this would make a great Holiday gift for the foodie in your life!)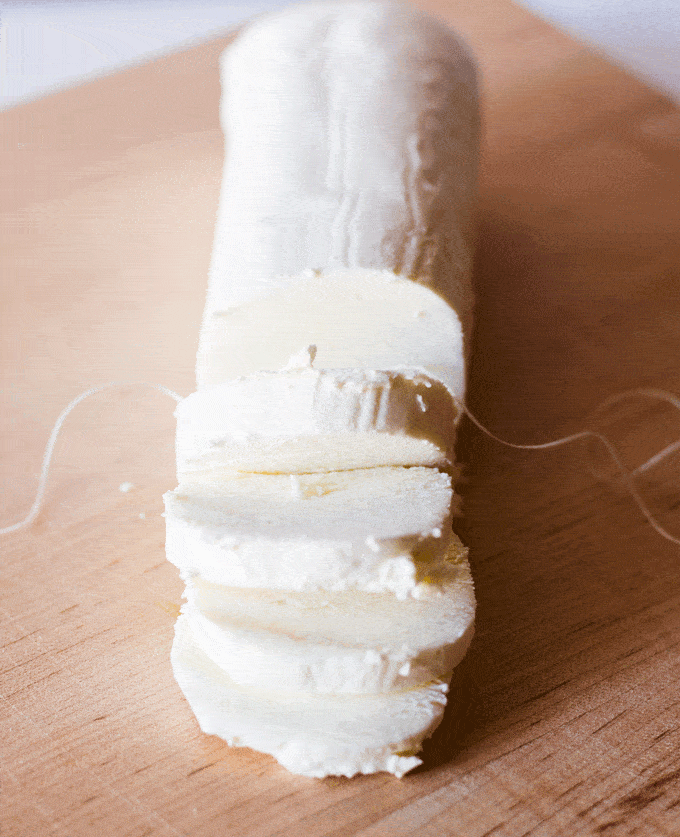 Prepping Ahead
This herb-infused cheese is perfect for making ahead of time and having it on hand for when guests pop over.
Put everything together and store in an airtight container in the fridge for 24 hours. If you happen to store it longer than that the olive oil will solidify, so simply remove it and all it to come to room temperature before serving.
Don't worry, you can just take it out of the fridge and let it come to room temperature and it will be all ready for serving with your favorite crusty baguette.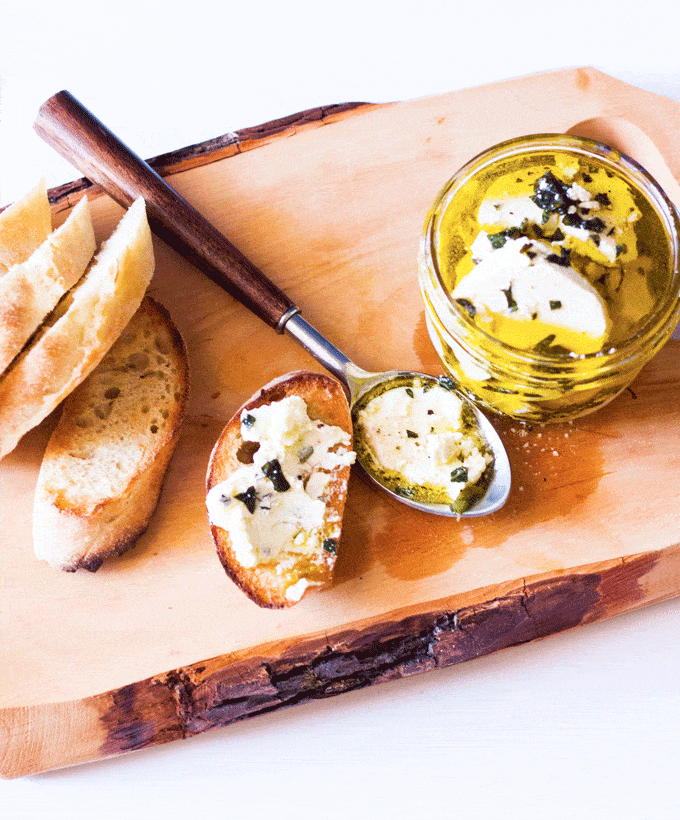 Serving Suggestions
This cheese is just perfect for serving up on a cheese board and spreading on slices of baguette, crostini, or crackers.
As goat's cheese is soft and already has a creamy texture it does not need to be processed in a food processor or blender to give it a spreadable consistency. For this reason, I leave it as is and simply spread it with a cheese knife when needed.
However, if you prefer a more spreadable consistency as you would have with whipped goat cheese then feel free to combine goat cheese with a little bit of the oil used for marinating in a food processor or stand mixer and mix until smooth.
Serve in a small bowl sprinkled with some more fresh herbs before serving.
Some other ideas for serving up include:
spread on toast
served as little goat cheese appetizer crostini

stuffed in puff pastry cases and baked for little goat cheese tarts

spreading on the base of a galette before adding your other favorite ingredients (sundried tomatoes work very well)
use as the base of a pizza
with raw veggies for scooping
stuffed into mushroom cups and baked
dolloped through a salad
anywhere you would use cream cheese.
Need some more easy appetizer recipes for the entertaining season? Why not try whipping up some of these tasty party appetizers that come together in no time at all.
Or why not make a picnic of it and bring along this Raspberry Baked Brie with Jam and Hazelnut, some Apple Pear Chutney, cheddar cheese, and crackers for something a little bit different?
If you enjoyed this delicious recipe please leave a 5-star rating on the recipe card below or leave a comment below.
Happy eating.
xx
Recipe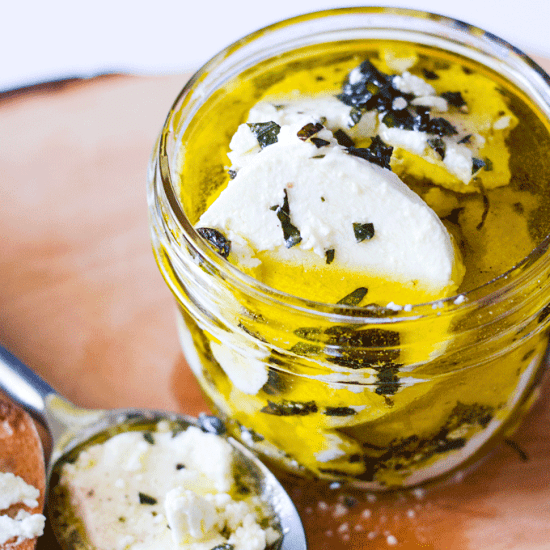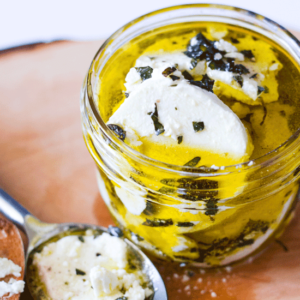 Herbed Goat Cheese Spread
Step up your entertaining game these Holidays with this beautifully fragrant Marinated Goat Cheese Log using fresh herbs from the garden. This appetizer can be made ahead of time and served with slices of fresh baguette or some crunchy crackers for entertaining made easy.
Ingredients
8

oz

goat's cheese

cut into ¼ inch discs

extra virgin olive oil

enough to fill your container

1

teaspoon

fresh basil

julienned

1

teaspoon

fresh oregano

chopped

1

teaspoon

fresh thyme

chopped

½

teaspoon

fresh sage

chopped

1

teaspoon

freshly ground black pepper

kosher salt

to taste
Instructions
Line the container your container with a thin layer of olive oil.

Lay down a layer of the sliced goat cheese on top of the oil. Top with half of the fresh herbs followed by a good sprinkle of salt and cracked pepper.


Drizzle with olive oil and continue with another layer of cheese and herbs. The goat's cheese mixture should be completely covered by a thin layer of the oil.


Cover and set aside, at room temperature for an hour or refrigerate for up to 24 hours. Serve at room temperature with bread or crackers. See notes
Notes
If you store for longer than 24 hours the olive oil will solidify. Just take it out of the fridge and let it sit for an hour or so until it becomes liquid again.
Nutrition
Calories:
110
kcal
Protein:
4
g
Fat:
10
g
Saturated Fat:
4
g
Cholesterol:
10
mg
Sodium:
83
mg
Potassium:
5
mg
Vitamin A:
235
IU
Vitamin C:
0.2
mg
Calcium:
33
mg
Iron:
0.5
mg
Tried this recipe?
Leave a comment HERE and let us know how it was!
The information shown is an estimate provided by an online nutrition calculator. It should not be considered a substitute for a professional nutritionist's advice.