Thai Fusion Ahi Tuna Burgers are a fantastic way to showcase some fresh Ahi Tuna. Simple and delicious, they make a show-stopping midweek meal even the little ones will devour.
I have been dreaming of this Hawaiian vacation from almost 2 years ago, so gave this delicious recipe some shiny new photos and a republish to let it shine again 🙂
Let me apologise for being so quiet on the blog lately with some of these delicious Thai Fusion Ahi Tuna Burgers. We have just returned from 2 weeks in Kauai (Hawaii), and it was nothing short of amazing! That island is seriously awesome. I had every intention of keeping my posts up to date whilst away, but I got carried away with the whole relaxation and adventuring vibe going on, that I decided to just unplug.
We rented a big house, so the whole extended family could stay together (don't worry, everyone survived). And the local produce was nothing short of fantastic, so we had some great meals at home, including some amazing tuna burgers made on the grill! We even had access to fresh guava, starfruit, banana and avocado growing right on our property – how awesome is that!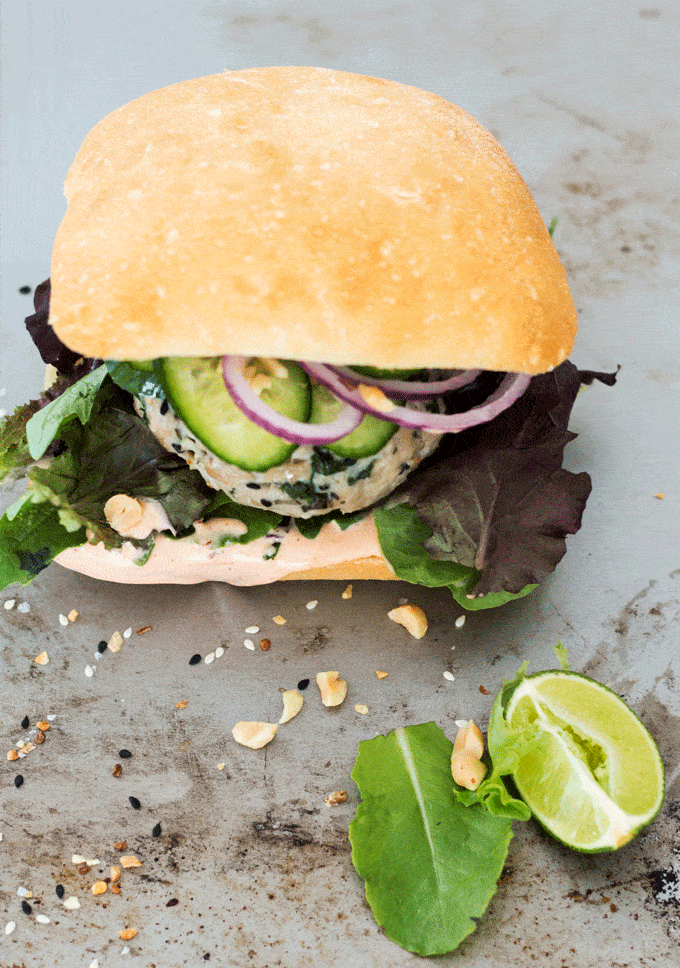 One of the many things I love most about Kauai (I am trying to convince my husband that we need to move there btw) is how much they are embracing the whole NON GMO movement. There were little signs in every village, on restaurant menus and on pretty much every stall we visited at the local farmers markets. When I asked any questions about the local produce, the NON GMO thing was always one of the big points of pride among the vendors, which was just great to see.
Another thing I loved was the fresh fish. I indulged in quite a bit of the local stuff (including Ahi Carpaccio at Tahiti Nui, and tuna burgers from some random hole in the wall – OMG). Total seafood heaven! So these Thai Fusion Ahi Tuna Burgers, using fresh ahi is a tribute to our time in Kauai (I know it's a Thai inspired recipe, and I was in Hawaii…but hey, it works for me).
If you have ever been to Hawaii you know how popular Açaí Bowls are – I have a recipe right here for your own make at home Açaí Bowl so you can feel all Hawaiian for a moment. It is delicious.
Have you been to Kauai? Let me know if you loved it as much as I did. I would love to hear what you think. Leave a comment, like on Facebook, tweet on Twitter or pin to Pinterest. Happy eating!
Need more burger inspiration? Look no further: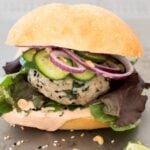 Thai Fusion Ahi Tuna Burgers
Thai Fusion Ahi Tuna Burgers are a fantastic way to showcase some fresh Ahi Tuna. Simple and delicious, they make a show-stopping midweek meal even the little ones will devour.
Ingredients
1

medium sized cucumber

sliced very thinly

1/4

red onion

sliced very thinly

1

tbsp

coconut sugar

1

tsp

salt

3

tbsp

rice vinegar

1

tbsp

ginger

minced

1

clove

of garlic

minced

2

tbsp

fish sauce

1

tsp

coconut sugar

1

tbsp

finely chopped thai basil

2

tbsp

finely chopped cilantro

1

lb

fresh ahi tuna

sashimi grade if you plan on cooking medium rare

sesame oil for cooking

2

tbsp

homemade mayonnaise

or store bought if you don't have any

1

tbsp

sweet chilli sauce

crushed peanuts to garnish

leaves

lettuce to serve

Burger buns
Instructions
In a medium bowl combine the coconut sugar with the salt and rice vinegar and stir until the sugar has dissolved. Add the cucumber and red onion, stir, and set aside

In another medium bowl, combine the minced ginger, garlic, fish sauce, 1tsp coconut sugar, basil and cilantro together. Set aside

Chop the tuna into very small chunks. To do this, I cut the tuna into thin slices, stack the slices and slice again, turn the stacks around and cut those slices into cubes. Once they are small like this, it is easy to then chop the tuna until it is quite small, like a mince. Add the chopped tuna to the ginger and garlic mixture and stir well to combine. Pop into the fridge for 20 mins

While the mixture is in the fridge, mix together the sweet chilli and mayonnaise and set aside

Wet your hands and shape the mixture into burger patties. I got about 6 out of my mixture. Try and have them about 1 inch thick to ensure even cooking.

Set your broiler to high. Brush the patties with some sesame oil, and pop onto a baking tray lined with aluminium foil. Pop the burgers under the broiler for about 6 minutes, turning halfway through (this will result in a medium rare burger - so adjust time to your liking). You really don't want to overcook, as this will result in a dry tuna burger.

To assemble the burger: spread a layer of sweet-chilli-mayo on your bun, top this with some lettuce leaves, a tuna burger, some cucumber salad (drain the cucumber first), and some crushed peanuts. Enjoy
Nutrition Facts
Thai Fusion Ahi Tuna Burgers
Amount Per Serving
Calories 261
Calories from Fat 53
% Daily Value*
Fat 5.9g9%
Cholesterol 33mg11%
Sodium 349mg15%
Carbohydrates 31.8g11%
Protein 23.8g48%
* Percent Daily Values are based on a 2000 calorie diet.