These Air Fryer Paleo Meatloaf Sliders are great for feeding a crowd or getting dinner on the table quickly and easily. Plus kids go ga-ga over mini burgers, so dinner will go down a treat!
Disclaimer: This post includes affiliate links, and I will earn a commission if you purchase through these links. Please note that I've linked to these products purely because I recommend them and they are from companies I trust. I was sent this book to review without compensation from a fellow food blogger, all opinions are my own.
I have had my Airfryer since Amazon prime day last year, it was my one purchase, and although it took me a while to get into using it, I use it almost on the daily now. Mostly for staples like bacon, sweet potato fries, and chicken wings.
I was kindly sent an advance copy of Dr Karen S Lee's new book Paleo Cooking With Your Air Fryer, and I have been whipping up all kinds of delicacies this week, including these scrumptious little meatloaf sliders the kids just can't get enough of. I mean, they are mini burgers, who can blame them?
Why Use the Air Fryer for Meatloaf Sliders?
With her family suffering from food allergies and sensitivities, blogger and author Dr. Karen S. Lee discovered that the intake of the right foods and nutrients through a Paleo diet alleviated symptoms and improved their overall health.
However, a hectic schedule makes planning meals hard and making grain and dairy free meals tasty is even trickier. Enter the air fryer, the best appliance Karen found to satisfy her family's unapologetic love for good food, specifically deep-fried foods.
Her new cookbook, PALEO COOKING WITH YOUR AIR FRYER, has over eighty recipes of Paleo-approved dishes that also keep the savory, crispy texture that everyone craves.
"Who says you can't enjoy fried food when you're on a Paleo diet? Not me!" Karen writes in the introduction. "With the air fryer, you can eat great tasting food without compromising your health. And the air fryer makes cooking so much easier and quicker, so it makes cooking fun again."
If you don't have an air fryer (you'll probably want to buy one after making these recipes though) don't worry. You can still enjoy these Paleo recipes and Karen gives you tips on how to do so. I use this one:
What can you expect in Paleo Cooking with your Air Fryer (other than meatloaf sliders)?
As you know, making Paleo food crispy can be challenging. Karen's new cookbook takes some of the most popular dishes around and makes then paleo-friendly but also modified to yield a crispy texture using the air fryer.
Here's what you will find in the book:
80 Paleo recipes - Paleo-friendly appetizers, meat dishes, vegetarian, desserts, and staples.
All the ingredients are unprocessed, real ingredients that are available at local stores if not easily made at home.
Chapters including: Whet Your Palate, For Breaking Your Fasts, Midday Energizers, Moovers & Grazers, Fine, Feathered & Fried, Swimmers & Slimmers, Midnight Munchies, Passionately Paletarian, Decadent Finale, Bare Necessities, Basic Staples.
Popular recipes the whole family will love including Healthy Korean Chicken Wings, Not Your Gramma's Fried Chicken, Bacon Wrapped Scallops, Beef Negimaki, Calamari on Fire, Huevos Rancheros, Healthy Chicken Fried Steak, Lobster Mac & Cheese, Sour Cream & Onion Kale Chips, Vegetable Tempura, and more!
Grab your copy here:
Recipe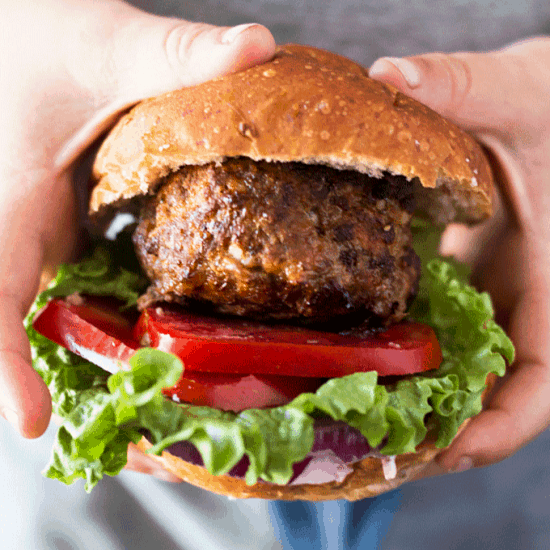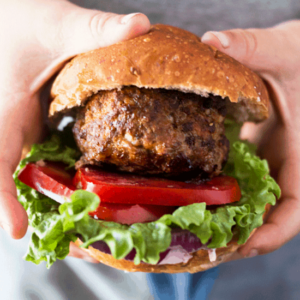 Air Fryer Paleo Meatloaf Sliders
These Air Fryer Paleo Meatloaf Sliders are great for feeding a crowd or getting dinner on the table quickly and easily.
Ingredients
1

lb

ground beef

80/20 fat

2

eggs

beaten

¼

cup

onion

chopped

1

clove garlic

minced

½

cup

blanched almond flour

extra fine

¼

cup

coconut flour

¼

cup

ketchup

½

teaspoon

sea salt

½

teaspoon

black pepper

1

tablespoon

Worcestershire sauce

1

teaspoon

Italian seasoning

½

teaspoon

dried tarragon
Instructions
In a large mixing bowl, combine all the ingredients and mix well.


Make patties that are about 2" in diameter and about 1" thick. If you want to make thicker or thinner patties, make sure all of them are similar in size, so they cook properly at the same time.


Place the patties on a platter and refrigerate for 10 minutes for the flour to absorb the wet ingredients and the patties to become firm.

Preheat the air fryer to 360°F. Place as many patties you can fit in the basket and close. Set the timer for 10 minutes. Check the patties halfway.


When the timer goes off, take them out to a serving platter and cover until all the patties are cooked.


To serve: These sliders are perfect on your favorite paleo bread or biscuits or on lettuce wraps or with a side of spring greens.
Notes
Recipe reprinted with permission from Paleo Cooking With Your Air Fryer by Dr. Karen S. Lee, Page
Nutrition
Calories:
228
kcal
Carbohydrates:
6
g
Protein:
13
g
Fat:
16
g
Saturated Fat:
5
g
Cholesterol:
81
mg
Sodium:
296
mg
Potassium:
216
mg
Fiber:
2
g
Sugar:
2
g
Vitamin A:
100
IU
Vitamin C:
1.1
mg
Calcium:
37
mg
Iron:
1.9
mg
Tried this recipe?
Leave a comment HERE and let us know how it was!
Need More Air Fryer Recipes?