Simple, quick, and delicious. Make these 4 Ingredient Teriyaki Chicken Skewers for your next weeknight meal and you will not be disappointed. I promise! Serve with a salad, some brown rice, some simple sesame egg noodles, or in a buddha bowl with pineapple, spring onions, and cucumber. The options are limitless. Perfect for meal prepping as the chicken tastes even better if you let it marinate in the sauce for at least 24 hours before cooking.
This post includes affiliate links, and I will earn a commission if you purchase through these links. Please note that I've linked to these products purely because I recommend them and they are from companies I trust.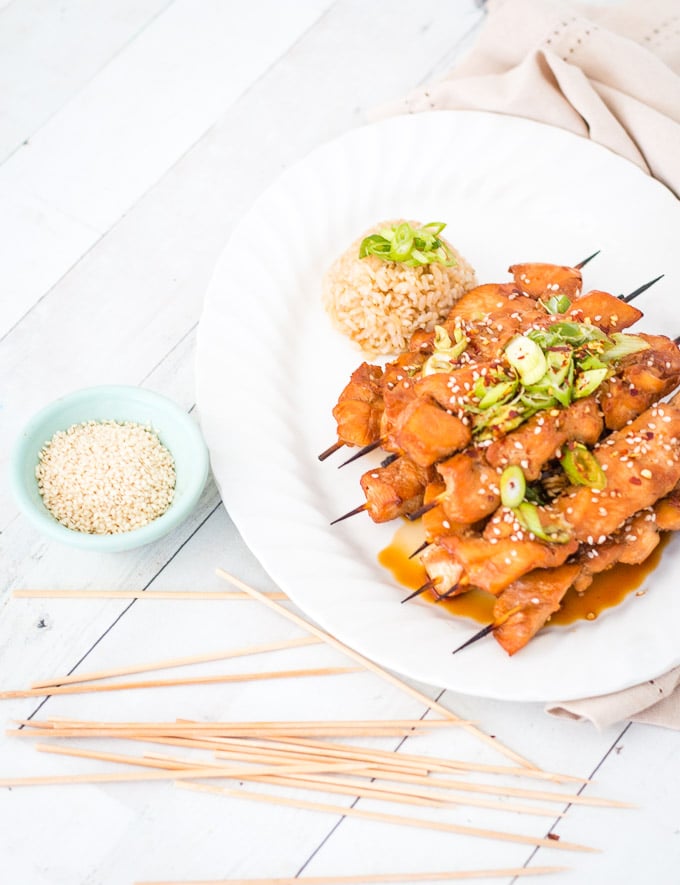 This easy meal has been on regular rotation in our house for a long time and was inspired by another easy meal: 4 Ingredient Easy Teriyaki Salmon which also consistently gets rave reviews!
4 Ingredient Teriyaki Chicken Skewers
These super easy Teriyaki Chicken Skewers are going to change your life.
I have long been a fan of honey, soy, and garlic chicken, and have made a number of variations over the years.
This one though, this one is PERFECT.
Even though it is probably the easiest one I have come up with.
After the great response I had from my Chicken and Zucchini Skewers with Salsa Verde I thought it only right to come up with another chicken skewer recipe, but this time it should be more suitable for a weeknight meal.
With only 4 ingredients and one dish - this one couldn't be easier!
Plus kids seem to love eating food from a stick, so skewers are always a win for the whole family.
What Ingredients Are Needed?
For an easy weeknight meal, I like to keep the ingredients to a minimum, and as simple as possible.
That means there will be no running to the specialty stores!
You are going to need:
chicken: I use boneless skinless chicken breasts because I prefer them, but you can sub for boneless skinless chicken thighs if you want to keep the meal more budget-friendly, or if you prefer cooking with that cut;
tamari or soy sauce: check the ingredients to make sure it is GF if you are following that diet;
honey: brown sugar is traditionally used in teriyaki recipes, but honey provides just as much sweetness. Feel free to sub in brown sugar, coconut sugar or maple syrup instead if that is what you prefer. I have also used pineapple juice in a pinch, and it was worked really well also, the sauce is just a little more runny;
garlic;
water;
optional extras: thinly sliced green onion, sesame seeds, finely slices red onion are optional extras for serving if you have them on hand.
See, told you teriyaki chicken skewers make the perfect no-fuss weeknight easy recipe.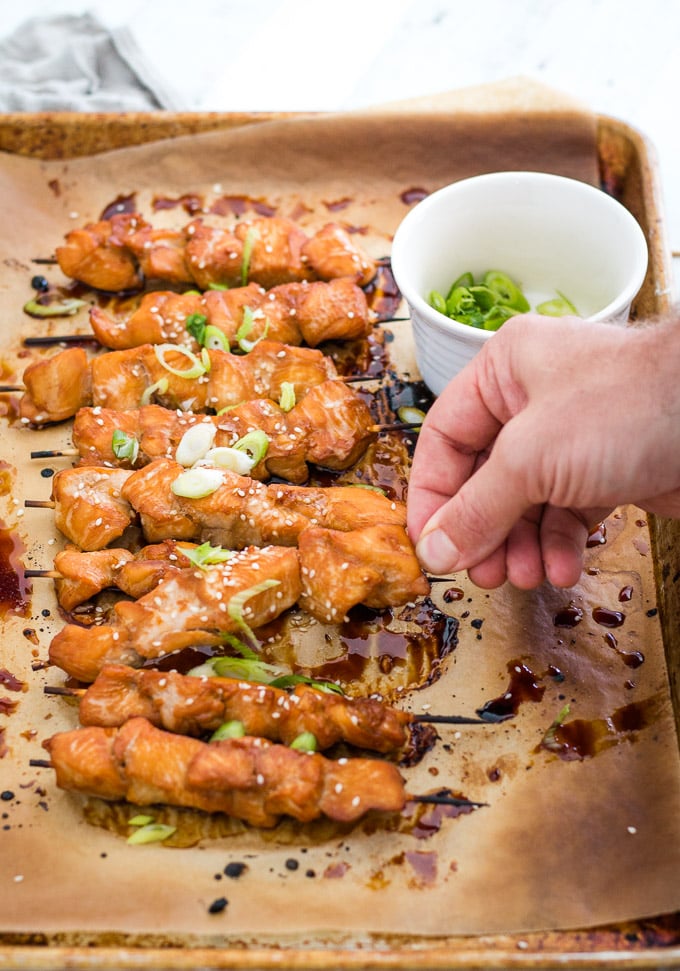 How To Cook Teriyaki Chicken Skewers
If you are organized and plan in advance then marinate the chicken pieces in the homemade teriyaki sauce overnight.
Whilst not necessary, allowing the chicken to marinade all night does give you an altogether more intense flavor.
TIP: try and cut the chicken into evenly sized long strips so that it cooks quickly and evenly.
If you aren't as organized, you can do it in the morning, or at least an hour before cooking. Just a warning though, you will not get the same amazing flavor and moist chicken if you only soak for an hour as opposed to overnight.
Come dinnertime the following day, all you need to do is:
thread the chicken onto some skewers (if you are using wooden skewers be sure to soak them in water for at least an hour before threading, or they will burn on cooking);
pop them under the broiler/grill at medium heat for a couple of minutes;
and serve any way you like (see below for serving suggestions).
Be sure to not overcook the chicken teriyaki kabobs, as you want nice juicy chicken to serve up!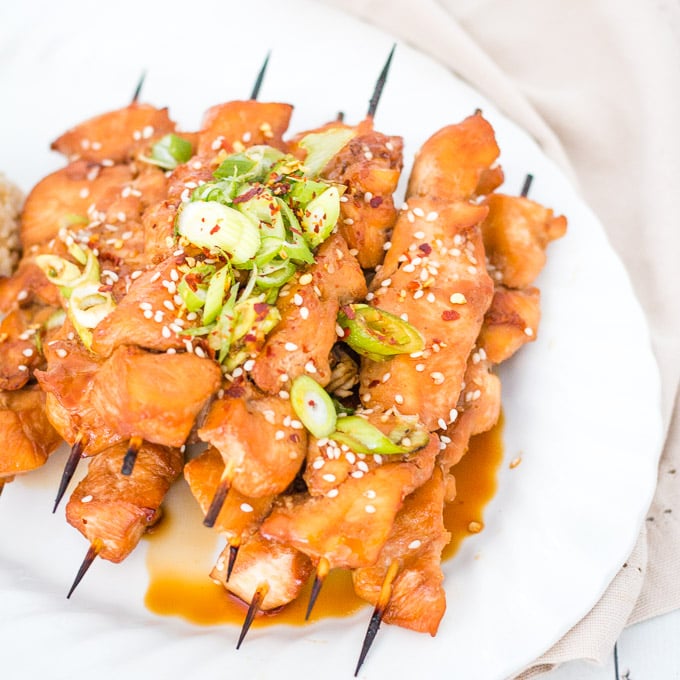 Can These Chicken Teriyaki Skewers Be Made On An Outdoor Grill or BBQ?
Yes, of course.
If you are feeling brave, you could always fire up the grill/BBQ and get them nice and charred on there.
Because they are cut into smallish cubes, they won't take long to cook at all, so be sure to keep an eye on the chicken skewers to prevent burning.
I find about 2 minutes on each side is enough to cook them through so be ready for a quick cook.
What Type Of Skewers Should Be Used
Tip: use metal skewers. Not only are they reusable, but they also won't burn as easily as wooden skewers do.
If you only have wooden skewers, that works as well.
Just be sure to place skewers in a container of water and allow them to soak for at least half an hour before cooking, otherwise, they will burn, and we don't want that.
Tips and Tricks For Storing Leftovers
To maximize the shelf life of cooked grilled teriyaki chicken skewers for safety and quality, refrigerate the chicken in shallow airtight containers or wrap tightly with heavy-duty aluminum foil or plastic wrap.
Properly stored, cooked chicken will last for 3 to 4 days in the refrigerator.
What Should I Serve With 4 Ingredient Teriyaki Chicken Skewers
The best thing about this teriyaki chicken kebabs (or chicken on a stick as my kids like to call it) is that because the flavors are so simple, it is really very versatile and can be served in many different ways making it the perfect family-friendly meal on busy weeknights.
Try some of these serving suggestions for a complete meal (or leave a comment if you have a favorite way to serve them):
with some cooked brown or white rice;
with some cauliflower rice or broccoli rice if you want to keep it low-carb;
alongside a Summer Stone Fruit Spinach and Strawberry Salad ;
In a wrap or sandwich for lunch;
with some simple sesame egg noodles for dinner;
on top of a salad for a bit of protein;
in a buddha bowl - pairs well with rice, cucumber, grated carrot, maybe some chopped fresh pineapple if you like it;
with a Hawaiian Macaroni Salad like this one from Food, Folks and Fun;
with a nice big dollop of peanut butter satay sauce, or another nut butter sauce if you are catering to a peanut allergy;
on top of a pizza for something different;
TIP: make double the amount of teriyaki marinade and alternate large chunks of yellow peppers, green pepper, red bell peppers, and a large onion cut into chunks with pieces of chicken.
When it comes to teriyaki chicken kabobs the options are plenty, so use your imagination and enjoy!
Happy eating
xx
Recipe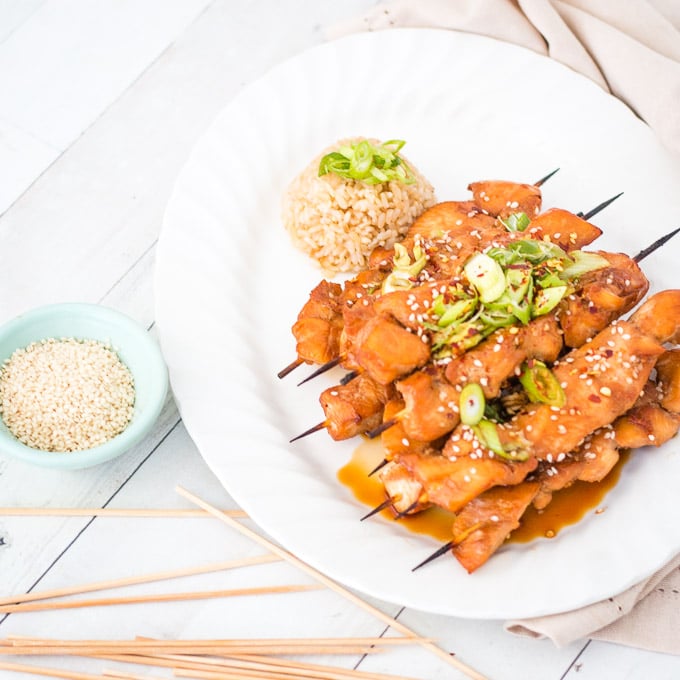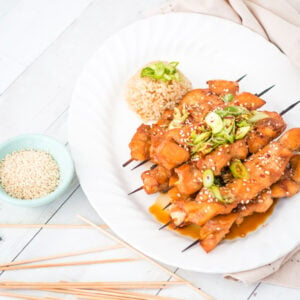 4 Ingredient Teriyaki Chicken Skewers
Simple, quick and delicious. Make this for your next weeknight meal and you will not be disappointed. I promise! Serve with a salad, some brown rice or some simple sesame egg noodles.
Ingredients
2

boneless

skinless chicken breasts

½

cup

tamari

reduced sodium soy sauce

½

cup

raw honey

½

cup

water

4

cloves

of garlic

crushed
Instructions
Cut the chicken into cubes and pop into a large glass dish with a lid

Whisk together the tamari, honey, water and crushed garlic until well incorporated

Pop about ¾ of the mixture on top of the chicken. Stir to combine, put on the lid, and pop into the fridge to marinade for at least 3 hours (up to overnight). Set the extra marinade aside for later.

Thread the chicken onto 4 large metal skewers and set on a baking tray lined with parchment paper

When you are ready turn the broiler to full heat (the grill for those not in the US). Divide the leftover marinade in half, into two separate bowls (one for brushing the chicken skewers and one for serving). Brush the chicken with some of the marinade from one bowl and pop under the broiler for 4 minutes on one side, turn over, brush again and broil for 4 minutes on the other side

Serve up with the extra marinade and enjoy
Notes
For the best flavor you are going to want to marinade the chicken overnight, or for at least 3 hours. The chicken skewers can still be made with less marinating time, but the flavor will not be as intense.
These can also be grilled on the bbq, just watch them carefully as they cook very quickly.
Nutrition
Calories:
93
kcal
Carbohydrates:
13
g
Protein:
9
g
Fat:
1
g
Saturated Fat:
1
g
Cholesterol:
24
mg
Sodium:
585
mg
Potassium:
171
mg
Fiber:
1
g
Sugar:
12
g
Vitamin A:
11
IU
Vitamin C:
1
mg
Calcium:
6
mg
Iron:
1
mg
Tried this recipe?
Leave a comment HERE and let us know how it was!
The information shown is an estimate provided by an online nutrition calculator. It should not be considered a substitute for a professional nutritionist's advice.
The information shown is an estimate provided by an online nutrition calculator. It should not be considered a substitute for a professional nutritionist's advice.
Don't forget to follow Whole Food Bellies on Pinterest for more recipe inspiration! Or if Pinterest isn't your style, bookmark this post! Let's keep the conversation going- join my Facebook group!