This 4 ingredient teriyaki salmon is so quick and easy, you need it in your life for those busy nights when you just can't!
We have  a favourite little sushi bar down the road which has a 'happy hour' most weekdays. It doesn't have the best sushi in the world, but it's pretty good, and it's noisy family friendly  (i.e. no-one will notice if the kids make a little bit of noise as well), plus the waitress there is really lovely and always brings us some extra food. Sometimes it can be more about the atmosphere (and the free food) than the fancy food when eating out as a family 🙂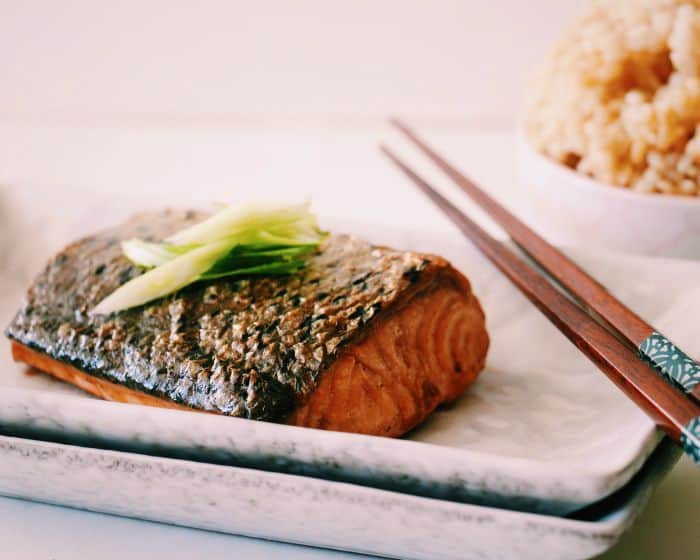 We love the salmon teriyaki there, and get it for the kids every time we go.  Oh, but it has to have the teriyaki sauce on the side…a decision my daughter made when we first ordered it, and she has stuck to it ever since…no idea why, but whatever, they are eating it and being quiet – not gonna argue!
Now, technically I think my sons favourite food is tri-tip, but red meat and I don't really see eye to eye, so I dubbed Teriyaki Salmon his favourite food, and that is what we served for his little family birthday dinner (if you wanna check out his dessert head on over to the Chocolate Banana Bites. They have been a huge hit around here and are just great for a summer treat.)
I like keeping the ingredient list, and the steps involved, to a minimum. So, we have 4 ingredients and about 4 steps for this one, and it is so amazing! It has taken me a while to get comfortable with cooking fish, and I feel like I have really nailed it with this one. The skin is super crispy, with a beautiful glaze, and the fish itself just melts in your mouth. So good.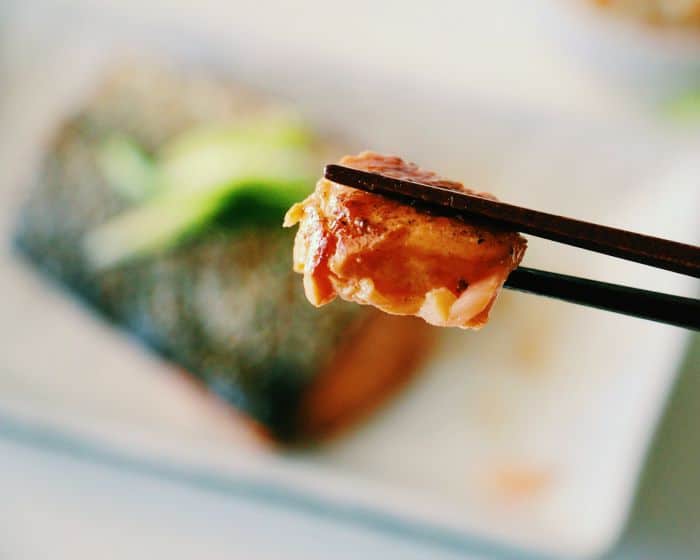 I hope you enjoy! Be sure to leave a comment, like on Facebook, pin to Pinterest or tweet on twitter.
4 Ingredient Teriyaki Salmon
Seriously the best way to cook salmon. The salmon tastes amazing and the skin is super crispy - so delicious!
Ingredients
1

lb

salmon cut into 4 portions

1/3

cup

tamari

2

tbsp

rice vinegar

1

tbsp

coconut sugar
Instructions
Whisk together the tamari, rice vinegar and coconut sugar until the sugar dissolves. Pop the mixture into a shallow dish, coat both sides of the salmon with the mixture, and then arrange the salmon skin side up in the dish. Pop into the fridge for at least 30 minutes

After 30 mins, move the racks in the broiler as close to where the flame will be, as you can (making sure your skillet can still fit in there). Turn the broiler to high

Put the stove on high heat. Place the cast iron skillet on the heat and allow it to get VERY hot (if you do not have a well seasoned pan, you will need to add a little bit of cooking oil here - I would suggest avocado oil)

Turn the stove off. Add the salmon, skin side up to the hot skillet, and pop into the broiler (be careful - the pan is very hot here)

Cook for 1-2 minutes in the broiler. If it is a thicker cut, you may have to flip, and cook for another 1 minute.

Serve and enjoy
Nutrition Facts
4 Ingredient Teriyaki Salmon
Amount Per Serving
Calories 152
Calories from Fat 37
% Daily Value*
Fat 4.1g6%
Cholesterol 62mg21%
Sodium 138mg6%
Carbohydrates 2.1g1%
Protein 23.9g48%
* Percent Daily Values are based on a 2000 calorie diet.
I you are in the market for an awesome skillet that works perfect in this dish, then I highly recommend this inexpensive lodge skillet. We use ours pretty much every night!