Spanish meatballs, albondigas, tapas meatball thingy's, whatever you call them in your house, I can guarantee a huge handful of us have tried these little bites at one time or another at a restaurant. Let's make some at home.
Disclaimer: This post includes affiliate links, and I will earn a commission if you purchase through these links. Please note that I've linked to these products purely because I recommend them and they are from companies I trust and use myself.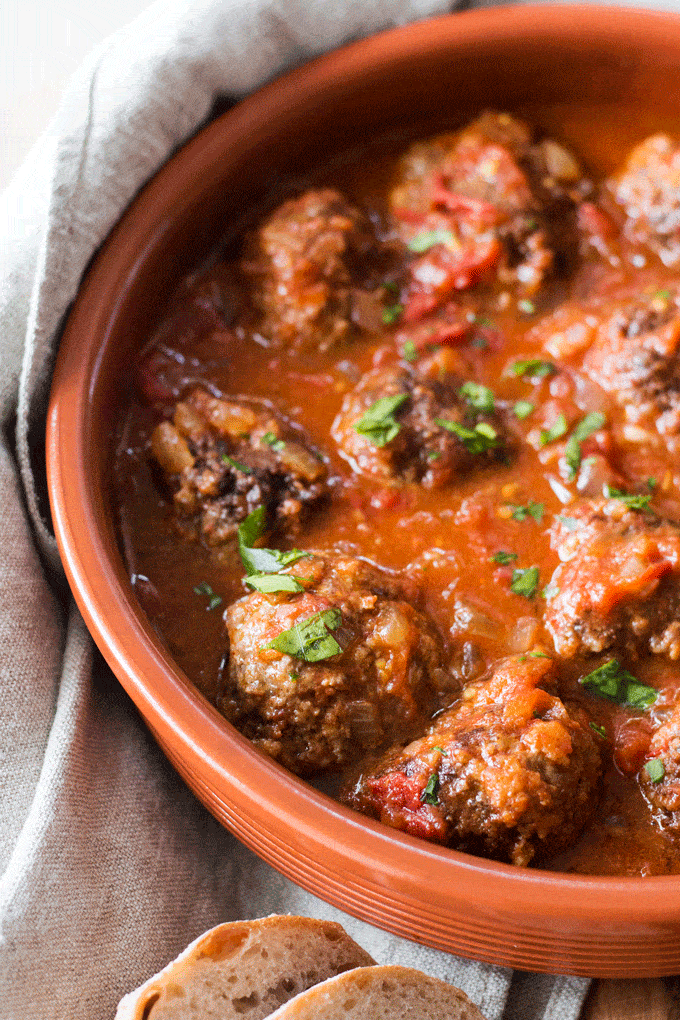 I used to get my Spanish meatballs from this amazing little Spanish tapas bar down the road before kids came into the picture. It was tiny and dark. My sister and I used to hole up there for a couple of hours on a Friday night and just while away the night chatting, eating great food and drinking cheap wine.
The meatballs were so spicy they would blow your socks off, just how I like it! Not as it would turn out, how my kids like it....enter the family-friendly version of my favorite Spanish meatballs recipe.
What Do I Serve Alongside This Smoky Spanish Meatballs Recipe?
I wanted to create a Spanish Meatballs Recipe the whole family could enjoy, so mI made them big enough to serve as a main.
If I am going for tapas style, then I roll them half the size and present them in little terracotta bowls alongside some Quick Fried Crunchy Garlic Salt and Pepper Squid and some marinated mushrooms. Yum.
As a main, I served mine up alongside some:
roasted broccoli,
carrots,
potatoes
a side of fresh crusty bread for mopping up the garlicky tomato sauce once everything else has been scoffed down.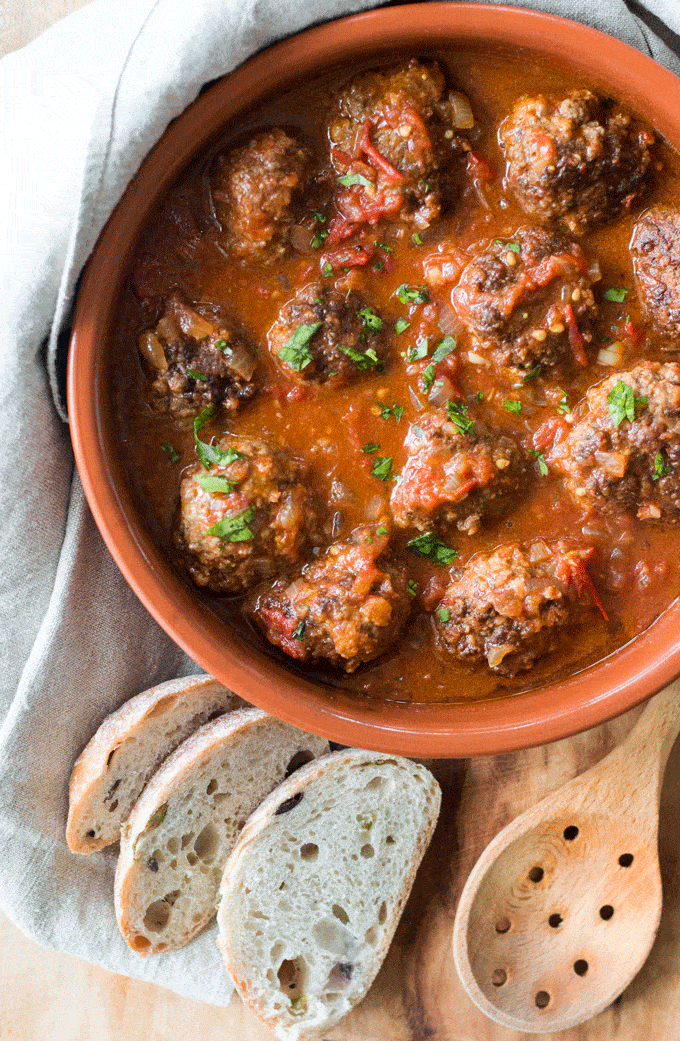 They would also go well with:
some mashed potatoes, or mashed cauliflower if you prefer to keep it low carb;
rice, quinoa, orzo or riced broccoli;
spaghetti or zoodles if you want to make it a spaghetti and meatballs kinda dish.
Can The Meatballs Be Frozen?
Yes, they sure can.
Homemade meatballs are a super handy meal to have stored away in the freezer for meal prepping. In fact, when I am making a meatball dish I always double the recipe, use half for dinner that night and then freeze the other half for dinner on another night.
How to freeze your homemade Spanish meatballs:
Follow the instructions for cooking the meatballs (in the recipe below).
Once cooked, allow them to cool to the touch, transfer to a large baking tray (make sure it is one that will fit in your freezer), making sure they don't touch as we don't want them sticking together.
Pop them on the tray into the freezer. Once frozen, remove the meatballs from the trays and transfer to plastic freezer storage bags or other freezer storage.
Keep stored in the freezer and remove only as many meatballs as you need at a time.
Reheat the meatballs on the stove, in sauces, or in the oven (350F for 20 minutes).

Why Does This Recipe Use Fresh Tomatoes Rather Than Canned?
I have used canned recipes for these Spanish meatballs before, and to be honest, if it was the dead of winter and fresh tomatoes were not readily available, then canned would do just fine.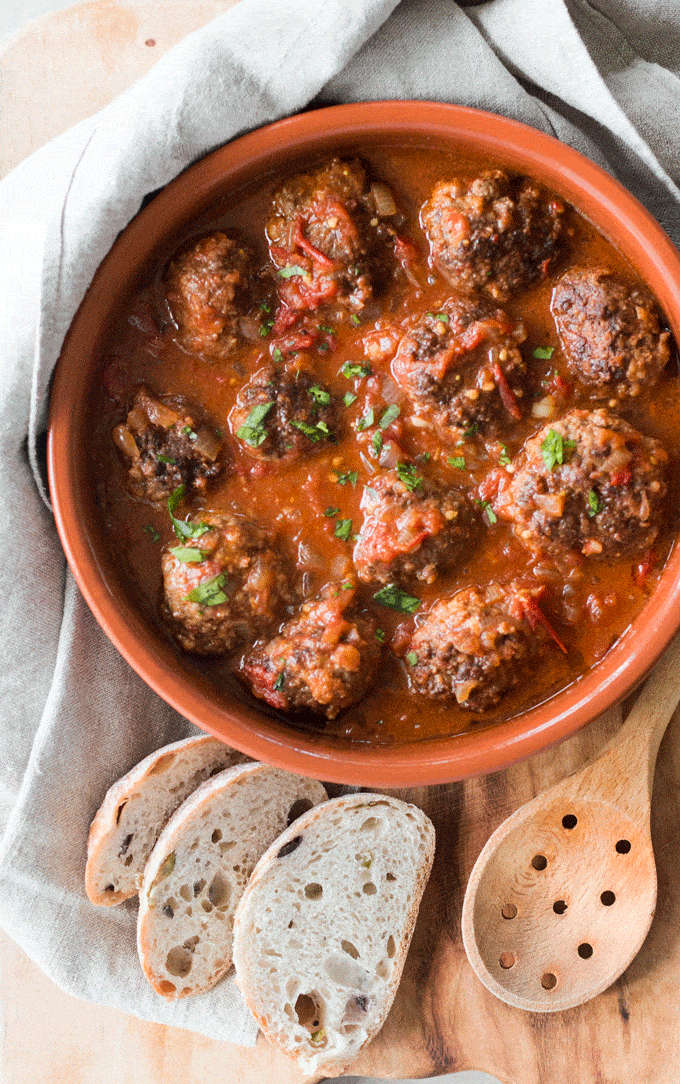 I just love the consistency of fresh tomatoes when they cook down like this, they get almost jammy, which makes for a fantastic sauce that really grips to the meatballs. You do you though, if you are a can hoarder and have a bunch hanging out in the pantry then use those babies up. Similarly, if it's not the season for fresh tomatoes then make do with the canned version, just be sure to check the salt (and sugar) content before committing to a brand.
Recipe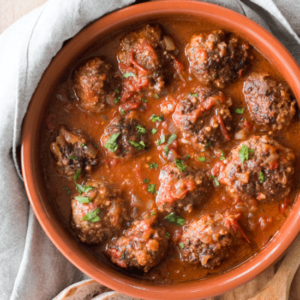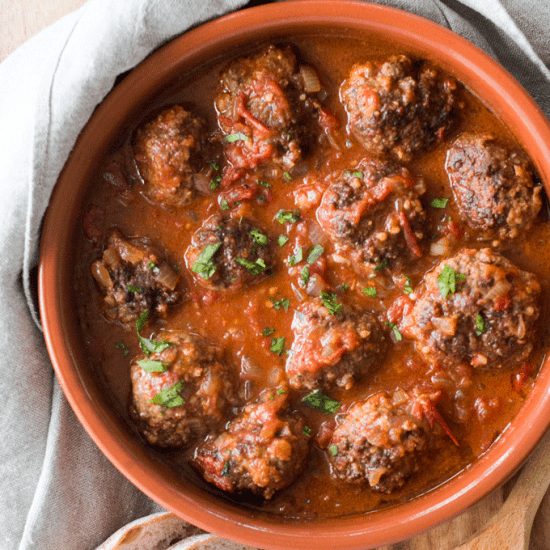 Smoky Spanish Meatballs Recipe
This beautiful dish comes together very quickly an in only one pot. Kids will love dipping their meatballs in the fragrant and smokey tomato sauce and then mopping up any leftovers with some fresh crusty bread.
Ingredients
Spanish Meatballs
½

cup

fresh breadcrumbs

(see notes for making your own)

2

tablespoon

milk

500

grams (roughly 1lb)

Minced beef

2

clove

garlic

minced

1

egg

yolk

2 ½

teaspoon

smoked paprika

¼

cup

olive oil
Smoked Paprika Tomato Sauce
1

tablespoon

olive oil

1

onion

finely chopped

3

cloves

garlic

finely chopped

1

bay leaf

½

teaspoon

smoked paprika

500

grams

fresh tomatoes

cored and chopped
Instructions
Soak the breadcrumbs in milk for about 5 minutes and then squeeze out any excess liquid. Pop breadcrumbs into a bowl with the beef, garlic, egg yolk, and smoked paprika. Season with salt and pepper and use your hands to knead the mixture until it is smooth.

Form the meat mixture into 12 balls and play on a tray. Cover with cling wrap and pop in the fridge for 10 minutes to rest.

Heat the oil in a large frying pan over med heat. Cook the meatballs, turning, for 4 minutes or until browned. Use a slotted spoon to remove the meatballs and transfer to a plate. Reserve the oil in the pan for the tomato sauce.

Return reserved pan with oil to medium heat. Add the little splash of extra oil, onion, garlic, and bay leaf and cook for about 4 mins, or until the onion is softened.

Add in the paprika and cook for a further minute until fragrant.

Stir in the tomatoes and return the meatballs to the pan. Reduce heat to low and cook, stirring occasionally, for 20 minutes or until the sauce has thickened and the meatballs are cooked through.

Transfer to a bowl and serve immediately (see article for serving suggestions).
Notes
Homemade Breadcrumbs
To make the breadcrumbs in the food processor, place chunks of old stale bread into the processor or blender jar. Pulse to desired crumb size, approximately the size of grains of rice. For the best results, add the bread chunks in small batches.
If you only have fresh bread place slices on a baking sheet and dry out slightly in a 300-degree-Fahrenheit oven for 15 minutes. Cool and prepare as above.
Place in a resealable bag, and store in the refrigerator for up to one month or in the freezer for up to three months.
Nutrition
Calories:
557
kcal
Carbohydrates:
20
g
Protein:
24
g
Fat:
43
g
Saturated Fat:
12
g
Cholesterol:
92
mg
Potassium:
721
mg
Fiber:
3
g
Sugar:
5
g
Vitamin A:
1780
IU
Vitamin C:
23
mg
Calcium:
59
mg
Iron:
4.2
mg
Tried this recipe?
Leave a comment HERE and let us know how it was!
If you tried this recipe please comment and rate it.
I love hearing your feedback and answering your questions! And if you make this please tag me on Instagram with @wholefoodbellies so I can share it <3
Try some other meatball type meals:
You can find a full index of my recipes here.
Don't forget to follow Whole Food Bellies on Pinterest for more recipe inspiration!
Or if Pinterest isn't your style, bookmark this post!
Let's keep the conversation going- join my Facebook group!
Happy Eating
xx