I have made these Baked Turkey Meatballs with Ricotta so many times over the last few months I have seriously lost count. I can honestly say that they have been a huge hit every time.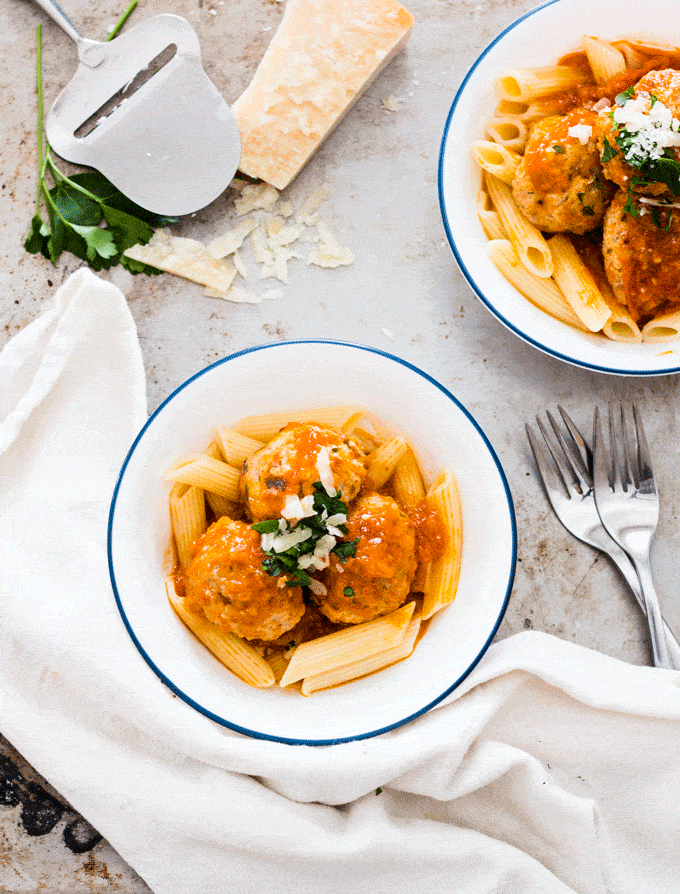 I have one memory associated with them, that definitely stands out from all the others. Last year we spent the Labor day long weekend with two other couples and their kids in a little log cabin by the water at Lake Tahoe. It was perfect, idyllic even. We ate, we drank, we watched the fireworks, we went for a hike (if you count riding to the top on the gondola, and then turning back 5 minutes later because 4 of the 6 children were whining, then sure, we hiked), took the canoes out on the lake, and played charades at night.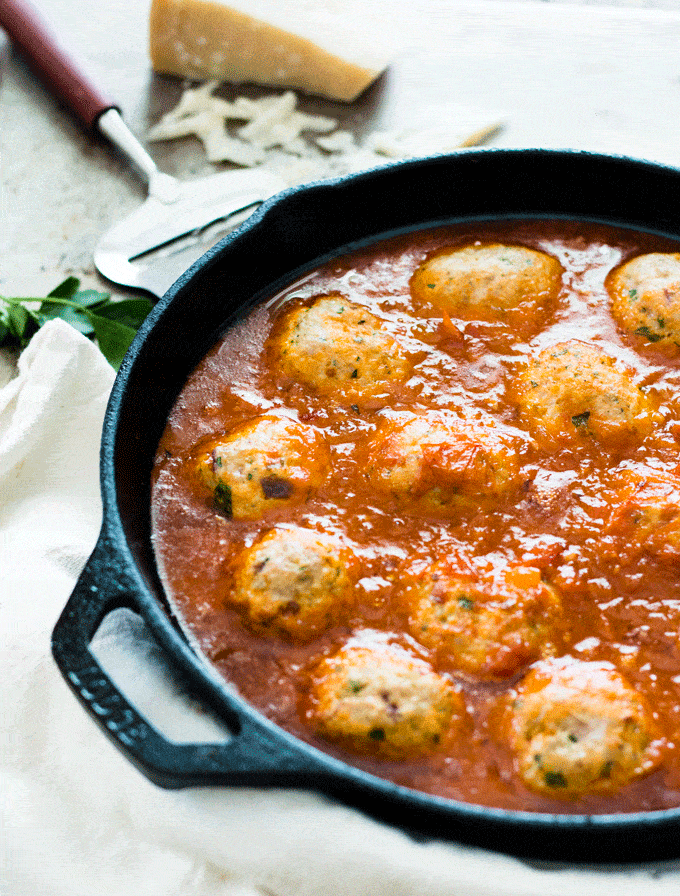 It was so much fun. I prepared a big batch of these baked turkey meatballs with ricotta, and some heirloom tomato sauce to bring with me, because as much as I love cooking, I just wanted to relax all weekend, and prepping food in a small house with 12 people hovering around, just wasn't on my agenda. Of course, I forgot to bring the pasta, and so our lovely friend Tom spent the evening hand making (as in, hand rolling and everything) spinach pappardelle while we sipped red wine and chatted. It was a real treat.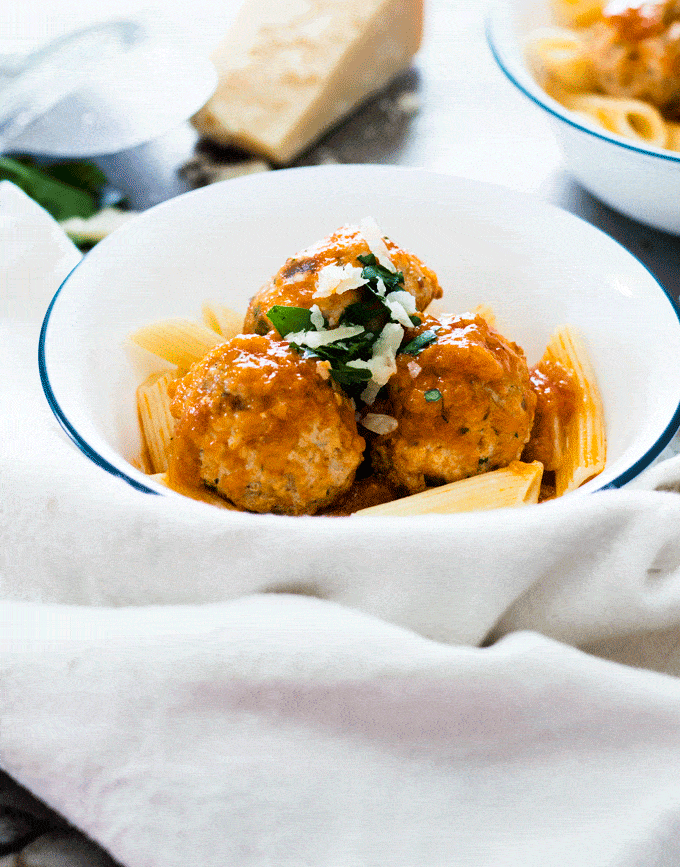 It is by far one of my fondest memories from last year, and one which I hope we will get the opportunity to repeat one day again soon. Although if I do get to repeat it, I will not have that 'one last glass of wine' at the end of the last night, after the kids had gone to bed, and the charades were getting heated...as the drive home the next day, sandwiched between two car seats in the back of a small car, was not my fondest memory from last year 🙂 Far from it. We live and we learn right?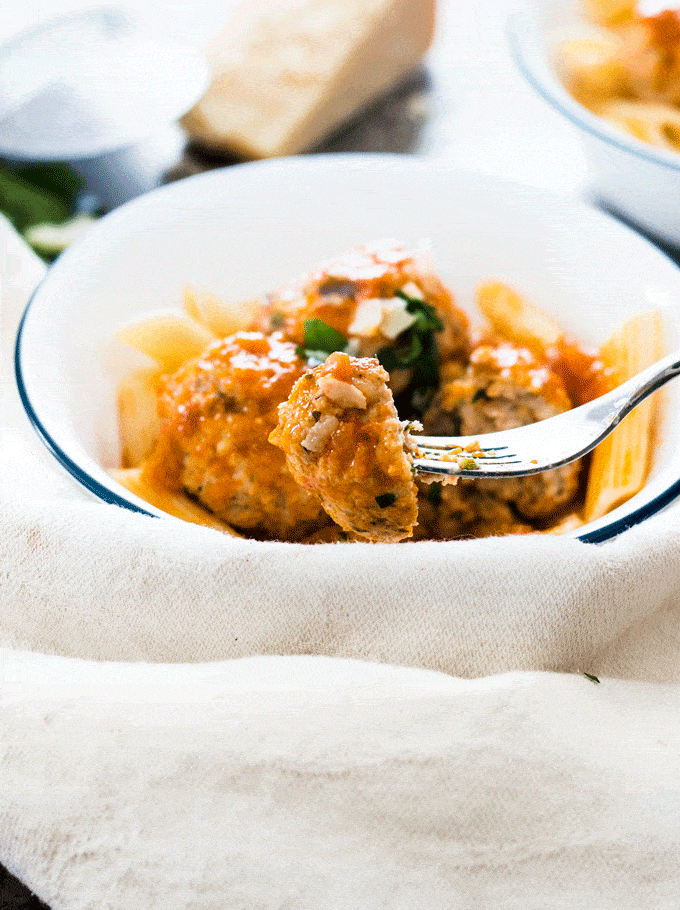 Back to the baked turkey meatballs with ricotta. These little gems are very easy to prepare, if not a little time-consuming. They are light and fluffy, and simply delicious. I tend to make a double batch and freeze half (after cooking), as they hold up really well in the freezer. Just let them defrost, cover in your sauce of choice and bake for about 20 minutes.
If you loved this then you are going to love these too:
Be sure to pop back and let me know if you try these baked turkey meatballs. Leave a comment, like on Facebook, or pin to Pinterest for later!
Recipe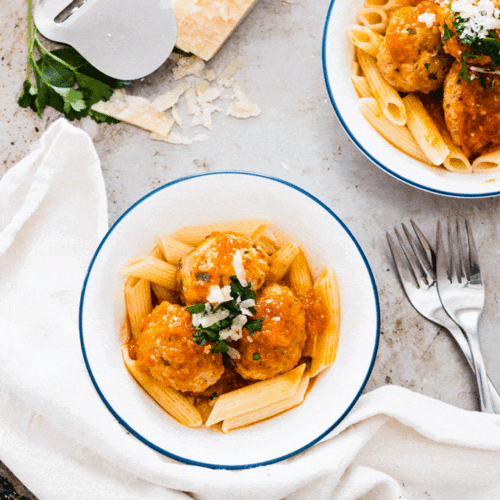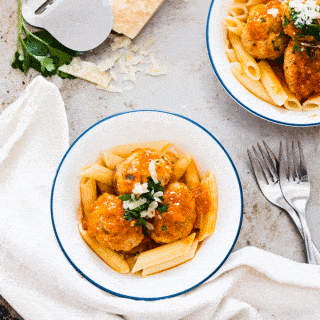 Baked Turkey Meatballs with Ricotta
Light and fluffy, these baked turkey and ricotta meatballs are simply delicious. Pair with homemade tomato sauce and some pasta and enjoy
Ingredients
½

cup

ricotta cheese

2

tablespoon

whole milk

⅓

cup

parmesan cheese

plus more to serve

1

egg

beaten

4

cloves

garlic

minced

2

teaspoon

dried oregano

½

teaspoon

smoked paprika

⅓

cup

red onion

minced

¼

cup

fresh parsley

finely chopped

⅔

cup

homemade whole wheat breadcrumbs

or panko breadcrumbs

1

lb

ground turkey

salt and pepper to taste

I batch homemade tomato sauce

or 1 jar store bought sauce, replacing the heirlooms with regular tomatoes if that's what you have

freshly cooked pasta to serve
Instructions
In a large mixing bowl, combine all the ingredients (except for the tomato sauce and pasta), and mix to ensure everything is well combined

Cover and let the mixture rest in the fridge for about 30 mins

Preheat the oven to 400F

Coat the bottom of a large roasting pan with some avocado oil (or cooking oil of choice), roll the turkey mixture into balls (a heaped tablespoon for each ball), and place in the prepared pan. Ensure the balls are not touching

Roast the meatballs for 15 mins

Remove the meatballs from the oven, reduce the temperature to 325F and then pour the tomato sauce over the meatballs, return to the oven and cook for another 20 mins

Once cooked through, serve the meatballs over some freshly cooked pasta, with a big scoop of sauce. Top wth a sprinkle of parsley and another of parmesan, serve and enjoy
Nutrition
Calories:
230
kcal
Carbohydrates:
6.4
g
Protein:
26.9
g
Fat:
12.3
g
Saturated Fat:
3.6
g
Cholesterol:
118
mg
Sodium:
157
mg
Fiber:
1.1
g
Sugar:
1.8
g
Tried this recipe?
Leave a comment HERE and let us know how it was!