Risotto, especially baked brown rice risotto (now that I have discovered it), is one of my go-to recipes when I have no idea what to cook and/or no inclination to do so. I love it. Especially when mushrooms and lots (and lots) of garlic get involved. Then there's the wine....risotto always gives me an excuse to enjoy a nice glass of wine while pottering about in the kitchen (not that I need an excuse, but I always like to have one at hand anyway)...I have to open a bottle for cooking, and I can't very well let a good bottle go to waste can I?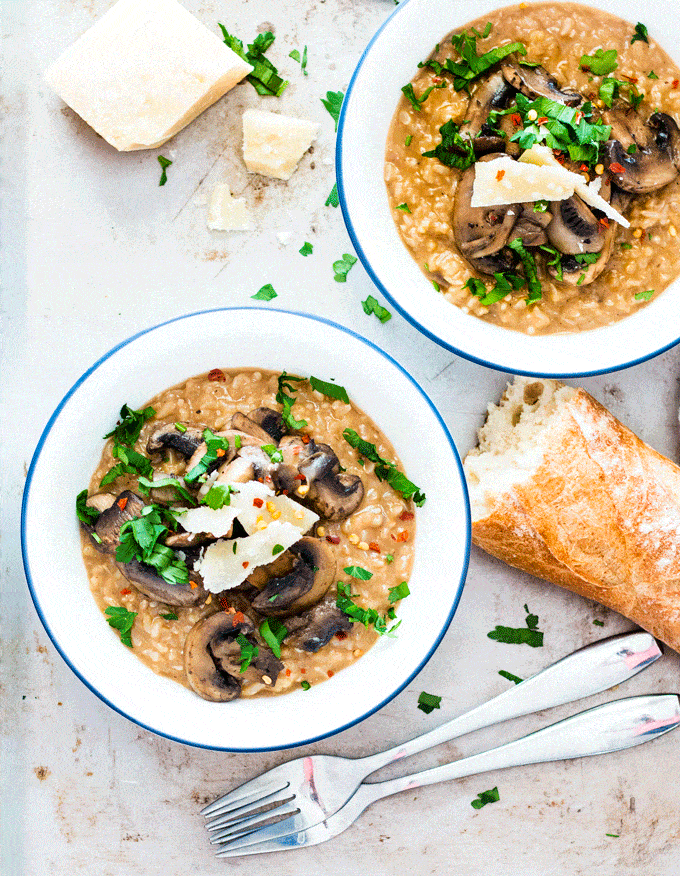 Baked Brown Rice Risotto with Hot Buttered Mushrooms
These days, it is getting harder and harder for me to find the time to spend 45 minutes at the stove constantly stirring the traditional style of risotto. This is one of the reasons why I absolutely love this Baked Brown Rice Risotto - I do a little bit of prep, pop everything in the oven, and I have a super creamy risotto at the end. I don't have to stand guard the whole time, and I still get to enjoy a wee glass of wine while prepping some mushrooms 🙂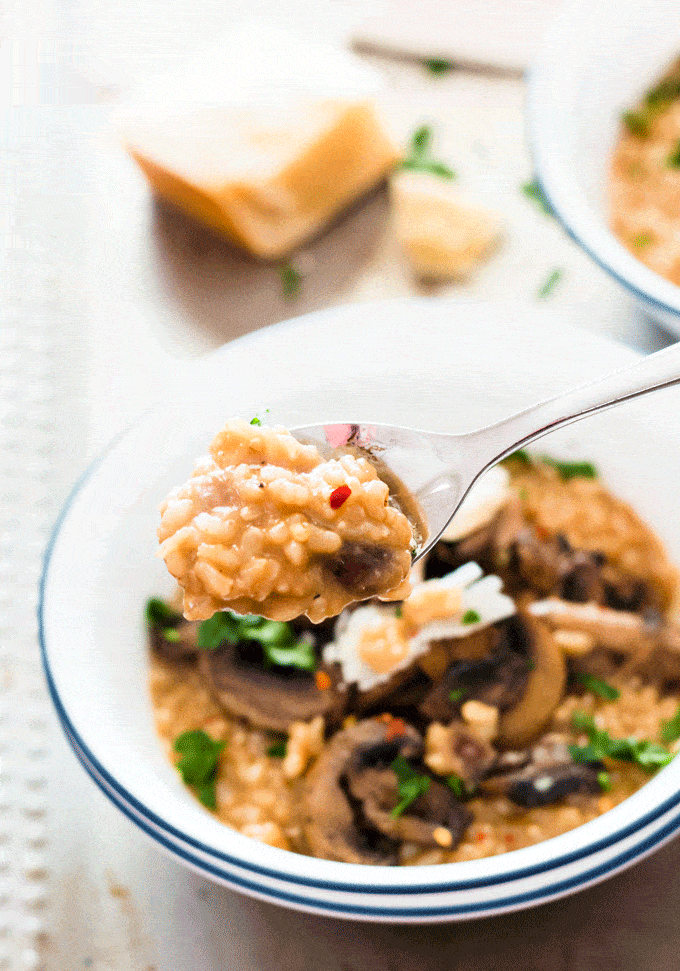 For years I used arborio rice when making risotto, and the idea of using any other type just didn't occur to me.  It's how I had always made it, and I just couldn't imagine any other rice giving the risotto the creaminess it needs to keep me happy. In my quest to use more wholesome ingredients I figured I would ditch the arborio, and give some organic whole grain brown rice a go. Can I just say, it is absolutely beautiful, and it will definitely be my go-to from now on. The brown rice gives this easy risotto recipe such a gorgeous nutty flavour, and a more toothsome texture which I just love.
I serve it up with a side of salad, and a nice chunk of fresh crusty bread, and it is just perfection. If you have little ones that don't like mushrooms, you can always sub in some cooked green peas (that's what my little ones like). I really hope you enjoy this super easy Baked Brown Rice Risotto as much as my whole family do.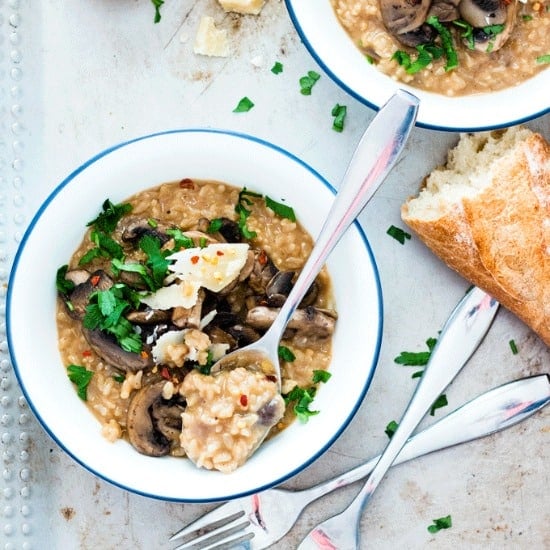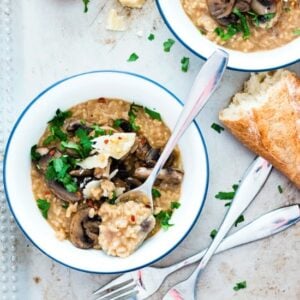 Baked Brown Rice Risotto
Baked risotto is a set and forget type dish which fills your house with beautiful aromatics whilst allowing you to busy yourself with something else. Loaded with mushrooms, and lots of garlic - delicious.
Ingredients
1

tbsp

avocado oil

1

cup

chopped brown onion

3

cloves

of garlic

minced

4 ¾

cups

of stock

I used homemade vegetable stock

½

cup

dry white wine

1 ½

cups

short grain brown rice

2

tbsp

avocado oil

2

tills baby Portobello mushrooms wiped with a damp cloth and sliced

about 500g, or mushrooms of choice

½-3/4

cup

freshly grated pecorino

depending on how strong you like it

3

tbsp

diced unsalted butter

1

tsp

balsamic vinegar

sea salt and freshly ground black pepper to taste

Handful chopped kale
Instructions
Preheat oven to 375 degrees with rack in the middle

Heat the avocado oil in a lidded dutch oven (I used a lodge cast iron) on medium heat. Add the onions and salt to taste and cook for about 10 minutes

Add the garlic and cook until both are browned

Add 4 cups of the stock and the wine, cover, and bring to the boil. Once boiling, remove from the heat, add the rice and stir. Pop it in the oven for 60 minutes with the lid on

Prepare the mushrooms 10 minutes before the rice has finished. Heat the avocado oil in a saucepan and add the sliced mushrooms with a pinch of salt. Cook, stirring occasionally, until they have absorbed most of their own juices and have turned a nice brown colour

Remove rice from the oven. Add the ¾ cup stock, pecorino, butter, balsamic vinegar and salt and pepper to taste.

Stir until everything is incorporated and the risotto is nice and creamy. Then add the mushrooms and the chopped kale and stir again.

Serve with extra pecorino or parmesan.
Nutrition
Calories:
178
kcal
Carbohydrates:
15.3
g
Protein:
3.9
g
Fat:
9.8
g
Saturated Fat:
6.2
g
Cholesterol:
25
mg
Sodium:
305
mg
Fiber:
1.7
g
Sugar:
3.2
g