If you aren't making your own veggie stock from your scraps (sounds gross, but it works), then you are literally throwing money in the bin!! The broth you buy from the shelf on the supermarket tastes terrible in comparison to this homemade version. Plus, if you are buying the brands that offer an organic, low salt variety - chances are you are spending a small fortune. You don't need to.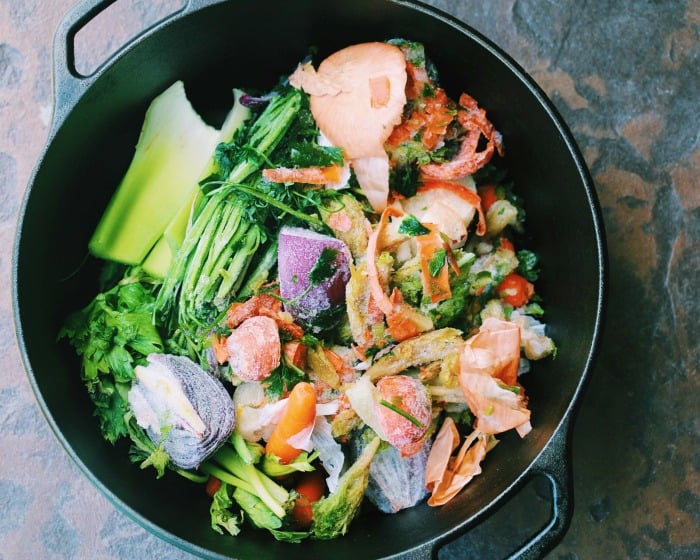 Using your veggie scraps; something you would otherwise be throwing into the bin, means that this beautiful broth is pretty much free. Plus: you know what is in it (and what isn't), you are getting your money's worth out of the produce you are buying (super helpful if you are spending big for the good stuff), and it takes very little effort to have it on hand at all times.
Basically, take the veggie scraps you are leaving behind as you cook, pop them in a big ziploc bag and store in the freezer until you have enough. Boil. Drain. Done. Seriously, it's that easy. You are saving money and you are being kind to the planet.
Ok, so you can't add in every veggie, but most things will work. Think:
onions, green onions, shallots and garlic
carrot peels
celery and leeks
mushrooms
herbs
I would avoid the more bitter veg like cauliflower, broccoli, brussels sprouts, cabbage etc.
Do you make your own vegetable stock? How much better does it taste than the store bought stuff? Personally, I can't handle the salt in the store-bought stuff, since making my own!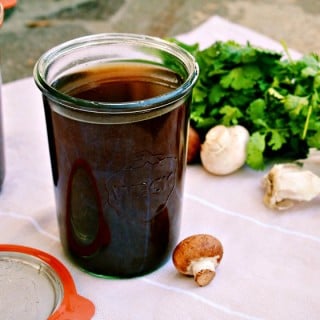 Homemade Vegetable Broth
Good for your wallet, good for the planet and good for you! Homemade vegetable stock made from your veggie scraps accumulated in the freezer throughout the week
Ingredients
1

large ziplock bag full of vegetable scraps

around 5 cups

10

cups

of water

2

bay leaves

salt and pepper to taste
Instructions
Add the vegetables, water, bay leaves and salt and pepper to a large pot over medium heat

Bring to a boil, reduce heat to low and allow to simmer for about an hour, uncovered

Remove from heat and allow to cool. Once cooled, use a strainer to remove all of the vegetable scraps. Keep the liquid and store in the fridge for up to a week, or in the freezer for 3 months
Notes
Not all vegetables work. Collect garlic, onions, green onions, shallots, carrots and peels, celery, leeks and their ends, herbs like thyme and parsley. Mushrooms, capsicum work well too.
Nutrition
Calories:
20
kcal
Carbohydrates:
4
g
Protein:
1
g
Sodium:
77
mg
Fiber:
1
g
Sugar:
3
g