Chai infused yogurt and local raw honey combines with crunchy granola, nuts and seeds to bring you this delightful chocolate chai yogurt breakfast parfait
These yogurt parfaits have definitely made all the difference in us getting out the door on time in the morning lately! Let me tell you, having 3 kids under 5, one of them being a ravenous three week old who is taking the whole feeding-on-demand thing to heart, dressed and ready to be out the door by 8am is no easy feat. I have become one of 'those' mums who drops her kid off to preschool with the kid looking like a million dollars while the mom look like a frazzled mess on her way to a yoga class (there is no yoga class btw...I am 3 weeks postpartum...there is only coffee and yoga pants and surviving 🙂 ).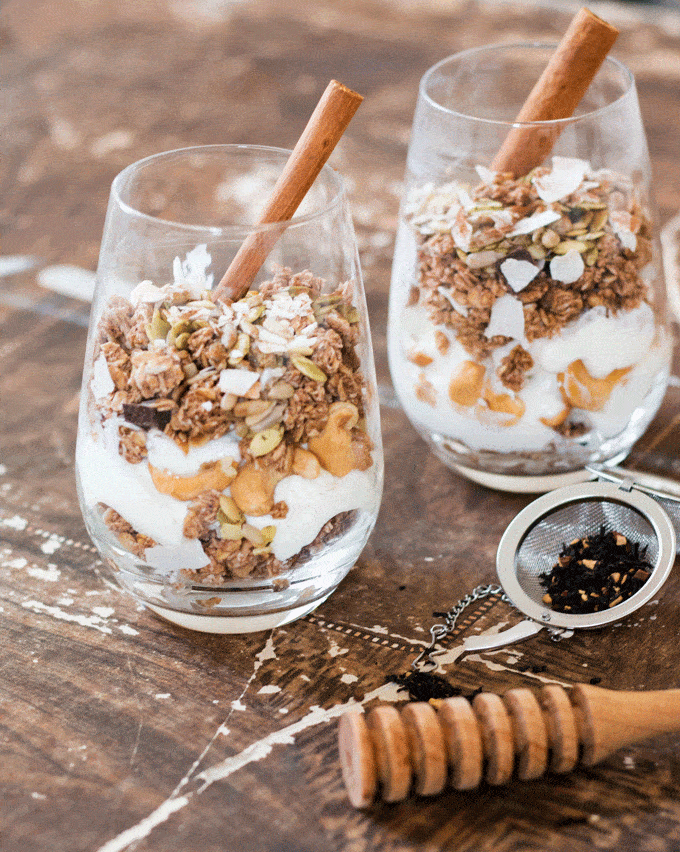 My saving grace is having breakfast organized the night before, so I have become the 'make-ahead breakfast queen'. It needs to be nutritious and delicious, capable of getting me through the first few hours of the day and whipped up in an instant, because lets face it...I am making these things after the dinner/bedtime routine, and before the night time cluster feeds begin - I am completely buggered 🙂
For this recipe I used some Chocolate Chai tea from T2 Teas...because chocolate and chai tea together = SOLD! Chocolate flavored Ceylon black tea is blended with cardamom, ginger, cloves, and cinnamon. The result is a tea that is soothing, spicy, zesty and warming...and did I mention that there is chocolate combined with the chai? Yum!
I infuse the chocolate chai tea and some local raw honey with a bit of whole milk kefir overnight and in the morning have a delicately sweet spiced flavor combination that is just wonderful for breakfast. Add some crunchy granola, pumpkin and sunflower seeds and a sprinkle of coconut flakes and you are in breakfast heaven. You can always add some dark chocolate chunks on top as well if you want some extra antioxidants  😆
[clickToTweet tweet="Try this Chocolate Chai Infused Kefir Parfait" quote="Try this Chocolate Chai Infused Kefir Parfait"]
I love hearing from you. If you try this chocolate chai yogurt breakfast parfait be sure to pop back and leave me a comment. Happy eating.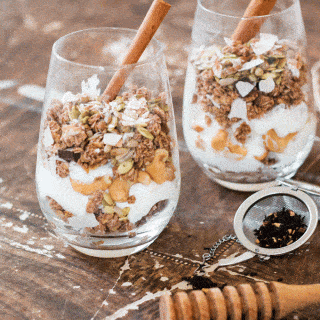 Chocolate Chai Yogurt Breakfast Parfait
Chai infused yogurt and local raw honey combines with crunchy granola, nuts and seeds to bring you this delightful chocolate chai yogurt breakfast parfait
Ingredients
1

cup

whole milk kefir

1

teaspoon

chai tea

(I used Adagio Teas Chocolate Chai Tea)

1

stick

cinnamon

1 ½

cups

whole milk plain yogurt

2

tablespoon

local raw honey

granola, pumpkin seeds, sunflower seeds and coconut for serving
Instructions
Pour the kefir into a jar with a lid. Pop the looseleaf tea into an infuser and pop the infuser into the kefir, along with the cinnamon stick. Put the lid on an allow to infuse for at least 2 hours (I usually leave overnight)

In a medium sized bowl whisk together the kefir, yogurt and honey (do not use a blender as this will make the mixture too liquidly)

To serve layer some granola, followed by the yogurt mixture, more granola, more yogurt and then top with sunflower seeds, pumpkin seeds and coconut or toppings of your choice and enjoy
Nutrition
Calories:
169
kcal
Carbohydrates:
22.7
g
Protein:
7.3
g
Fat:
7
g
Saturated Fat:
4.2
g
Cholesterol:
24
mg
Fiber:
1
g
Sugar:
20.7
g