These homemade vegan graham crackers are so easy to whip up. A combination of whole wheat flour, coconut oil, coconut sugar, and maple syrup for sweetness, these are a great healthier alternative to the store-bought version. Super popular with kids, they are great for snacking, sprinkling on top of yogurt and smoothies, and for making homemade s'mores or spreading with some nut butter.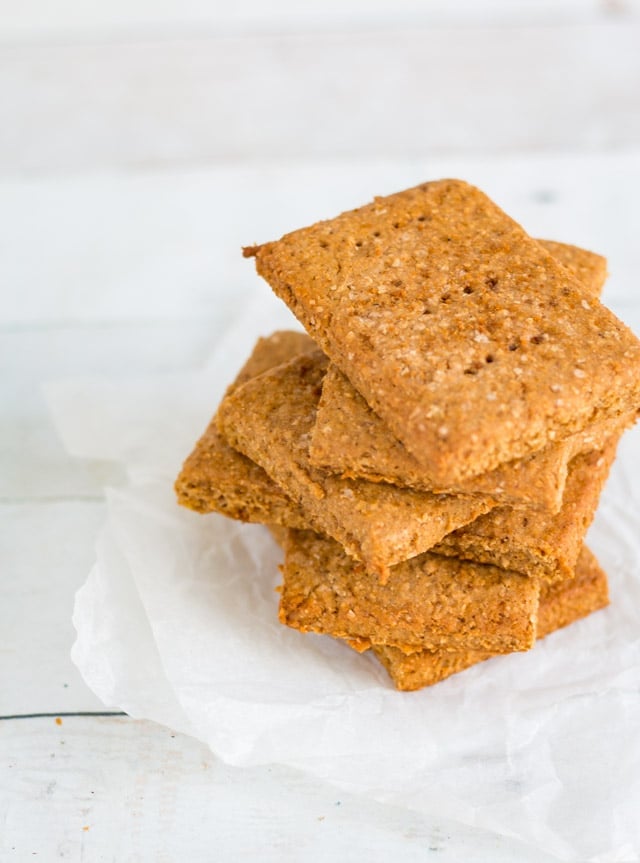 Vegan Graham Crackers
I have been working on these homemade graham crackers for what feels like F-O-R-E-V-E-R.
I finally nailed it, and just in time.
My kids have been begging to make some yogurt berry parfait for breakfast (they love having the freedom to add what they want), and the recipe calls for graham crackers to be crushed and sprinkled on top....which would be great except that Graham Crackers don't exist in Australia, and apparently no other cookie compares.
This homemade vegan graham cracker version saves the day.
Forget about the store-bought versions - these crunchy little delights are full of goodness and taste absolutely amazing.
These crackers are:
refined sugar-free (sweetness comes from coconut sugar and maple syrup)
egg-free
dairy-free
vegan
vegetarian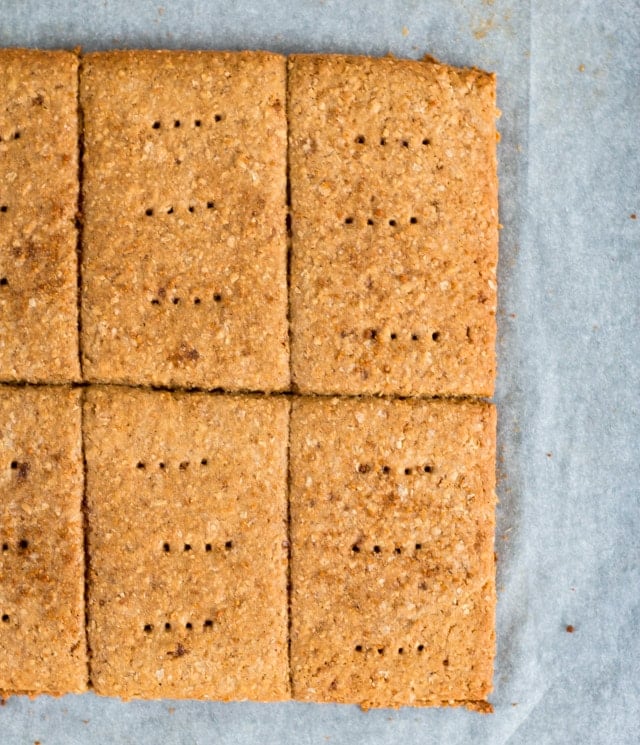 How To Make Graham Crackers
I know sometimes recreating popular store-bought items can be tricky.
Not the case here.
These homemade graham crackers come together so easily!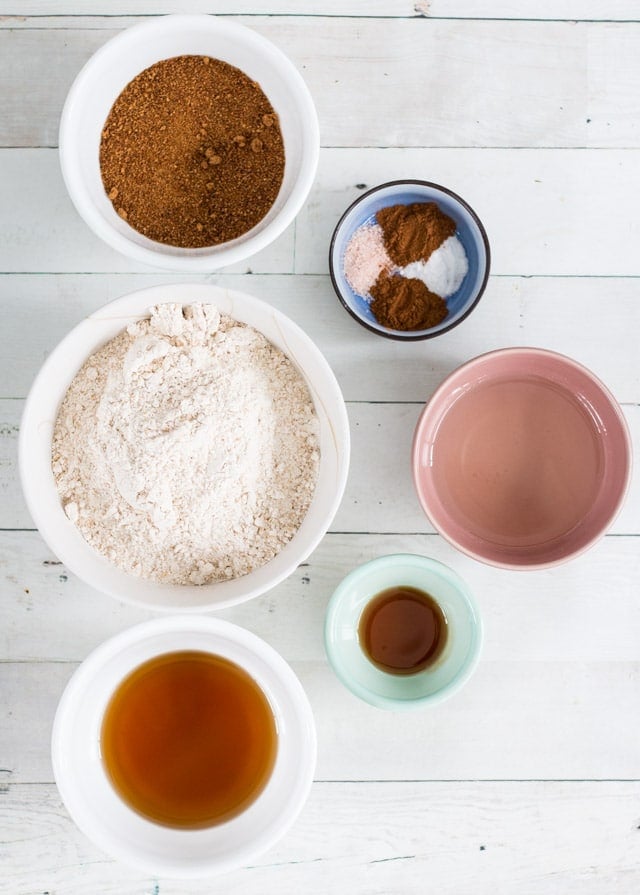 You will need:
whole wheat flour
ground cinnamon
baking soda
salt
coconut sugar
pure vanilla extract
maple syrup
coconut oil
oat milk or nut milk of choice
Now I know reading that list of ingredients may have you thinking 'these sound very healthy, how can they taste good??'
Don't worry, they do.
Crispy, crunchy, sweet, and delicious.
What's not to love.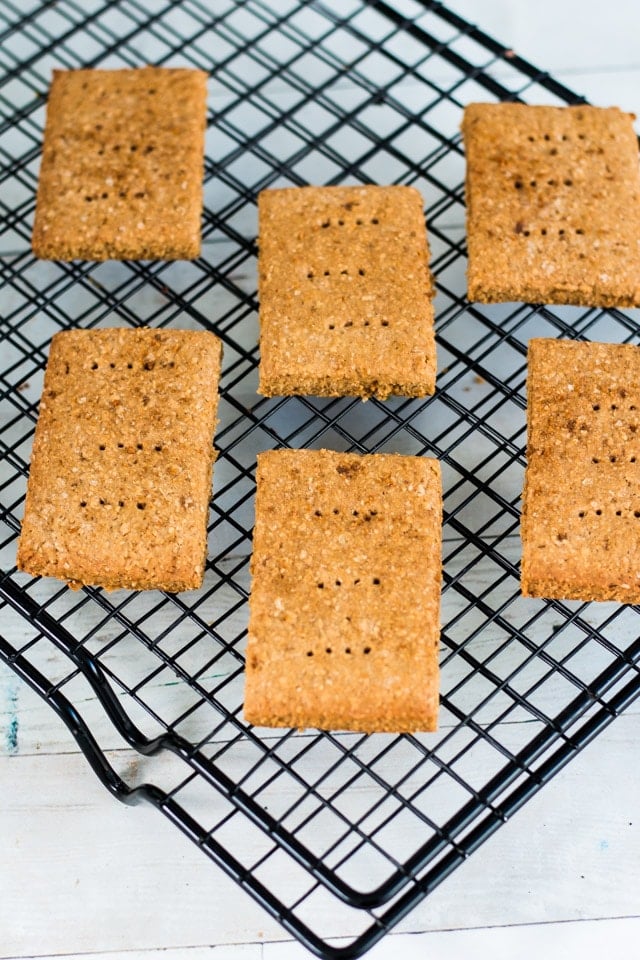 Tips For Making perfect Vegan Graham Crackers
Once you have all of your ingredients you are going to want to mix all the dry ingredients together, add in the wet ingredients and bring it all together into a ball.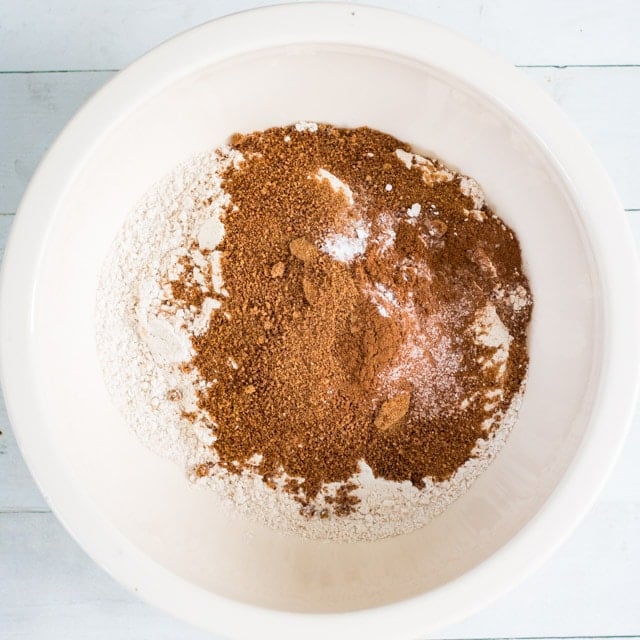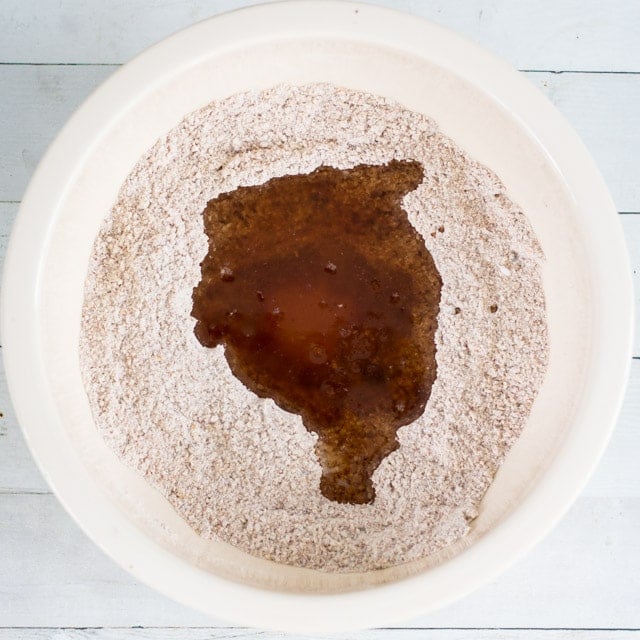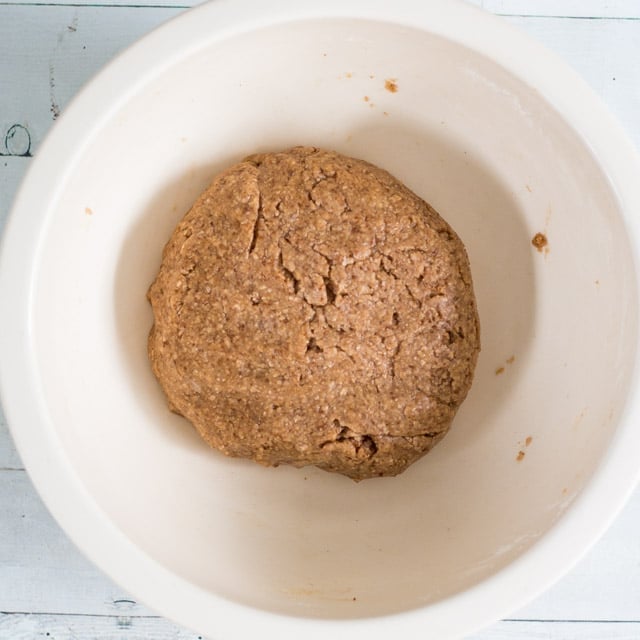 If the mixture is too wet, add a little bit more flour until it isn't sticky.
Tip: use two pieces of parchment paper to roll out the dough, this prevents it from sticking to the rolling pin, and makes the whole process a lot easier.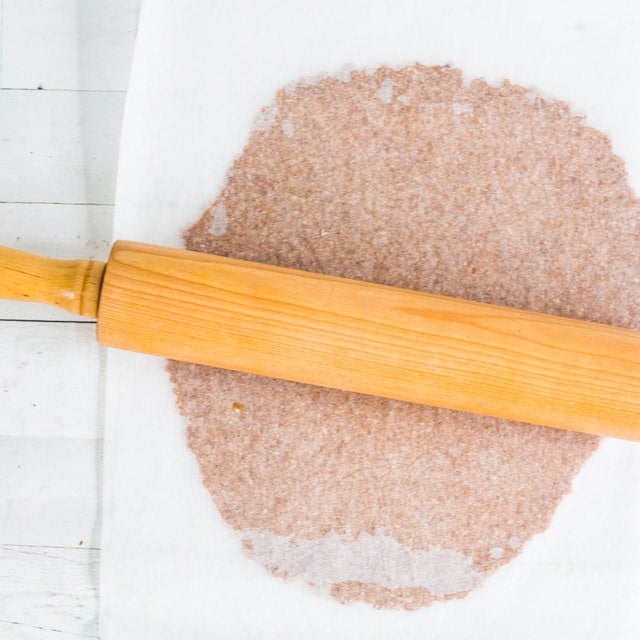 If you don't have parchment paper or don't want to use it, then let the dough rest for about 15 minutes before rolling. This dries it out a bit and makes it easier to work with.
I cut mine into rectangles and poke some holes using a fork to make them look like traditional graham crackers. But this dough is great for cutting into shapes.
Tip: the thinner you roll the dough, the faster it will cook, and the crispier they will become. Aim for a thickness similar to the store-bought version. Any thicker and they won't crisp up.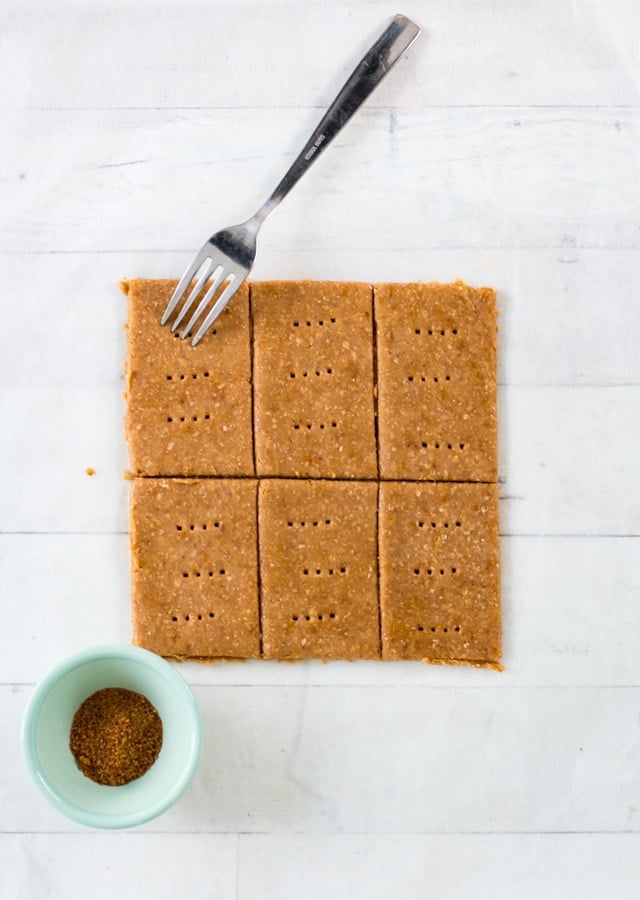 How To Store Homemade Graham Crackers So They Stay Nice and Crispy
Once the cookies have cooled completely they should be stored in an airtight container to keep them crispy.
They should last a couple of days.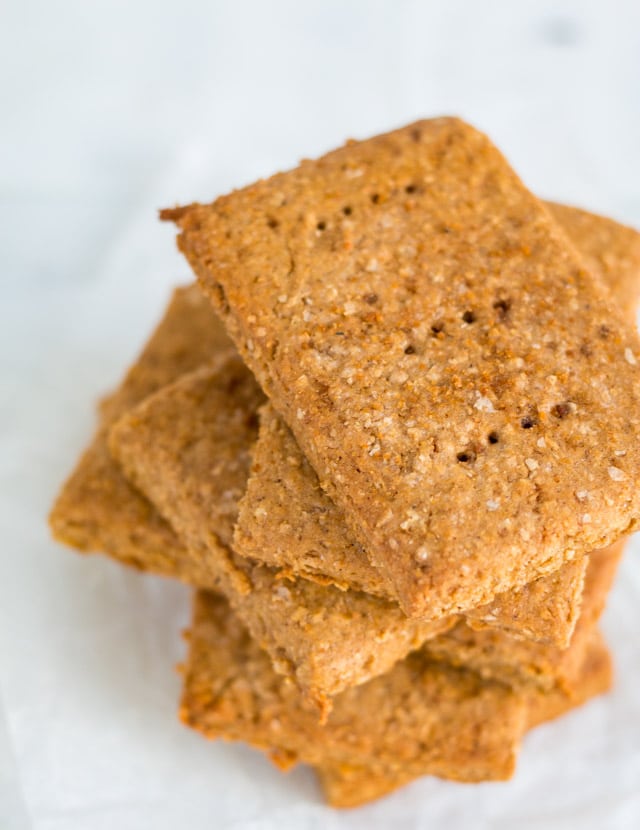 How To Serve Graham Crackers
Graham crackers are for more than just eating as you would a cookie.
They are also great for:
crumbling up and sprinkling on yogurt or ice cream
crumbling on top of a smoothie for a nice bit of crunch
making ice cream sandwiches
making homemade s'mores
sandwiching with some nut butter or strawberry coconut butter
for fun you can cut them into little shapes before cooking and then serve as a special breakfast treat with cold milk
adding to a vanilla milkshake
Use your imagination!
If you give these cinnamon whole wheat graham crackers a go, be sure to whip up a yogurt berry parfait for breakfast, and sprinkle some crackers on top. So good.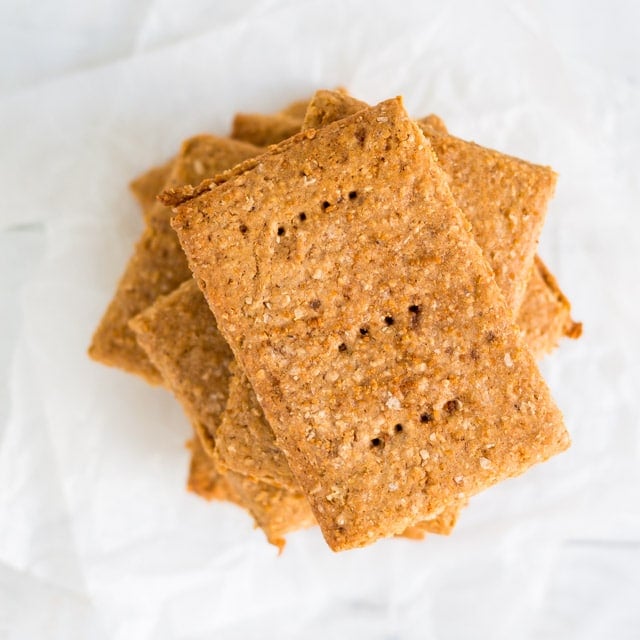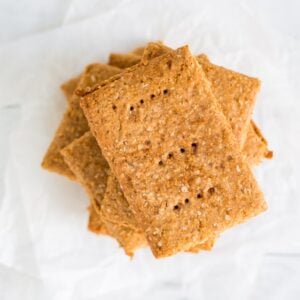 Cinnamon Whole Wheat Graham Crackers
These homemade whole wheat graham crackers are the best! Crunchy, sweet and delicious, but full of only goodness. Perfect by themselves, with a cup of tea or crushed and sprinkled on a
yogurt berry parfait
Ingredients
2

cup

plus 3 tablespoon whole wheat flour

1

teaspoon

cinnamon

½

teaspoon

baking soda

½

teaspoon

salt

½

cup

coconut sugar

2

teaspoon

pure vanilla extract

¼

cup

maple syrup

½

cup

unrefined coconut oil

¼

cup

oat milk

or other nut milk of choice
Instructions
Preheat oven to 350F (175C)

In a large bowl combine the dry ingredients. Make a well in the middle and pop in the wet ingredients. Mix together to form a ball

Pop the dough ball onto a piece of parchment paper, pop another piece of parchment paper on top and roll the dough out to a thin thickness (similar to a store-bought graham cracker thickness)

Cut into rectangles, poke a few holes with a fork, sprinkle with some coconut sugar if desired, and place on a cookie sheet

Bake for 13-15 mins, the longer you leave them the crunchier they will get. Once baked, remove from the oven and allow to cool completely on a cooling rack

Once compleltely cooled, store in an airtight container
Nutrition
Calories:
143
kcal
Carbohydrates:
19
g
Protein:
2
g
Fat:
7
g
Saturated Fat:
6
g
Sodium:
124
mg
Potassium:
66
mg
Fiber:
2
g
Sugar:
7
g
Vitamin A:
8
IU
Calcium:
17
mg
Iron:
1
mg
The information shown is an estimate provided by an online nutrition calculator. It should not be considered a substitute for a professional nutritionist's advice.