Want a quick, easy and delicious single-serve cake for afternoon tea that takes 5 minutes to whip up? This coconut flour mug cake ticks all of those boxes, plus some. Full of wholesome ingredients, this super easy snack or dessert is sure to become a new favorite when you are craving something sweet.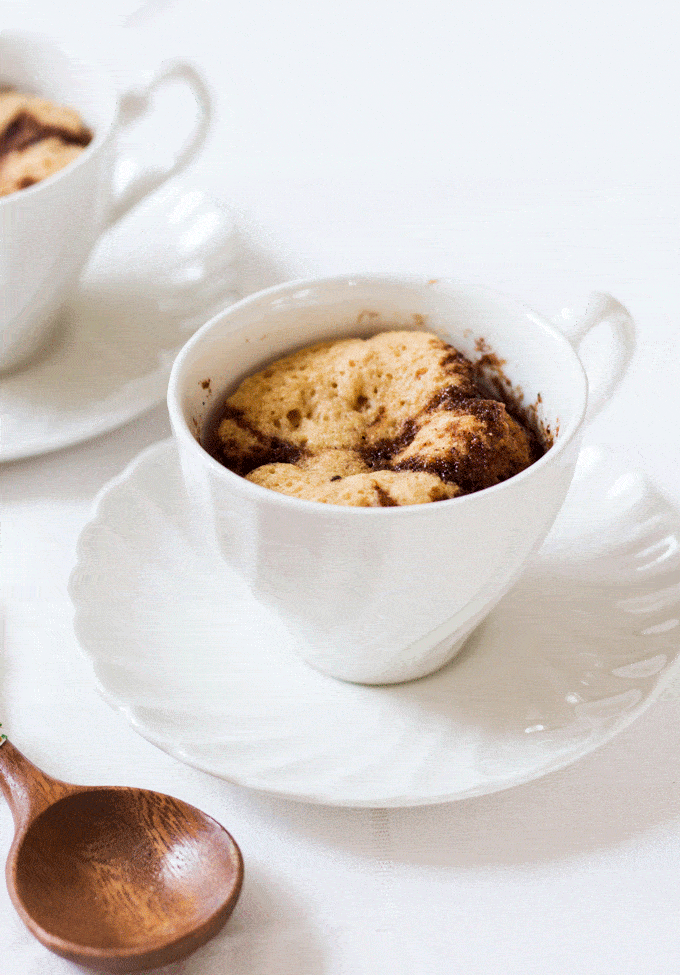 Mug cake recipes have fuelled my love for simple, wholesome desserts to satisfy a sweet tooth, like this Raspberry and Chocolate Healthy Mug Cake that comes together so easily.
Jump to:
Ingredients For This Easy Coconut Flour Mug Cake
I have had so many bland mug cakes over the years, while on my search for a single-serve dessert that can satisfy that post-kids-bedtime sweet craving in 5 minutes flat.
And this coconut flour mug cake is NOT one of those.
It is seriously so moist, full of flavor, and has a great texture.
The best part?
You will need a handful of ingredients that can easily be found at your local grocery store:
Coconut sugar: I used coconut sugar here, but feel free to sub in some brown sugar or granulated sugar of choice if you prefer. Just be sure to check the packagaing of whatever sugar alternaitve you are using to be sure a one-for-one swap can be made;
Coconut oil: you will want this to be melted. If it is summer you will have no problems, as it should be in a liquid form. If the weather is on the colder side, then you may need to melt this either in the microwave, or on the stovetop. If you do not have coconut oil, you can always sub in a mild-flavored oil of choice, such as olive oil or avocado oil;
Ground cinnamon;
Coconut flour: this can be found in the flour section or health food section of most well-stocked grocery stores (see notes below if you would prefer to use a different flour, as this is not a 1:1 swap);
Baking powder: this is needed so that the mug cake will rise, look for aluminium free;
Egg: use an average or large egg, not a jumbo, or the cake will be too moist;
Maple syrup: you can swap this for another liquid sweetener of choice such as rice malt syrup or agave;
Coconut milk: I use coconut milk here to stick with the coconut theme, but any other milk of choice, such as almond milk, oat milk, or regualr milk will work just fine;
Vanilla extract.
That's it!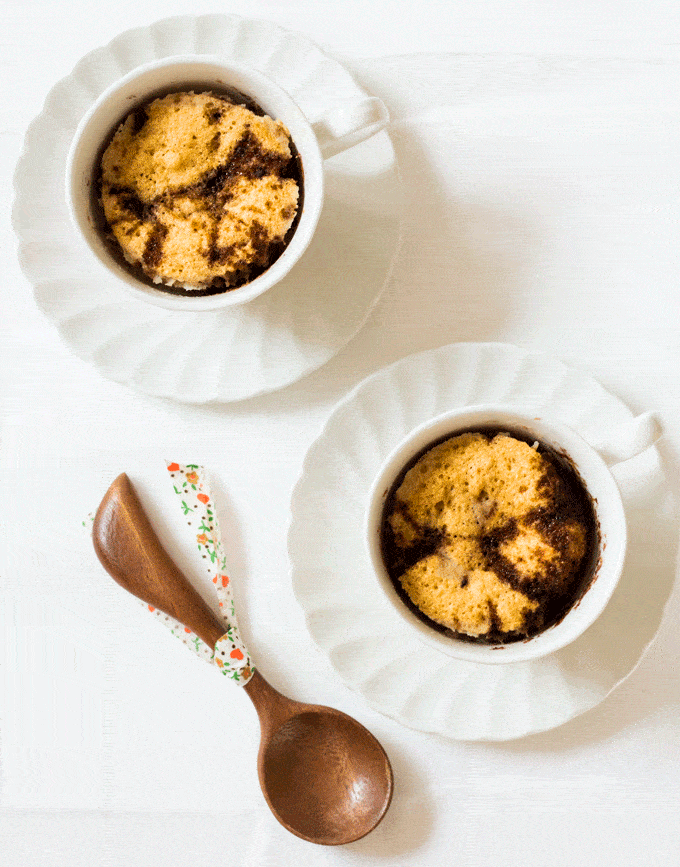 How To Assemble
Lucky for us, mug cakes are really very easy to make.
For this coconut flour mug cake, we have the extra step of making the cinnamon streusel to swirl through the mug cake batter, but that is a simple step.
Simply combine coconut sugar, cinnamon, and coconut oil in a small bowl and set aside.
For the mug cake itself, we are going to combine the rest of the ingredients and mix until well combined.
Get two small, microwave-safe 'mugs' (I use the word mug here lightly, as I actually use teacups for this recipe), and pour about a quarter of the mixture into each mug.
Add about a quarter of the streusel mixture, followed by the rest of the cake batter, and then the rest of the streusel mix.
Pop in the microwave and you are good to go.
Note: How long this takes in the microwave will depend on your actual machine. Pop in for 90 seconds, but start checking after a minute to see if it is puffed up and cooked through.
No need for any toppings, as the cinnamon-sugar mixture adds a nice pop of color to the top of the mug cake.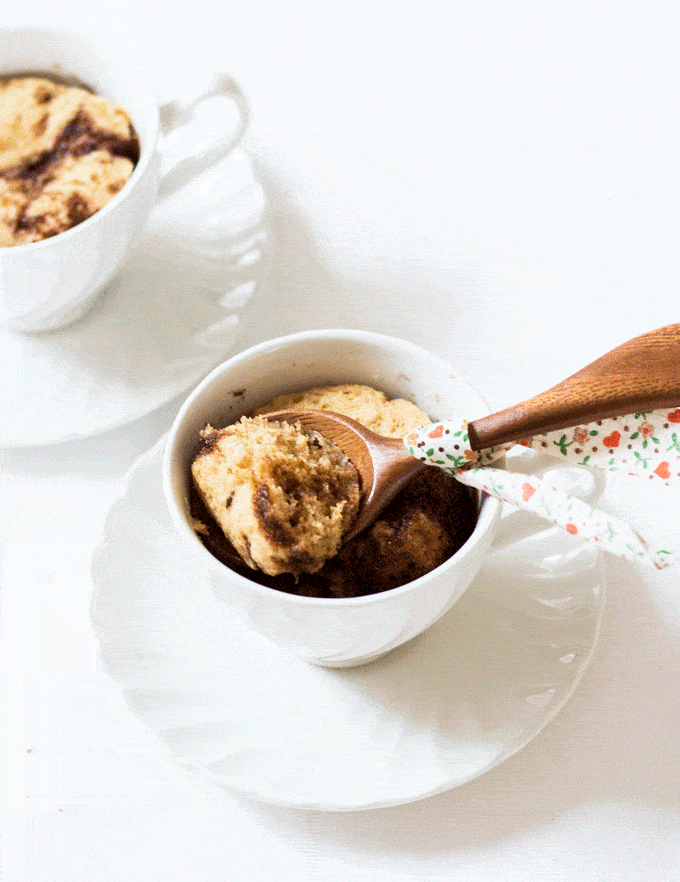 Tips, Tricks and Substitutions
I love this coconut mug cake recipe as is, but as always, I have lots of substitutions for those of you who like to change things up.
Protein: if you want added protein then feel free to add a dollop of runny peanut butter, almond butter, or melted cream cheese to the mix. Alternatively you could add a scoop of your favorite protein powder and some extra milk of choice to make up for the extra dry ingredients.
Chocolate Cravings: if you feel like a bit of a chocolate flavor you could add a teaspoon of cocoa powder to the mixture and have your very own coconut flour chocolate mug cake. Remember to add a similar amount of wet ingredients like milk or more maple syrup to make up for the extra dry ingredients. You could also try serving with a drizzle of melted chocolate, or add in a handful of dark chocolate chips or sugar free chocolate chips. Although please note that if you are following a specific diest, this will obviously change the net carbs involved in your treat.
Want larger cakes? Instead of splitting the recipe into two small teacups, simply use one big coffee mug and you will be gifted with a single serving of deliciousness. You may need to add a couple of seconds onto the cooking time.
Please make sure you are using a microwave-safe mug.
Serving and Storing Leftovers
This delicious mug cake can be served as is.
Or if you want to make it a little bit more special you can always serve with some whipped cream a nice big scoop of ice cream or a drizzle of your favorite nut butter.
Leftovers can be stored covered at room temperature for about a day.
To reheat, simply pop back into the microwave for about 20-30 seconds.
However, please note that the mug cake will likely be less moist than it would be if it were eaten straight away.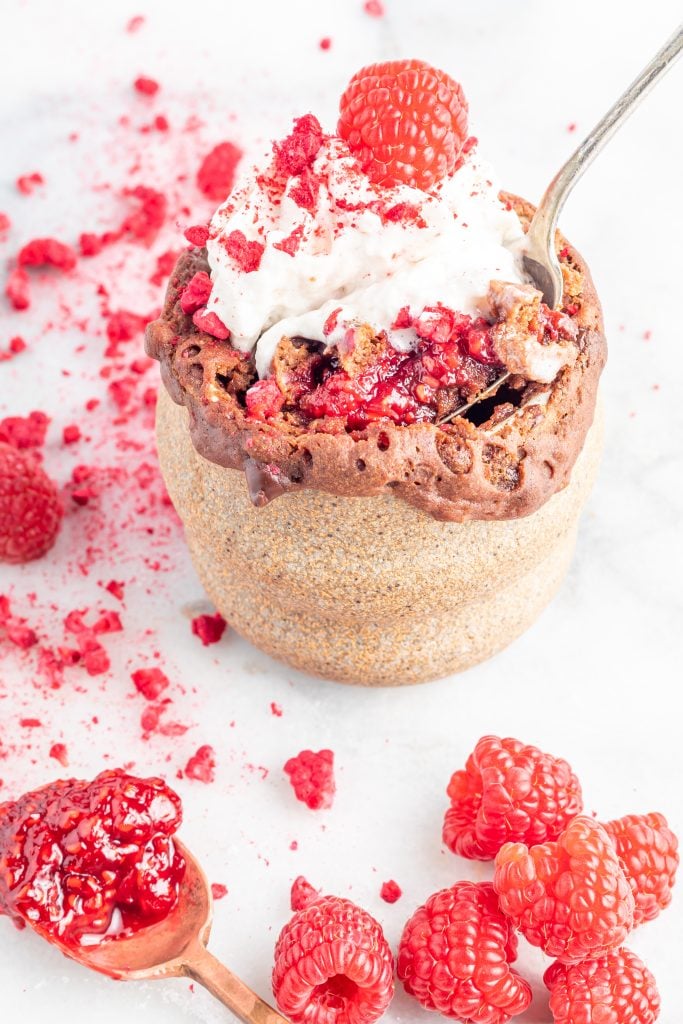 Can This Mug Cake Be Made In An Air Fryer?
Yes, it can.
Simply swap the mugs or teacups with small ramekins that will fit into the basket of the air fryer and cook at 360F (180C) for 10 minutes.
Happy Eating
xx
Recipe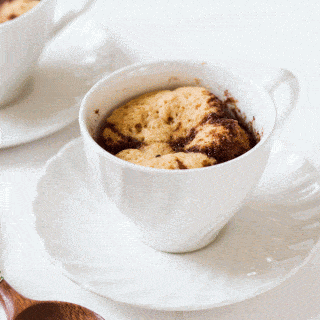 Coffee Cake Mug Cake
Moist and delicious and ready for your indulgence in less than five minutes, this Coffee Cake Mug Cake is the perfect dessert to serve up when that sweet craving hits and you need something healthy and wholesome but treat-worthy at the same time.
Ingredients
1

tablespoon

coconut sugar

1

teaspoon

melted coconut oil

½

teaspoon

cinnamon

2

tablespoon

coconut flour

¼

teaspoon

baking powder

pinch of salt

1

egg

2

tablespoon

coconut oil,

melted

1 ½

tablespoon

maple syrup

1

tablespoon

coconut milk

½

teaspoon

vanilla extract
Instructions
In a small bowl combine the streusel ingredients (1 tablespoon coconut sugar, 1 teaspoon melted coconut oil and ¼ teaspoon cinnamon), and set aside.

In another small bowl whisk together the coconut flour, baking soda and salt. Add the egg, coconut oil, maple syrup, coconut milk and vanilla extract and mix thoroughly to combine.

Divide half of the batter between two small teacups and sprinkle with half of the streusel mixture.

Then fill in the remaining batter and top with the rest of the streusel.

Microwave each cup separately for about 1 ½ minutes, start checking at about one minute (mine only took one minute). Let sit for a couple of minutes before eating.
Air Fryer
To make in the air fryer use teacups or ramekins that can fit in the air fryer basket.

Follow the rest of the instructions, and air fry for 10 minutes at 360F (180C).
Notes
Storing
Store leftovers, covered, on the bench top.
To reheat, pop into the microwave for 20-30 seconds.
Nutrition
Calories:
277
kcal
Carbohydrates:
21
g
Protein:
3
g
Fat:
21
g
Saturated Fat:
17
g
Polyunsaturated Fat:
1
g
Monounsaturated Fat:
2
g
Cholesterol:
98
mg
Sodium:
34
mg
Potassium:
114
mg
Fiber:
3
g
Sugar:
14
g
Vitamin A:
131
IU
Vitamin C:
1
mg
Calcium:
56
mg
Iron:
1
mg
Tried this recipe?
Leave a comment HERE and let us know how it was!