The perfect addition to lunch boxes big and small, this gluten-free zucchini slice ticks all the boxes. Loaded with veggies, low in carbs, gluten-free, and enjoyable both hot or cold, this is a filling and healthy savory snack or light dinner that is bound to make it onto your weekly rotation in no time.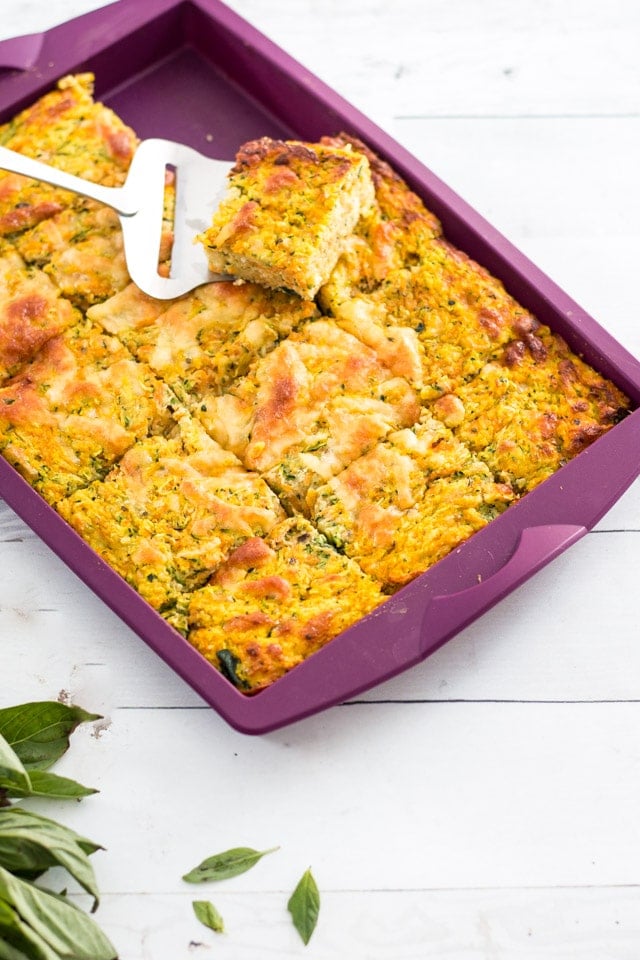 This is a great savory slice for using up lots of zucchini, why not try this Easy Broccoli and Cheddar Rainbow Veggie Slice next time you have an abundance of broccoli?
Healthy Gluten-Free Zucchini Slice
Who doesn't love a good zucchini slice?
This version is :
Gluten-Free
Keto-Friendly
Low Carb
Vegetarian
Perfect for a quick lunch, or a change from sandwiches in the lunchbox.
Also, a great way to clean out the veggie drawer at the end of the week, or use up all that extra zucchini produced in the warmer months.
It is super easy to pull together as well.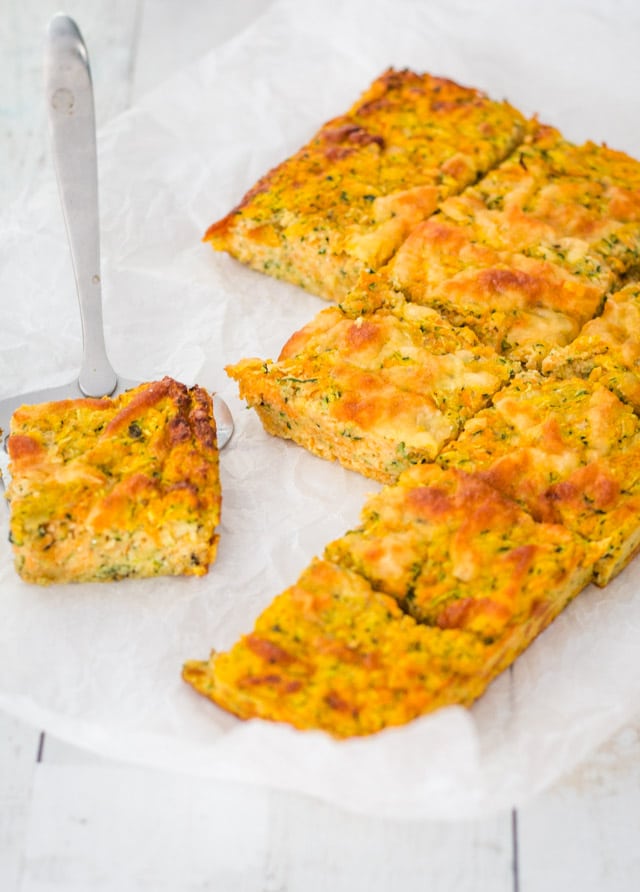 Ingredients
As part of a series of planned 'lighter' meals for the new year, I have made this healthy zucchini slice gluten-free, replacing regular flour with a mixture of almond flour and coconut flour.
You will also need:
Zucchini;
Carrot;
Eggs. I use free-range eggs, but use what you have;
Cheddar Cheese or any other hard cheese of choice;
Almond flour;
Coconut flour;
Baking powder;
Dried basil. You can always sub with fresh basil if preferred;
Garlic powder.
Feel free to change up the cheese for whatever cheese you have on hand, keeping in mind that some are stronger in flavor than others, which may change the overall flavor of the slice.
We have made this a vegetarian zucchini slice, but you could also chop up a bacon slice and throw that in if you like.
Other possible variations include adding some bacon, peas, feta cheese, spring onions, parmesan cheese, or chopped cherry tomatoes dotted on top of the slice with the grated cheese.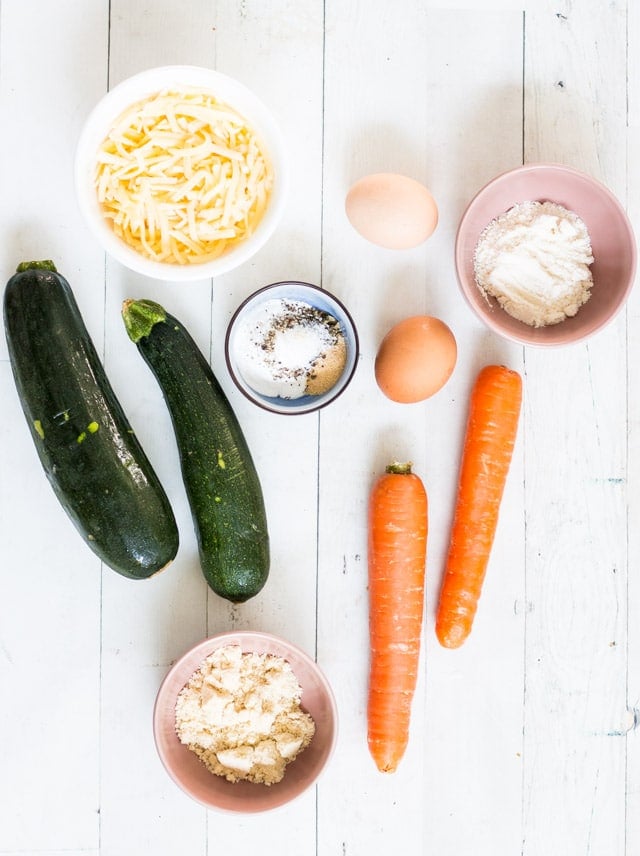 Tips For Making Healthy Zucchini Slice
I have mentioned how easy a good zucchini slice is to bring together, but some things should be noted.
Make sure that the grated zucchini is drained properly.
If it is not you will end up with a soggy mess, definitely not something you will be able to pass off to the kids (don't worry I have a tip on how to fix that below if it happens).
How To Drain Zucchini
Using one of the finer holes on a box grater, grate the zucchini.
To drain zucchini properly you can either use a clean tea towel, a cheesecloth, a nut milk bag, a yogurt strainer, paper towel, or a fine-mesh sieve depending on what you have on hand.
Press the zucchini until it is reduced in size by about a third of what you started with.
Strain the grated zucchini until the amount is reduced in size by about a third of what you started with.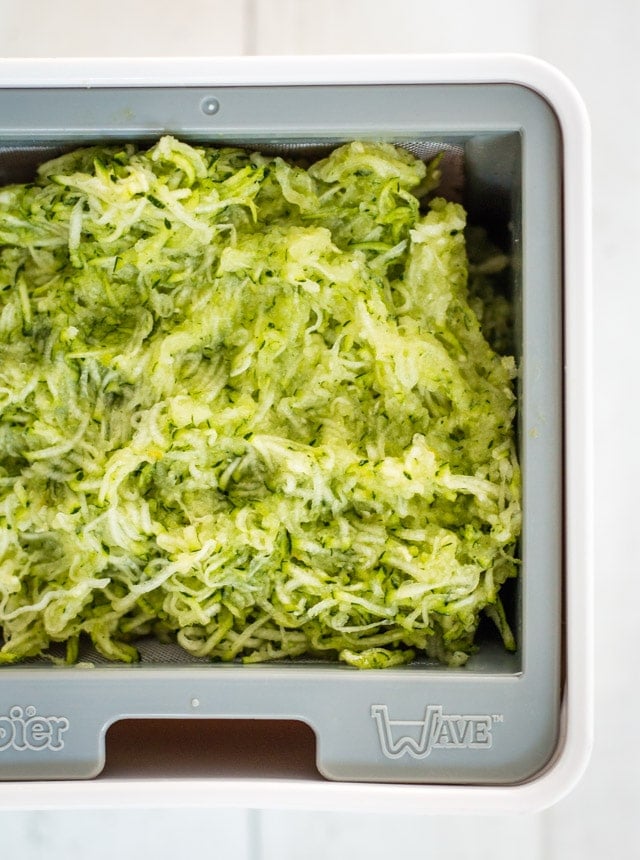 Assembly Instructions
Once the zucchini has been drained properly, simply add all of the ingredients to a large mixing bowl and mix until well combined.
For even baking you want to make sure that all of the ingredients are covered with the eggs, so give everything a really good stir.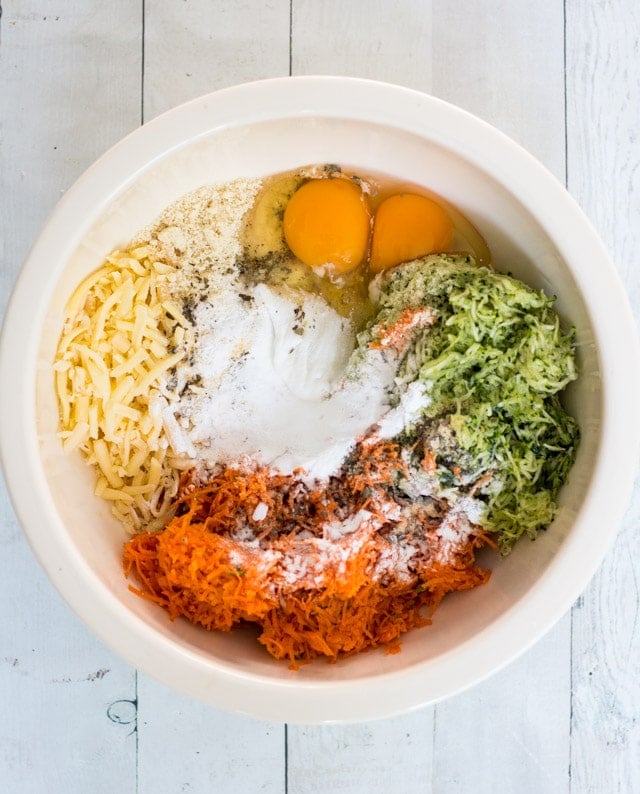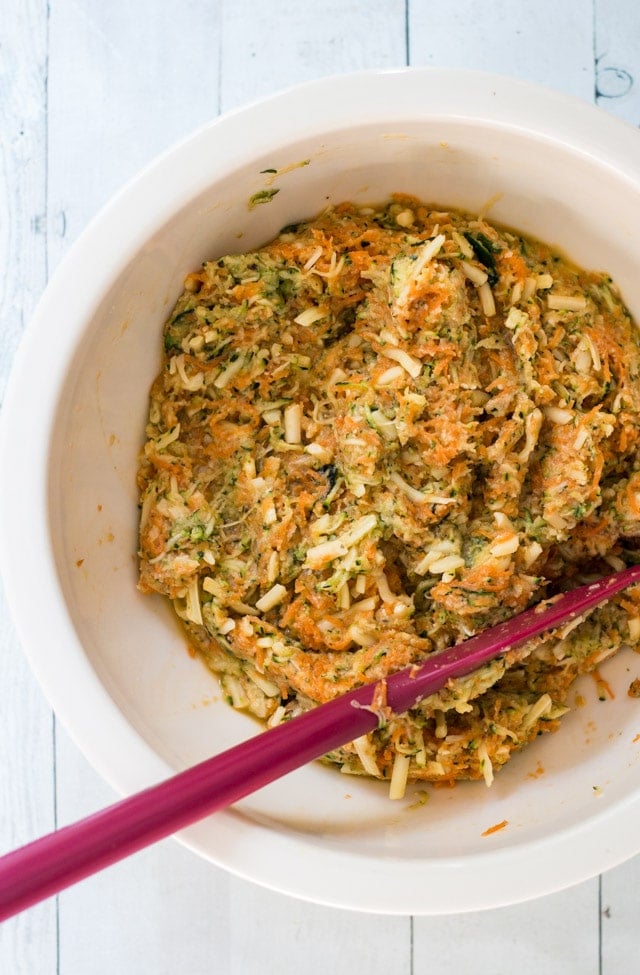 Once everything is well combined, add it to a silicone baking pan or a lamington pan.
Using a silicone pan means there is no need to grease the pan, or line it with parchment paper.
If you don't have a silicone pan that is completely fine, simply remember to line the pan or grease with some olive oil before adding the zucchini mixture.
Use a spatula to spread the mixture evenly and sprinkle some cheese on top.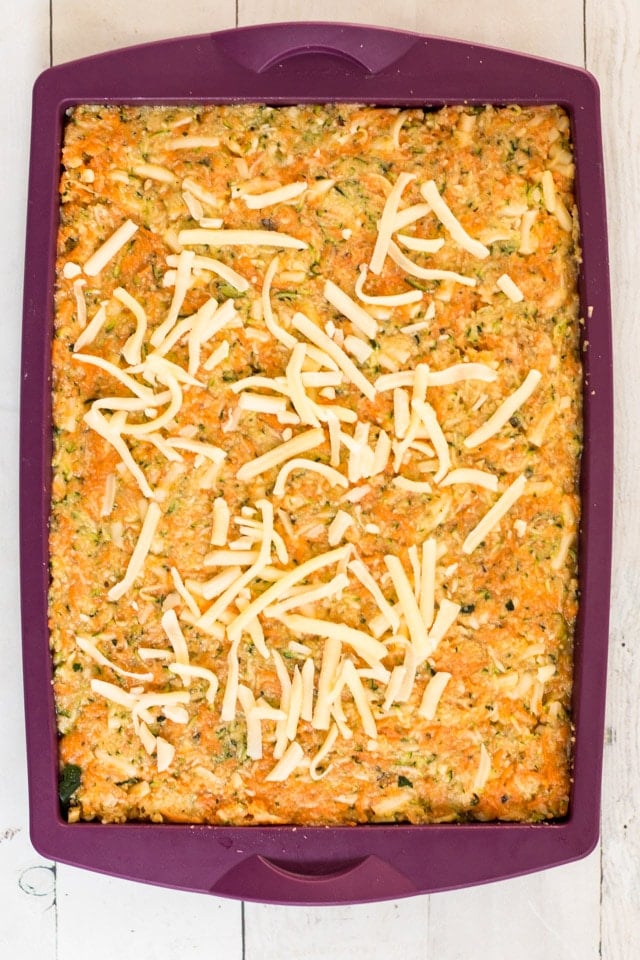 Troubleshooting
Why Is My Zucchini Slice Mushy?
If you do not drain the excess moisture from the zucchini properly you may end up with a mushy zucchini slice.
Don't worry, we can fix it (unless you didn't drain it at all....and then I can't help you).
Simply cut the cooked slice into even-sized squares, I usually get about 15 from my slice.
If you have an air fryer, reheat the individual slices in the air fryer for about 4-5 minutes until it crisps up.
If you do not have an air fryer then preheat the oven to 350F (175C) and then reheat the slices for about 7 minutes, until crisp, and no longer soggy.
What To Do With Zucchini Juice
Now what to do with the juice you have squeezed from the zucchini and carrots?
I keep it and throw it into my next green smoothie.
It isn't very strong in flavor, so would work great in something like this Creamy Green Mango Avocado Smoothie.
Waste not, want not!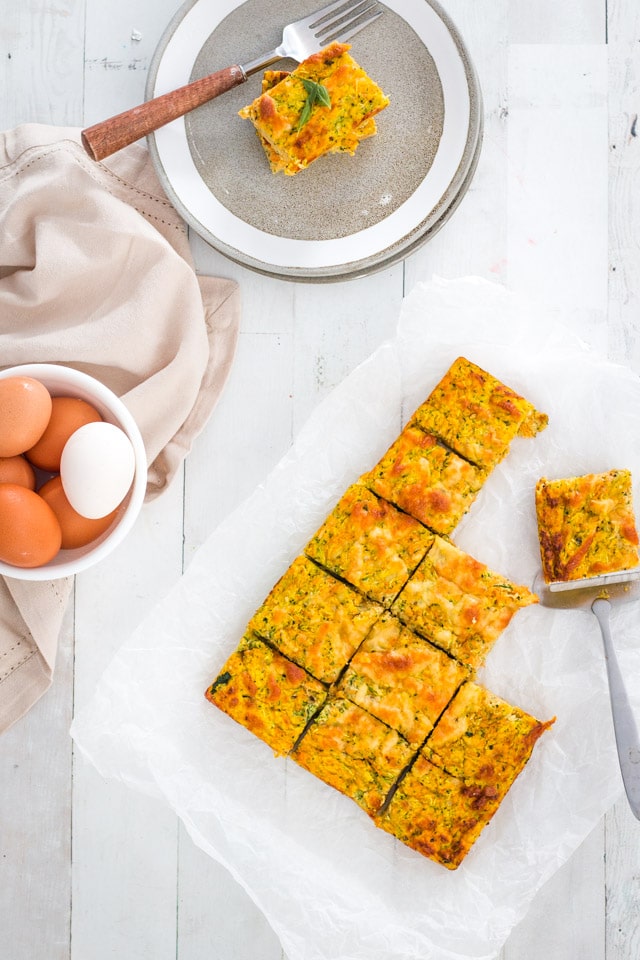 How To Store
Keep leftover zucchini slice stored in the fridge in a container with a lid for 3-5 days.
Zucchini slice also freezes well in individual slices.
To freeze, arrange the food in a single layer on a baking sheet small enough to fit into the freezer. Pop into the freezer. Remove when frozen and transfer to a freezer-friendly container or Ziploc bag and pop back into the freezer until ready to use.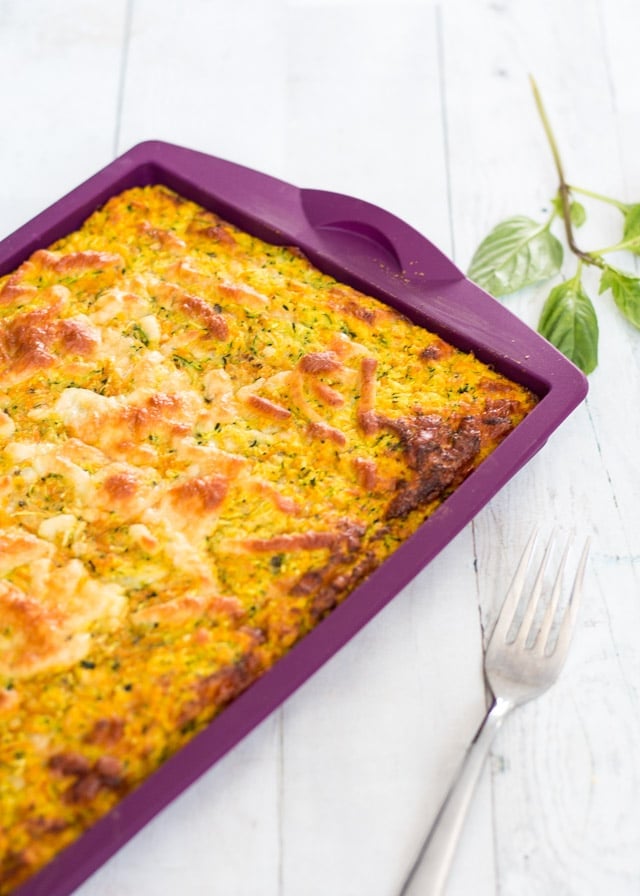 How To Serve
This healthy low-carb zucchini slice makes a great breakfast, lunch, side dish, or dinner all by itself.
It also works great as an addition to a nice picnic, or a potluck, as it is easily transported and it can be enjoyed either hot or cold, and is the perfect recipe to meal prep ahead of time.
My kids love having it in their lunchbox instead of sandwiches. I just include a little ice pack to keep it cool, especially in the warmer months, otherwise, it can go soggy.
If you want to serve it as a light meal simply serve it alongside a nice side salad for a complete meal.
Frequently Asked Questions
Why is my zucchini slice mushy?
If you do not drain the zucchini properly before adding to the rest of the ingredients then the slice will become mushy. To fix, simply crisp up in an ai fryer or oven.
How long does zucchini slice last in the fridge?
It should last about 5 days in the fridge, or 3 months in the freezer if stored correctly.
What makes this zucchini slice gluten-free?
We use a combination of almond meal and coconut flour in place of wheat flour to make this zucchini slice grain-free and gluten-free.
Need More Veggie Heavy Recipes?
Need more recipes for clearing out the veggie tray at the end of the week?
Check these out:
I hope you enjoy this healthy zucchini slice recipe.
Happy Eating.
xx
Recipe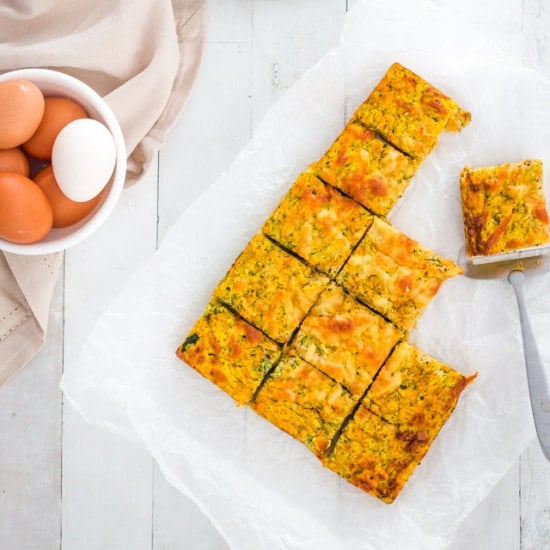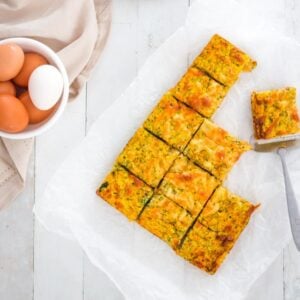 Healthy Gluten Free Zucchini Slice
The perfect addition to lunch boxes big and small, this gluten-free zucchini slice ticks all the boxes. Loaded with veggies, low in carbs, gluten-free, and enjoyable both hot or cold, this is a filling and healthy savory snack that is bound to make it onto your weekly rotation in no time.
Ingredients
2

medium zucchini finely grated

see notes

2

carrots finely grated

3

large eggs

1

cup

shredded cheddar cheese

plus 2 tablespoon extra for the top

¼

cup

almond flour

2

tablespoon

coconut flour

1

tablespoon

baking powder

½

teaspoon

dried basil

½

teaspoon

garlic powder

large pinch of salt and pepper

(this will depend on how salty your cheese is)
Instructions
Preheat oven to 375°F (180C). Line a 12inch (30cm) rectangular baking pan with parchment paper (or if you are using a silicone pan like in the photos you do not need to line).

Using a cheesecloth/yogurt strainer/fine mesh sieve to squeeze out the excess liquid from the grated zucchini. You should end up with about ⅔ of the zucchini you started with.

In a large bowl combine the squeezed zucchini, carrots, eggs, cheese, almond flour, coconut flour, baking powder, basil powder, garlic powder and salt and pepper until everything is evenly mixed and coated.

Transfer the batter into the baking pan and sprinkle the rest of the cheese on top.

Bake for about 25-30 minutes, until the slice is completely cooked and the surface is no longer wet to the touch. Remove from the oven and allow to cool slightly before serving. Can also be cut into slices and stored in the fridge to be eaten cold.
Notes
Make sure you strain the zucchini after it has been grated, otherwise you will end up with a soggy mess.
Use a yogurt strainer, fine mesh sieve, nut milk bag, cheesecloth or a clean towel and make sure you squeeze out as much liquid as possible.
Nutrition
Calories:
66
kcal
Carbohydrates:
3
g
Protein:
4
g
Fat:
4
g
Saturated Fat:
2
g
Cholesterol:
41
mg
Sodium:
70
mg
Potassium:
195
mg
Fiber:
1
g
Sugar:
1
g
Vitamin A:
1534
IU
Vitamin C:
5
mg
Calcium:
105
mg
Iron:
1
mg
Tried this recipe?
Leave a comment HERE and let us know how it was!
The information shown is an estimate provided by an online nutrition calculator. It should not be considered a substitute for a professional nutritionist's advice.