Fennel fronds, banana, and sweet pineapple chunks star in this delicious pineapple smoothie recipe with a twist. This is a great way to use up fennel fronds and not allow them to go to waste. The fronds have a very subtle flavor which pairs perfectly with the sweetness of the pineapple. The perfect way to cool down on a hot day. You get the tropical flavors of a piña colada but in a healthy fruit smoothie way.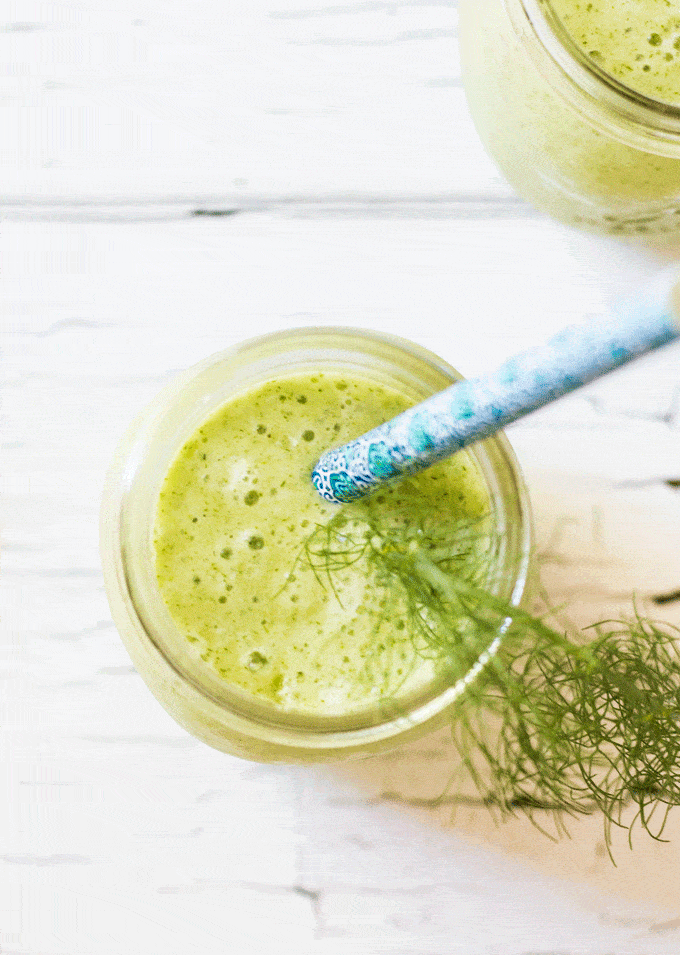 We love smoothies with a little bit of a difference like this fennel frond and pineapple smoothie and this Super Green Celery Smoothie.
Fennel Frond and Pineapple Banana Smoothie
This banana pineapple smoothie with a twist of fennel fronds is just perfect for sipping when the sun is beating down outside.
I know fennel fronds won't be the first greens you will think to add to your morning smoothie, but you should.
Have you seen the number of fronds coming off of those plants?
They are just begging to be collected up and squeezed into a smoothie.
They are basically free produce people because let's face it, about 90% of us have just been throwing those fronds out along with carrot tops (use those in this carrot top pesto) and beet leaves.
If you think you can't handle that anise flavor in a sweet drink, don't worry, the banana and pineapple in this smoothie balance it out perfectly.
Of course, you can still taste it, but it is more of a surprising little aftertaste that makes you go 'oooh', and just takes the smoothie to a whole other level.
You will need:
coconut water;
fennel fronds: we want just the fronds for this recipe, not the fennel bulb, so strip those whispy leaves off the stems;
frozen pineapple chunks: if you don't have frozen pineapple you can use fresh pineapple instead, but you will need to add ice to the blender as well to ensure you end up with a nice cold smoothie;
ripe bananas: the more ripe the banana the more sweet it will be, so choose your bananas depending on your prefered level of sweetness. I like to use frozen banana to get the smoothie extra cold.
With just this handful of ingredients, you get a tangy pineapple smoothie with no added sugar and lots of potential health benefits.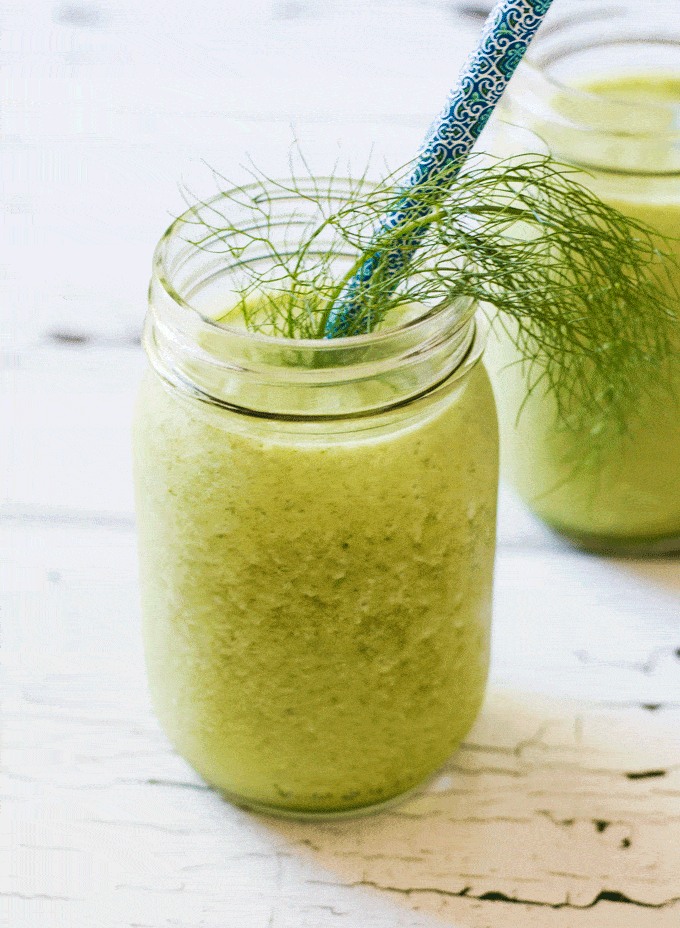 Tips Tricks and Substitutions
As with any regular smoothie you are simply going to add all of the ingredients to a powerful blender and blend until completely smooth.
TIP: always add the greens and water to the blender first and blend this until completely smooth before adding the rest of the ingredients.
You want the smoothie to be cold, so don't be afraid to add some more ice to the mix if you feel like it needs it.
Why not try some of these twists to change up your smoothie experience:
Want it creamy, why not add some coconut milk or almond milk instead of coconut water;
Add a couple of fresh pineapple chunks to the top of the smoothie when serving;
Add some pineapple juice or orange juice for a sweeter, thinner smoothie;
Substitute the pineapple for other tropical fruits if prefered, or add as well as the pineapple - I love adding passionfruit pulp and mango to my smoothie;
Make this pineapple smoothie your own.
Fennel Fronds
For this smoothie, I used about a cup of loosely packed fennel fronds.
Be sure to use just the fronds and not the stalks as the flavor is a lot more mellow.
You can use more or less depending on how much you fancy the anise flavor.
I am partial to it but the hubby isn't, so I don't make mine too strong.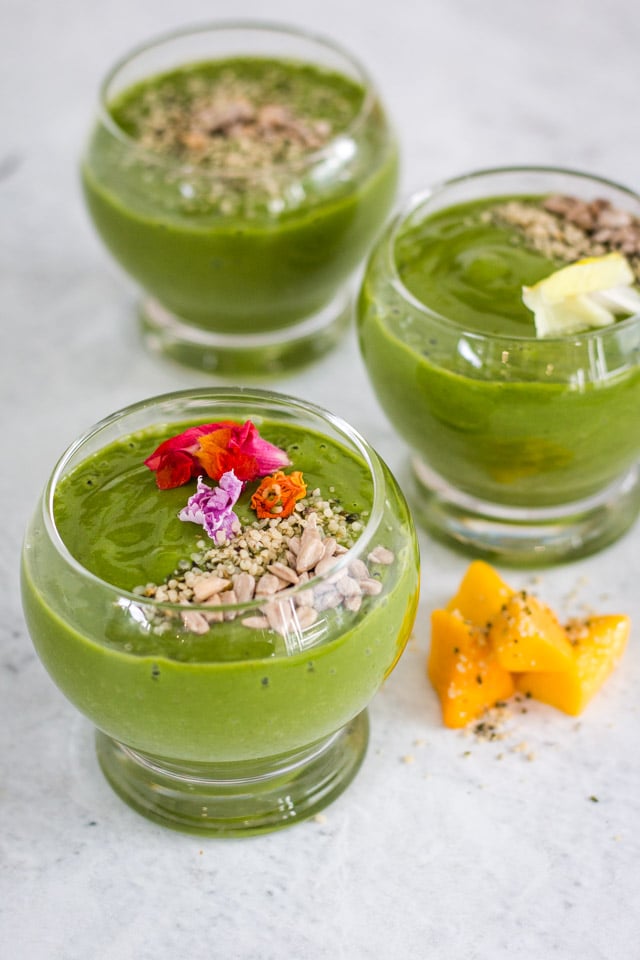 Need More Healthy Smoothie Recipes?
Need more delicious smoothie recipes to satisfy all your family members (little ones included)?
These yummy smoothies make easy breakfasts and are the perfect addition to morning meal plans for a busy week:
If you are looking for more ways to use up those fennel fronds then check out this detailed post with lots of ideas: What to do with Fennel Fronds: 10 Great Recipes.
Let me know what you think!
I love to hear from you, so be sure to leave a comment if you give these delightfully refreshing smoothies a try.
Happy drinking.
xx
Recipe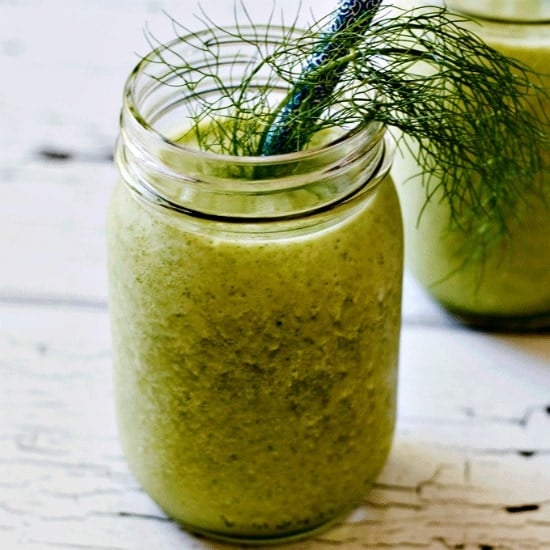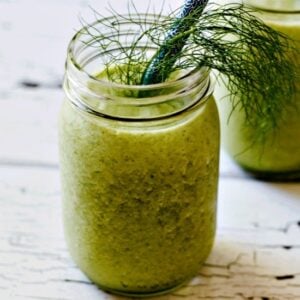 Fennel Frond and Pineapple Smoothie
Fennel fronds and sweet pineapple chunks star in this delicious smoothie recipe with a twist.
Ingredients
2

cups

coconut water

1

cup

loosely packed fennel fronds

2

cups

frozen pineapple chunks

2

ripe bananas
Instructions
Pop all of the ingredients into a high powered blender in the order listed. Blend until smooth and creamy.
Nutrition
Calories:
193
kcal
Carbohydrates:
47.2
g
Protein:
3.5
g
Fat:
0.9
g
Saturated Fat:
0.6
g
Fiber:
6.7
g
Sugar:
27.3
g
Tried this recipe?
Leave a comment HERE and let us know how it was!
The information shown is an estimate provided by an online nutrition calculator. It should not be considered a substitute for a professional nutritionist's advice.